If you are looking for a Weight Watchers Dessert recipe, then you can't go wrong with this Lime Fluff. Made with fat free yogurt and sugar free jelly (jello), this Fluff recipe is easy to make, tasty and best of all is zero points on Weight Watchers Freestyle plan.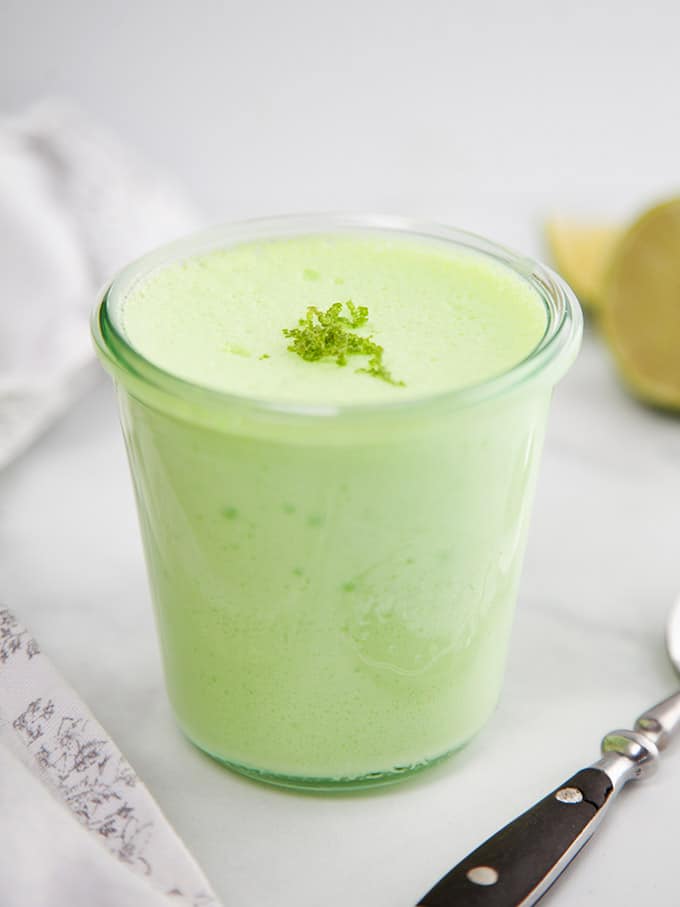 If you have been following the Weight Watchers plan, you will no doubt have heard of Fluff. It's a tasty mix of fat free yogurt and sugar free jelly (jello) whisked into a light and fluffy mousse like dessert.
Some people, when starting out on their WW journey, believe that to be successful on the program you have to give up dessert!
But for some (including me) giving up dessert is not an option.
I really don't know whether I could have stuck to a eating program where dessert was off the menu!
So, if giving up dessert isn't an option and eating creamy, chocolatey and sugar laden desserts is also not an option, then the only thing to do is to find Weight Watcher friendly desserts that satisfy!
And this Lime Fluff definitely satisfies.
It is light and airy and tastes divine.
I add some fresh lime juice to this recipe as I am not too keen on the overly sweetened taste of sugar free jelly (Jello). It makes all the difference!
But, if you don't mind the taste of sweetener, then you can always omit the lime juice.
What are the ingredients in fluff?
There are two main ingredients in Weight Watchers fluff – yogurt and jelly (jello).
That's it 😀
But you can always add other bits and pieces, like sugar free marshmallows, chopped up fruit etc if you like.
How long does Lime Fluff last in the fridge
This Lime Fluff should last in the fridge for a few days.
However, take note of the best before date of the yogurt that you use! You probably don't want to keep fluff that goes past that best before date!
Which Yogurt can I use
I have made this Lime Fluff with fat free natural yogurt and also with fat free Greek yogurt.
Both have turned out well.
Tips for making Weight Watchers Lime Fluff
A stand mixer like this Kitchen Aid or this Kenwood K does make whisking the Fluff so much easier, but it is by no means essential. A hand mixer will do the job too!
You can use fat free natural yogurt or fat free Greek yogurt to make this fluff. If the yogurt that you use is a little on the thick side it may take a little longer for bubbles to form.
Remember that if the yogurt is flavoured or isn't fat free then it won't be zero points! You will therefore need to work out the Smart Points for this recipe using your WW App or WW calculator.
The jelly (jello) mixture shouldn't be hot when it is poured into the yogurt.
I dissolve the jelly (jello) crystals in 1/4 pint of boiling water then add 1/4 pint of cold water to ensure that it isn't too hot.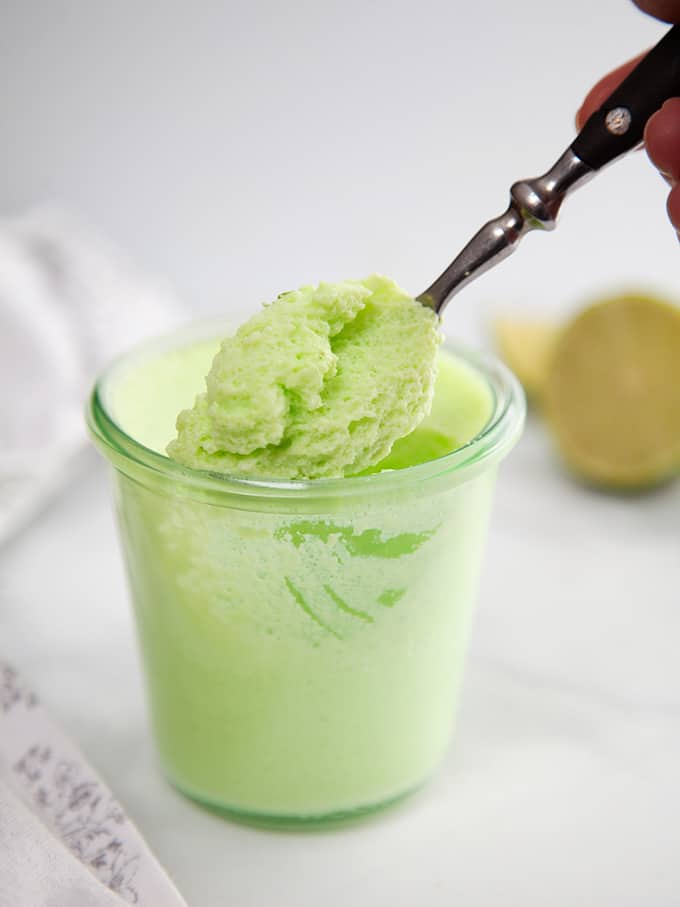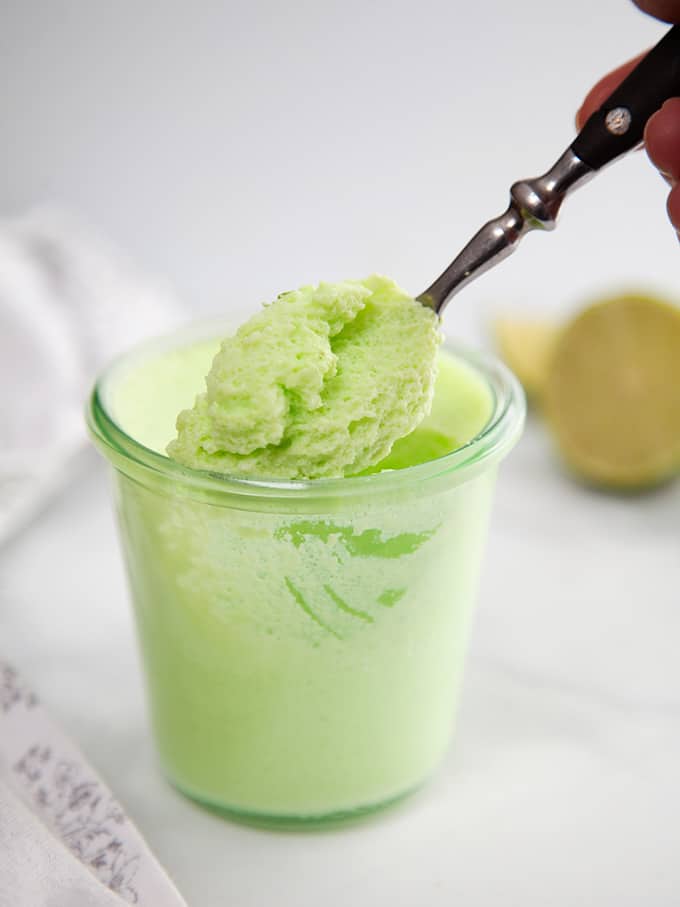 Other Weight Watchers Desserts
If like me you crave desserts, you will love this 3 Smart Point Baked Egg Custard recipe. This self saucing Lemon Pudding is 4 Smart Points for a generous portion and this Bread Pudding with Banana and Chocolate is 6 Smart Points and perfect if you are looking for a real comforting dessert! If you are looking for a Weight Watchers dessert that will impress even your non WW friends, then this Pineapple Angel Food Cake may be just what you are looking for!
If ice cream is your thing then how about taking a look at this list of Low Point Ice Creams!
Other Weight Watchers Fluff Recipes
This Marshmallow Fluff is also zero points.
For those of you not too keen on yogurt, then this Strawberry Fluff may be just the recipe for you. It uses evaporated milk instead!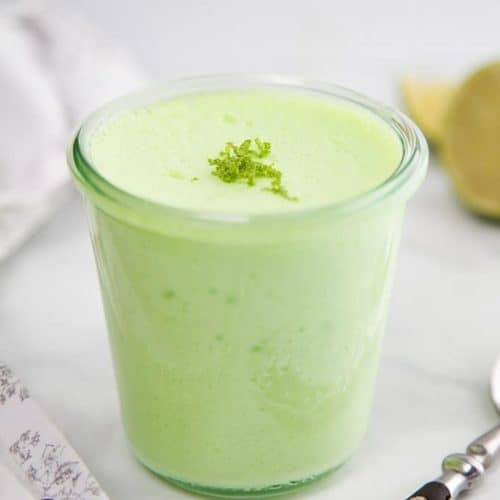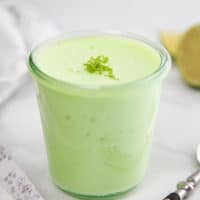 Lime Fluff | Weight Watchers
Total Time:
2 hours
20 minutes
This Lime Fluff is easy to make and is zero Smart Points on the Weight Watchers Freestyle plan.
Ingredients
1 tub fat free plain yogurt (450g or 2 cups)
1 sachet sugar free lime jelly / jello crystals or powder (* see notes)
Juice of 1/2 lime (optional)
1/4 pint or 1/2 cup boiling water (*see notes)
1/4 pint or 1/2 cup cold water (*see notes)
Instructions
Pour the jelly / jello crystals into a jug and add the boiling water. Stir, then once all the crystals have dissolved add the cold water and set aside to cool for a couple of minutes.
Pour the yogurt into the bowl of a stand mixer or if you are using a hand whisk, pour into a large bowl. Squeeze the juice of 1/2 lime into the yogurt and whisk for 2 - 3 minutes until bubbles start to form.
Slowly pour the jelly / jello mixture into the yogurt in a steady stream continuing to whisk whilst you do so.
Whisk for a further 5 - 10 minutes until the mixture has increased in volume and is light and bubbly.
Spoon the mixture into individual ramekins or pots and place in the fridge to chill for at least 2 hours.
Notes
Jell-o jelly powder come in 10.3g sachets. Mix the powder with half the amount of water that is suggested on the packet (ie use 1/2 cup of boiling water to dissolve the powder then add 1/2 cup of cold water).
Hartley's jelly powder comes in sachets of approx 11.5g. Mix this jelly up with half the amount of water that is suggested on the packet (ie use 1/4 pint of boiling water to dissolve the powder and then add 1/4 pint of cold water).
Recommended Products
As an Amazon Associate and member of other affiliate programs, I earn from qualifying purchases.
Nutrition Information:
Yield:

6
Serving Size:

1
Amount Per Serving:
Calories:

68
Total Fat:

0g
Saturated Fat:

0g
Trans Fat:

0g
Unsaturated Fat:

0g
Cholesterol:

1mg
Sodium:

65mg
Carbohydrates:

15g
Fiber:

1g
Sugar:

13g
Protein:

2g
Please be aware that the nutritional information above has been automatically generated and does not account for variations in product brands and types, weights of individual ingredients etc.  It should therefore be considered as an estimate. PointedKitchen.com has calculated Weight Watchers Smart Points based on the individual ingredients used to make this recipe and not from the following nutritional information. PointedKitchen.com is not responsible for any loss or damage relating to your reliance on this nutritional information.