This easy to make and tasty Prosciutto wrapped Asparagus makes a perfect healthy appetizer or light lunch.
A generous serving works out as 3 Smart Points per portion on Weight Watchers Blue, Purple, Green & Freestyle plans, making it a perfect WW lunch recipe. 
To find out how many Personal Points this recipe will be for you & to track it in the WW App, click on the blue button in recipe card below!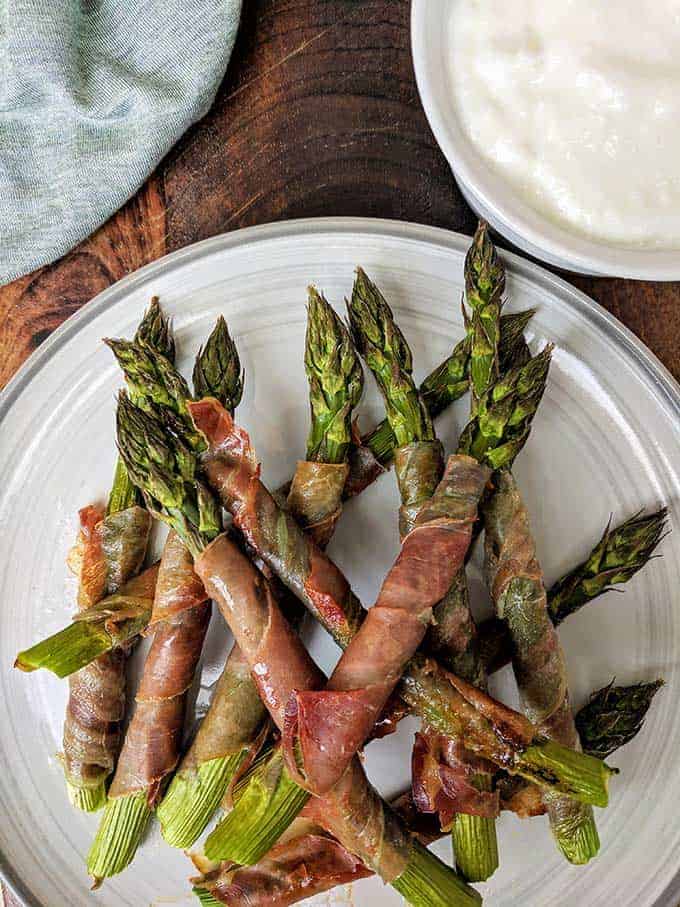 Although Prosciutto with Asparagus is typically served as an appetizer or side dish, I find that it makes a filling lunchtime treat.
And at 3 Smart Points per serving, its a pretty low point lunch recipe too! Perfect for those following the Weight Watchers plans.
Most Prosciutto wrapped Asparagus recipes that I have seen include a couple of tablespoons of olive oil. Hmmm!
Either the asparagus spears are brushed with oil prior to wrapping and baking or the recipe suggests drizzling a liberal amount of oil over the wrapped asparagus prior to roasting.
Although, olive oil is made of monounsaturated fat (one of the 'healthy fats'), it is still high in Smart Points. One tablespoon is 5 Smart Points.
So, I wanted to do away with the oil and see what happened.
At first I tried this recipe by spraying the wrapped asparagus with a calorie controlled spray oil but it became apparent that it really doesn't need any additional oil.
Prosciutto tends to be quite a fatty meat so it releases it own oil once it starts to cook.
The fat works to keep the asparagus from drying out but also helps the prosciutto to crisp up!
So for this prosciutto asparagus recipe I simply wrapped the fresh asparagus spears with strips of prosciutto and then roasted them in the oven until the asparagus became tender and the prosciutto crisped up and released its salty flavours.
Yum!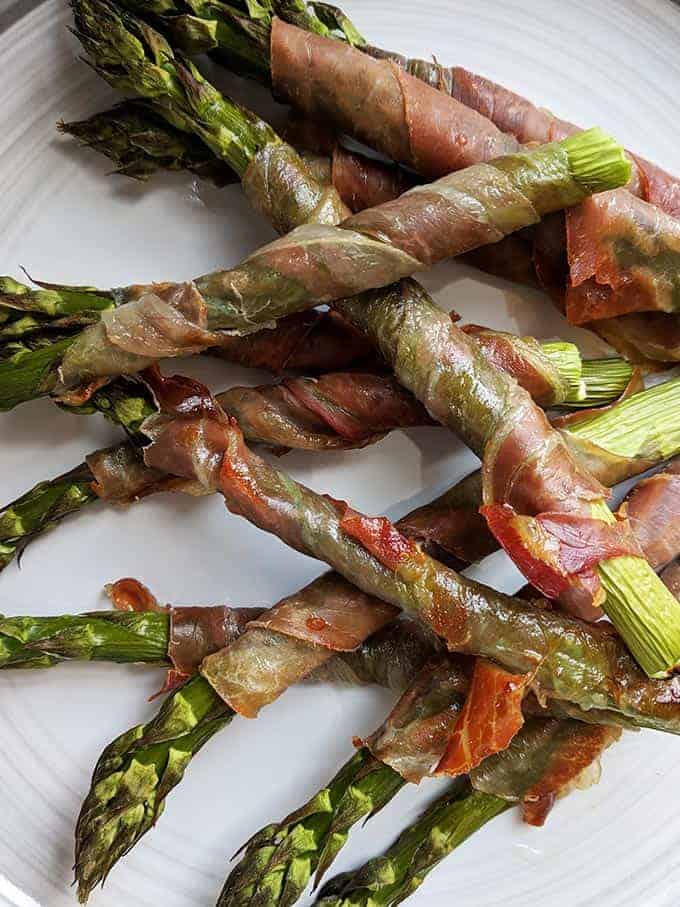 It makes such a lovely lunch time treat!
But then I have always LOVED prosciutto!
Even as a small girl I would choose prosciutto as a starter (or parma ham as it tended to be called back then!) when I went out for a posh meal.
Yes, I was a foodie as a young child!
I think it was the saltiness that I loved so much. And paired with the sweetness of melon, it was (& still is) one of my favourite food flavour combinations.
I haven't always loved asparagus though! And I certainly wouldn't have eaten it as a child 😀
Back when I was a child asparagus would be boiled to death till it was a slimy, dark green mush!
But tastes change (& thankfully ways of cooking things change too). So, I now appreciate the taste of griddled or roasted asparagus or spears that have been lightly blanched so that they are still crisp and fresh.
What is Prosciutto?
Prosciutto is a thinly sliced Italian dry cured ham which is typically served uncooked.
The ham is seasoned and cured with salt for a couple of months and then dried for up to eighteen months.
This curing & drying process means that the ham is perfectly safe to eat uncooked.
It is a wonderfully delicate ham with a buttery texture and it has the most beautiful salty taste.
Prosciutto is typically eaten on its own or wrapped around other raw food items such as melon.
It can also be wrapped around chicken and baked for the most amazing chicken dish or can be used as a topping for pizza.
Most supermarkets will sell prosciutto, pre-sliced and in packets of approximately 6 thin slices.
Unfortunately, good prosciutto can be expensive so I only tend to buy it for special occasions or when I see it on special offer!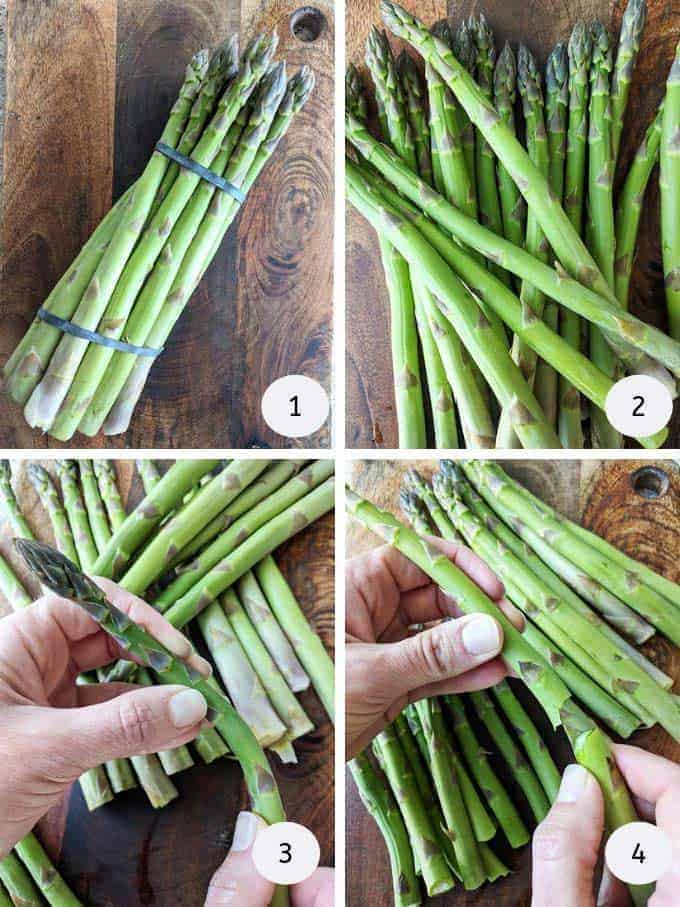 Choosing the best Asparagus?
Choose asparagus that is bright green with tips that are tinged a lovely lilac colour (picture 1).
The heads should be compact and stalks should be plump but firm.
It is up to you whether you choose thin or thick stalks, but for this recipe I would suggest choosing thicker stalks.
Avoid asparagus that has started to wilt.
Avoid asparagus that has a strong smell.
Don't pick asparagus that is too dark at the tips as this could mean that they are starting to turn (although this is dependant on the variety of asparagus that you are using).
How to prepare Asparagus!
Asparagus is very easy to prepare!
Give the asparagus spears a quick wash by immersing them in cold water. Drain in a colander or gently dab with kitchen paper to remove any excess water (picture 2).
Hold the asparagus gently at its top and tail and bend (picture 3).
The asparagus will snap naturally where the spear starts to become tender (picture 4).
Trim off any uneven ends with a paring knife.
Discard the woody ends.
Wrapping Prosciutto wrapped Asparagus
The prepared asparagus spears will all be roughly the same length. You will want to cover as much of the stem as possible with the prosciutto to keep it from drying out whilst roasting (picture 1).
Cut each piece of prosciutto in two, lengthways, so that you have two long strips of ham.
Each asparagus spear will be wrapped with one of these strips.
Starting from the tip of the asparagus, start to wrap the prosciutto around the stalk on the diagonal (picture 2)
Continue to wrap the prosciutto down the stem of the asparagus till most of the spear is covered (picture 3).
Place on a non stick baking sheet (picture 4).
Roasting the Prosciutto wrapped Asparagus
The prosciutto wrapped asparagus takes between 8 - 12 minutes to cook but this is obviously dependant on the thickness of the spears. It is done when the asparagus is still firmish but tender and the prosciutto has crisped up.
How to serve!
This dish is traditionally eaten as a side dish or as an appetizer.
However, I like to eat prosciutto asparagus as a low Smart Point lunch.
Eat it on its own or serve it with a little fat free mayonnaise for dipping.
Other Weight Watchers Lunch Recipes
If you like this Prosciutto wrapped Asparagus recipe you may also like these Weight Watchers friendly recipes
These Butternut Squash Falafel are zero Smart Points per serving!!
These Scotch Eggs are 2 Smart Points per egg and are a filling and delicious low point lunch served with a side salad.
This Hearty Chicken Noodle Soup is 4 Smart Points per generous portion.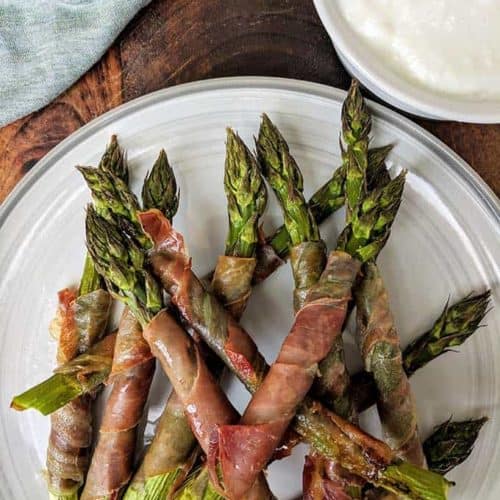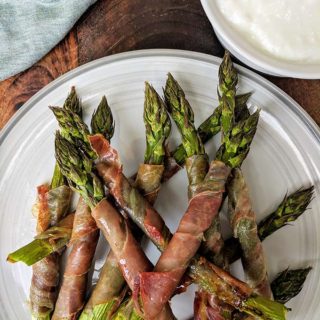 Prosciutto wrapped asparagus
This Prosciutto wrapped asparagus is a healthy and very tasty dish. Working out at 3 Smart Points per generous serving on the Weight Watchers Freestyle plan, it makes a fantastic, quick and easy WW lunch recipe.
Ingredients
12

spears of asparagus

6

slices

of prosciutto

thinly sliced
Instructions
Preheat the oven to 220°C / 200°C fan / 425°F

Prepare the asparagus spears by removing the woody ends. You can do this by holding the spears at the top and tail of the spear and bending until it snaps. It will snap at the point where the spear becomes woody.

Half the slices of prosciutto lengthways so that you have 12 long strips of ham.

Wrap each asparagus spear with one strip of prosciutto - starting from the head of the spear and wrapping diagonally downwards, until most of the spear is covered.

Place on a non stick baking sheet and bake in the centre of oven for approx 10 - 12 minutes *

Serve with a side salad or with a small amount of fat free mayonnaise for dipping.



Notes
* If you are using thick asparagus stalks like I did, they will probably take 10 - 12 minutes for the asparagus to become tender. Thinner asparagus stalks will take less time, but you do want to bake them enough so that the prosciutto crisps up.
Nutrition
Nutrition Facts
Prosciutto wrapped asparagus
Serving Size
6 asparagus stalks
Amount per Serving
% Daily Value*
* Percent Daily Values are based on a 2000 calorie diet.