This Easy Marinara Sauce tastes so much better than any supermarket Marinara sauce I have found! The recipe makes about 2.5 cups of sauce and each serving is zero Smart Points on Weight Watchers Freestyle plan.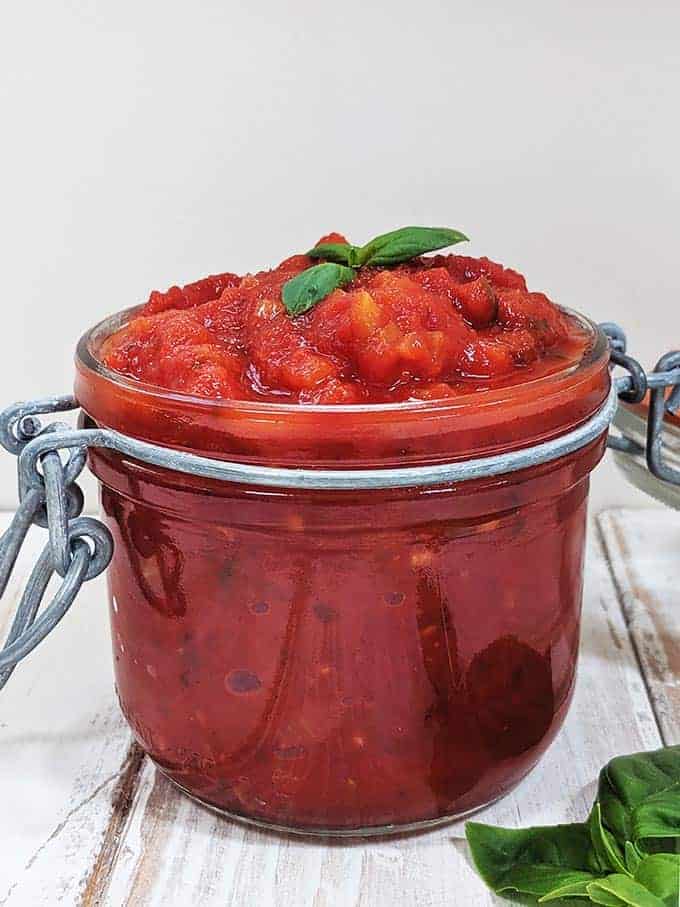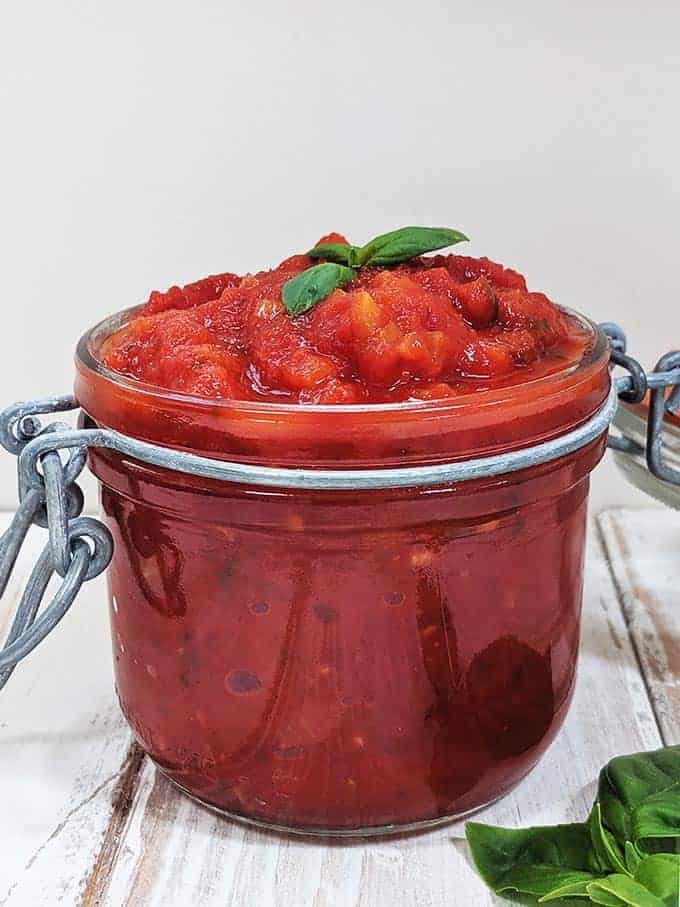 This homemade Marinara Sauce is just so easy to make. The recipe uses canned tomatoes, a little olive oil, some chopped onion and garlic and some fresh basil, and that's about it! How simple is that!
I've been 'burnt' when using shop brought tomato sauces whilst following the Weight Watchers plan.
When shopping right at the start of my WW journey, I didn't take my phone with me when I went shopping.
Big mistake!
I didn't have my WW app to scan the products and I picked up a jar of innocent looking tomato and basil pasta sauce only to discover when I got home that it was over 10 Smart Points for the jar.
You wouldn't think that something that lists its 3 top ingredients as tomatoes, water and onions as being 10 Smart Points!!
But it was….
…. it also included a stack load of olive oil!
Since then, I have been very picky about what sauces I use or I make my own, like this Easy Marinara Sauce.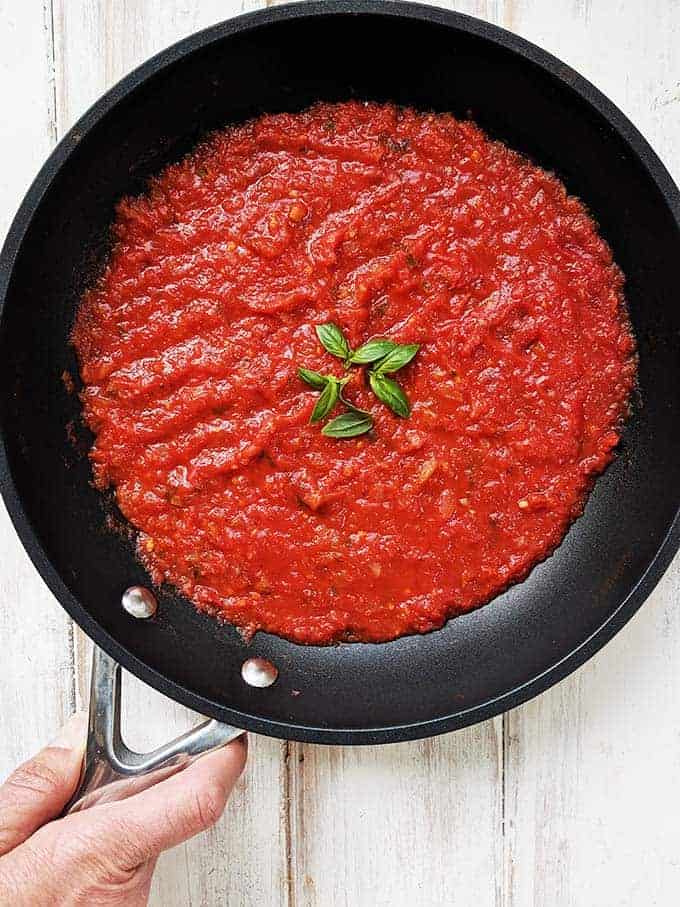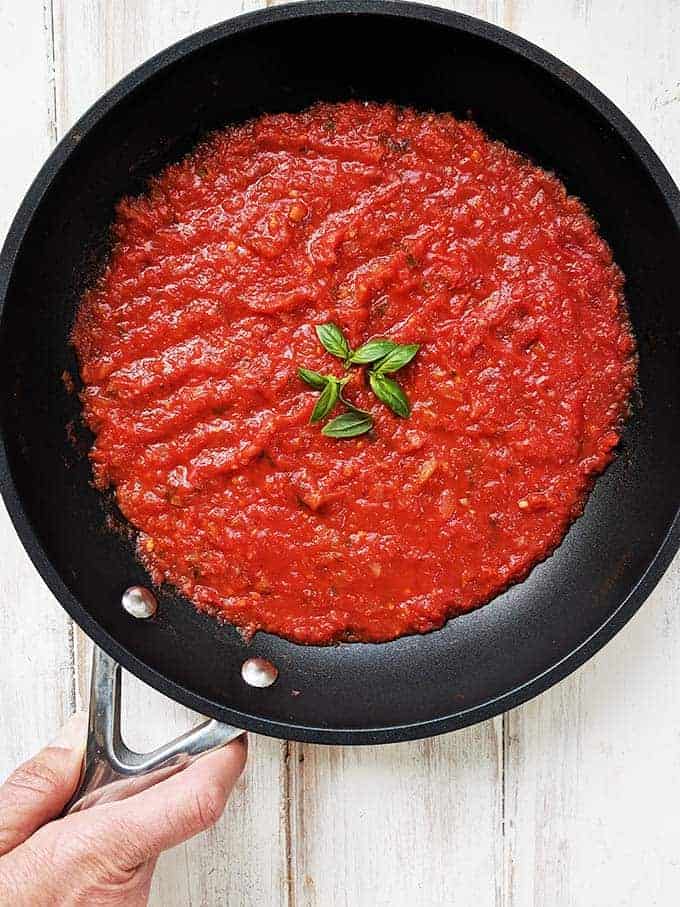 What is Marinara Sauce?
Marinara sauce is a tomato based sauce typically made with tomatoes, herbs, onions, garlic and olive oil.
It is cooked quickly unlike many other Italian sauces which require longer cooking times.
Cooking the sauce quickly, retains the colour and freshness of the sauce. If you were to cook it longer and reduce it further, it would become darker and 'stickier'.
Some Marinara sauce recipes do not include onions, but I like the sweetness that these add to the overall flavour, so I have added them to this recipe.
I also used basil in this recipe, although you could swap this out for oregano if you prefer.
What is Marinara Sauce used for?
Marinara sauce can be used in a number of different ways and in many different recipes.
It can be used as a simple pasta sauce or can be used as a base for dishes such as this Chicken Parmesan recipe.
You can use Marinara sauce as a Pizza sauce but it is best to reduce it to a thicker consistency if you are using it in this way.
How about using it as a topping for this Four Seasons Pizza.
You could also use this Easy Marinara Sauce as a dip for low SmartPoint Crackers or for crudités for a zero point snack!
Marinara Sauce Additions
Use fresh oregano or parsley instead of basil
You could add fresh chopped chili pepper for a bit of a 'kick'
Or add some dried crushed red pepper
If you like them, capers make a lovely addition to Marinara sauce
Or you could add some chopped olives
Add salted anchovies for a deeper richer Marinara sauce
Alternatively, add a mixture of the above!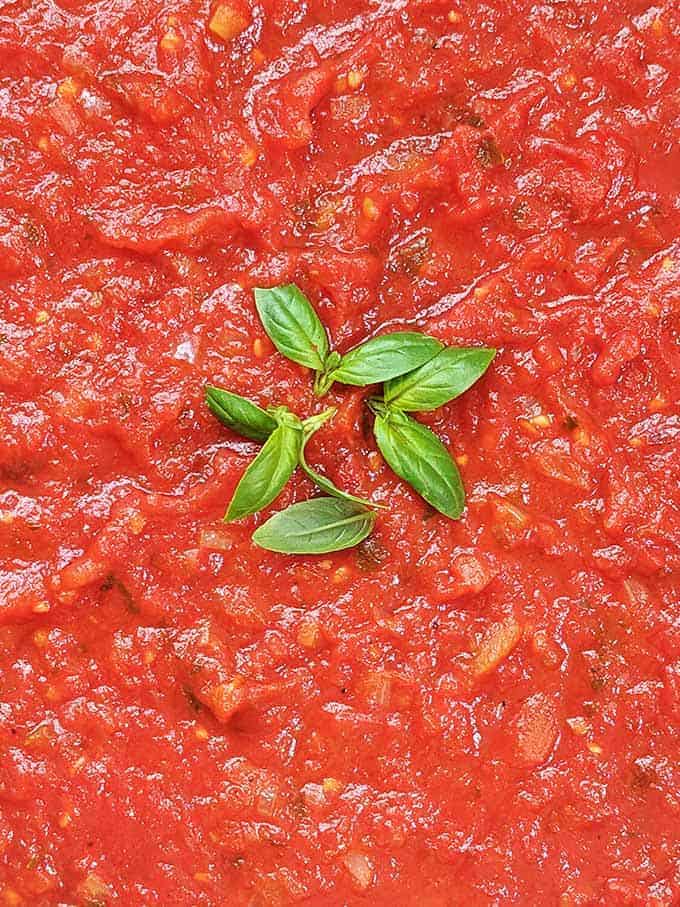 What canned tomatoes should I use
As I blitz the tomatoes in blender prior to cooking them, it is up to you whether you use whole canned tomatoes or chopped / crushed / diced tomatoes.
Tomato based Weight Watcher Dinner Recipes
If you like tomato based recipes you may like this 6 Smart Point BBQ Sausage Casserole or these 5 Smart Point Italian Meatballs. This 6 Smart Point Chicken Parmesan is also super tasty!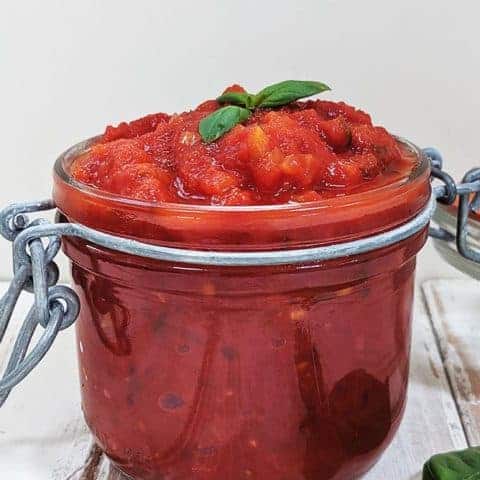 Easy Marinara Sauce
This easy Marinara Sauce is packed full of flavour and goodness! It is zero Smart Points per portion on Weight Watchers Freestyle plan.
Ingredients
2 cans of chopped tomatoes ( 2 x 14.5oz cans)
1 tbsp tomato puree
3 - 4 cloves of garlic (roughly chopped)
Kosher salt or sea salt (to taste)
Black pepper (to taste)
1 tsp olive oil
1 small onion (finely chopped)
3 tbsp white wine vinegar
1 tbsp fresh chopped basil
Instructions
Place the chopped tomatoes, tomato puree, chopped garlic, and half a teaspoon of salt and half a teaspoon of pepper in a food processor and blitz for 30 seconds.
Heat the olive oil over a medium heat and add the finely chopped onion. Saute for 3 - 4 minutes until it starts to brown and soften. Be careful that it doesn't burn.
Add the vinegar, it will sizzle and then stir before adding the chopped tomato mixture.
Bring the mixture to a gentle simmer, add the chopped basil and cook uncovered for 10 - 15 minutes, stirring occasionally, until the sauce thickens.
Season with a little more salt and pepper if required.
Notes
This recipe should make approx 2.5 - 3 cups of marinara sauce.
Recommended Products
As an Amazon Associate and member of other affiliate programs, I earn from qualifying purchases.
Nutrition Information:
Yield:

4
Serving Size:

1/2 cup
Amount Per Serving:
Calories:

34
Total Fat:

2g
Saturated Fat:

0g
Trans Fat:

0g
Unsaturated Fat:

1g
Cholesterol:

0mg
Sodium:

300mg
Carbohydrates:

5g
Fiber:

2g
Sugar:

2g
Protein:

1g
Please be aware that the nutritional information above has been automatically generated and does not account for variations in product brands and types, weights of individual ingredients etc.  It should therefore be considered as an estimate. PointedKitchen.com has calculated Weight Watchers Smart Points based on the individual ingredients used to make this recipe and not from the following nutritional information. PointedKitchen.com is not responsible for any loss or damage relating to your reliance on this nutritional information.