These tasty Italian Meatballs are just 5 Smart Points per serving on Weight Watchers Blue, Purple, Green and old Freestyle plans.
The recipe for these Italian Meatballs has been adapted from a Gordon Ramsey recipe. It's extremely tasty, filling and is now Weight Watchers friendly.
Yay!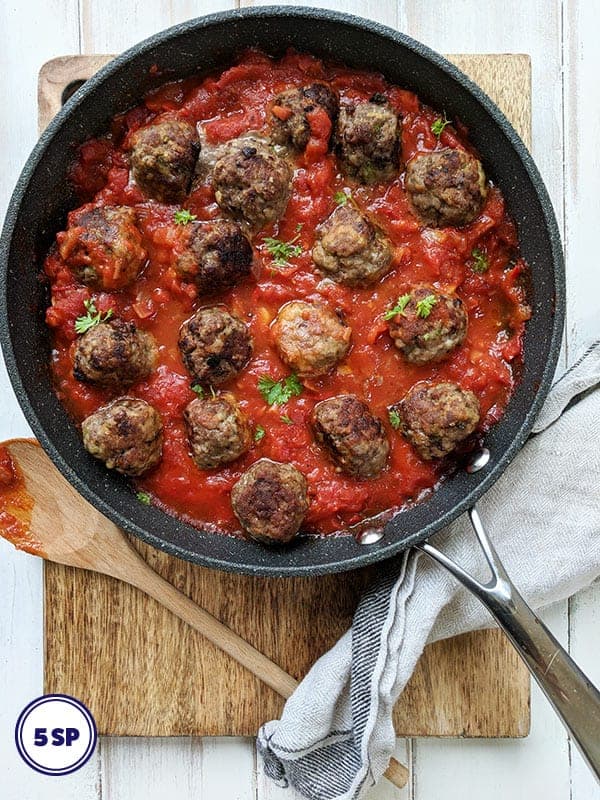 I have never really been a big meatball fan! Well, that was until I tried these ones!
They are by far the best meatballs that I have ever tried.
The meatballs are succulent and flavourful and the sauce is thick and rich with just a hint of chilli.
The recipe is adapted from a Gordon Ramsey meatball recipe. He makes them with milk soaked breadcrumbs, and then dusts them with flour.
In my opinion this technique has elevated meatballs from 'meh' to 'yeah'!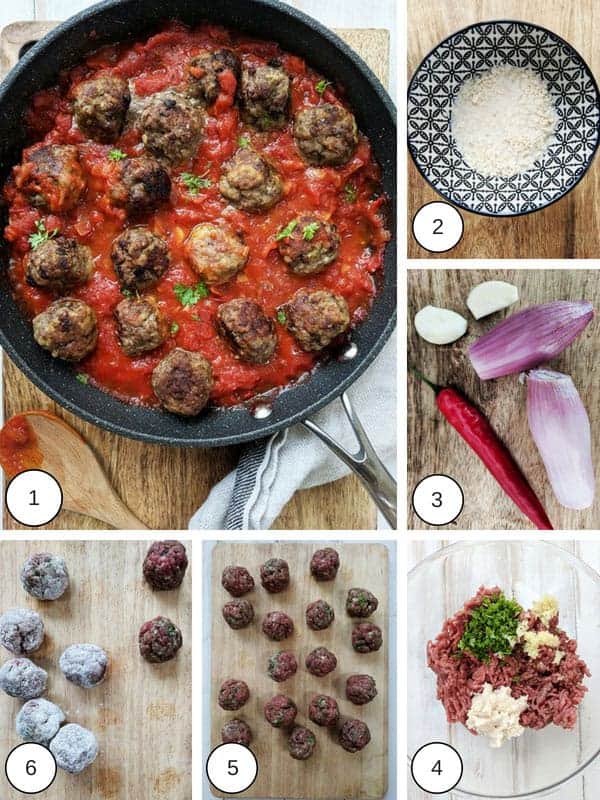 Tips for making these meatballs
To make the breadcrumbs, I blitzed half a Warburton thin in a food processor. Alternatively, you could use a slice of low point bread. This makes approx 3 tablespoons of breadcrumbs.
Put the breadcrumbs into a small bowl and cover with the milk. Set aside to allow the bread to soak up the milk (pic 2).
I used shallots in this recipe (pic 3). Shallots have a more delicate taste than onions. They also break down quicker than onions, leaving you with a smooth, delicate tasting tomato sauce.
Place the beef, chopped parsley, crushed garlic and the milk soaked bread into a bowl (pic 4). Use your hands to really 'squidge' it all together so that it is thoroughly combined.
The meatballs should to be roughly the size of a large walnut. Make up all the meatballs before moving on to the next step.
Toss each of the meatballs in the flour so that they are covered with a light dusting. This will help them turn a rich golden brown colour when frying.
When frying the meatballs, you want them to brown all over but it is not necessary for them to be cooked through. They will finish cooking when they are added to the tomato sauce (pic 1) and baked in the oven.
How to serve these meatballs
I serve these Italian Meatballs on a bed of spiralized courgette (zucchini).
You could also serve them on other spiralized vegetables, such as butternut squash or on spaghetti squash (if you are lucky enough to live somewhere that this fab vegetable is available!).
Serve them on a small portion of pasta (40g, dry) for an extra 4 smart Points.
For an extra 3 Smart Points, you could serve them with a small portion of brown rice (30g, dry).
Serve, with a side salad.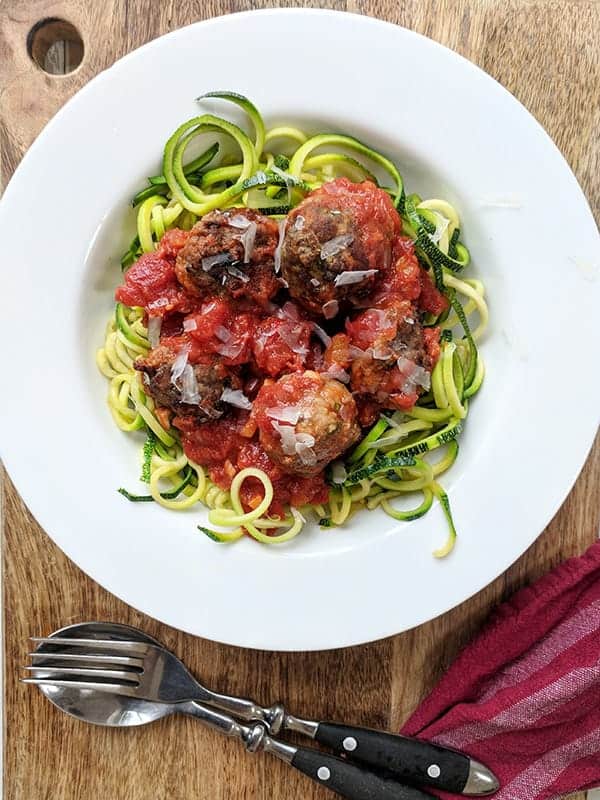 Alternatives to this recipe
I used extra lean 5% fat minced beef (ground beef) in this recipe. You could use other minced / ground meat but you will need to change the Smart Point value accordingly.
Lean mince beef / ground beef (10% fat) - add an extra 2 Smart Points per portion.
Mince beef / ground beef - add an extra 4 Smart Points per portion.
If you prefer, you can use a mix of extra lean pork (5%) & extra lean beef (5%) - no need to adjust the Smart Point value.
What I used to make these meatballs
This post contains affiliate links. As an Amazon Associate I earn from qualifying purchases. Visit this page to see what that means.
I used an oven proof, non stick pan like this one, available from Amazon. This pan meant that I could add the meatballs to the tomato sauce and put the pan straight into the oven to finish off the cooking.
I used my favourite Olive Oil Frylight to fry off the shallots, garlic and chilli. Available in a pack of two from Amazon. Alternatively, you could use Pam Organic Olive Oil Spray.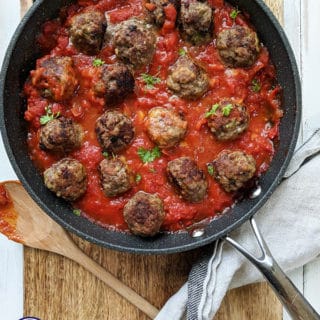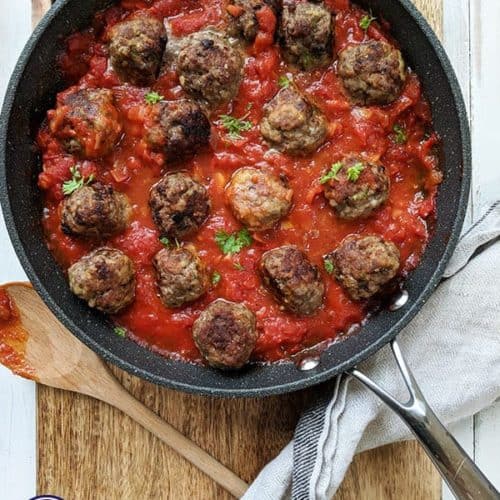 Italian Meatballs | Weight Watchers
These delicious Italian Meatballs are just 5 Smart Points per portion on Weight Watchers Flex / Freestyle program.
Ingredients
1

red chilli

de-seeded & finely sliced

2

shallots

finely chopped

2

garlic cloves

finely chopped

1

tbsp

white wine vinegar

2

cans

chopped tomatoes

2 x 400g cans

sea salt

black pepper

spray oil

such as Frylight or Pam
For the meatballs
3

tbsp

breadcrumbs

2

tbsp

skimmed milk

1¾

cups

mince beef / ground beef

(400g) 5% fat

3

garlic cloves

crushed

1

handful

fresh parsley

chopped finely

1

tbsp

flour

for dusting

1

tbsp

olive oil

sea salt

black pepper
Instructions
Preparation
Place the breadcrumbs in a small bowl and add the milk. Set aside for when you make the meatballs. Finely chop the shallots, chilli and 2 garlic cloves
For the tomato sauce
Heat an oven proof frying pan / skillet over a medium low heat and add approx 10 pumps of spray oil. Add the chopped shallots, garlic and chilli and fry for 3 - 4 minutes until they have started to soften.

Add 1 tbsp of white wine vinegar and stir, scraping off any bits of onion or garlic that may have stuck to the bottom of the pan (this prevents it from continuing to brown & burn when you add the tomatoes). Pour in the tinned tomatoes and some salt and pepper. Simmer, stirring occasionally, for 8 - 10 minutes until the sauce has reduced and has thickened.
For the meatballs
Prepare the meatballs by putting the minced beef /ground beef into a large bowl with the crushed garlic, parsley and the soaked breadcrumbs. Season with salt and pepper and combine using your hands.

Shape the mixture into balls around the size of a walnut. Dust the meatballs with flour. I do this by placing the flour in a small bowl and adding the meatballs one by one and turning them so that they are covered in a light dusting of flour.

Heat the olive oil in a frying pan / skillet. Once the oil is hot add the meatballs and fry until they are golden (you may have to do this in batches) The meatballs do not have to be cooked through completely at this stage, just partially cooked and browned.

Add the meatballs to the tomato sauce. Place the pan into the preheated oven and bake for 10 minutes (or until the meatballs have cooked through).

Serve on a bed of courgette / zucchini noodles.

Preheat the oven to 180oC / 160oC Fan/ 350oF / Gas Mark 4
Notes
Please be aware that the nutritional information below has been automatically generated and does not account for variations in product brands and types, weights of individual ingredients etc.  It should therefore be considered as an estimate.
PointedKitchen.com has calculated Weight Watchers Smart Points based on the individual ingredients used to make this recipe and not from the following nutritional information.
PointedKitchen.com is not responsible for any loss or damage relating to your reliance on this nutritional information.
Nutrition
Nutrition Facts
Italian Meatballs | Weight Watchers
Amount per Serving
% Daily Value*
* Percent Daily Values are based on a 2000 calorie diet.