These sweet and crunch Honey Roasted Chickpeas are a Weight Watchers snack that you will make again and again and again.
At just 2 Smart Points per portion on Blue and Purple (well one and a half really!) you can actually eat half a bowl of these tasty little Honey Roasted chickpeas for 3 Smart Points!
They work out at 4 SmartPoints per half bowl on the Weight Watchers Green plan.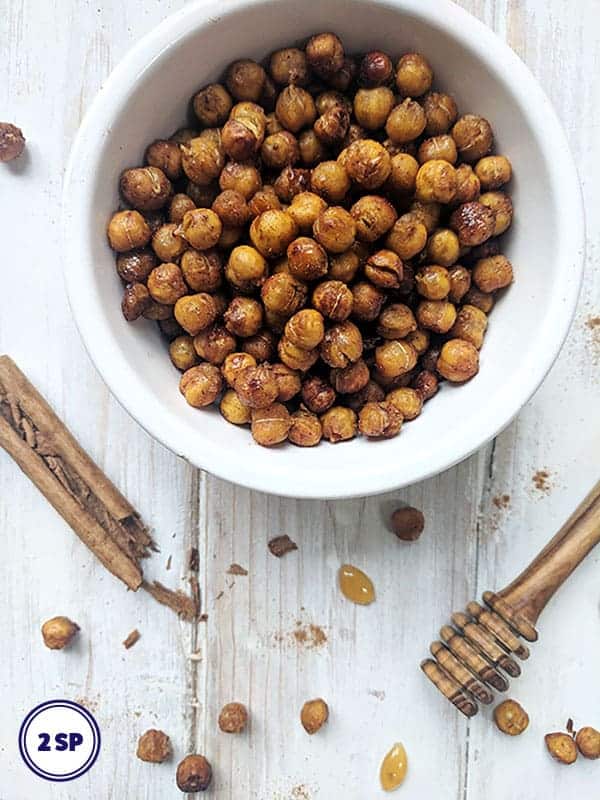 Now that chickpeas are zero points on Weight Watchers Blue and Purple program, I have a new found love of them!
They are such versatile little things 😀
You can eat them covered in a sweet honey and cinnamon coating like this recipe or you can roast them with a savoury seasoning like these Spicy Chickpeas and these Shawarma Chickpeas.
Both the savoury roasted chickpeas are really tasty and what's more they are zero points per portion!
What's not to like?!
Tips for making these chickpeas
Always drain and wash your chickpeas well before roasting.
Once you have rinsed the chickpeas, pat them dry using kitchen roll or a tea towel. The drier the better!
For extra crunchiness, you can turn off the oven at the end of the cooking, open the oven door ajar and leave them in the cooling oven for an extra 10 - 20 minutes!
Unfortunately, roasted chickpeas do not tend to stay really crispy for more than a day. Don't store them in lidded plastic container, as this will make them go soggy. Leave the lid off the container or use a brown paper bag.
Can I make these roasted chickpeas in an airfryer?
Yes! But I have had the best results using this method.
If you like chickpeas, you may like these: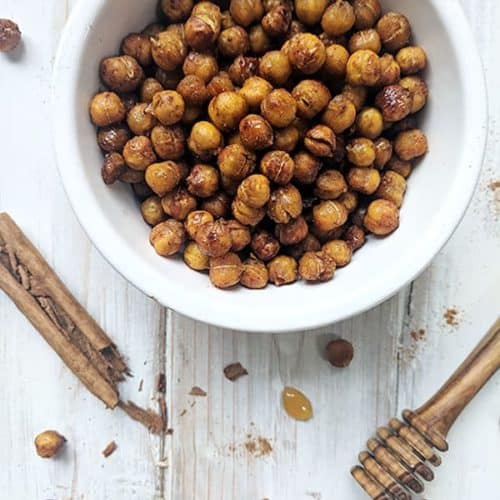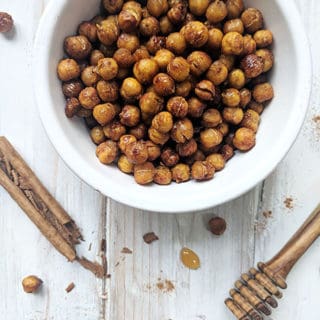 Honey Roasted Chickpeas | Weight Watchers
These sweet and crunchy Honey Roasted Chickpeas are just 2 Smart Points per portion on Weight Watchers Freestyle / Flex program
Ingredients
1

can

chickpeas

1 x 400g can drained

1

tsp

olive oil

1

tbsp

honey

1

tsp

ground cinnamon
Instructions
Preheat the oven to 200C / 180C fan / 400F / Gas mark 6. Drain the chickpeas in a colander and rinse well. Use paper towels to pat the chickpeas dry.

Spread the chickpeas on a roasting tin (with a silicone mat if you have one) and roast for 20 minutes. Whilst the chickpeas are roasting, mix the honey, oil and cinnamon together in a bowl.

Remove the chickpeas from the oven and carefully pour them into the bowl with the honey & oil mixture. Mix so that all the chickpeas are coated and then tip them back on to the baking tray and return to the oven for 15 - 20 minutes (depending on how crunchy you like them to be).

For even more crispiness, switch the oven off, open the oven ajar & leave in the cooling oven for an extra 10 - 20 minutes. Remove from the oven and enjoy!
Notes
Please be aware that the nutritional information below has been automatically generated and does not account for variations in product brands and types, weights of individual ingredients etc.  It should therefore be considered as an estimate.
PointedKitchen.com has calculated Weight Watchers Smart Points based on the individual ingredients used to make this recipe and not from the following nutritional information.
PointedKitchen.com is not responsible for any loss or damage relating to your reliance on this nutritional information.
Nutrition
Nutrition Facts
Honey Roasted Chickpeas | Weight Watchers
Amount per Serving
% Daily Value*
* Percent Daily Values are based on a 2000 calorie diet.