This hearty & filling Vegetable Chickpea Broth is just 2 SmartPoints per large bowl on Weight Watchers Flex / FreeStyle plan. A bowl of this satisfying broth at lunch time will fill you up till dinner.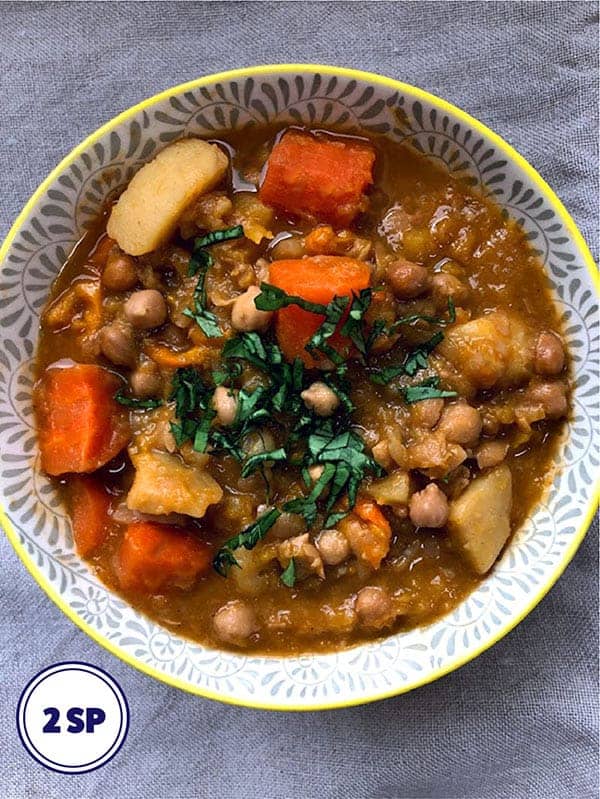 It may not look the best 😀 but trust me, this Vegetable Chickpea Broth is tasty and what is more it is very filling.
The sun has come out here and so it's probably a strange time to be posting about vegetable broth!
It is more a winter lunch time meal but I find this broth really handy if I know that I am having a high point meal in the evening and I want to limit my lunch time points but still want to fill up!
Of course you could reduce the Smart Points in this broth even more by swapping out the potato for extra butternut squash (or another zero point vegetable) but I do like the potato in this broth.
It gives it a thick and hearty quality.
I used frylight rather than using vegetable oil. Each spray of frylight is just one calorie. You can use 10 sprays of frylight for 0 Smart Points.
When you use spray oil just be vigilant that your ingredients don't stick to the bottom of the pan.
Ways to reduce the Smart Points in this recipe!
Swap the potatoes for additional butternut squash and reduce the Smart Points to just 1 Smart Point per portion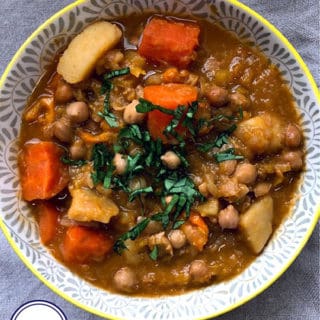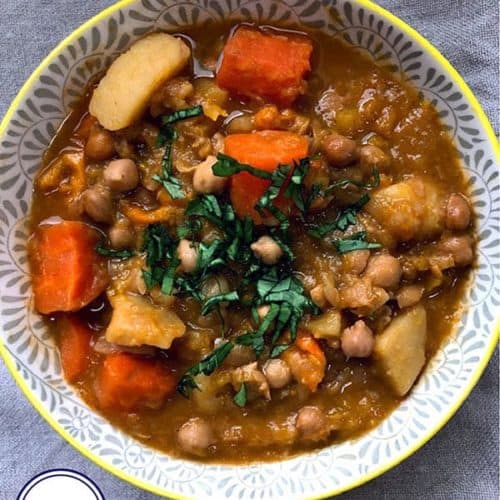 Vegetable & Chickpea Broth
A filling and low point broth. Just 2 Smart Points per portion on Weight Watchers Flex / FreeStyle plan.
Ingredients
5

sprays

calorie controlled cooking oil

1

medium

onion

finely chopped

2

tsp

turmeric

2

tsp

cumin seeds

1

tsp

ground coriander

2

vegetable stock cubes

1

litre

water

1

can

chopped tomatoes

1 x 400g can

1

can

chickpeas

1 x 400g can

1¼

cups

potatoes

chopped

1¼

cups

carrots

chopped

2½

cups

butternut squash

chopped

Salt & Pepper
Instructions
Use 10 sprays of frylight in the bottom of a large saucepan. Add the onions and cook for 3 - 4 minutes until translucent. Add a splash of water if it begins to stick to the bottom of the pan. Add the turmeric, cumin seeds and ground coriander and stir for 1 minute. Add the rinsed chickpeas and tinned tomatoes.

Mix the vegetable stock cubes in 1 litre of boiling water.

Add the chopped butternut squash and potatoes to the saucepan and mix. Add the vegetable stock and bring to the boil.

Once the broth comes to the boil, reduce the heat to a simmer and simmer uncovered for 20 minutes.

After simmering for 20 minutes add the chopped carrots and bring back to a simmer. Leave to simmer for a further 20 minutes until the vegetables are soft and almost falling apart.

Season with a little salt and pepper.
Notes
Please be aware that the nutritional information below has been automatically generated and does not account for variations in product brands and types, weights of individual ingredients etc.  It should therefore be considered as an estimate.
PointedKitchen.com has calculated Weight Watchers Smart Points based on the individual ingredients used to make this recipe and not from the following nutritional information.
PointedKitchen.com is not responsible for any loss or damage relating to your reliance on this nutritional information.
Nutrition
Nutrition Facts
Vegetable & Chickpea Broth
Amount per Serving
% Daily Value*
* Percent Daily Values are based on a 2000 calorie diet.