This Falafel Burger is just 4 SmartPoints on Weight Watchers Blue & Purple plan and that includes the burger bun! The Falafel Burger on it's own works out at zero SmartPoints!
If you follow the WW Green plan the burger on it's own works out at 2 SmartPoints.
It makes a delicious, easy and low point vegetarian dinner recipe which also appeals to non vegetarians too.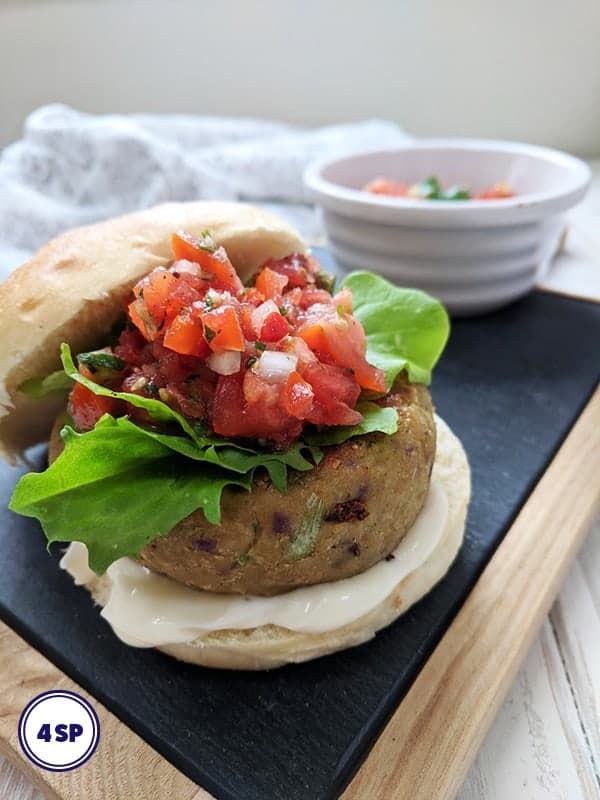 As I've said in previous posts, I was excited when Weight Watchers made chickpeas zero points (Blue & Purple plans).
It means that making things such as this Falafel Burger is now possible without blowing the SmartPoints budget!
This spicy (ish), easy to make, vegetarian burger makes a nice change from a meat or chicken burger.
Place the pattie in a low point burger bun, with a dollop of low point mayonnaise and a heaped spoonful of spicy salsa and you've got yourself a delicious, filling Weight Watcher meal.
If you are making these Falafel Burger for a BBQ, I would suggest that they are made ahead, as per the instructions.
They can then be placed on the BBQ to warm up, prior to serving. I have tried cooking them from scratch on the BBQ but feel that they are best if crisped up in a frying pan first.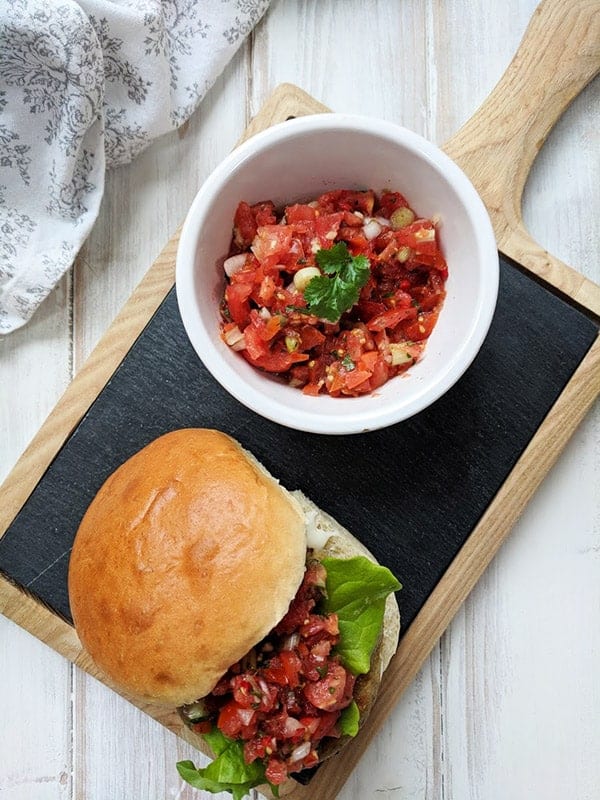 I serve these Falafel burgers in low point burger buns. The ones that I used were 4 SmartPoints per burger bun.
If you live in the UK, Warburton's and Iceland, do 4 SmartPoint burger buns.
If you live in the USA, Sara Lee do a 2 SmartPoint 80 calories & delightful burger bun and a 4 SmartPoint Whole Grain White Hamburger Bun.
Alternatively Skip the Bun & do this instead!
Use a lettuce leaves to wrap your burger (0 SP)
Use a sandwich thin such as Warburton Thins (3SP) , Healthy Life Sandwich Buns (2 SP) or L'Oven Fresh Sandwich Skinnys (3SP)
I used 1 tablespoon of Hellmann's Lighther than Light mayonnaise on this Falafel Burger for zero points and topped it off with a large spoonfull of this zero point salsa!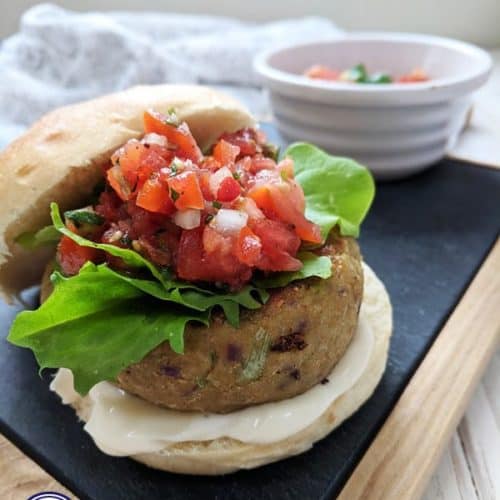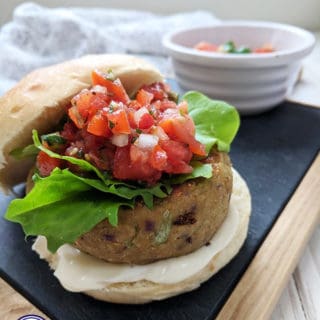 Falafel Burger
This Falafel Burger is just 4 SmartPoints on Weight Watchers Freestyle / Flex plan and that includes the burger bun! A perfect Weight Watchers BBQ recipe.
Ingredients
1

can

chickpeas

1x 400g can, drained & rinsed

1

tbsp

bread crumbs

1

garlic clove

½

tsp

harissa paste

for a spicier burger you can add more!

1

tsp

cumin

1

tsp

coriander

1

pinch

salt

1

small onion

spray oil
Instructions
Drain and rinse the chickpeas. Place in a food processor with the bread crumbs, garlic, harissa paste, cumin, coriander and salt and blitz until smooth (ish).

Finely chop the onions, add to the rest of the ingredients and mix to combine.

Shape the mixture into four patties with your hands.

Heat a non stick frying pan / skillet and spray with oil. Fry the falafel burger for 3 - 4 minutes each side (or until they have crisped up on the outside and have turned golden brown).

Serve on a low point burger bun with low point mayonnaise and fresh salsa.
Notes
Please be aware that the nutritional information below has been automatically generated and does not account for variations in product brands and types, weights of individual ingredients etc.  It should therefore be considered as an estimate.
PointedKitchen.com has calculated Weight Watchers Smart Points based on the individual ingredients used to make this recipe and not from the following nutritional information.
PointedKitchen.com is not responsible for any loss or damage relating to your reliance on this nutritional information.
Nutrition
Nutrition Facts
Falafel Burger
Amount per Serving
% Daily Value*
* Percent Daily Values are based on a 2000 calorie diet.