This vegetarian Chickpea Lentil Curry is just 1 Smart Point on Weight Watchers Freestyle plan, myWW Blue plan and myWW Purple plan.
It is 6 SmartPoints for anyone following the WW Green plan.
To find out how many Personal Points this recipe will be for you & to track it in the WW App, click on the blue button in recipe card below!
A filling & tasty Weight Watcher vegetarian dinner recipe.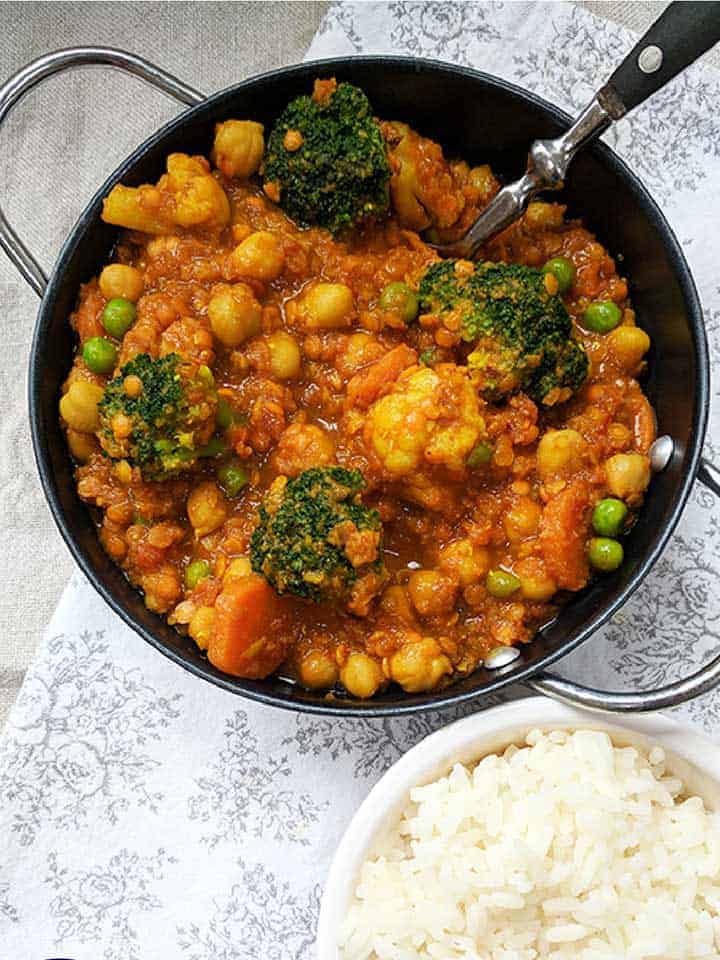 I often make a couple of batches of this recipe, divide it up and freeze it.
I can then grab a portion out of the freezer in the morning and warm it through in the evening for an easy, tasty and very filling meal.
Talking about batch cooking - do you ever get in a mess with measurements when trying to double or treble recipe quantities?
I did until I started using this recipe resizer . You just type (or cut & paste!) your recipe into it, click a button and it will resize it by servings or by recipe!
It works for both cup measurements and for grams.
How good is that?
Sometimes I eat the curry with a garlic naan bread for a 5 Smart Point meal.
Sometimes, if I am really hungry and wanting to push the boat out, I eat it with a garlic naan and rice! A really filling, tasty meal for so few points!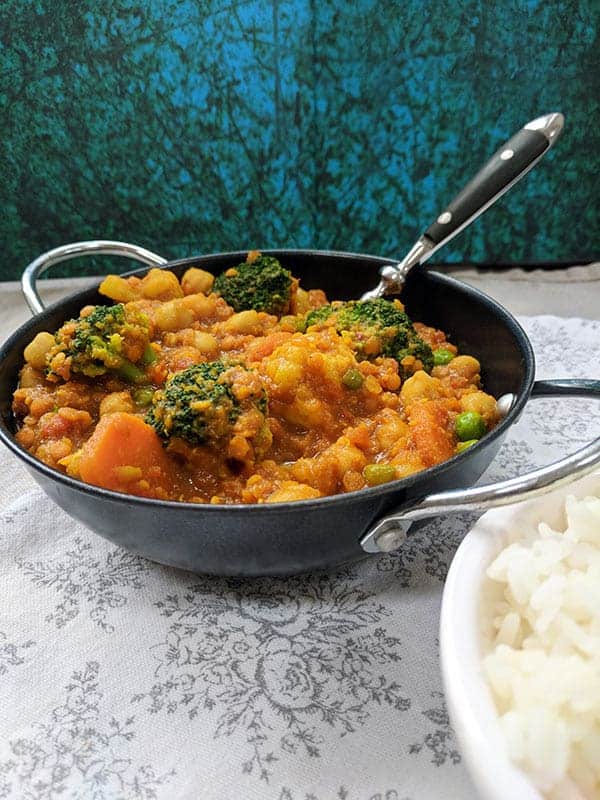 How Many SmartPoints in Chickpea Lentil Curry
Weight Watchers changed their program at the end of 2019. It now includes 3 individual plans, giving anyone following the WW program lots of choice about how they use their SmartPoint allocation.
Using the official WW recipe builder I have worked out the SmartPoints for this Chickpea & Lentil Curry for each of the plans.
Freestyle Plan - 1 SmartPoint per serving
myWW Blue Plan - 1 SmartPoint per serving
myWW Purple Plan - 1SmartPoint per serving
myWW Green Plan - 6 SmartPoints per serving
If you are following the myWW Purple Plan you can serve this low point curry with a small portion of brown rice for no extra SmartPoints!
If you are following any of the other plans and you serve this curry with rice, you will need to work out the SmartPoints for the rice separately
Chickpea Lentil Curry recipe alternatives!
Use chopped fresh veg rather than frozen mixed veg
Serve with a Garlic Naan Bread rather than rice for just 5 Smart Points (on Freestyle, Blue and Green)!
Use split peas rather than lentils.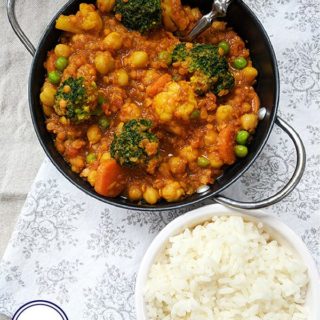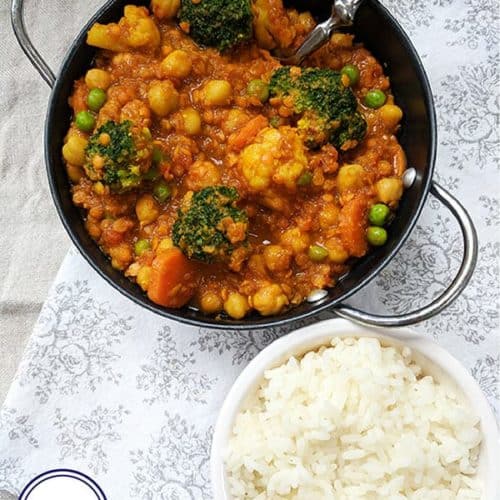 Chickpea & Lentil Curry
This Chickpea & Lentil Curry is just 1 SmartPoint per portion on WW Freestyle, Blue or Purple plan. It is 6 SmartPoints per portion on myWW Green plan.
Ingredients
1

small

red onion

(chopped finely)

2

cloves

garlic

(chopped finely)

1

tbsp

vegetable oil

1

tsp

chili powder

1

tsp

turmeric

1

tsp

smoked paprika

1

tbsp

ground coriander

1

tbsp

ground cumin

½

tsp

salt

½

tsp

ground pepper

1

can

tomatoes

1 x 400g can

1

can

chickpeas

1 x 400g can

½

cup

lentils

(100g)

¼

cup

water

(50ml)

1

tsp

garam masala

1.5

cups

frozen mixed vegetables

(200g)
Instructions
Heat the oil in a large saucepan over a medium heat. Add the chopped onion and saute until transparent.

Add the chopped garlic and saute for 1 or 2 minutes being careful not to burn.

Add the chili powder, turmeric, smoked paprika, ground coriander, and ground cumin and cook for 2 - 3 minutes stirring to stop it sticking to the bottom of the pan. 

Add the tin of chopped tomatoes, the drained chickpeas, lentils and water and stir. 

Bring to the boil then turn down the heat and simmer for 20 minutes.

Once the curry has been simmering for 20 minutes the lentils should be tender and the sauce should have reduced.

Add the garam masala, the salt and pepper and frozen mixed veg and stir to combine.

Bring back to a simmer and cook for a further 10 - 12 minutes until the veg is cooked through. 
Notes
Please be aware that the nutritional information below has been automatically generated and does not account for variations in product brands and types, weights of individual ingredients etc.  It should therefore be considered as an estimate.
PointedKitchen.com has calculated Weight Watchers Smart Points based on the individual ingredients used to make this recipe and not from the following nutritional information.
PointedKitchen.com is not responsible for any loss or damage relating to your reliance on this nutritional information.
Nutrition
Nutrition Facts
Chickpea & Lentil Curry
Amount per Serving
% Daily Value*
* Percent Daily Values are based on a 2000 calorie diet.