This list of 1 & 2 Smart Point Lollies is just what you need when following the Weight Watchers Freestyle plan!
You can now enjoy summer safe in the knowledge that when that sweet craving hits you can choose one of these and not break your Weight Watcher point budget!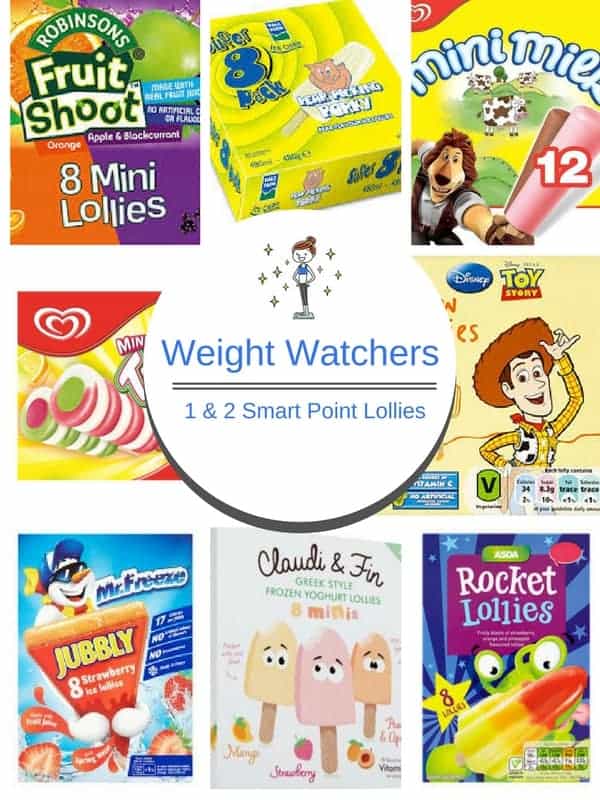 So summer is here!! Or at least it felt like it this weekend. I was craving an ice lolly so compiled this list of 1 & 2 Smart Point Lollies.
When everyone else is tucking in to ice creams and ice lollies this summer you can be confident that if you choose on of these low point lollies you won't be breaking your Smart Point budget.
Some of the most popular lollies are HUGE in points!
A Walls Magnum is 13 Smart Points
A Walls Strawberry Cornetto is 8 Smart Points and
A Nestle Nobbly Bobbly Ice Lolly is 11 Smart Points.
I LOVE ice cream and ice lollies but I don't know whether I love them enough to 'spend' those amount of points on them!
So I've compiled a list of eight of the lowest Smart Point Lollies that I could find.
Let me know if you can think of any others!
This post contains affiliate links. As an Amazon Associate I earn from qualifying purchases. Visit this page to see what that means.
ASDA Rocket Lollies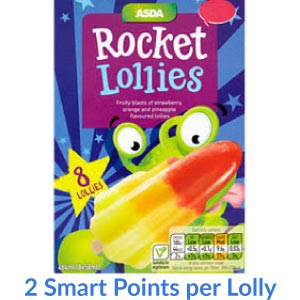 These strawberry, orange and pineapple flavoured lollies come in a pack of 8. They are suitable for vegetarians and are free from artificial colours and preservatives.
Tesco 8 Rainbow Fruit Lollies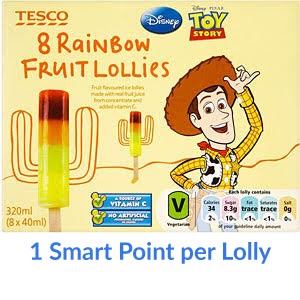 These fruit flavoured ice lollies are made with real fruit juice and come in a box of 8. They have added Vitamin C and do not contain any artificial preservatives, flavours or colours.
Robinsons Fruit Shoot Mini Lollies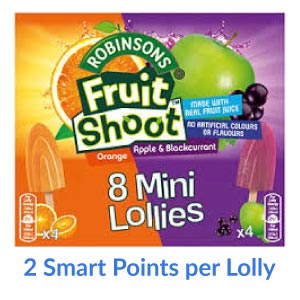 These Apple and Blackcurrant lollies and Orange lollies come in a box of 8 and are made with real fruit juice. They are also suitable for vegetarians and do not contain artificial colours or flavours.
Dale Fame Pear Picking Porky Pear Ice Lollies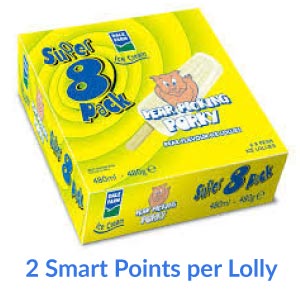 OK, so I would buy these just for the name alone : D . They come in packs of 8 and as the name suggests are pear flavoured - a nice change from the more usual fruit flavoured ice lollies.
Mr Freeze Jubbly Strawberry Ice Lollies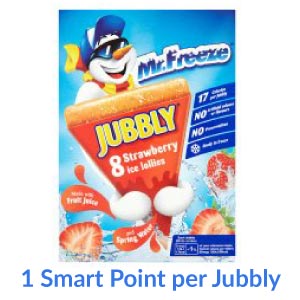 An ice lolly that you can buy on Amazon!! These Mr Freeze Jubbly Strawberry ice lollies are made with pure fruit juice, mineral water and they contain no preservatives. The lollies can be brought in your local supermarket or from Amazon and then you just pop them in the freezer!
Walls Mini Milk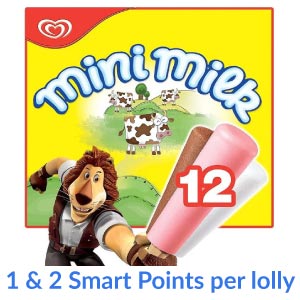 I love Mini Milks! They remind me of my childhood. I always have some in my freezer as I find that they are a great low point dessert! The strawberry and vanilla Mini Milks are just 1 Smart Point per lolly but the chocolate flavoured Mini Milks are 2 Smart Points.
Claudi & Fin Greek Style Frozen Yogurt Mini Lollies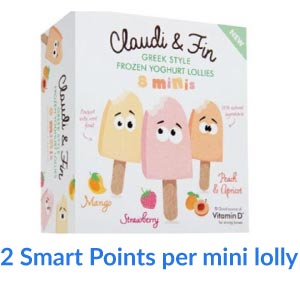 So these mini lollies from Claudi and Fin are a great find! They come in mixed flavour multipacks - Strawberry yoghurt lollies, Mango yoghurt lollies and Peach & Apricot yoghurt lollies! They are available at Tesco, Sainsbury's, Waitrose and Ocado.
Walls Mini Twister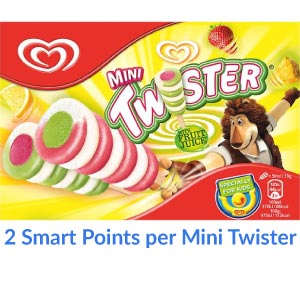 These 2 Smart Point Mini Twister are a mix of pineapple ice cream with strawberry and lemon flavoured fruit ice. They are made with fruit juice and come in a box of 8.