These Mini Vanilla Doughnuts (donuts) are just 3 Smart Points per doughnut on the Weight Watchers Blue, Purple and Green plans.
If you are still following along to the old Freestyle plan, they still work out at 3 SmartPoints per doughnut / donut!
Whichever WW plan you follow they are light and fluffy and make a great treat.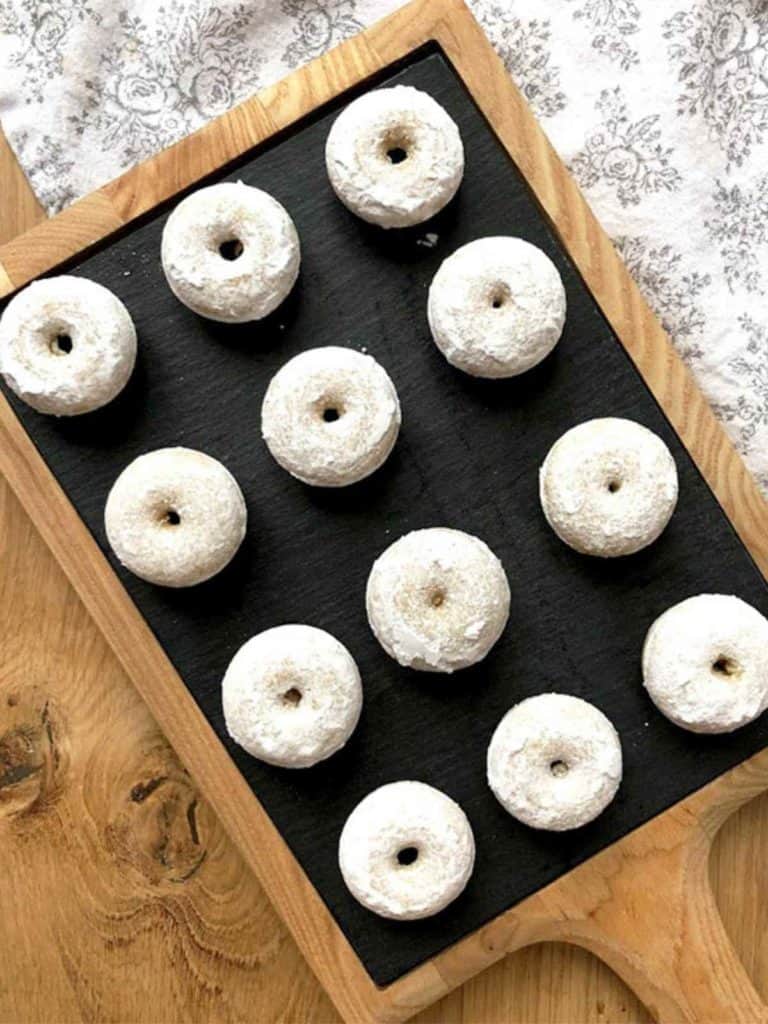 One of the things that I absolutely love about Weight Watchers is that no food is off limits.
Even doughnuts!
With a standard ring doughnut coming in at 11 Smart Points ....
.... and a Krispy Kreme White Chocolate & almond Doughnut coming in at a whooping 18 Smart Points per doughnut, I decided to do some testing of baked doughnuts!
A much lower point and healthier option than a fried doughnut.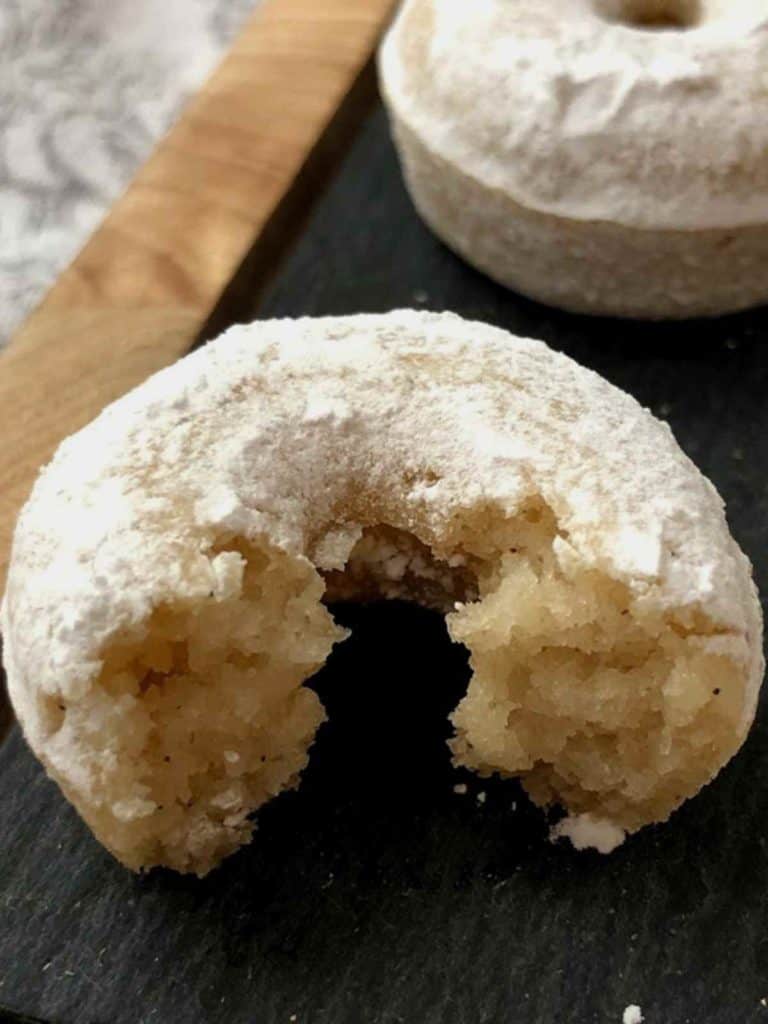 This post may contain affiliate links. As an Amazon Associate I earn from qualifying purchases. Visit this page to see what that means.
Buying a mini doughnut pan like this one from Amazon means that you can make doughnuts that are more Weight Watchers friendly.
Instead of plunging the doughnut dough into hot fat and frying them like traditional doughnuts, these can be baked in the oven - a much healthier ways of cooking.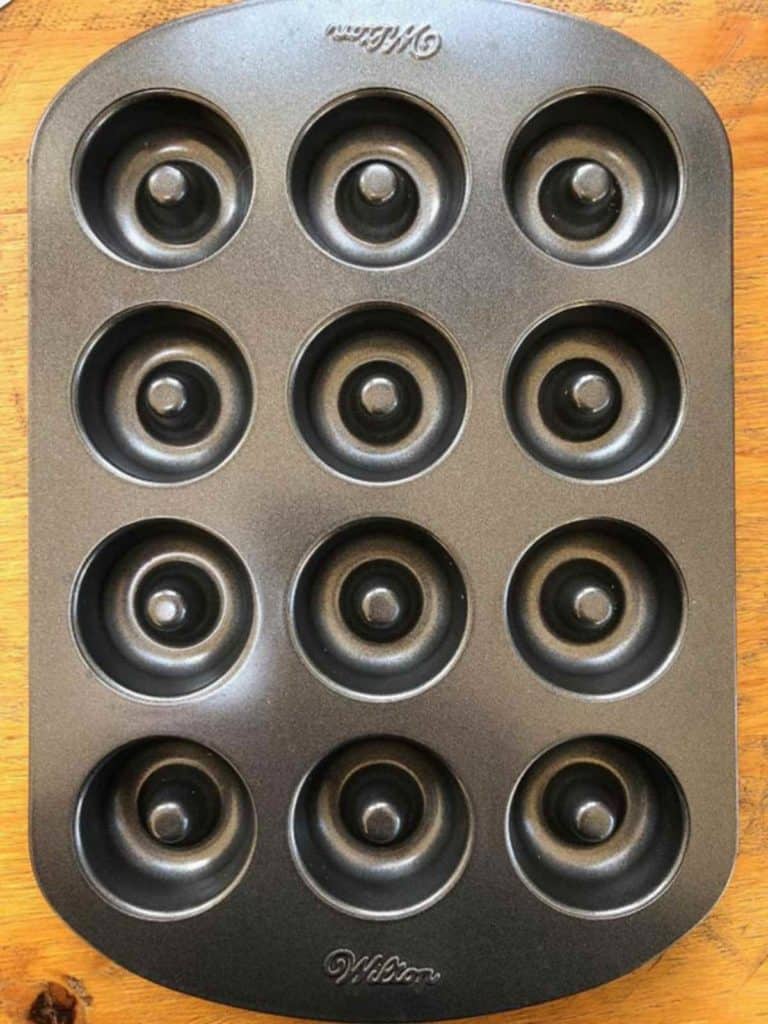 Small but good!
They have a light fluffy texture and are sweet with a hint of vanilla.
I used vanilla bean paste rather than vanilla extract in this recipe but you can use either.
I'd suggest that you don't use vanilla flavouring as it can taste a bit synthetic!
Just my opinion 🙂
The addition of vinegar may seem a bit odd, but I added it as this is what helps make the doughnuts so fluffy!
The acid in the vinegar reacts with the baking soda (which is in the self raising flour) and it gives the dough a lift!
More Weight Watchers Baking ideas
If you love baking, why not try some of these Weight Watchers friendly recipes.
These popular Pumpkin Spice French Toast Muffins are a particular favourite of mine and are just 2 SmartPoints per muffin on the Purple and Blue plans and 3 SmartPoints on the Green plan.
This Pineapple Angel Food Cake is a real must if you have a lot of people that you want to bake for .... they won't even guess that it's a WW recipe!
My Banana Yogurt Bread recipe is also very popular and is 4 SmartPoints per portion on the Blue and Purple plan and 5 SmartPoints on the Green plan.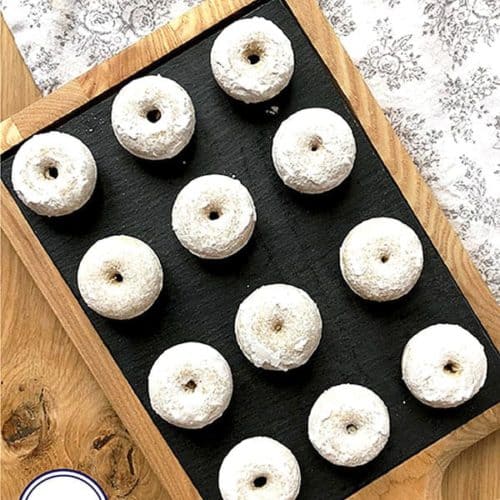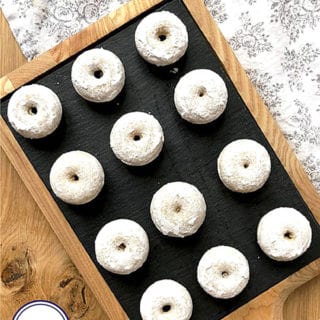 Mini Vanilla Doughnuts
These Mini Vanilla Doughnuts are only 3 Smart Points per doughnut on the Weight Watchers Flex / Freestyle program.
Ingredients
½

tsp

white wine vinegar

or apple cider vinegar

½

cup

skimmed milk

1

tsp

vanilla bean paste

1.5

tbsp

vegetable oil

⅔

cup

self raising flour

(if you use all purpose flour add 1 tsp baking powder)

¼

cup

granulated sugar

1

pinch

salt

2

tbsp

icing sugar

heaped tablespoons

calorie controlled spray oil

Frylight / Pam
Instructions
Preheat the oven to 180oC / 350oF. Grease a mini doughnut pan with a few sprays of calorie controlled spray. You really only need one or two sprays for the whole pan - don't over do it.

Place the vinegar, skimmed milk, vanilla bean paste and vegetable oil in a jug and whisk together to combine.

In a separate jug, mix the sugar, self raising flour (or flour and baking powder if you are using plain or all purpose flour) and salt together.

Add the liquid ingredients into the dry ingredients and mix together. You want the ingredients to be combined but do not over mix.

Pour the batter into your greased mini doughnut pan and cook for 8 to 10 minutes.

Once baked leave the doughnuts to cool before removing them from the pan.

Put the icing sugar in a small bowl. Dip the cool doughnuts into the icing sugar and turn so that all sides of the doughnut are coated in icing sugar.
Notes
Please be aware that the nutritional information below has been automatically generated and does not account for variations in product brands and types, weights of individual ingredients etc.  It should therefore be considered as an estimate. PointedKitchen.com has calculated Weight Watchers Smart Points based on the individual ingredients used to make this recipe and NOT from the following nutritional information. PointedKitchen.com is not responsible for any loss or damage relating to your reliance on this nutritional information.
Nutrition
Nutrition Facts
Mini Vanilla Doughnuts
Amount per Serving
% Daily Value*
* Percent Daily Values are based on a 2000 calorie diet.