These Pumpkin Spiced French Toast Muffins are swirled with pumpkin puree and flavoured with a little pumpkin spice to make a delicious sweet muffin, soft on the inside and crisp on the outside. Working out at 3 Points or under on the Personal Points plan they make a fantastic Weight Watchers breakfast!
Still following the old WW plan, then they are just 2 SmartPoints (Blue & Purple plan) and 3 SmartPoints (Green plan) per muffin.
Simple to make and freezer friendly, these tasty little muffins are delicious served hot or cold. Top with a drizzle of one of these Low Point Pancake Syrups for a really decadent treat!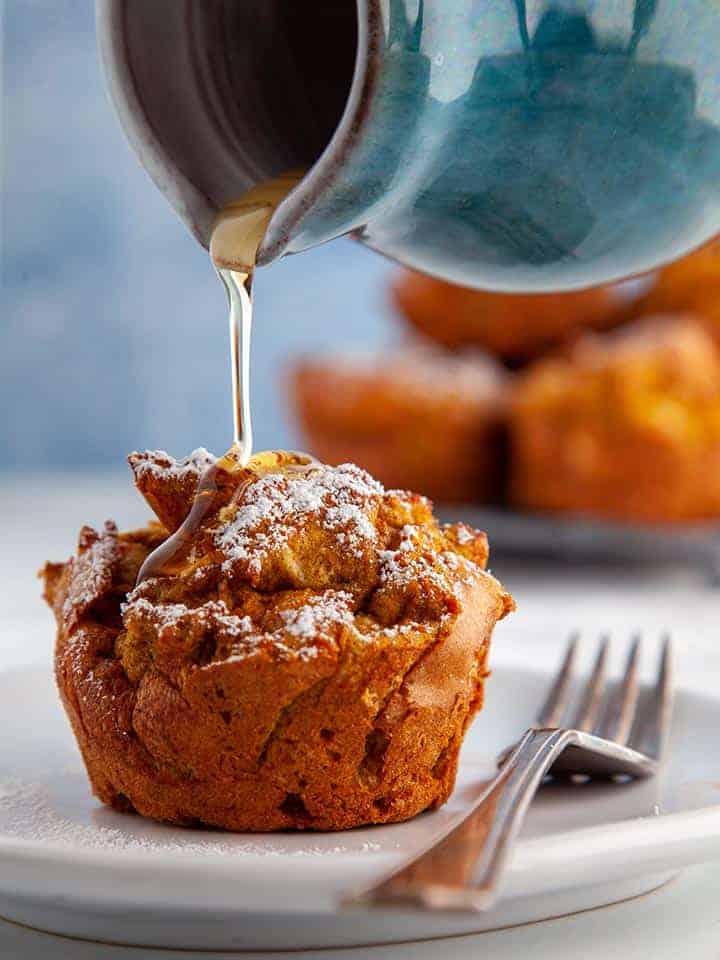 Please be aware that this post was written prior to Weight Watchers changing to the WW Personal Points Plan! You can discover exactly how many Personal Points this recipe will be for you by clicking on the blue 'WW Personal Points' button in the recipe card below.
So Monday was the official launch of the MyWW program. This exciting new Weight Watchers program is more customisable than any other program that has gone before it.
Basics of the New WW program.
WW now has 3 different plan options - Blue, Purple & Green to be precise!
Like previous WW plans, you're still given a daily SmartPoints budget, you're still given a weekly SmartPoints allowance and you still get to roll over points if you don't use them on any given day.
Your SmartPoints allowance is still worked out for you individually based on your weight, height, sex and age and you can still accumulate FitPoints for activity that you do during the day.
The big difference with the new MyWW program is that you now have choice!
You get to choose whether you follow the Blue plan, the Green plan or the Purple plan.
The Blue, Purple & Green plans.
The Blue plan - this plan is basically the Freestyle plan! So if you were following WW during 2019, you would most probably have been following this plan. You have a moderate number of SmartPoints that you can use daily and you get to choose from a list of over 200 Zero Point foods.
The Purple plan - this plan lets you choose from over 300 Zero Point foods (including fruit, veg, lean protein and whole grains) but gives you a smaller SmartPoint allowance than the Blue plan.
The Green plan - this plan gives you the largest SmartPoint allowance of the three plans but limits the number of Zero Point foods that are available to you.
For all the details on the new WW program, I strongly recommend that you take a look at your updated app, log on to the WW website , or go along to a meeting to find out more.
I love having choices 😀 so I'm excited to see how these new plans work for me.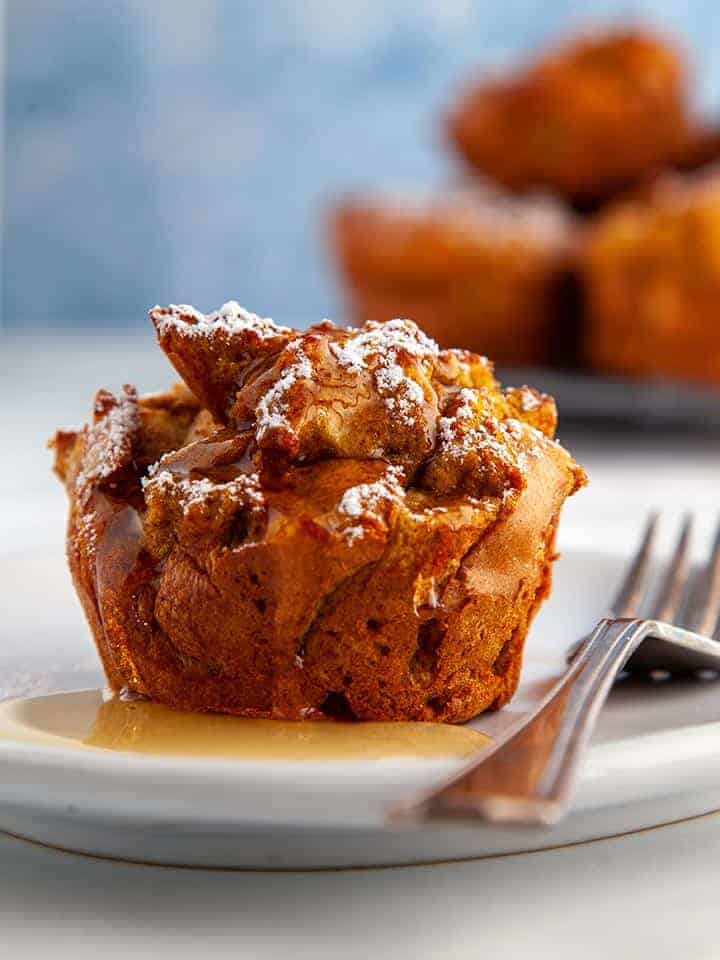 So yesterday, although I was 3500 miles away from my usual WW meeting, I tracked down the closest studio to where I am staying & I trudged through thick snow and icy cold wind to hear all about the new plan.
I came away excited about the changes and laden down with booklets, a new cookbook & some WW chocolate bars!
I think, for now anyhow, I am going to stick with the Blue plan.
Once I get home (in another couple of weeks) and I have had time to stop & think & plan, I may consider trying out the Purple plan just to see how I get on!
This post may contain affiliate links. As an Amazon Associate I earn from qualifying purchases. Visit this page to see what that means.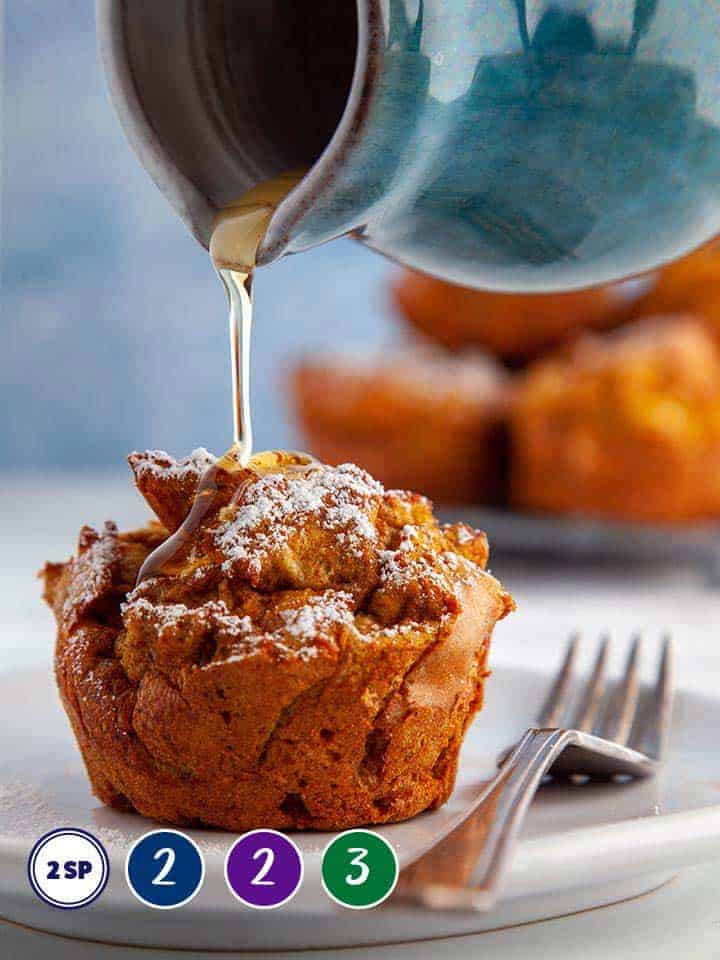 From today, any recipes appearing on Pointed Kitchen will include the SmartPoint values for each of the different plans (Blue, Purple & Green).
I will also continue showing the Freestyle SmartPoint values (even though they are the same as the Blue plan!) as this will ensure that anyone still unfamiliar with the new colour plans knows the 'old' freestyle point values!
Over time, I will work out the SmartPoint values for all the plans for older recipes but this may take some time (it's just me here 😀 so please bear with me!).
Of course, if you are following the Blue plan, then nothing has changed - all SmartPoints on my earlier recipes are correct for that plan.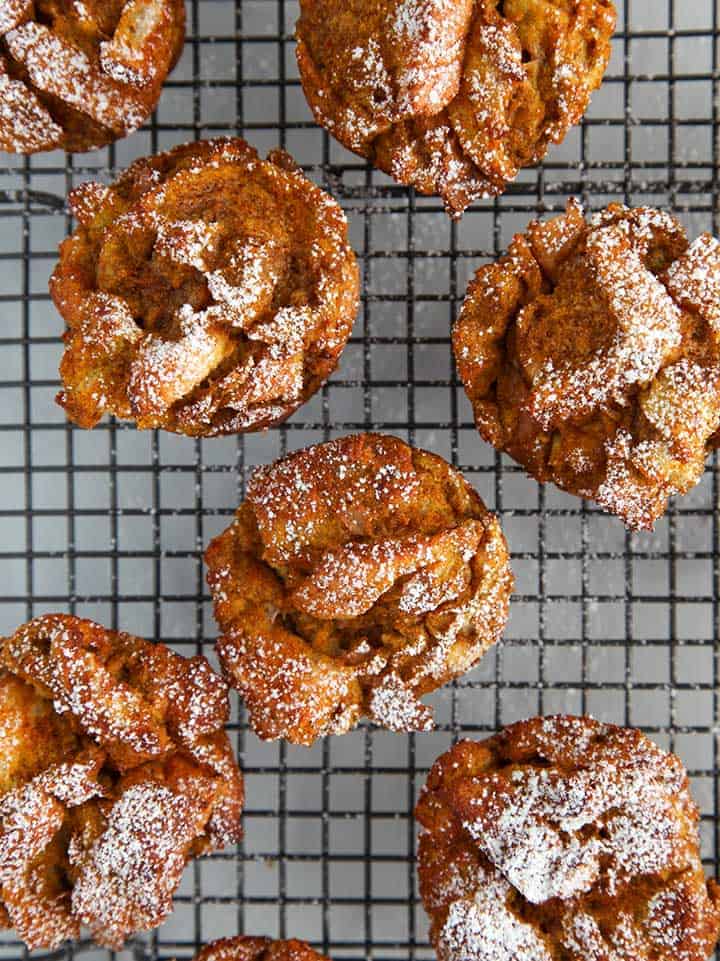 Anyhow, enough about that!
What about these wonderfully tasty Pumpkin Spiced French Toast Muffins? Don't they look great? They taste great too.
I eat mine warm with with a drizzle of low SmartPoint syrup and sometimes a spoonful of fat free yogurt! Yum!
The muffins are crispy, almost caramelised on the outside and soft and fluffy on the inside and they have a lovely hint of pumpkin spice.
I have also a similar recipe for Pumpkin Spice French Toast Casserole, which I love to eat as a filling, sweet and low point breakfast! Why not check it out!
What bread can I use for this recipe?
I used WW Danish White sliced bread in this recipe. It works out at 1 SmartPoint per slice but 17 SmartPoints for the 12 slices that were needed for this recipe.
If you are unable to find WW sliced bread in a store near you, then take a look at these Low Point Breads for ideas on alternatives that you could use.
But do remember that just because 1 slice of bread works out at 1 SmartPoint per slice, it does not necessarily follow that 2 slices will work out at 2 SmartPoints.
If the bread that you use work out at 17 SmartPoints (or less) for 12 slices then you are good to go. Otherwise you will need to recalculate the SmartPoints for this recipe.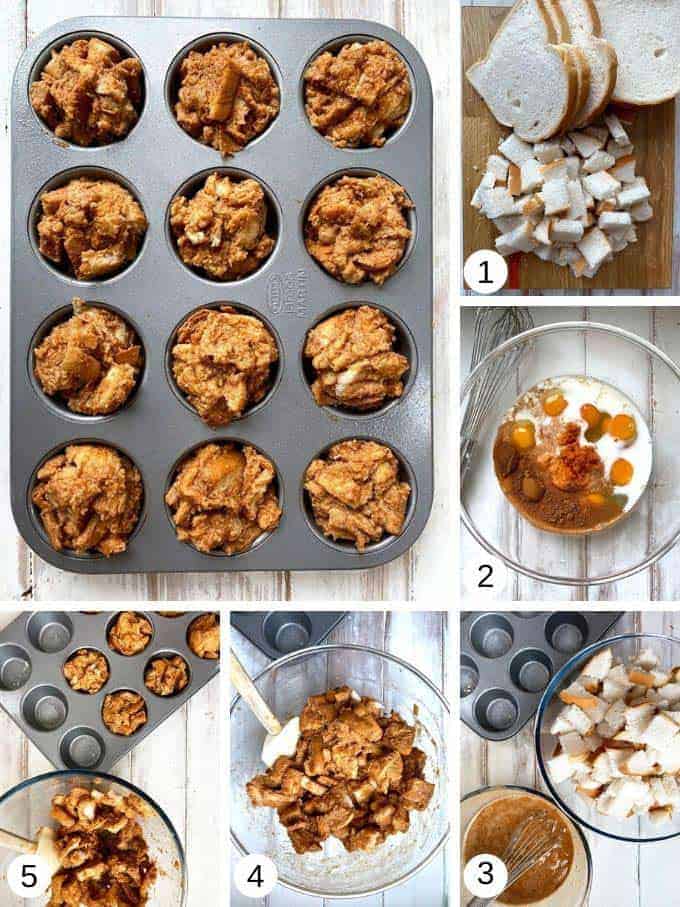 Tips for making Pumpkin Spiced French Toast Muffins.
This recipe really is very easy to make, but there are some tips that will ensure that the end result comes out the oven perfectly each time.
Spray a muffin tray with a little calorie controlled cooking oil.
Chop the bread into squares - I found that each slice of bread made about 12 squares (picture 1).
Chopping up the bread is better than tearing it up. It makes for a bigger, fuller muffin!
Place the squares of bread into a large mixing bowl.
Place the eggs, spices, pumpkin puree, vanilla paste, sugar and milk into a medium sized bowl (picture 2).
Whisk together until you get a smooth creamy consistency without any lumps(picture 3)
Pour the liquid over the squares of bread (picture 4)
GENTLY fold the mixture in so that all the liquid is soaked up into the bread (picture 4)
Don't be too heavy handed here as you want most of the squares of bread to stay as squares! If you are too heavy handed the bread will fall apart and become mushy.
Use a spoon to divide the mixture equally between the 12 hole muffin tin (picture 5).
Press the mixture gently into the holes so that they are not overflowing over the top, but be gentle as you don't want to press too hard and create a mush!
Bake in a preheated oven until the muffins have crisped up on the outside and have turned golden brown.
Dust with a little powdered sugar / icing sugar before serving.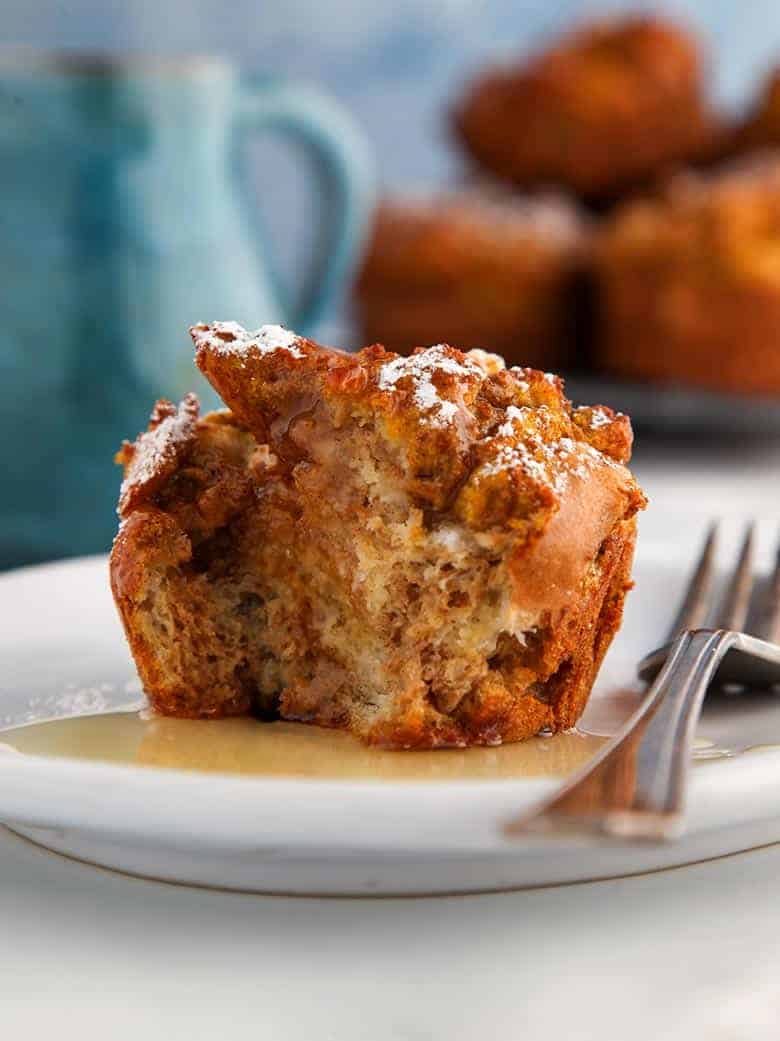 Can I freeze these French Toast Muffins?
Yes, I have successfully frozen these muffins. In fact, I have a batch of them in my freezer currently.
I prefer to freeze a batch and take them out of the freezer one by one rather than keeping them in an airtight container & them being in temptations way!
If you are freezing the muffins, do so before dusting them with powdered sugar.
Make sure that you let them cool completely before you bag them up and place them in the freezer.
For best results, let the muffin defrost thoroughly after removing from the freezer. You can then pop it in a preheated oven to warm through before serving.
Other WW Dessert Recipes.
If you like this Pumpkin Spiced French Toast Muffin recipe, then you may also like these Weight Watcher dessert recipes.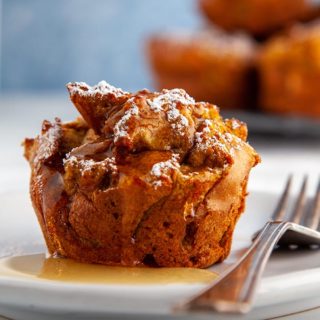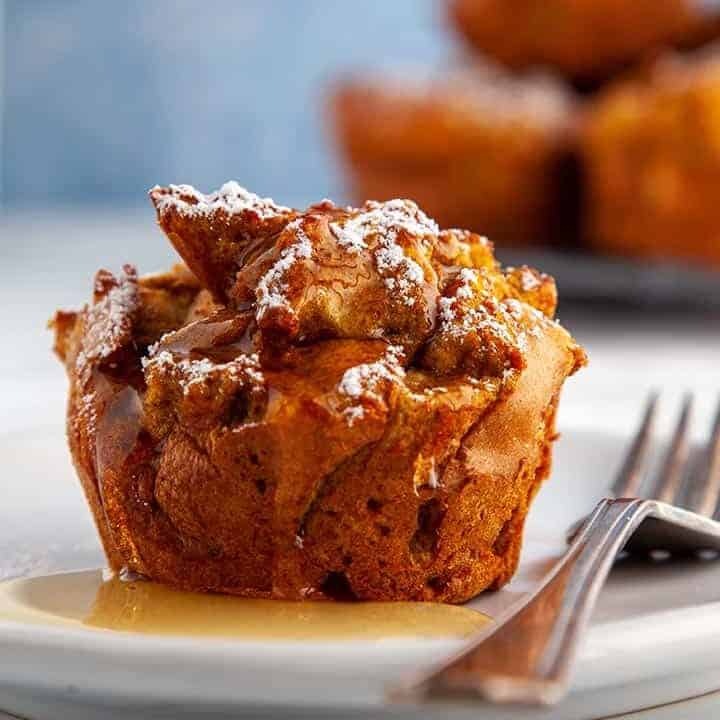 Pumpkin Spiced French Toast Muffins | Weight Watchers
These tasty Pumpkin Spiced French Toast Muffins are low in Points on the Weight Watchers Personal Points plan. They were 2 SmartPoints per piece (Blue & Purple) & 3 SmartPoints (Green). Eat warm or cold for a wonderfully sweet low point treat!
Ingredients
12

slices

calorie controlled bread

3

sprays

calorie controlled spray oil

6

eggs

½

cup

canned pumpkin

(140g)

½

cup

skimmed milk

(125ml)

2

tsp

pumpkin spice mix

1

tsp

vanilla paste

2

tbsp

sugar

2

tsp

powdered sugar

for dusting
Instructions
Preheat the oven to 180°C / 160°C fan / 350°F / Gas Mark 4

Spray a 12 hole muffin tin with calorie controlled spray oil and set aside.

Slice the bread into cubes - I found that each slice of bread made approximately 12 squares.

Place the sliced bread into a large bowl

Crack the eggs into a medium sized bowl, add the pumpkin, skimmed milk, pumpkin spice, vanilla paste and sugar and whisk until fully combined.

Pour the liquid over the bread and carefully stir, making sure that all the bread is coated with liquid. Don't over mix as you don't want all of the bread to fall apart and become mushy!

Divide the mixture equally between the 12 holes of the muffin tin.

Place in the centre of the oven and cook for 25 - 30 minutes or until the muffins have a crispy outside and have turned golden brown.

Remove from the oven and turn out on to a cooling rack.

Dust with icing sugar and serve warm or cold.
Notes
These Pumpkin Spiced French Toast Muffins are particularly tasty served with a drizzle of one of these Low Point Syrups!
Nutrition
Nutrition Facts
Pumpkin Spiced French Toast Muffins | Weight Watchers
Amount per Serving
% Daily Value*
* Percent Daily Values are based on a 2000 calorie diet.