This Pistachio Crunch pudding is just 1 Smart Point per portion on Weight Watchers Freestyle plan. Easy to make and using just 3 main ingredients, it creates a perfect low point Weight Watchers dessert.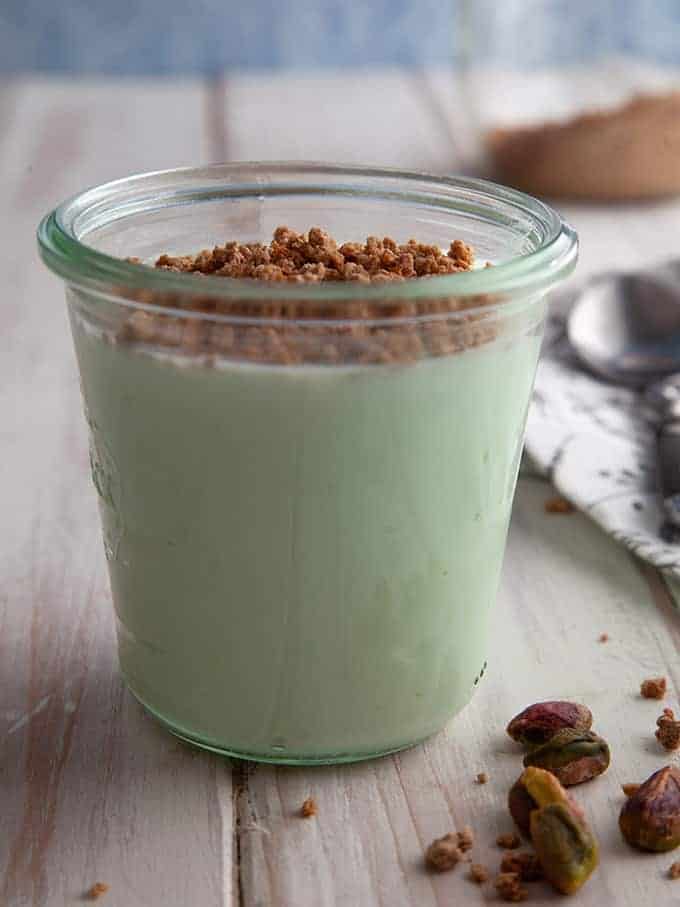 Even without the crunchy topping, this pistachio pudding is really good!  But, I love the addition of a bit of 'crunch' which elevates the pudding from tasty to a super tasty low Smart Point dessert!
This post contains affiliate links. As an Amazon Associate I earn from qualifying purchases. Visit this page to see what that means.
Ok …. so here is my big admission!
I had never tasted Jell-o pudding prior to starting on my WW journey!
I don't even think I had heard of it!
What, I hear you say!!
Well, I grew up in the UK and pudding mix just wasn't something that was available.
We do have a powdered dessert called Angel Delight 😀 which is whisked together with milk but it doesn't really have the same consistency as Jell-o pudding. Nor does it come in such a wide variety of flavours.
So, anyhow, I now spend time in North America and have easy access to all sort of fat free and sugar free pudding mix and I'm experimenting!!
Although, I'd still prefer to make my desserts from scratch (with fewer unpronounceable ingredients!), this dessert is really a winner when you crave something sweet and instant!
Other Low Smart Point Desserts
If, like me, you adore dessert then you may be interested in these Low Smart Point Weight Watchers desserts!
Lime Fluff  (zero Smart Points)
Apple Turnovers  (2 Smart Points)
Baked Egg Custard  (3 Smart Points)
Lemon Pudding  (4 Smart Points)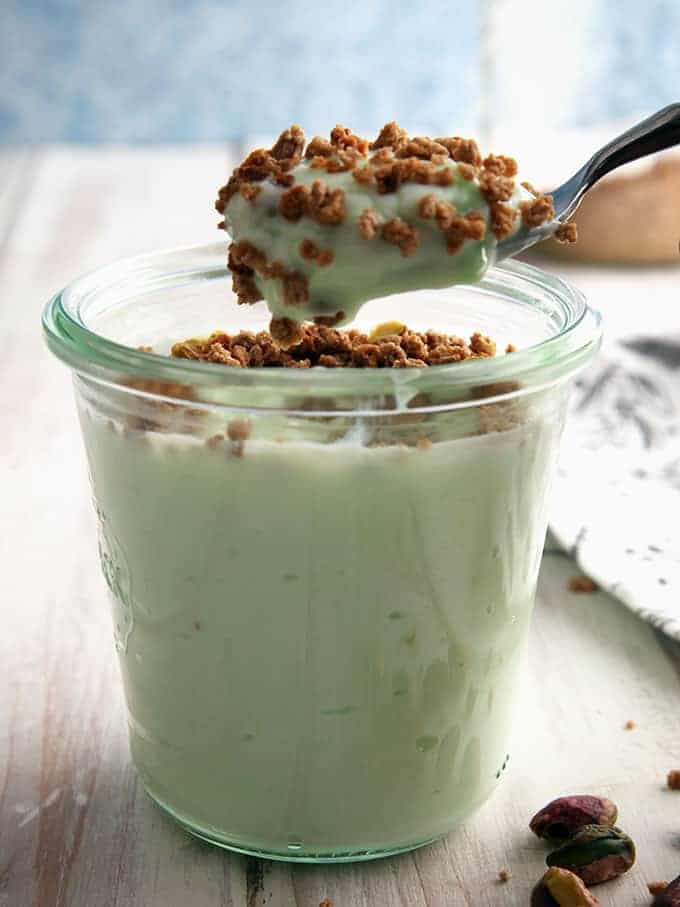 What yogurt should I use for this Pistachio Crunch?
You can use fat free natural yogurt or fat free Greek yogurt in this recipe. Either tastes great!
If you use fat free Greek yogurt it gives the dessert a 'tarter' taste but I quite like that.
Experiment and see what you prefer!
Just remember that it needs to be fat free yogurt with no flavour/sweeteners to keep it the same Smart Point value.
I can't find fat free / sugar free pistachio pudding!
Sometimes it can be difficult to get hold of the Jell-o fat free / sugar free pistachio flavoured pudding. Stores don't always stock this flavour.
When I do find it on the shelves, I tend to pick up a couple of boxes to keep me going.
It can also be purchased from Amazon here in packets of 6 boxes.
Can I use 'normal' Pistachio pudding mix?
Yes! You can use the normal pistachio pudding mix but it is more Smart Points.
If you use the non sugar free / fat free pistachio pudding mix in this recipe, each serving would be 2 Smart Points.
What are Grape Nuts
I'm a bit of a Grape Nuts fan!
Grape nuts contain neither grapes nor nuts so it's anyones guess why they are called this.
They are made from wheat and barley, are very crunchy and have a slight nutty flavour.
They are perfect for using as a topping for yogurt or for puddings such as this Pistachio Crunch.
Post Grape Nuts can be found in the cereal aisle of supermarkets or can be brought from Amazon here!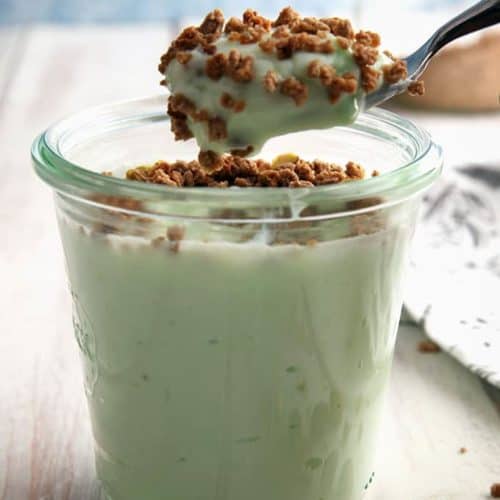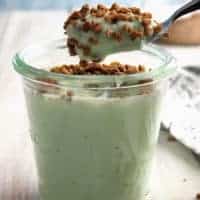 Pistachio Crunch | Weight Watchers
This 3 ingredient Pistachio Crunch is just 1 Smart Point per portion on Weight Watchers Freestyle plan. A tasty and satisfying low point dessert!
Ingredients
1 cup (250g) fat free natural yogurt
1 tbsp pistachio pudding mix (sugar free / fat free)
1 tbsp grape nuts
Instructions
Spoon the yogurt into a bowl and sprinkle over the pistachio flavoured pudding mix.
Use a whisk or a spoon to beat the mixture so that it is thick and smooth and is lump free.
Spoon the mixture into two pudding bowls.
Sprinkle the grape nuts over the top of the pudding and serve straight away *
Enjoy .... & don't forget to track it!
Notes
* If you are not planning on eating this dessert straight away, I would suggest following the instructions till number 3 then chilling it. Just prior to serving the dessert, take it out of the fridge and sprinkle on the grape nuts.
I use fat free Greek yogurt for this recipe but any fat free unflavoured yogurt will do.
If you can't find sugar free / fat free pistachio pudding mix, read the post above for alternatives that can be used.
I will sometimes add a couple of chopped up pistachios on top for even more crunch (but extra Smart Points!).
Recommended Products
As an Amazon Associate and member of other affiliate programs, I earn from qualifying purchases.
Nutrition Information:
Yield:

2
Serving Size:

1
Amount Per Serving:
Calories:

76
Total Fat:

2g
Saturated Fat:

1g
Trans Fat:

0g
Unsaturated Fat:

1g
Cholesterol:

5mg
Sodium:

86mg
Carbohydrates:

10g
Net Carbohydrates:

0g
Fiber:

0g
Sugar:

7g
Sugar Alcohols:

0g
Protein:

5g
Please be aware that the nutritional information above has been automatically generated and does not account for variations in product brands and types, weights of individual ingredients etc.  It should therefore be considered as an estimate. PointedKitchen.com has calculated Weight Watchers Smart Points based on the individual ingredients used to make this recipe and not from the following nutritional information. PointedKitchen.com is not responsible for any loss or damage relating to your reliance on this nutritional information.