These deliciously creamy Baked Egg Custards are just 3 SmartPoints per portion on Weight Watchers Blue, Purple & Freestyle plans.
They are 4 SmartPoints per portion on the WW Green plan.
If you follow the WW Personal Points plan then each custard will work out under 4 Points. You can use the blue button in the recipe card to discover exactly how many WW Personal Points this recipe will be for you!
Whichever plan you follow, this Baked Egg Custard is a perfect low Point WW dessert recipe!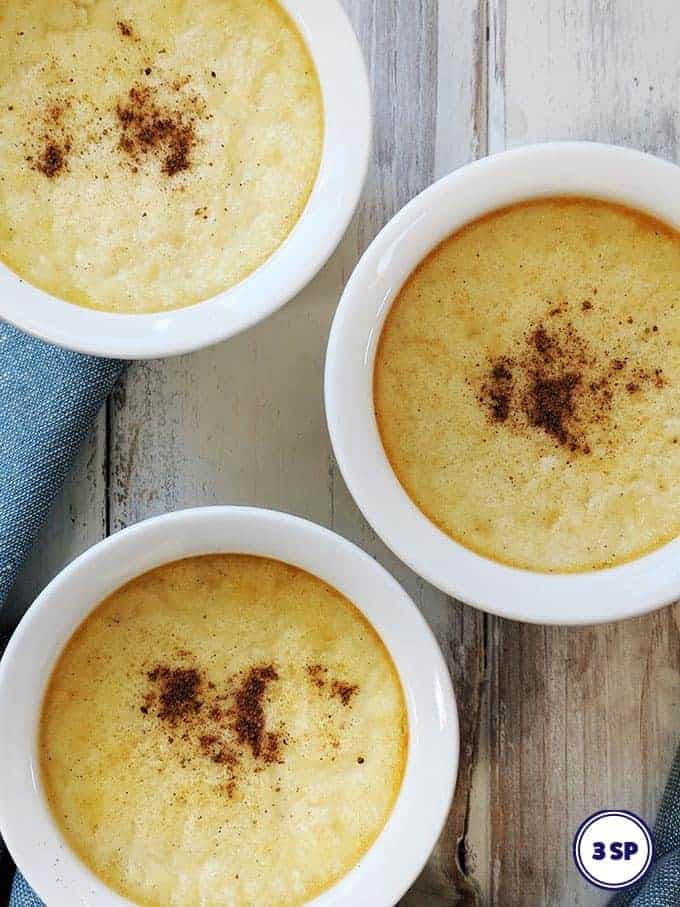 Read on for tips and tricks on how to make the creamiest custards or if you prefer just scroll straight through to the recipe.
This simple yet tasty Baked Egg Custard is just perfect if you are looking for a low point dessert.
It's easy to make and contains ingredients that you probably already have in your fridge / store cupboard.
I don't know about you but I love a good custard!
I don't mean the bright yellow Birds custard of the 1970's (although I love that too 😀 ).
No, I mean, rich creamy, set vanilla custard like this one.
It is baked to perfection, with a light golden brown top and a soft and creamy custard centre.
It is complemented perfectly with a pinch or two of nutmeg sprinkled on the top. Yum!
It's incredibly easy to make and can be eaten hot or cold.
Any left over portions can be kept in the fridge, tightly covered, for 3 or 4 days.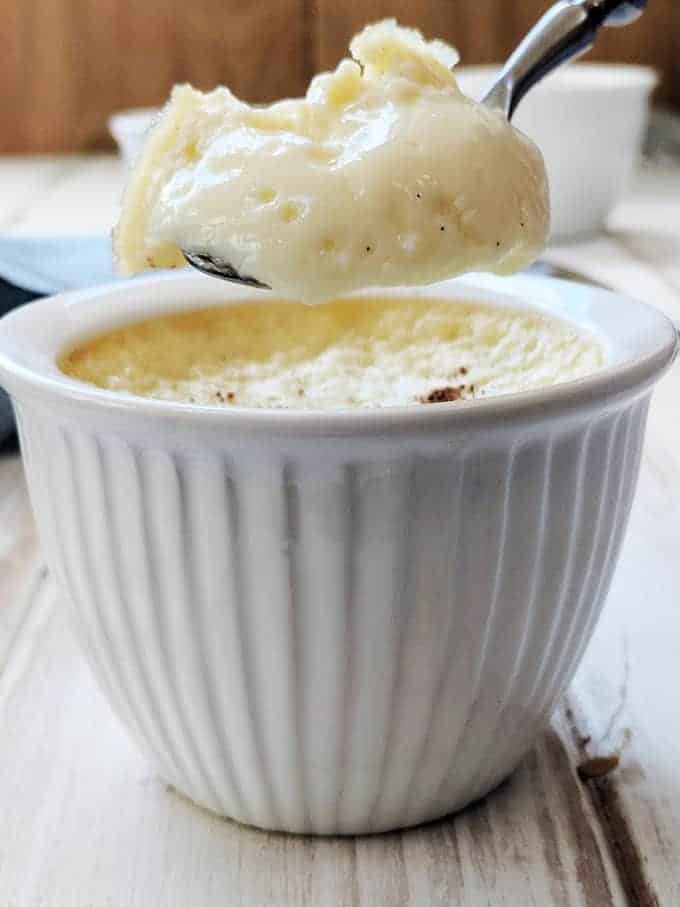 Tips for making Baked Egg Custard:
To make a smooth custard and to avoid making scrambled eggs it is important to temper the eggs.
Tempering is the process of combining heat sensitive foods. For this recipe, hot milk needs to be added to cold eggs. If this is done too quickly then you will make sweetened scrambled eggs! That's not really what you want!
So pour a little of the hot milk into the cold eggs and whisk. This will warm the eggs up enabling you to slowly add the remainder of the hot milk before continuing with the rest of the recipe.
I prefer to make individual egg custards rather than one big one. However, you can make one dish of Baked Egg Custard by following the recipe, pouring the custard mixture into a large dish and baking it in the water bath for 45 - 50 minutes.
If you do end up putting any of these desserts in the fridge, cover them tightly with cling wrap before you do so.
They will keep for 3 or 4 days. You may find that a bit of watery liquid collects on the top. Don't stir this liquid into the custard, just dab it off with a little bit of kitchen roll before eating!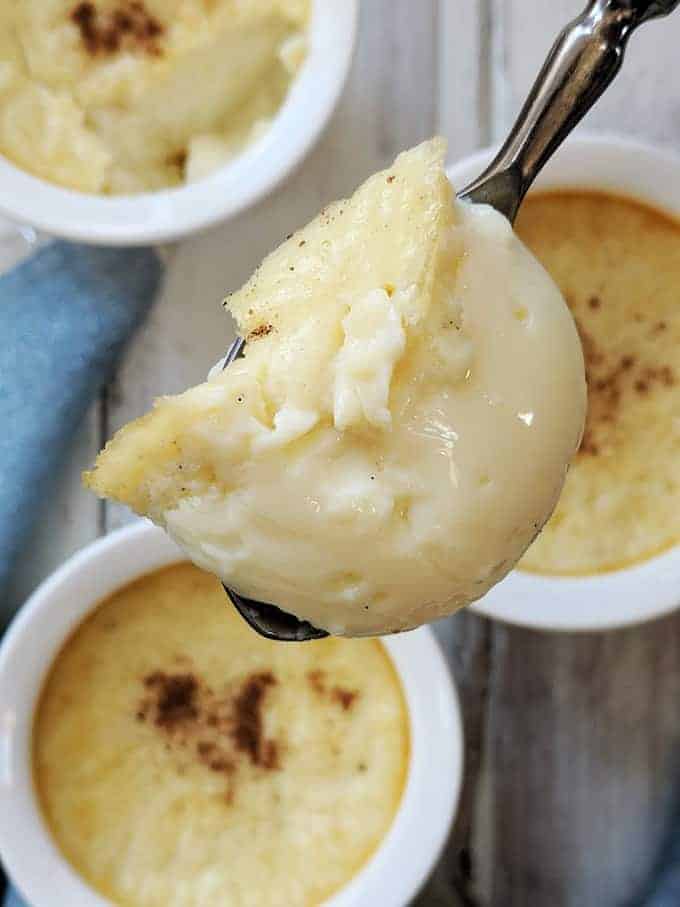 This post may contain affiliate links. As an Amazon Associate I earn from qualifying purchases. Visit this page to see what that means.
What I used to make the Baked Egg Custard:
I love Taylor & College Organic Vanilla Bean Paste, available from Amazon.
These Porcelain Ramekins are a perfect size to make your Baked Egg Custards in.
Looking for more WW dessert ideas?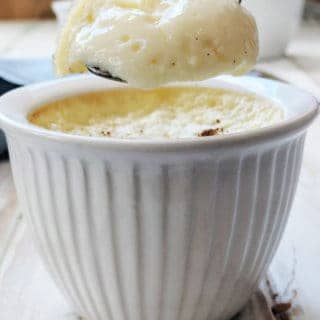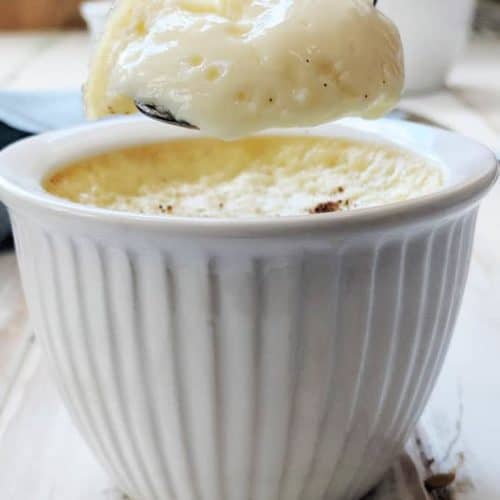 Baked Egg Custard
These Baked Egg Custards are just 3 SmartPoints per portion on Weight Watchers Blue, Purple & Freestyle plan. It is 4 SmartPoints per portion on WW Green plan.
Ingredients
2½

cups

semi skimmed milk

(600ml) 1% milk

3

eggs

medium

1

tsp

vanilla extract

(or vanilla paste if you have it!)

2

tbsp

sugar

(30g) I used superfine / caster

1

tsp

ground nutmeg
Instructions
Preheat the oven to Gas Mark 3 / 170oC / 150oC Fan / 325oF

Heat the milk over a medium heat until it is hot but not boiling.

Whisk the eggs, vanilla and sugar in a jug. Once the milk is hot, remove it from the heat and pour a little of it into the eggs, whisking vigorously. Now slowly add the rest of the hot milk to the eggs, making sure that you whisk continuously. By doing this, you are tempering the cold eggs and preventing them from cooking and curdling when you add the hot milk.

Pour the custard mixture into 6 ramekins. Place the ramekins side by side into a deep baking tray. Pour enough warm water into the bottom of the baking tray to come ⅓ of the way up the ramekins.

Place the baking tray in the preheated oven and bake for 25 - 30 minutes. Remove from the oven once the custards are set, have turned a light golden brown and have a bit of a wobble.

Sprinkle a pinch of two of grated nutmeg on top of each egg custard before serving.
Notes
Please be aware that the nutritional information below has been automatically generated and does not account for variations in product brands and types, weights of individual ingredients etc.  It should therefore be considered as an estimate.
PointedKitchen.com has calculated Weight Watchers Smart Points based on the individual ingredients used to make this recipe and not from the following nutritional information.
PointedKitchen.com is not responsible for any loss or damage relating to your reliance on this nutritional information.
Nutrition
Nutrition Facts
Baked Egg Custard
Amount per Serving
% Daily Value*
* Percent Daily Values are based on a 2000 calorie diet.