This simple, tasty yogurt Fluff is zero points on Weight Watchers Freestyle plan. It is also zero SmartPoints on Weight Watchers Blue plan & Purple plan. It is 1 SmartPoint per portion on Weight Watchers Green plan.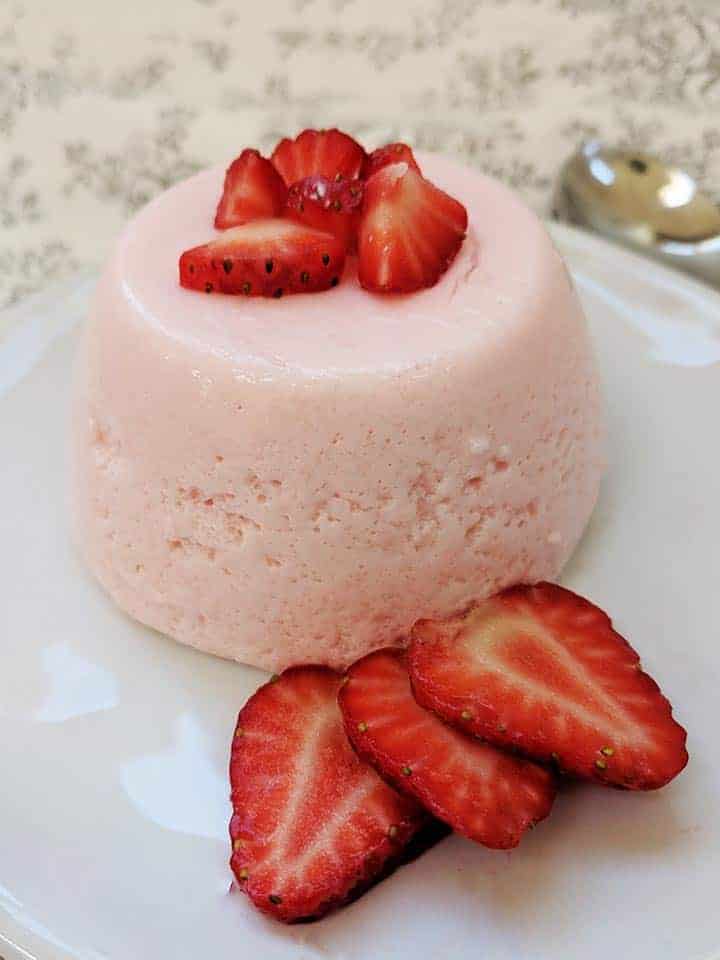 Made with sugar free jelly / jello and fat free yogurt, this easy dessert is zero SmartPoints! How good is that!
If you have been following the Weight Watchers plan for anytime, you will most probably have heard of 'Fluff'
If not, you're in for a treat!
It is a genius mix of fat free natural yogurt (or fat free Greek yogurt) and sugar free jelly / jello that is whisked up to create a light and moussey dessert!
It can be spooned into individual ramekins, or can be chilled in individual pudding bowls or jelly moulds and turned out as a set dessert.
Whichever way you serve it, it will be light and fluffy and delicious.
And ZERO SmartPoints...unless you are following WW Green plan and then it is 1 SmartPoint per portion (if you use fat free Greek yogurt).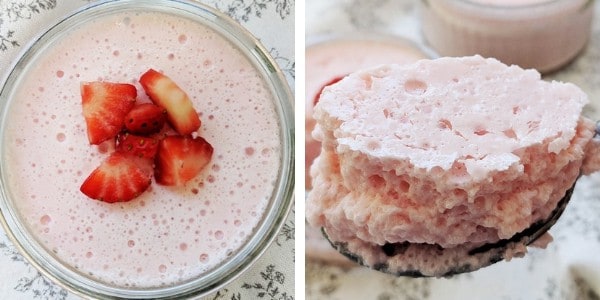 Fluff Variations:
There are also variations of Fluff that you could try!
How about this Marshmallow Fluff?
Or perhaps, this Strawberry Fluff, which swaps the fat free yogurt for half fat evaporated milk.
It is 2 SmartPoints per portion, but it's really good!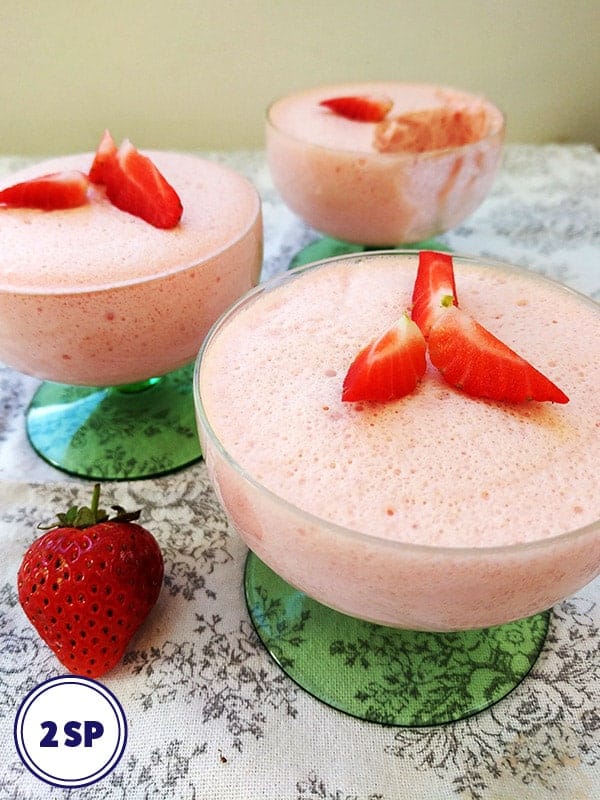 This post contains affiliate links. As an Amazon Associate I earn from qualifying purchases. Visit this page to see what that means.
How about using Orange Flavoured Sugar Free Jello and mixing in some tinned mandarin pieces?
Or Raspberry Sugar Free Jello with some fresh raspberries on top.
This Lime Fluff is made with lime flavoured sugar free jello and fresh lime juice!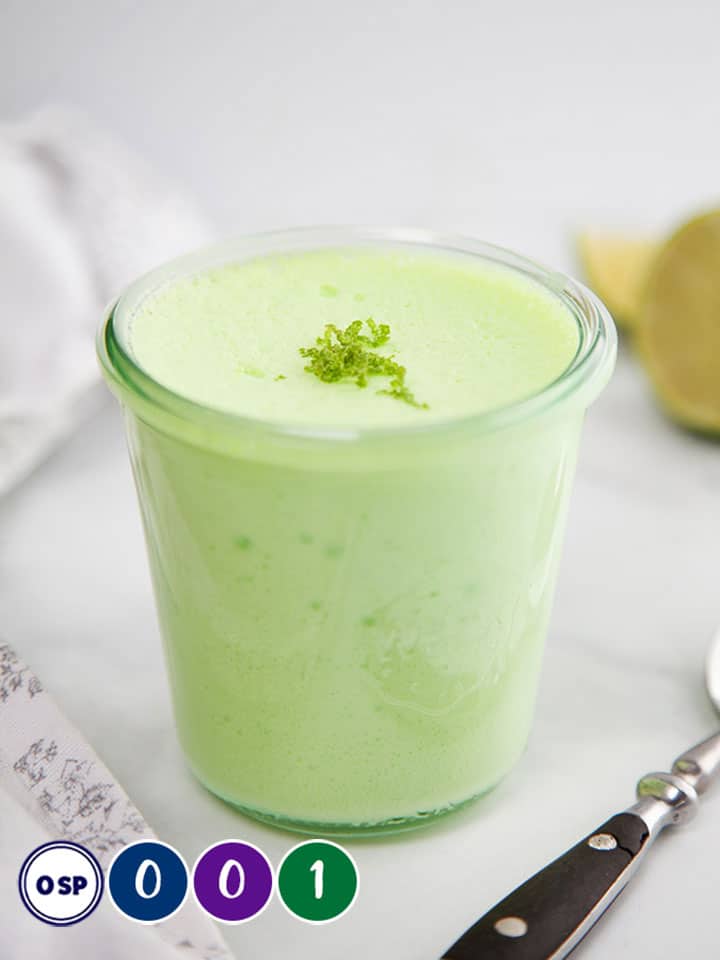 Tips for making fluff:
A stand mixer does make creating fluff easier, but is by no means essential. If using a handheld mixer you will just need to be patient whilst standing there whisking!
You can use either fat free natural yogurt or fat free Greek yogurt - whichever you prefer! Just whisk away until lots of bubbles appear and the the mixture increases in volume.
The jelly mixture should not be hot when you pour it into the yogurt. I suggest dissolving the jello in boiling water and then adding cold water.
Experiment with different flavours of sugar free jelly / jello and top with with different fruits.
If you are planning to turn out your Fluff desserts, I'd suggest that you coat the inside of your pudding bowls with a very thin layer of a spray oil first. This makes them easier to turn out! Just run a knife around the rim of the bowl once the Fluff has chilled for a couple of hours. Upend the bowl onto a plate and give the bowl a bit of a shake. The fluff should release easily. Top with some chopped strawberries.
What I used to make this Fluff:
I used a stand mixer, like this one, available from Amazon.
I used these iindividual pudding bowls to make the individual fluffs.
Other Great Weight Watchers Desserts:
Baked Egg Custards are one of my favourite WW desserts. Just 3 SmartPoints per portion.
Lemon Pudding This self saucing Lemon Pudding is very popular and at just 4 SmartPoints per portion, I can see why!
Chocolate Pots These decadent chocolatey desserts are 5 SmartPoint per pot & are just what you need when chocolate craving hits.
Gooseberry Fool This is another yogurt based Zero SmartPoint dessert! Love it!
Strawberry Kebabs These fun WW fruit kebabs are a firm favourite in this household!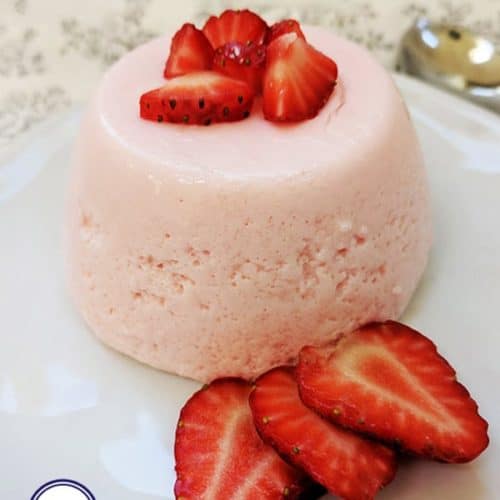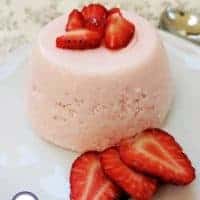 Fluff | Weight Watchers
This delicious and easy to make dessert is zero point on Weight Watchers Freestyle plan, Blue plan and Purple plan. It is 1 SmartPoint per portion on Weight Watchers Green plan. 
Print
Pin
Rate
Ingredients
1

tub

fat free plain yogurt/ fat free Greek yogurt * (see notes if following WW Green plan)

450g / 2 cups

1

packet

sugar free jelly / jello crystals or powder

11.5g

¼

pint

boiling water

(½ cup)

¼

pint

cold water

(½ cup)

6

strawberries

to decorate - optional
Instructions
Pour the jelly/jello crystals or powder into a jug and add the boiling water. Stir to dissolve. Once dissolved add the cold water and set aside to cool for 5 minutes.

Pour the yogurt into the bowl of your stand mixer (or if you are using a handheld mixer, into a large bowl). Whisk for 2 - 3 minutes until lots of bubbles are starting to form on the top. Slowly pour the jelly/jello mixture in a steady stream into the yogurt whilst continuing to whisk. Whisk for a further 5 - 10 minutes until the mixture has increased in volume and is light and bubbly.

Spoon the mixture into individual ramekins. If you are wanting to turn out the fluff (as in the photograph) coat the inside of individual pudding bowls with a very thin layer of spray oil before spooning the mixture in.

Place in the fridge to chill for at least 2 hours until the fluff has set. If you are turning out the fluff, run the tip of a knife around the edge of the pudding bowls before turning out on to a plate. Serve with sliced strawberries.
Notes
If you are following the WW Green plan you will need to use fat free Greek yogurt in this recipe for it to be 1 SmartPoint per portion. Fat free natural yogurt brings the SmartPoints up to 2 SmartPoints per portion. 
Please be aware that the nutritional information below has been automatically generated and does not account for variations in product brands and types, weights of individual ingredients etc.  It should therefore be considered as an estimate.
PointedKitchen.com has calculated Weight Watchers Smart Points based on the individual ingredients used to make this recipe and not from the following nutritional information.
PointedKitchen.com is not responsible for any loss or damage relating to your reliance on this nutritional information.
Nutrition
Calories:
49
kcal
|
Carbohydrates:
8
g
|
Protein:
4
g
|
Cholesterol:
1
mg
|
Sodium:
76
mg
|
Potassium:
209
mg
|
Sugar:
6
g
|
Vitamin C:
7.8
mg
|
Calcium:
151
mg
|
Iron:
0.1
mg
[convertkit form=1021642]