So, I'm in love! In love with this tasty self saucing Lemon Pudding! It is both sweet and tangy, with a fluffy sponge sitting on top of a thick creamy lemon sauce.
Best of all it is just 4 SmartPoints per portion on Weight Watchers Blue & Purple plans. It is also 4 SmartPoints on the old Freestyle plan if you are still following that! It is 5 SmartPoints on the WW Green plan.
To find out how many Personal Points this recipe will be for you & to track it in the WW App, click on the blue button in recipe card below!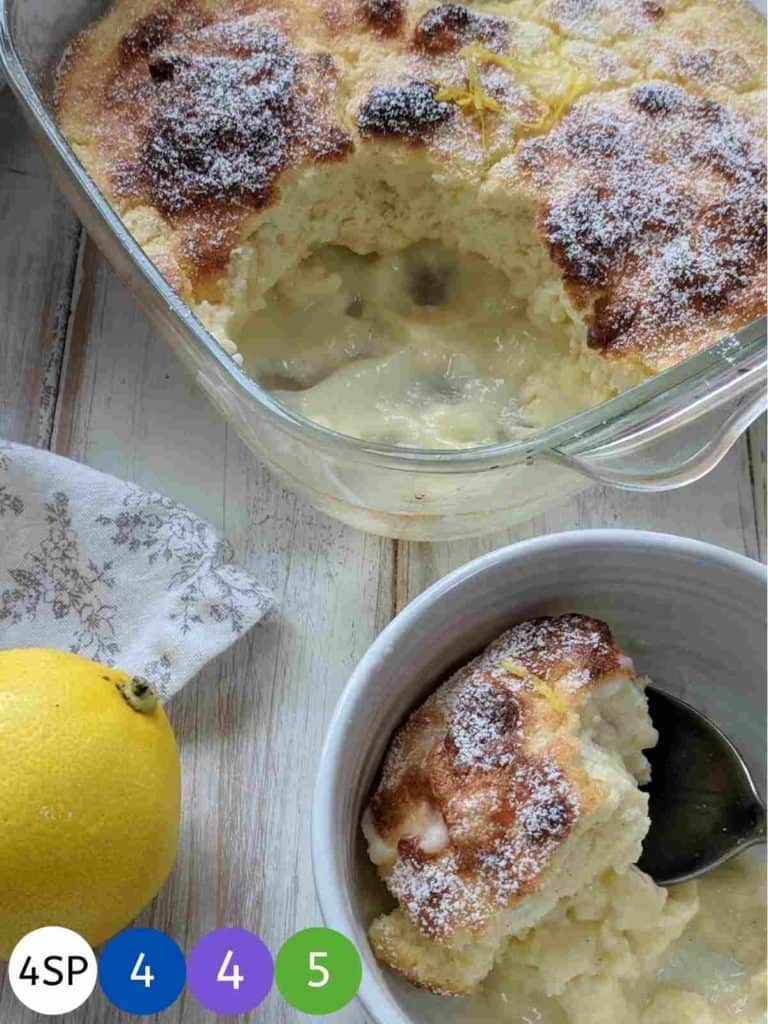 I used to make a version of this Lemon Pudding prior to my WW days. I recently worked out the points for it and discovered that it came out at a massive 19 SmartPoints per portion! Yep you read that right, 19 SmartPoints per portion!
So, I decided that I would work on reducing the points. That way I could carry on eating it but not blow my point budget every time I did!
By swapping the butter for a low fat spread / margarine and using sweetener rather than sugar I got it down to a very manageable 4 SmartPoints per portion (Blue & Purple). It is 5 SmartPoints per portion on the Green plan.
It still has the sweetness of the original dessert which is cut through with the tangyness of the lemons.
It's a bit of a magic pudding this one!
It self sauces 😀
Once baked, you get a thick layer of creamy, lemon sauce which is topped with a soft moist sponge. How good is that!
And, just in case you didn't hear me before, all this for 4 SmartPoints per portion (Blue & Purple)!!
The portion isn't a small one either - you get a good serving for your points!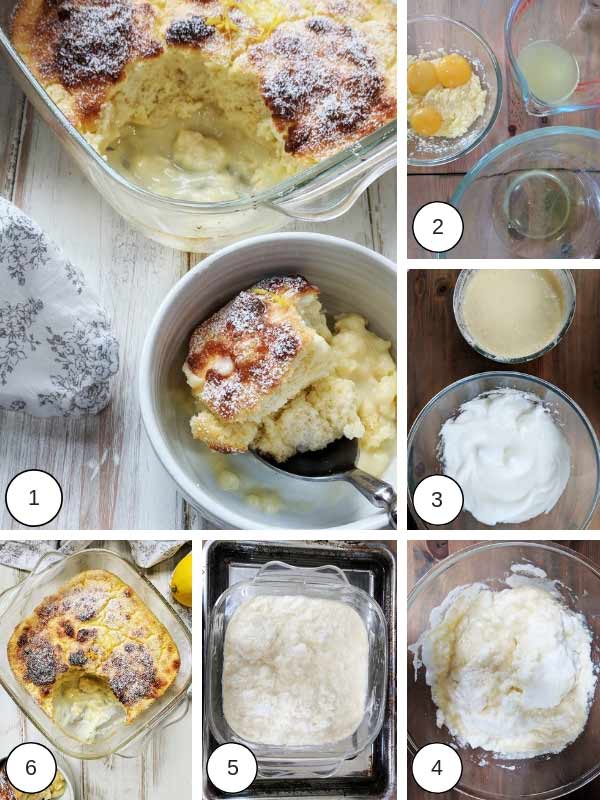 Tips for making this Self Saucing Lemon Pudding:
These tips will help you bake this fab dessert with a saucy bottom 😀 😀 😀 and a spongy top (Pic 1)
When making most sponge batters you tend to cream the butter and sugar together until it has turned light and creamy. In my experience, you are unable to do this with low fat spread! Mix the spread and sweetener together very briefly before adding the other ingredients one by one.
When separating the eggs I find it easiest to crack the egg into my clean hand over a clean bowl. I catch the egg yolk in my hand and allow the egg white to run through my fingers into the bowl. I then put the egg yolk into the spread & sweetener mixture. (Pic 2)
Make sure that the bowl which you are whisking the egg whites in is very clean. Any fat (including egg yolk) will prevent the egg white from whisking properly.
You want to whisk the egg whites to a soft peak stage. When you remove the whisk from the bowl the peaks should hold their shape for a second or so before folding in on themselves.
Don't panic if you over whisk the whites to a stiff peak. This will work too it just works better when beaten to the soft peak stage! (Pic 3)
Very gently fold the mixtures together. I tend to do this using a metal spoon in a figure of eight motion.
Don't over mix as you will loose the air that is needed to help the sponge rise (pic 4).
This dessert needs to be baked in a water bath.
Do this by filling a baking tray half full of hot water and placing the oven proof dish of mixture in the middle. The water should come approximately a third of the way up the dish. This helps create the self saucing aspect of this pudding (5)
The Lemon Pudding should turn golden brown on top.
Cover with a light dusting of icing / powdered sugar and serve warm (Pic 6)
Although this dessert is best served straight out of the oven, it is also delicious served cold.
It is perfect eaten as is, but can also be served with a dollop of fat free yogurt or with some half fat cream if you have the Points available.
What I used to make this dessert:
This post may contain affiliate links. As an Amazon Associate I earn from qualifying purchases. Visit this page to see what that means.
I used an electric hand whisk, like this one, available from Amazon.
I used a lemon squeezer which can be brought from Amazon, to juice the lemons. So easy!
More WW Dessert Recipes
If you like this recipe for Lemon Pudding, you may like this Raspberry Jam Sponge or this fruity Summer Pudding.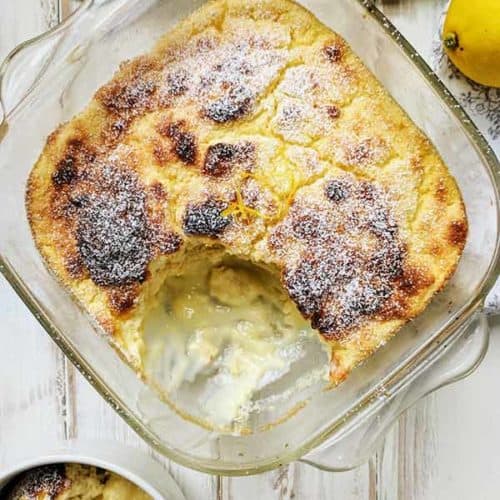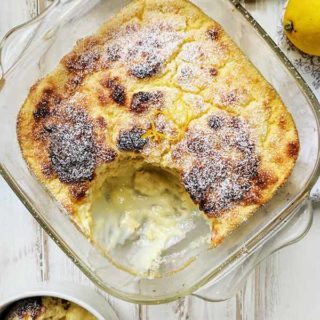 Lemon Pudding | Weight Watchers
This delicious self saucing lemon pudding is just 4 SmartPoints per portion on Weight Watchers Freestyle Blue & Purple plans. It is 5 SmartPoints on the Green plan. 
Ingredients
3.5

tbsp

low fat margarine

(50g)

3

tbsp

sweetener

I used Natvia

2

lemons

juice from both, zest from one

3

eggs

separated

6

tbsp

all purpose flour

1

cup

skimmed milk

(250ml)

1

tsp

vanilla paste

or extract

1

tsp

icing sugar / powdered sugar

to dust
Instructions
Preheat the oven to 180°C / 160°C Fan /Gas 4 / 350°F.  

Place the low fat spread / margarine, the sweetener and the zest of 1 lemon into a bowl and using a hand held mixer, whisk until just combined. 

Add the lemon juice of both lemons, vanilla paste, egg yolks, flour and milk one by one, whilst continuing to mix until you have a smooth batter.

Clean your whisk attachment thoroughly.

In a separate clean bowl whisk the egg whites until they produce soft peaks - when you remove the whisk the peaks will just hold their shape for a second or so before collapsing. 

Gently fold the two mixtures together using a metal spoon.

Don't over mix as you want to keep the mixture light and fluffy with as much air left in as possible to get some rise.

Spoon the mixture into an ovenproof dish ( I used one that measured 7 ½ inches square).  

Fill a baking tray half full of hot water and place the ovenproof dish in the centre.

Place in the middle of the oven and bake for 45 - 50 minutes until the top turns golden brown and has set.

There will be a creamy lemony sauce below. 

Top with a light dusting of icing / powdered sugar. 
Notes
Please be aware that the nutritional information below has been automatically generated and does not account for variations in product brands and types, weights of individual ingredients etc.  It should therefore be considered as an estimate.
PointedKitchen.com has calculated Weight Watchers Smart Points based on the individual ingredients used to make this recipe and not from the following nutritional information.
PointedKitchen.com is not responsible for any loss or damage relating to your reliance on this nutritional information.
Nutrition
Nutrition Facts
Lemon Pudding | Weight Watchers
Amount per Serving
% Daily Value*
* Percent Daily Values are based on a 2000 calorie diet.