This quick and easy Raspberry Jam Sponge is just 5 SmartPoints on the Weight Watchers Freestyle / Flex plan. The sponges are light and fluffy and are packed full of bite size pieces of fresh pear, giving them extra flavour, crunch and moisture.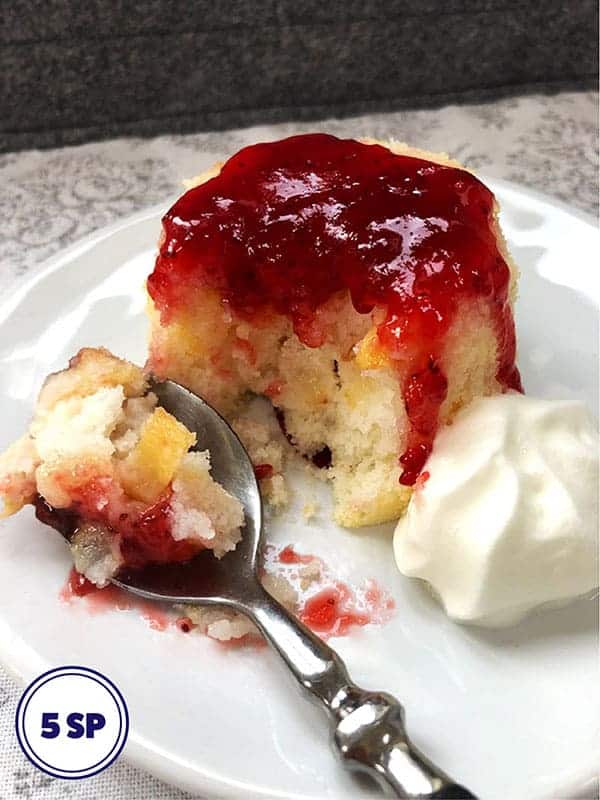 I topped the sponge with a small amount of warmed sugar free raspberry jam/jelly for a lovely Weight Watchers dessert. Yum!
I was so excited when I made this recipe the first time. I had read about mixing angel food cake mix and vanilla cake mix together to make low SmartPoint cakes so I was keen to make some and play around with new flavour combinations.
This post may contain affiliate links. As an Amazon Associate I earn from qualifying purchases. Visit this page to see what that means.
As I was unable to purchase angel food cake mix in a store near me, I brought Duncan Hines Angel Food Cake Mix online from Amazon.
Betty Crocker also does a Fat Free Angel Food Cake Mix that can be purchased from Amazon here.
When mixed with a box of vanilla cake mix it makes approximately 35 individual cakes, so the mix works out at about £0.30 per mini sponge cake!
The cake mix can be stored in a jar and used anytime you fancy a miniature sponge cake.
For this particular flavour combination I used Duncan Hines angel food cake mix and Betty Crocker velvety vanilla cake mix. However, any angel food cake mix and vanilla cake mix would work well.
I mixed in fresh pear and topped it with sugar free (diabetic) raspberry jam. What a tasty combination!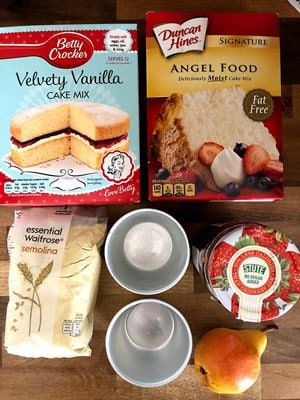 I used mini pudding bowls to make these Raspberry Jam Sponges. Similar pudding moulds can be brought here from Amazon. If you don't have any miniature pudding bowls you could use small ramekins or even a muffin pan.
The secret to a well risen sponge is to spray the inside of the pudding bowl with oil and coat it with a small amount of semolina (or cornmeal). This seems to help the sponge to rise by giving it something to adhere to.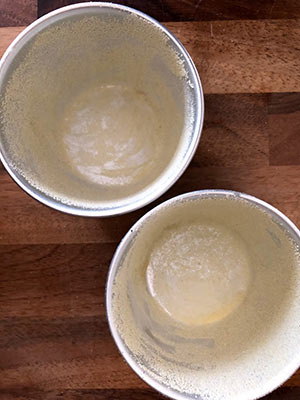 Coat the pudding moulds with a thin coat of spray oil and semolina.
I chopped up a small ripe pear and added it to the sponge mix for added moisture and flavour and it worked really well.

Add small pieces of ripe pear for added flavour, texture and moisture.
Over-mixing the cake batter can lead to a dense cake, that doesn't rise so be careful to lightly fold the pear pieces into the mix before dividing the mixture between the two pudding moulds.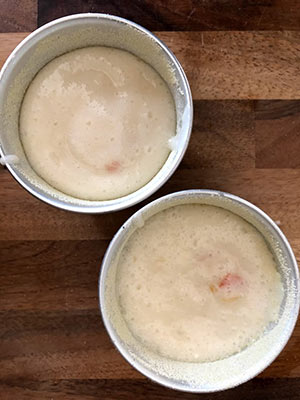 The mixture will come up to just over the half point mark of these mini pudding moulds.
When the sponges came out of the oven, I loosened them from the tins but running a knife round the edge and inverting them onto a plate. I topped them with a couple of teaspoons of warmed raspberry jam.
For an extra 1 Smart Point you can serve them with a serving (13g) of light squirty cream.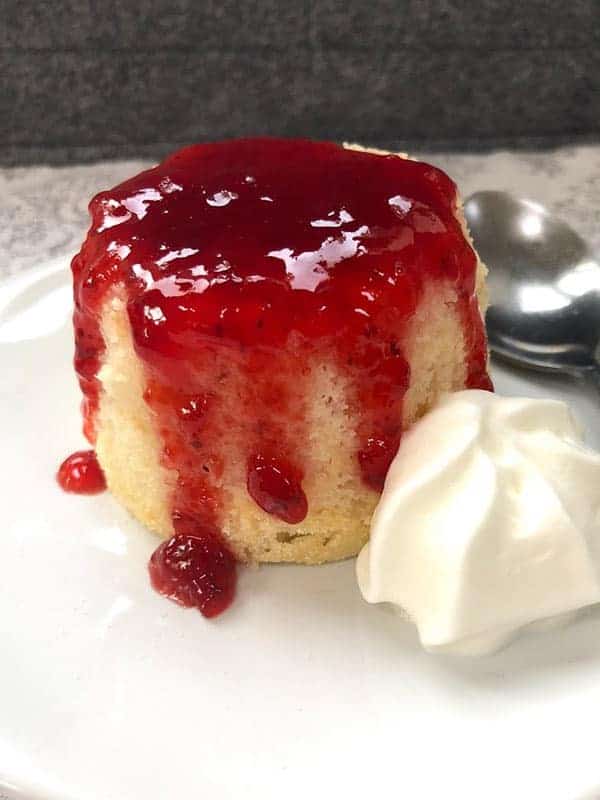 TIPS ABOUT THIS RECIPE
I baked these sponges in the oven. HOWEVER, if you are wanting a super quick desert, place the cake mixes, water and pear in a microwaveable mug and microwave on full power for 1 minute! They won't rise as well as if you bake the cakes, but they are still good!
To help the sponge cake rise spray the inside of the pudding mould with oil and coat it with a small amount of semolina (or cornmeal). This seems to help the sponge rise as it has something to adhere to.
Place the contents of a box of angel food cake mix and vanilla cake mix in a seal-able container. You can then use 3 level tablespoons of dry mix and 2 tablespoons of water to make a 5 Smart Point vanilla sponge dessert whenever you fancy one!
Serve with a serving of light squirty cream for an extra 1 SmartPoint or with a small scoop of low point vanilla ice cream.
You can serve this sponge hot or cold according to your preference.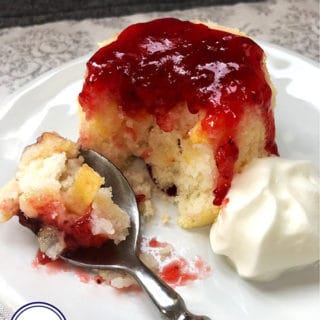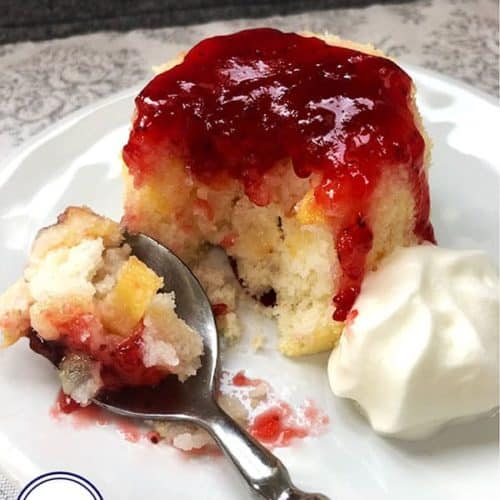 Raspberry Jam Sponge | Weight Watchers
This vanilla sponge filled with pear and topped with raspberry jam is just 5 Smart Points per pudding on Weight Watchers Flex / Freestyle plan.
Ingredients
3

tbsp

angel food cake mix

3

tbsp

Betty Crocker Vanilla Cake mix

4

tbsp

water

1

medium

pear

6

tsp

sugar free jam

1

tsp

semolina

or cornmeal

4

sprays

spray oil
Instructions
Preheat the oven to 180oC /350oF /Gas Mark 4 /160oC Fan

Spray the pudding basins (or ramekins) with 1 - 2 sprays of spray oil. Place ½ a teaspoon of semolina (or cornmeal) in each pudding basin and tap it around so that it coats the inside of the basin. This helps the sponge to rise. Set aside.

Chop up a small pear into small bite size pieces and set aside.

Put 3 level tablespoons of the angel food cake mix and vanilla cake mix in a dish and mix. Add 4 tablespoons of water to the dry mix ingredients and mix gently to combine. Gently fold in the chopped up pear.

Divide the mixture between the two prepared pudding bowls and place in the preheated oven for 8 - 10 minutes. The puddings will not brown very much but they will pull away from the side of the bowls slightly when they are done. Use a knife around the edge of the sponge to loosen and turn out onto a plate.

Warm the raspberry jam in a small saucepan or in the microwave for 10 seconds and drizzle the jam over the sponges.
Notes
Please be aware that the nutritional information below has been automatically generated and does not account for variations in product brands and types, weights of individual ingredients etc.  It should therefore be considered as an estimate.
PointedKitchen.com has calculated Weight Watchers Smart Points based on the individual ingredients used to make this recipe and not from the following nutritional information.
PointedKitchen.com is not responsible for any loss or damage relating to your reliance on this nutritional information.
Nutrition
Nutrition Facts
Raspberry Jam Sponge | Weight Watchers
Amount per Serving
% Daily Value*
* Percent Daily Values are based on a 2000 calorie diet.