One of the best things about autumn is being able to eat and enjoy big bowls of delicious, warming soups. This Carrot & Lentil Soup is just that and is also very, very filling!
At just 1 SmartPoint per bowl on Weight Watchers Freestyle plan, myWW Blue plan & myWW Purple plan it is quickly becoming one of my go to recipes this autumn.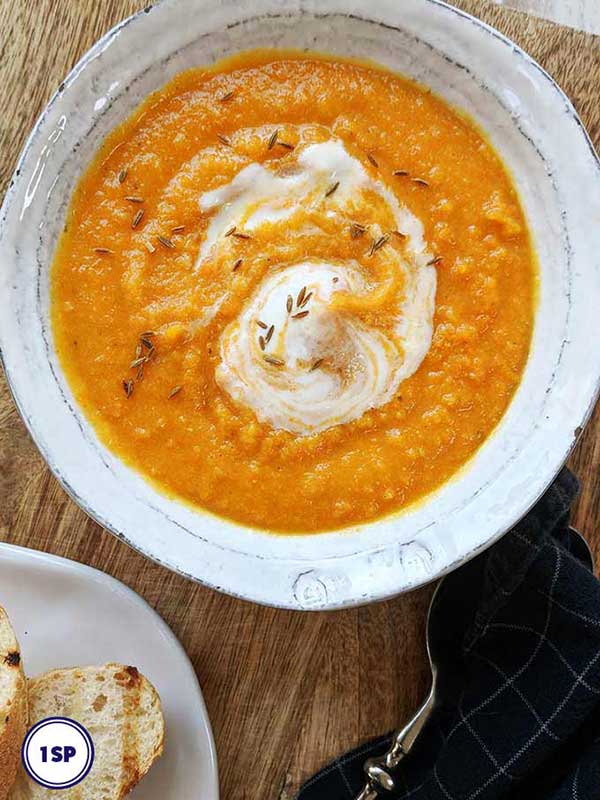 Nothing beats a warm bowl of soup on a cold winters day! Especially a soup that is so low in points that you can treat yourself to a slice or two of bread to dip in!
I love this time of year when the leaves are changing colour, the nights are drawing in and it's not long till the big woolly jumpers and knitted scarves make an appearance.
The only thing that I hate about this time of year is the mud! Mud gets everywhere when you own a great big galumphing dog like my Lola.
Yesterday I earned extra FitPoints after my morning walk, by chasing her around with a hose trying to remove some of that horrible mud.
At least she had the decency to look guilty!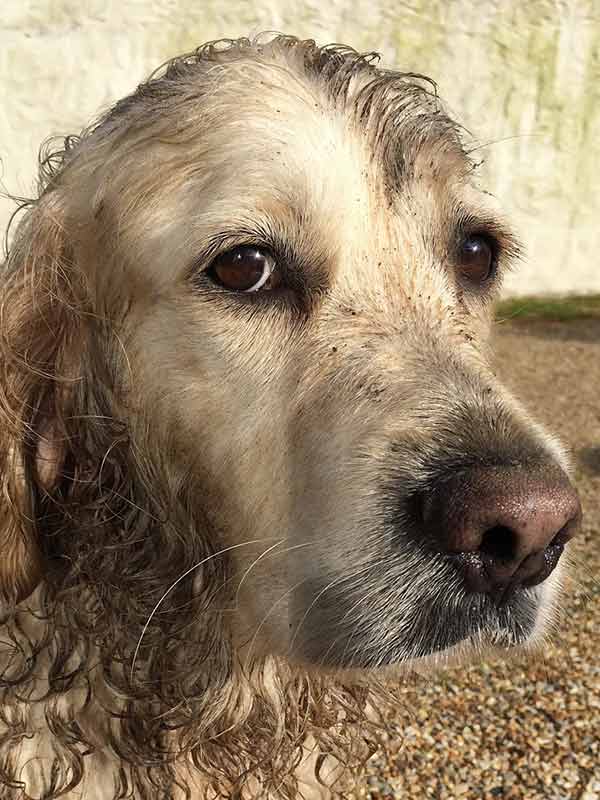 So lunch was a big bowl of this tasty Carrot & Lentil Soup and two slices of toasted french baguette. I had earned it!
It warmed me, it tasted divine and it filled me up till dinner time. Perfect!
SmartPoints in Carrot & Lentil Soup
Weight Watchers changed their program at the end of 2019. It now includes 3 individual plans, giving anyone following the WW program lots of choice about how they use their SmartPoint allocation.
Using the official WW recipe builder I have worked out the SmartPoints for this Carrot & Lentil Soup for each of the plans.
Freestyle Plan - 1 SmartPoint per bowl
myWW Blue Plan - 1 SmartPoint per bowl
myWW Purple Plan - 1 SmartPoint per bowl
myWW Green Plan - 5 SmartPoints per bowl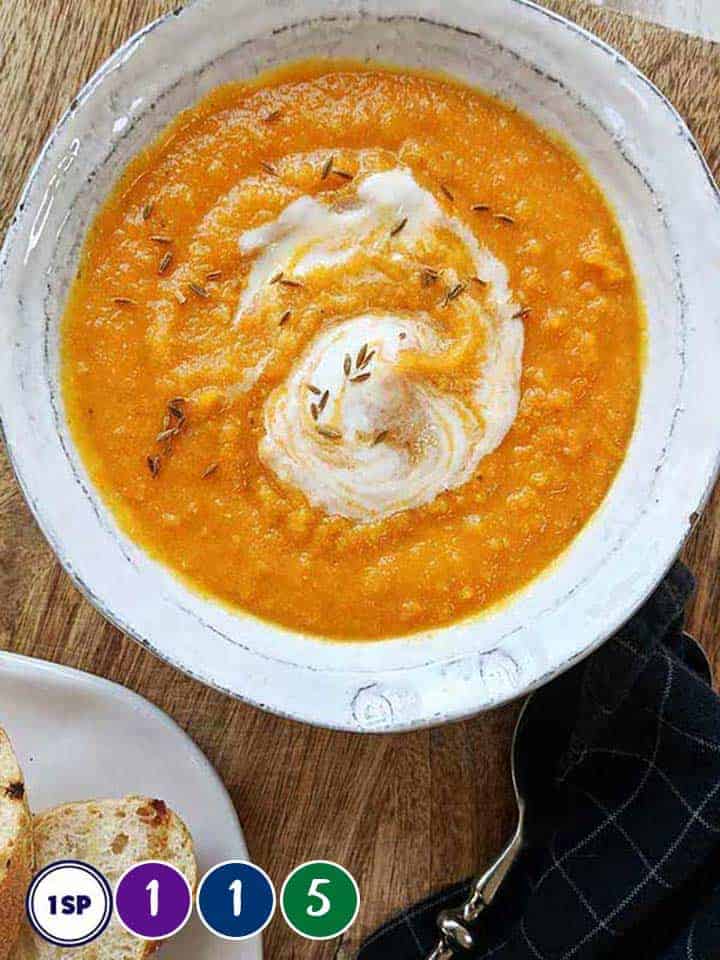 Tips for making this soup:
For really easy soup, use frozen sliced carrot.
The inclusion of cumin in this soup makes a tasty addition - use an additional tsp if you like your soup spicy.
I used an immersion blender to blend this soup, but you can put it through a processor / blender if you prefer.
Although it is optional, I think the soup is best served with a swirl of fat free yogurt and a sprinkling of cumin seeds for that extra cumin hit!
The soup does freeze well. Freeze it before adding the yogurt and defrost before heating through in a saucepan or in the microwave.
This post contains affiliate links. As an Amazon Associate I earn from qualifying purchases. Visit this page to see what that means.
I often freeze soups in reusable silicone food bags like these. I can then take out a bag and microwave it for my lunch in next to no time!
What I used to make this soup:
I used an immersion blender like this one, available from Amazon, to make this soup.
I used McCormick Cumin Seeds to garnish the top of this soup for added 'kick'.
More Weight Watchers Soup Recipes
If you like this Carrot and Lentil Soup, you may also like these low point soups such as this Carrot & Coriander Soup or this Pea Soup. If you like spicy soups, how about this Tom Yum Soup or this Butternut Squash & Red Chilli Soup.
Looking for a slice or two of Low Point Bread to go with this soup? Take a look at here if you are from the USA or here if you are from the UK.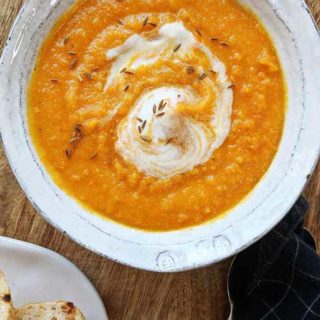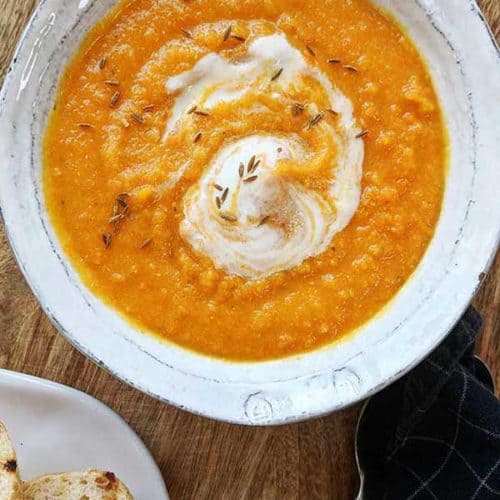 Carrot & Lentil Soup
This tasty and filling soup is just 1 SmartPoint per bowl on Weight Watchers Freestyle plan, on the myWW Blue plan and the myWW Purple plan! It is 5 SmartPoints on myWW Green plan.
Ingredients
1

tsp

ground cumin

heaped

1

pinch

chili flakes

½

tbsp

olive oil

4.5

cups

carrots

(600g) thinly sliced

¾

cup

split red lentils

(140g)

1

vegetable stock cube / bouillon cube

4 ¼

cups

water

(1 litre)

½

cup

skimmed milk / non fat milk

(120ml)
Garnish
1

tsp

cumin seeds

optional

4

tbsp

fat free natural yogurt

optional
Instructions
Thinly chop the carrots and set aside.

Heat the oil in a saucepan, add the ground cumin and stir for a minute or two until it starts to smell fragrant. Crumble in the stock cube and add the chili flakes and stir. Add the water, the sliced carrots and milk and stir. Cover and bring to a boil. Reduce the heat to a simmer and cook for 5 minutes.

When the carrots have been simmering for 5 minutes, add the lentils and stir. Bring back to a simmer and cook for 15 minutes until the carrots are tender and the lentils have swollen.

Remove from the heat and use a immersion blender to blend.

Serve topped with a swirl of fat free yogurt and a sprinkling of cumin seeds (optional)
Notes
Please be aware that the nutritional information below has been automatically generated and does not account for variations in product brands and types, weights of individual ingredients etc.  It should therefore be considered as an estimate.
PointedKitchen.com has calculated Weight Watchers Smart Points based on the individual ingredients used to make this recipe and not from the following nutritional information.
PointedKitchen.com is not responsible for any loss or damage relating to your reliance on this nutritional information.
Nutrition
Nutrition Facts
Carrot & Lentil Soup
Amount per Serving
% Daily Value*
* Percent Daily Values are based on a 2000 calorie diet.