These great tasting Swedish Meatballs are smothered in a rich creamy sauce. Serve them nestled on top of a pile of courgette (zucchini) noodles for a delicious 6 SmartPoint dinner. Scroll straight to the recipe, or if you would like some Weight Watchers tips and hints or some tweaks that could reduce the SmartPoints further, read on.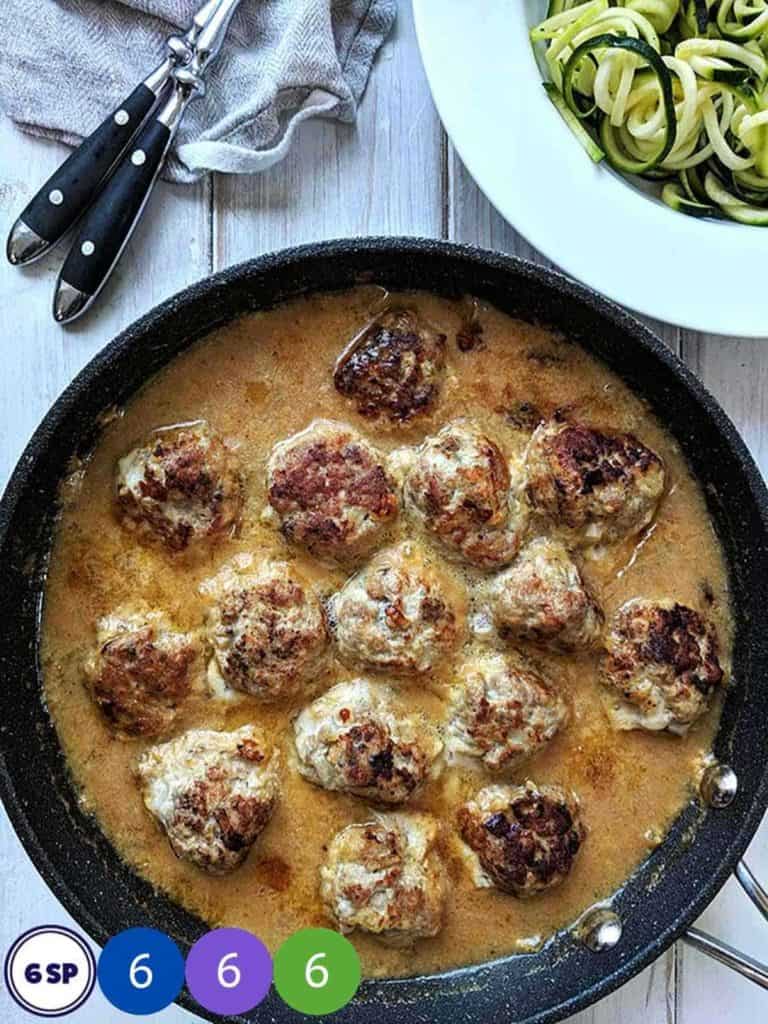 These meatballs are lovely served with noodles, rice or with a serving of creamy mashed potato for an ultimate comfort meal.
If you have ever been to IKEA (and who hasn't) you will probably have seen, or perhaps even eaten, their meatballs covered in a thick creamy sauce.
Well this recipe is a Weight Watchers friendly take on those yummy meatballs.
According to IKEA's nutritional information, their meatballs with cream sauce would set you back 21 SmartPoints and that doesn't include the mashed potato!
That would set you back a further 4 SmartPoints!
So Ikea's meatballs with mashed potato would be more than my daily food allowance - wow!
These Swedish Meatballs, however, are just 6 SmartPoints per portion.
You get between 3 and 4 meatballs per portion (depending on the size of your meatballs) and a good helping of thick and creamy sauce.
Serve with a small serving of creamy mashed potato for a real IKEA experience & for just an extra couple of points!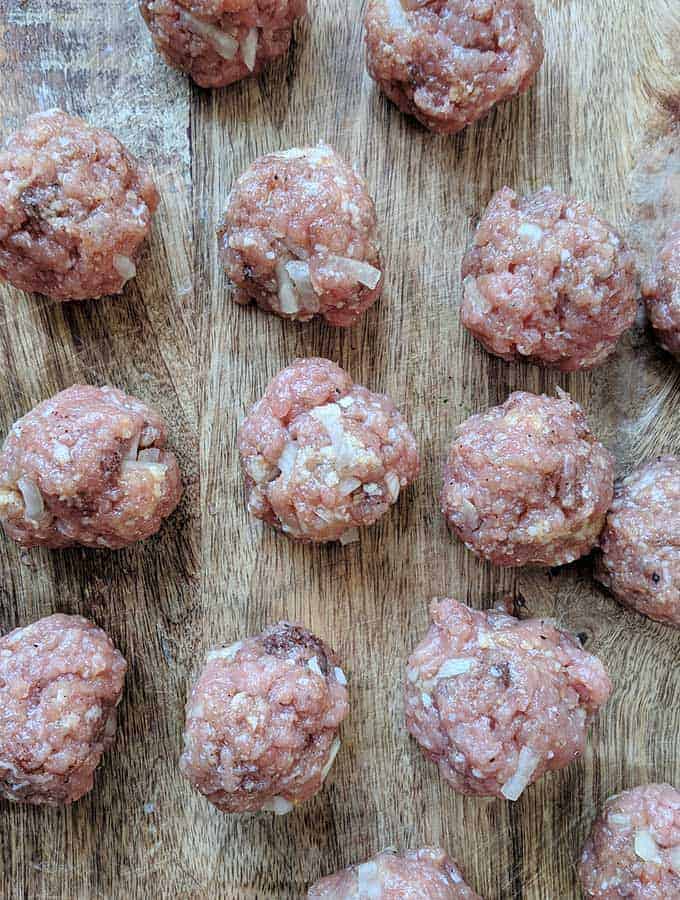 I've tried this recipe a number of different ways.
I experimented with mixing the onion into the meatballs and also by adding the diced onion to the gravy.
I've tried grating the onion and I've tried dicing the onion ( yes, I've eaten a lot of meatballs over the past couple of weeks).
I prefer this recipe, with diced onions mixed into the meatballs! It makes for a tastier meatball with a creamier gravy!
This post may contains affiliate links. As an Amazon Associate I earn from qualifying purchases. Visit this page to see what that means.
What I used to make these Swedish Meatballs:
Use a large nonstick skillet like this one, available from Amazon.
I used this Spiralizer, available from Amazon, to make the courgette noodles that I served with these Swedish Meatballs.
I used Lightest Philadelphia cream cheese in this recipe.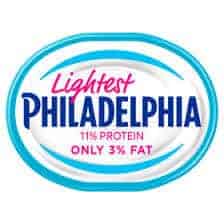 Alternatives:
You can serve these meatballs with pasta, rice, mashed potato or mashed sweet potatoes for extra SmartPoints.
Serve with zucchini noodles, carrot noodles, spaghetti squash or butternut squash mash for no extra SmartPoints.
Use turkey breast mince and reduce the Points to 3 SmartPoints per portion.
I used Lightest Philadelphia cream cheese in this recipe. If you use Philadelphia light cream cheese this will add an additional 3 SmartPoint to the whole recipe.
SmartPoints in Swedish Meatballs
As I am sure you know, Weight Watchers changed their program at the end of 2019. It now includes 3 individual plans, giving anyone following the WW program lots of choice about how they use their SmartPoint allocation.
Using the official WW recipe builder I have worked out the SmartPoints for these lovely Swedish Meatballs for each of the plans.
myWW Blue plan - 6 SmartPoints per serving
myWW Green plan - 6 SmartPoints per serving
myWW Purple plan - 6 SmartPoints per serving
Freestyle plan - 6 SmartPoints per serving
More WW Meatballs recipes:
Italian Meatballs.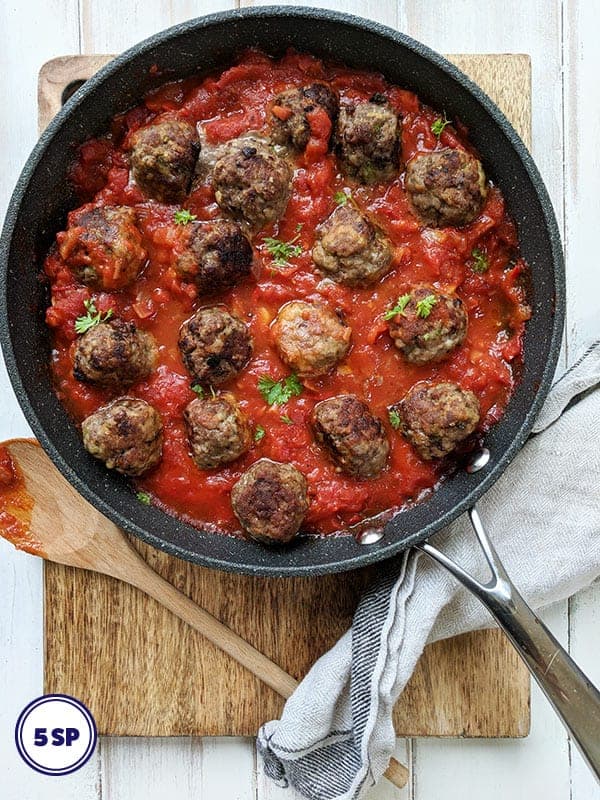 [convertkit form=1021642]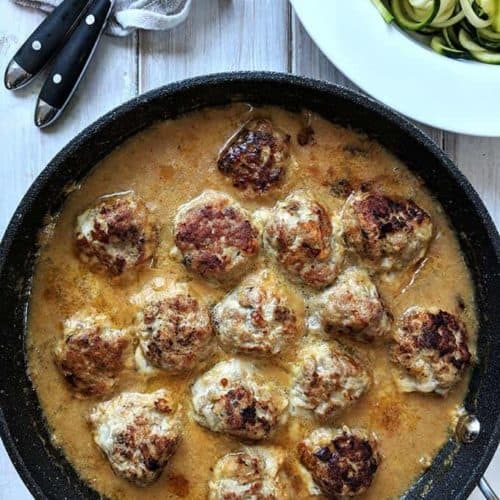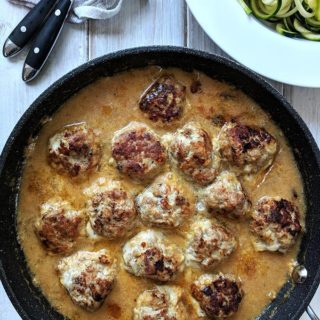 Swedish Meatballs | Weight Watchers
These beef meatballs coated in a smooth, creamy sauce are just 6 SmartPoints per serving on Weight Watchers Freestyle / Flex plan.
Print
Pin
Rate
Ingredients
450

g

extra lean mince / ground beef

1

small

onion

finely chopped

25

g

breadcrumbs

¼

tsp

ground allspice

¼

tsp

nutmeg

½

tsp

garlic powder

½

tsp

black pepper

½

tsp

salt

1

egg

1

tbsp

oil

400

ml

beef stock

made with one stock cube / bouillon

1

tbsp

Worcestershire Sauce

1

tsp

dijon mustard

100

g

light Philadelphia cheese
Instructions
Place the mince/ground beef, onion, breadcrumbs, allspice, nutmeg, garlic powder, pepper, salt and egg in a large bowl. Using clean hands mix until all the ingredients are combined.

Roll into 16 - 18 small meatballs and set aside.

Heat 1 tablespoon of oil in a frying pan / skillet and over a medium heat add the meatballs, turning until they are brown all over and are cooked through. Remove from the skillet and place on plate and cover until needed.

Still with the pan on a medium heat, add a couple of tablespoons or stock to the pan. Use a wooden spoon to de-glaze the pan by scraping all the browned bits from cooking the meat into the liquid so that it melts. Add the Worcestershire sauce, Dijon mustard and the rest of the beef stock and stir.

Bring to a boil and then reduce the heat and simmer until the sauce has reduced by a half.

Reduce the heat further to a low heat and stir in the Philadelphia cheese, making sure that it has all melted before adding the cooked meatballs. Stir and cook for a further 5 minutes.

Serve on courgette / zucchini noodles, or with rice or potatoes or noodles if you have the SmartPoints to do this.
Notes
Please be aware that the nutritional information below has been automatically generated and does not account for variations in product brands and types, weights of individual ingredients etc.  It should therefore be considered as an estimate.
PointedKitchen.com has calculated Weight Watchers Smart Points based on the individual ingredients used to make this recipe and not from the following nutritional information.
PointedKitchen.com is not responsible for any loss or damage relating to your reliance on this nutritional information.
Nutrition
Calories:
302
kcal
|
Carbohydrates:
10
g
|
Protein:
30
g
|
Fat:
14
g
|
Saturated Fat:
5
g
|
Cholesterol:
124
mg
|
Sodium:
798
mg
|
Potassium:
722
mg
|
Sugar:
3
g
|
Vitamin A:
195
IU
|
Vitamin C:
1.8
mg
|
Calcium:
81
mg
|
Iron:
3.7
mg