This Weight Watchers friendly Summer Pudding just 3 SmartPoints per portion on the WW Blue, Purple, Green & Freestyle plans.
So you can have dessert without breaking your point budget!
Serve this tasty Weight Watchers dessert with a swirl of low fat squirty cream for a perfect, summery, flavoursome and tasty low point treat.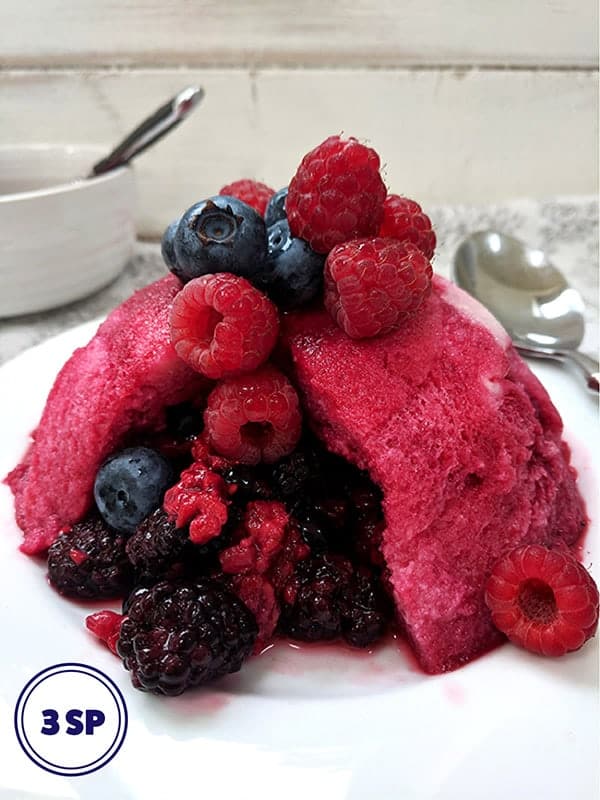 For those unfamiliar with Summer Pudding, it is a popular British dessert that is made by layering sliced white bread in a bowl and then filling with summer berries.
The dessert is then placed in the fridge overnight so that the berry juice soaks into the bread and turns it this beautiful pink colour ????
It is then turned out on to a plate and can be topped with fresh fruit and served with cream.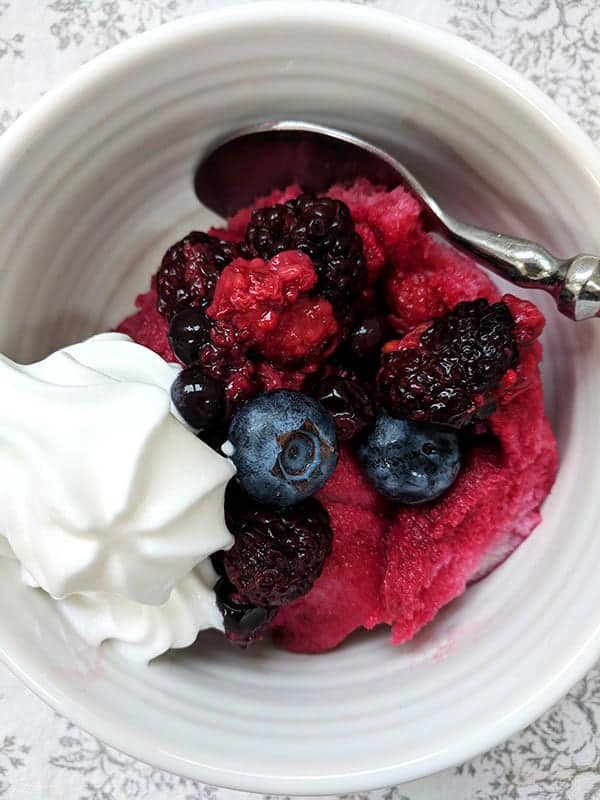 I used frozen fruit for this recipe as it was a cheaper option and just topped it with some fresh berries.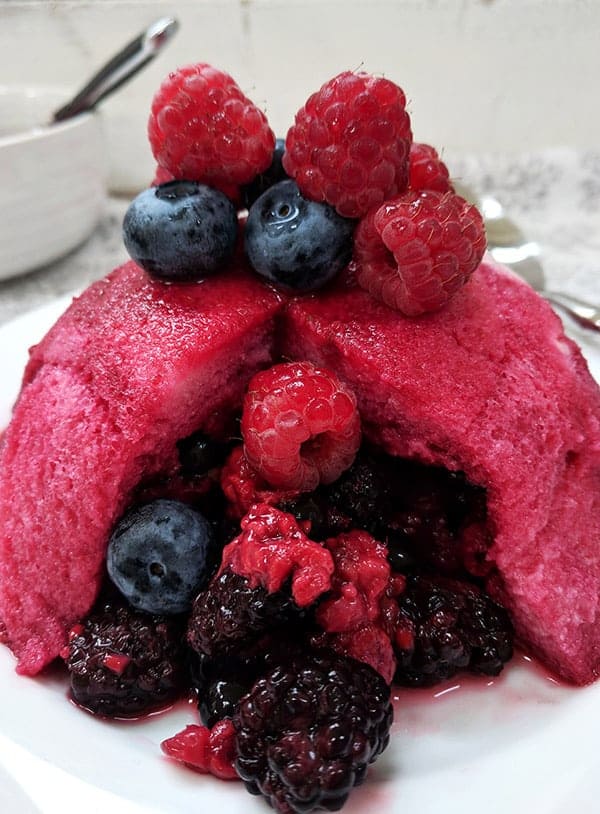 You know how I said that this was a great tasty dessert?
Well, I just discovered that it is also a pretty damn good low point breakfast too ???? ????
Whilst writing up this recipe I realised that I hadn't eaten breakfast and that there was a single portion of Summer Pudding still in the fridge from last night!
So I just ate it with a couple of tablespoons of fat free Greek yogurt for breakfast - yum!
So, anyhow, to make this dessert you only really need a few ingredients, sliced white bread, summer fruits, a bit of sweetener of your choice and some spray oil for the bowl.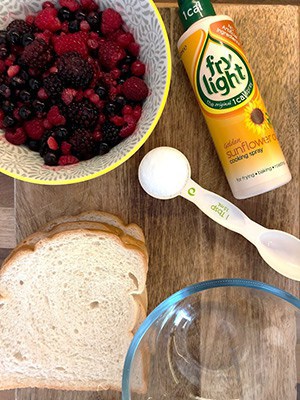 Most recipes for Summer Pudding call for thick white sliced bread to be used.
As anyone doing Weight Watchers knows, thickly sliced white bread is high in points. So I swapped thick sliced bread for Warburtons White Danish Weight Watchers bread. It's only 1 SmartPoint per slice, 2 SmartPoint for two slices.
The thinness of the bread did not make any difference to the pudding and it still retained its shape when turned out.
If you can't find the Weight Watchers bread in a store near you, there are a number of other breads that can be used for the same point values.
If you are in the US, take a look at this list of Low Point Breads
If you are in the UK, take a look at this list of Low Smart Point Breads (UK)
This post may contain affiliate links. As an Amazon Associate I earn from qualifying purchases. Visit this page to see what that means.
I lined a 0.5 L Pyrex Bowl like this one to make the pudding.
If you are making this Summer Pudding for more people (you can use the slider in the recipe card to work out measurements for this) then use a bigger bowl. For example a pudding for 8 will need a 1 litre pudding bowl.
I used 2 - 3 sprays of Frylight sunflower spray inside the bowl and then used the slices of white bread to line the bowl, over-wrapping the bread so as not to leave any gaps.
The fruit was then spooned in to the middle and the remainder of the bread was then layered on top.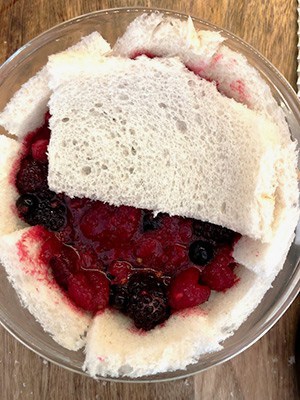 The pudding then needs a weight placed on top of it before it's put in the fridge overnight.
If you have a saucer that is small enough to sit on top of the pudding without resting on the lip of the bowl then use that with a can on top to weigh it down.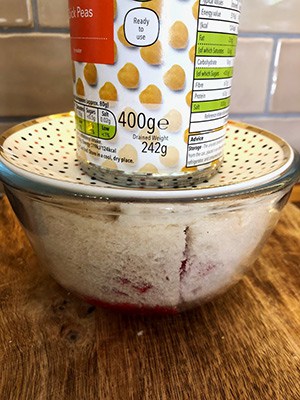 Alternatively, you can use a circle of parchment paper and layer with baking beans or dried lentils etc.
Just make sure that the parchment paper is big enough to overlap the bowl - you don't want any stray baking beans or lentils making their way into your dessert : D .
I hope that you enjoy this recipe for Weight Watchers Summer Pudding.
More Weight Watchers Dessert Recipes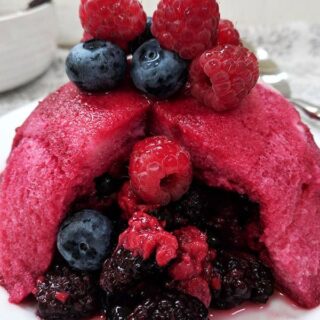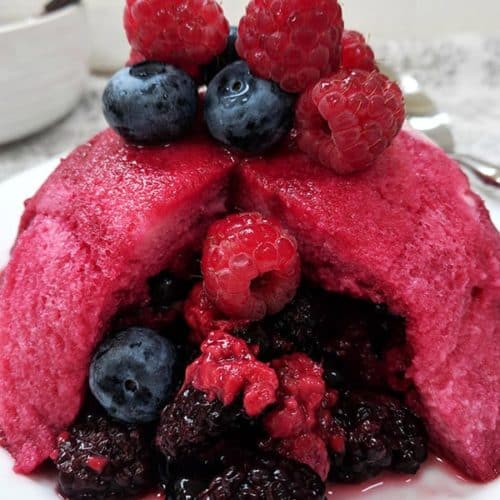 Summer Pudding
This British dessert is just 3 SmartPoints per portion on Weight Watchers Freestyle / Flex plan.
Ingredients
7

slices

thin white sliced bread

trimmed of crusts

2

cups

(450g) frozen summer fruits

defrosted

2

tbsp

sweetener

3

tbsp

water

frylight
Instructions
Place the berries and water in a saucepan over a low heat and cook for 3 - 5 minutes until the berries have softened and started release their juices. Add the sweetener and stir. You want the berries to stay intact but you also want them to release juice as that is what soaks into the pudding. Take off the heat and set aside.

Spray the inside of the bowl with a couple of sprays of Frylight! This just makes it easier to remove the pudding from the bowl. Alternatively, you can use cling film to line the bowl but I have found that the spray oil works well.

Trim the crusts off the bread. I have found that the easiest way of lining the bowl with the bread is to cut out a smallish circle in one of the slices of bread for the bottom of the bowl. Set aide the rest of that slice of bread to use for the top of the pudding. Use the other 6 slices to line the edges of the bowl - most of the slices can be cut into 2 and the remaining 2 slices can be cut into triangles to fill in any gaps.

Spoon the fruit into the bread lined bowl and layer the top of the pudding with the off cuts of bread. Place a large disc of parchment paper on top of the pudding and pour on baking beans or lentils to weight it down. Alternatively, if you have saucer that is small enough to sit inside the bowl, place this on top of the pudding and place a tin can on top to weigh it down. Put in the fridge for 6 hours (or overnight if you can)

To turn out the pudding, remove the weight and run a knife around the top edge of the pudding bowl to loosen the bread from the bowl. Place a serving plate on top of the bowl and turn upside down. The pudding may need a small very gentle shake to release it from the bowl. Serve topped with fresh berries and low fat cream.
Notes
Please be aware that the nutritional information below has been automatically generated and does not account for variations in product brands and types, weights of individual ingredients etc.  It should therefore be considered as an estimate.
PointedKitchen.com has calculated Weight Watchers Smart Points based on the individual ingredients used to make this recipe and not from the following nutritional information.
PointedKitchen.com is not responsible for any loss or damage relating to your reliance on this nutritional information.
Nutrition
Nutrition Facts
Summer Pudding
Amount per Serving
% Daily Value*
* Percent Daily Values are based on a 2000 calorie diet.