This flavour packed Couscous Salad makes a wonderful accompaniment to chicken & fish dishes. Alternatively it can be eaten as a low SmartPoint main dish.
At just 3 SmartPoints per portion on WW Purple and Blue plans and 5 SmartPoints on Green this has become one of my go to recipes when I want something, quick, easy and filling to make.
Couscous is such an easy and adaptable food! It can be served as a side dish or like this salad, it can be eaten on its own as a main dish.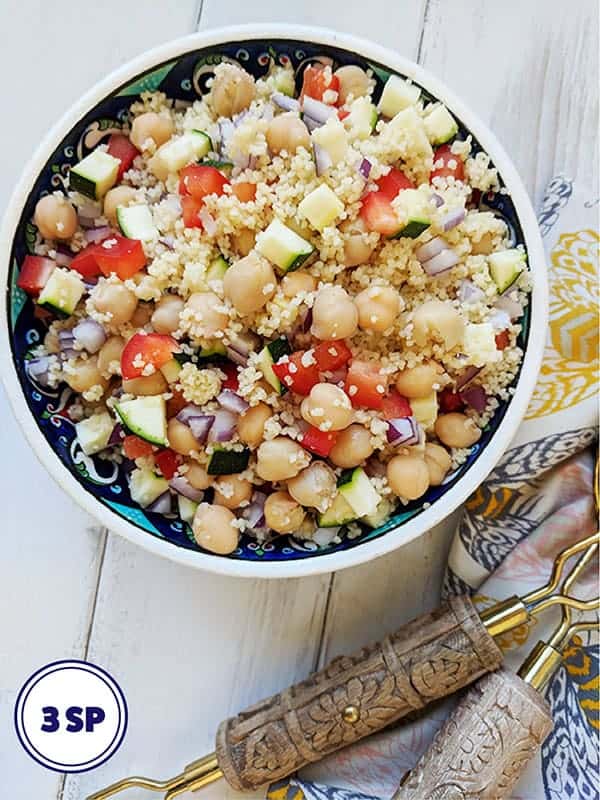 It's a staple dish in Morocco, Egypt and Algeria but is becoming more and more popular in the USA and Europe.
Most couscous found in Western supermarkets has been pre-steamed so it is just a matter of adding boiling water or stock, then leaving it tightly covered for five minutes.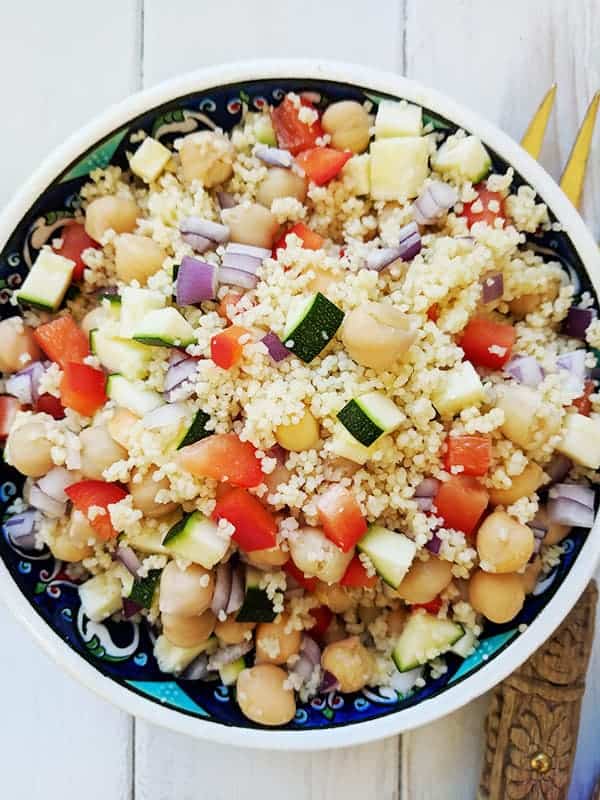 For added flavour for this Couscous Salad, I used a vegetable stock cube to make up the couscous.
Adding vegetable stock gives it just the right amount of seasoning and flavour and obviously it is then suitable for vegetarians.
Chicken stock would also work well if you were serving it with a chicken dish.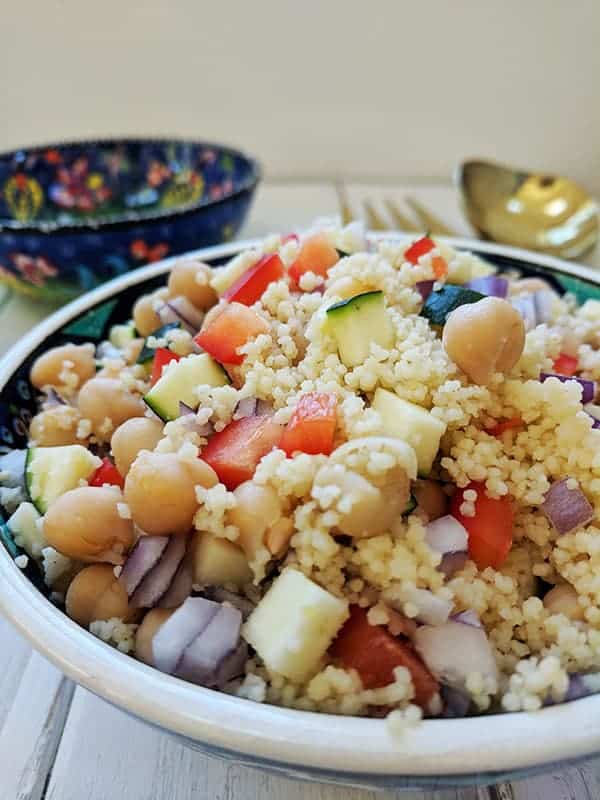 Once the couscous has been 'cooked' for 5 minutes and fluffed up with a fork, just add a tin of drained and rinsed chickpeas and chopped red pepper (capsicum), courgette (zucchini) and red onion.
And that's it! How simple is that!
If you like chickpeas you may also like these recipes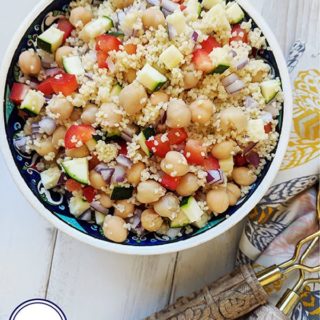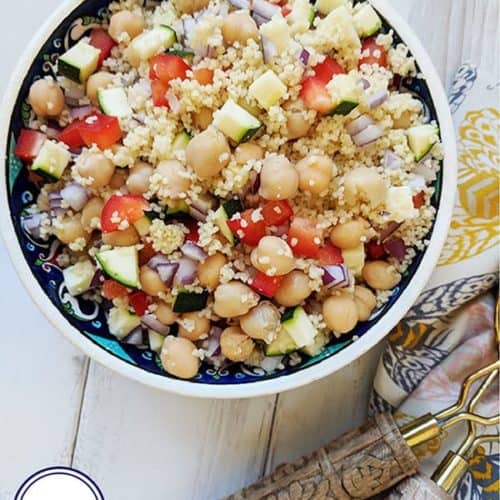 Couscous Salad
This summery fresh couscous salad is just 3 SmartPoints per portion on Weight Watchers Freestyle / Flex plan
Ingredients
⅔

cup

(120g) dry couscous

⅔

cup

(140ml) hot vegetable stock

made with ¾ stock cube

1

courgette (zucchini)

1

small red onion

1

small red pepper

1

tin

chickpeas

drained and rinsed
Instructions
Place the stock cube in boiling water and mix to dissolve. Place the couscous into a heatproof bowl and pour over the stock. Cover the bowl with cling film and set aside.

Chop the, courgette, red onion and red pepper into small pieces. Drain and rinse the chickpeas thoroughly.

Once the couscous has sat for 5 minutes, use a fork to 'fluff' it up before adding the chopped vegetables and chickpeas. Mix to combine before serving.
Notes
Please be aware that the nutritional information below has been automatically generated and does not account for variations in product brands and types, weights of individual ingredients etc.  It should therefore be considered as an estimate.
PointedKitchen.com has calculated Weight Watchers Smart Points based on the individual ingredients used to make this recipe and not from the following nutritional information.
PointedKitchen.com is not responsible for any loss or damage relating to your reliance on this nutritional information.
Nutrition
Nutrition Facts
Couscous Salad
Amount per Serving
% Daily Value*
* Percent Daily Values are based on a 2000 calorie diet.