These Spiced Chickpeas are zero Smart Points per portion on the Weight Watchers Blue & Purple plans.
They are 4 SmartPoints on the Green plan.
Chickpeas are zero SmartPoints on the Blue and Purple plans but need to be pointed if you follow the Green plan.

Even though they can be eaten as a zero point snack, common sense should prevail - you won't get away with eating mountains of them without gaining weight ....
..... or getting tummy ache!
When the Freestyle program was first launched a number of years ago I was excited to find out that chickpeas were on the list of zero point foods.
They are tasty, filling and can be added to a multitude of recipes. I use them a lot in my cooking.
I am quite capable of sitting down in front of a film and eating half a bowl of these lovely spice chickpeas - they are very moreish.
Although they are undoubtedly healthier for you and much more filling than crisps (potato chips) they are still a snack that you can eat too much of.
So be warned!
This post may contain affiliate links. As an Amazon Associate I earn from qualifying purchases. Visit this page to see what that means.
I have cooked these spiced chickpeas in the oven and also in an air fryer.
Using an airfryer to cook these chickpeas is the easiest option, however, the oven method works just as well.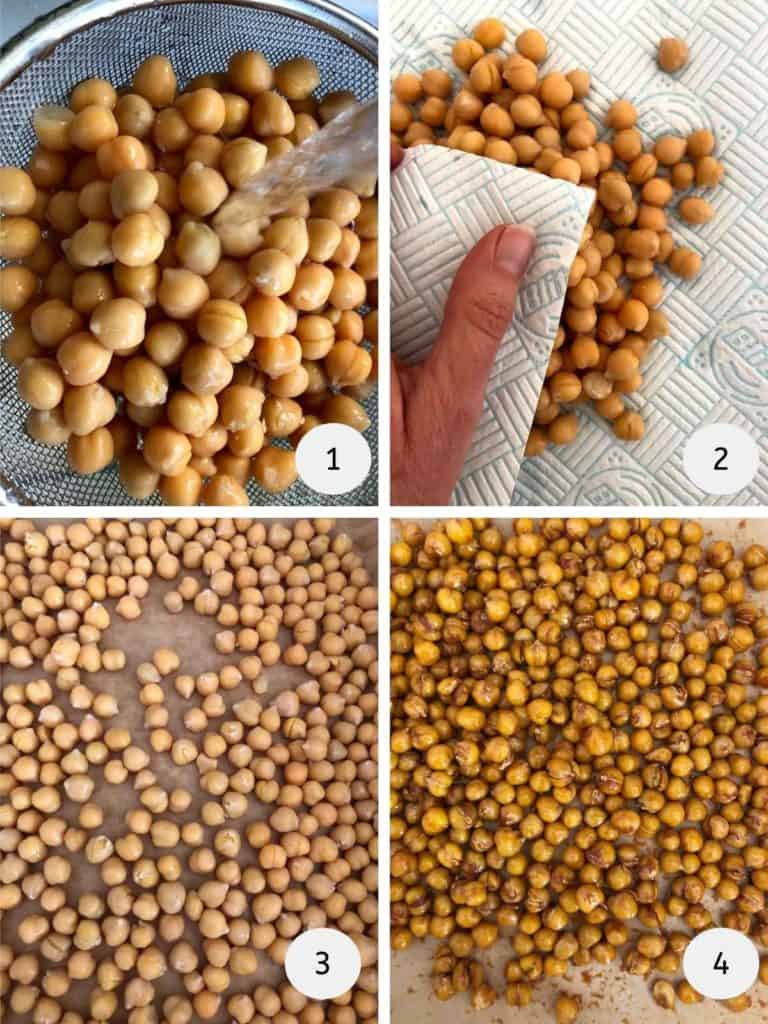 Preparing the chickpeas
Tip the chickpeas into a sieve or colander and rinse thoroughly with water (picture 1)
Place the washed chickpeas on to a couple of pieces of kitchen roll and pat dry with more kitchen roll (picture 2)
Place the chickpeas in a bowl and add the seasoning and mix to combine.
If you are oven baking the chickpeas, layer them on a baking sheet that has been covered with either a silicone baking sheet or a piece of non stick baking parchment (picture 3)
Roast until they look golden brown.
If you are oven baking make sure that you check on them every 8 minutes or so and use a spatula to move them about a bit. This will help them roast evenly and will prevent them sticking to the baking tray.
I travel a lot between the United Kingdom and North America and I tend to make a batch of these spiced chickpeas to travel with.
Hanging around an airport followed by a 7 hour flight is a nightmare if you are a boredom eater like I am.
Taking a bag of these to snack on has really helped me to control the amount of Smart Points that I consume on the days that I am travelling.
They are filling and tasty and keep my snacking at bay. Try it!
Like this recipe? Then you may like these!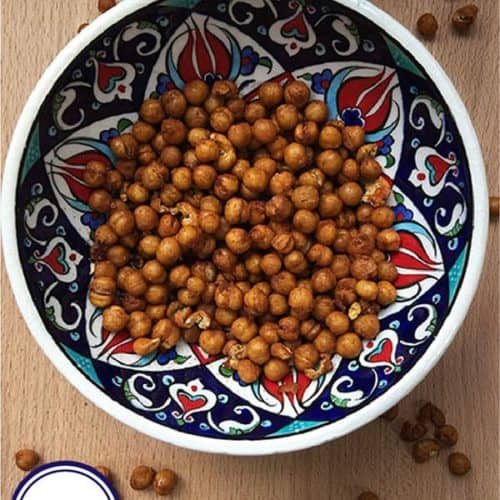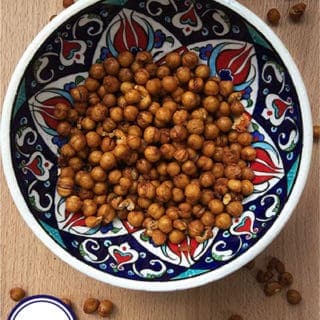 Spiced Chickpeas
0 Smart Points per serving on Weight Watchers Freestyle or Flex program.

Ingredients
1

can

chickpeas

470g tin, drained and rinsed

¼

tbsp

olive oil

½

tsp

salt

½

tsp

ground cumin

1

tsp

smoked paprika

1

pinch

cayenne pepper
Instructions
If you are using an oven to roast your chickpeas, preheat the oven to 230oC /450oF
Drain and rinse the chickpeas and dry off with paper towel.


Place the chickpeas in a bowl and add the oil, salt, cumin, smoked paprika and cayenne pepper and mix until the chickpeas are covered.


Place in the airfryer for 15 - 20 minutes (depending on how crunchy you like your chickpeas to be)

If you are using an oven to roast your chickpeas then spread them on a roasting tin and bake for 30 to 40 minutes until brown and crunchy. Check every 8 - 10 minutes and use a spatula to move the chickpeas around so that they roast evenly.


Best served warm!

Notes
Please be aware that the nutritional information below has been automatically generated and does not account for variations in product brands and types, weights of individual ingredients etc.  It should therefore be considered as an estimate. PointedKitchen.com has calculated Weight Watchers Smart Points based on the individual ingredients used to make this recipe and not from the following nutritional information. PointedKitchen.com is not responsible for any loss or damage relating to your reliance on this nutritional information.
Nutrition
Nutrition Facts
Spiced Chickpeas
Amount per Serving
% Daily Value*
* Percent Daily Values are based on a 2000 calorie diet.