Why buy expensive pre-packed Fajita Seasoning Mix when you can make it yourself!
This recipe is quick to make, easy to use and it stores well in an airtight container.
The Fajita Seasoning Mix works out as one SmartPoints per portion on Weight Watchers Freestyle, Blue, Purple and Green plans. Use it as a seasoning for your fajitas, tacos and burritos.
Buying ready made fajita seasoning is an expensive way of cooking fajitas, so why not make your own?
You may even find that you already have a lot of the spices needed for this recipe in your cupboards.
But even if you don't & you have to go out and buy one or two new jars of spices, making your own Fajita Seasoning Mix will still work out cheaper for you in the long run.
More importantly though, this homemade Fajita Seasoning Mix is less SmartPoints than shop brought ones.
Shop brought fajita seasoning mixes vary between 1 & 2 SmartPoints per portion (so between 3 and 6 SmartPoints per sachet).
They can include quite a bit of corn starch and corn syrup as well as lots & lots of unpronounceable ingredients.
Alternatives:
Swap the garlic powder for onion powder
Use half and half garlic powder and onion powder
If you like a spicier fajita mix, increase the amount of chili powder.
If you eat a lot of fajitas, why not make enough of this seasoning mix to last you a few months? It can be stored in an airtight container for up to 3 months.
Use approximately ½ tablespoon of fajita seasoning mix per person (2 tablespoons if you are making fajitas for four!)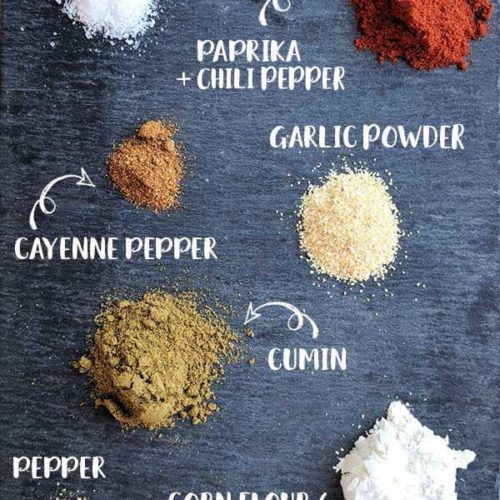 Fajita Seasoning Mix | Weight Watchers
Use this seasoning mix for fajitas, tacos and burritos. This recipe is enough seasoning to make fajitas for 4 people.
Ingredients
½

tbsp

corn flour / corn starch

1

tsp

chili powder

1

tsp

cumin powder

1

tsp

paprika

¼

tsp

cayenne pepper

1

tsp

ground salt

½

tsp

ground black pepper

½

tsp

garlic powder

or onion powder
Instructions
Mix all the ingredients together.

Can be stored in an airtight container for up to 3 months.
Notes
Please be aware that the nutritional information below has been automatically generated and does not account for variations in product brands and types, weights of individual ingredients etc.  It should therefore be considered as an estimate.
PointedKitchen.com has calculated Weight Watchers Smart Points based on the individual ingredients used to make this recipe and not from the following nutritional information.
PointedKitchen.com is not responsible for any loss or damage relating to your reliance on this nutritional information.
Nutrition
Nutrition Facts
Fajita Seasoning Mix | Weight Watchers
Amount per Serving
% Daily Value*
* Percent Daily Values are based on a 2000 calorie diet.