If you are looking for a filling & tasty low SmartPoint dinner, then you will love this Fajita Pasta!
It works out at 6 SmartPoints if you follow the Weight Watchers Blue or Purple plan or 7 SmartPoints if you follow the WW Green plan.
Of course you can reduce those points even further if you follow the Purple plan and swap out the white pasta for wholemeal pasta!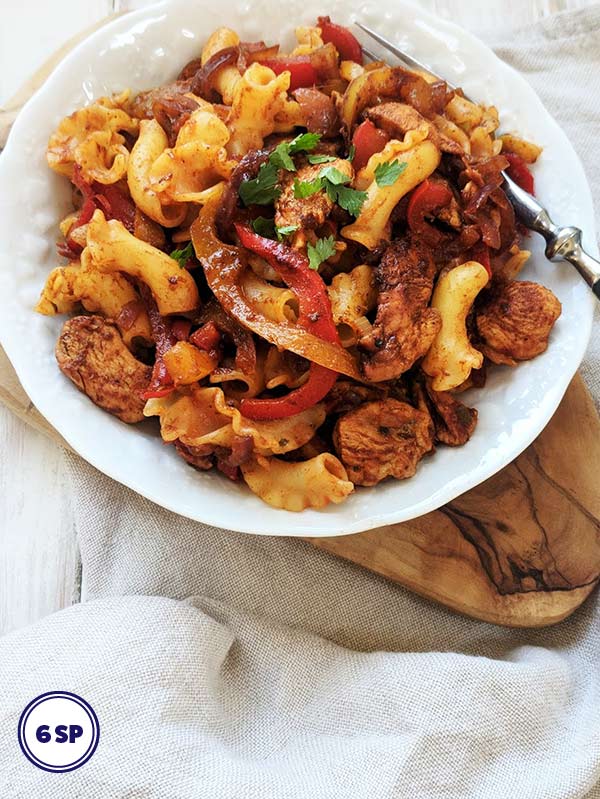 If you continue to follow the old Weight Watchers Freestyle plan, it works out at 6 SmartPoints.
So at just 6 SmartPoints per portion this is a recipe that you will use again and again.
I make this Fajita Pasta with zero point Fajita Seasoning Mix.
I tend to make up a few lots of the seasoning mix and store it, until I need it, in an airtight container.
You can use it to season this pasta, but also as a seasoning for chicken, burritos and tacos.
The great thing about the Fajita Pasta dish is that it is extremely filling for relatively few SmartPoints.
At the beginning of my Weight Watchers journey, I shied away from eating pasta from fear of over eating it.
However, this recipe is bulked out with lots of zero SmartPoint spicy chicken and sweet peppers, so you can get away with a medium portion of pasta for a dish that is really filling, but not too high in SmartPoints.
To keep the SmartPoints even lower, I used a zero point fajita seasoning mix and cooked the chicken and pepper in a non stick pan with a light spraying of Frylight.
Using a low calorie cooking spray like Frylight or Pam rather than using regular oil reduces the SmartPoint value in cooking significantly.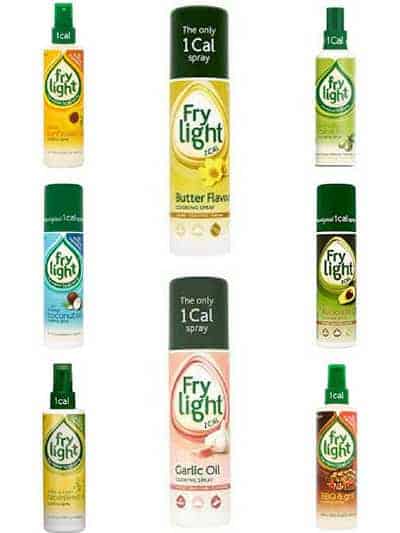 Tips for making this recipe:
Make sure that the chicken pieces are thinly sliced. The cook time is short so you need to make sure that your chicken cooks thoroughly.
Slice the chicken into pieces roughly the same size, so that they cook at the same rate.
As very little oil is used in this recipe, it is important to prevent the ingredients sticking to the bottom of the frying pan / skillet, especially as this recipe requires the ingredients to be cooked over a high heat. A good quality non stick pan helps with this but I would also suggest adding a few splashes of water to the pan to help unstick any ingredients that are starting to adhere to the bottom of the pan. Scraping them off the bottom of the pan during cooking can actually add to the flavour of the dish IF it is done before it burns!
Alternative to this recipe:
You could use packet Fajita Seasoning Mix but be sure to work out the additional SmartPoints.
I used Fiorelli pasta as I love the ruffled edged shape! However, other pasta such as Penne or Farfalle work just as well.
This post may contain affiliate links. As an Amazon Associate I earn from qualifying purchases. Visit this page to see what that means.
What I used to make this dish:
I use this garlic infused Frylight, available from Amazon.
I used a good quality non stick frying pan / skillet like this one, available from Amazon.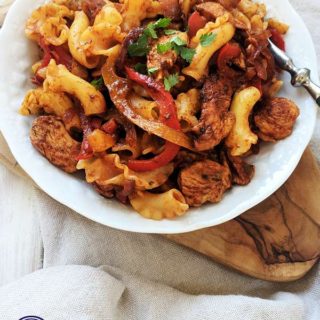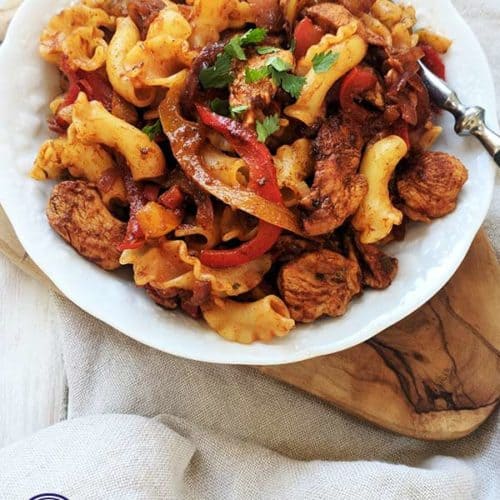 Fajita Pasta | Weight Watchers
This tasty Fajita Pasta is just 6 SmartPoints per serving on Weight Watchers Freestyle / Flex plan.
Ingredients
2

medium size chicken breasts

thinly sliced

1

onion

thinly sliced

1

yellow pepper

de-seeded and thinly sliced

1

red pepper

de-seeded and thinly sliced

2

tbsp

fajita seasoning mix

2.5

cups

dried pasta

(230g)

10

sprays

no calorie oil

Frylight / Pam
Instructions
Cook the pasta in a large saucepan according to the packet instructions and once cooked, drain thoroughly.

Whilst the pasta is cooking, thinly slice the chicken, sprinkle over the fajita mix and toss so that all of the chicken is covered in the spices. Set aside.

Thinly slice the peppers and onions.

Heat a large non stick frying pan over a high heat with 10 sprays of no calorie oil. Add the seasoned chicken strips and cook for 1 - 2 minutes, stirring all the time until they start to colour. Add the onions and peppers and stir continuously over a high heat for 5 - 7 minutes until all the ingredients are brown.

If the fajita mix starts sticking to the bottom of the pan, add a couple of tablespoons of water and scrape with a wooden spoon (so that it doesn't continue to cook and burn). You want the fajita mix to have a bit of a charred look but you do not want it to burn!

Check that the chicken is thoroughly cooked through by cutting the biggest piece that you can find in half and checking the inside.

Take off the heat, add 1 tablespoon of water and give the mix a final stir before adding it to the cooked pasta. Return the pan to the heat and warm through.
Notes
Please be aware that the nutritional information below has been automatically generated and does not account for variations in product brands and types, weights of individual ingredients etc.  It should therefore be considered as an estimate.
PointedKitchen.com has calculated Weight Watchers Smart Points based on the individual ingredients used to make this recipe and not from the following nutritional information.
PointedKitchen.com is not responsible for any loss or damage relating to your reliance on this nutritional information.
Nutrition
Nutrition Facts
Fajita Pasta | Weight Watchers
Amount per Serving
% Daily Value*
* Percent Daily Values are based on a 2000 calorie diet.