This Strawberry & Marshmallow Fluff is a tasty and fun Weight Watchers dessert recipe.
It is zero SmartPoints on Weight Watchers Blue, Purple and the old Freestyle plan.
It is 1 SmartPoint per serving if you follow the WW Green plan.
But you would never know that you are eating a zero/low SmartPoint dessert with this recipe.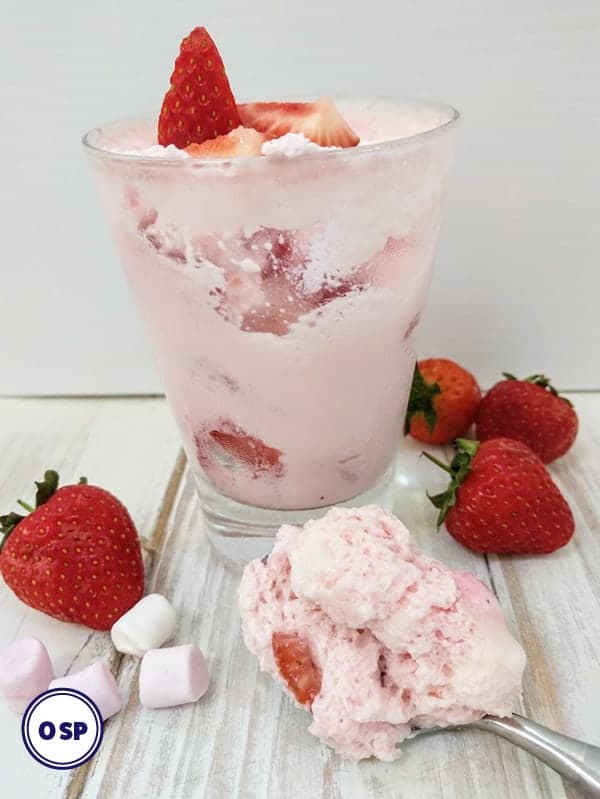 By using 0% fat Greek yogurt and sugar free jelly (jello) powder / crystals and sugar free mini marshmallows, one portion of this dessert really is zero points!
Although tempting, eating the whole 6 portions in one go will NOT be zero points ...
.... you have been warned 😀 !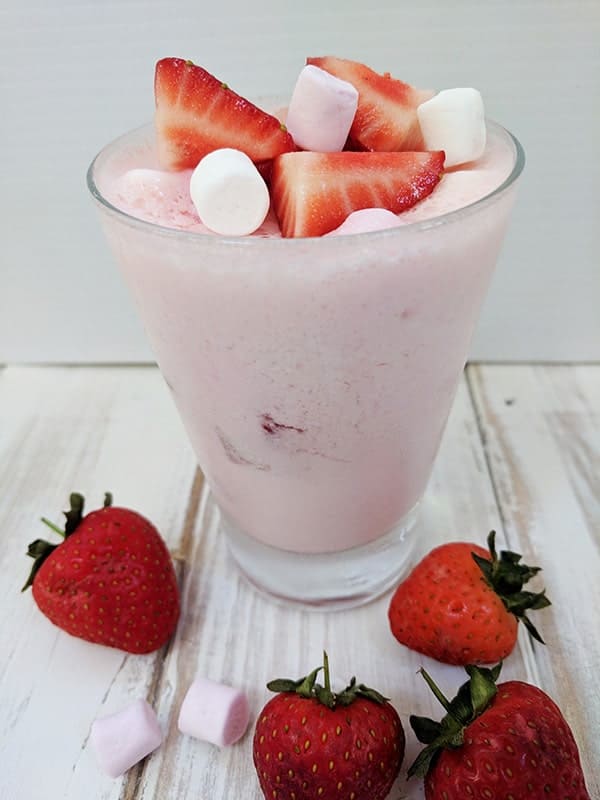 Although Fage 0% Fat Greek Yogurt is one of my favourite brands of Greek yogurt, I used a runnier brand of Greek yogurt in this recipe as I find it makes a fluffier and lighter Marshmallow Fluff.
By all means use Fage, it tastes just as good, but you may find that the fluff does not whip up as well.
I used a bag of Weight Watchers pink and white mini marshmallows in this recipe, which are just 2 SmartPoints per small bag (this product is unfortunately not longer available to buy either in meeting or online).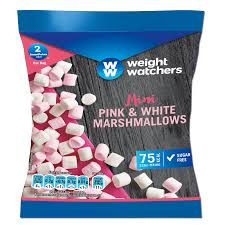 This post may contain affiliate links. As an Amazon Associate I earn from qualifying purchases. Visit this page to see what that means.
If you are in the UK, Sainsbury's do a sugar free mini marshmallows.
You can also buy La Nouba Sugar Free Marshmallows from Amazon.  Use 35g (½ a bag) of marshmallows to keep these Marshmallow fluffs zero Smart Points.
Can't find Sugar Free Marshmallows?
If you are unable to find sugar free marshmallows then you can add 30g (approx ⅔ of a cup) of Kraft Jet Puffed Mini Marshmallows which will bring the point value of each portion of Marshmallow Fluff to 1 SmartPoint.
Variations to this recipe
Use raspberry flavoured jelly and swap the strawberries for raspberries
Use berry blue flavoured jello and use blueberries for a 'colourful' fluff recipe
If you do not like the taste of Greek Yogurt, use a natural fat free yogurt instead
Do not like yogurt? Then try this yogurt free Strawberry Fluff recipe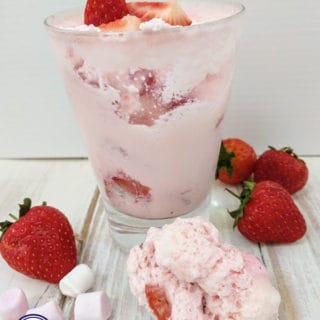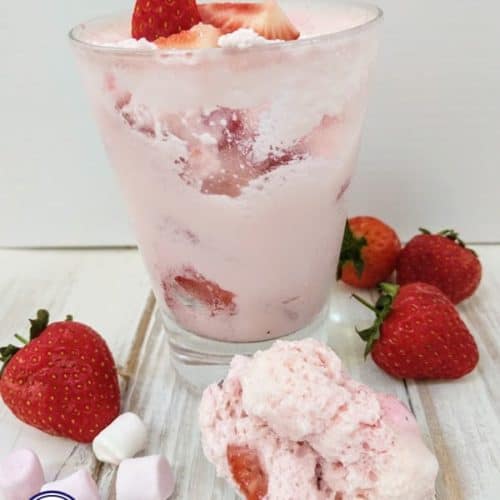 Marshmallow Fluff
This easy to make, sweet & light fluff is 0 SmartPoints per serving on Weight Watchers Freestyle / Flex plan.
Ingredients
1

tub

fat free Greek yogurt

(450g tub / 2 cups)

1

packet

sugar free strawberry jello crystals / jelly powder

(11.5g)

¼

pint

boiling water

¼

pint

cold water

12

strawberries

1

packet

WW mini marshmallows

(approx 35g sugar free mini marshmallows)
Instructions
Pour the jelly crystals/ powder into a jug and add the boiling water. Stir to dissolve then add the cold water. Set aside for 5 minutes.

Chop up the strawberries into small chunks and set aside.

Pour the Greek yogurt into the mixing bowl of a stand mixer or into a large mixing bowl if you are using a hand held mixer. Whisk the yogurt on a medium speed for 2 - 3 minutes then start to add the jelly mixture in a steady stream whilst continuing to whisk on a medium - high speed. Continue to whisk for a further 5 - 10 minutes until the mixture has increased in volume and is light and bubbly.

Very carefully fold most of the chopped strawberries and most of the marshmallows into the yogurt / jelly mixture. Gently spoon into 6 glasses and refrigerate for a couple of hours before serving.

Before serving decorate with a couple of the left over marshmallows and a few bits of strawberry.
Notes
Please be aware that the nutritional information below has been automatically generated and does not account for variations in product brands and types, weights of individual ingredients etc.  It should therefore be considered as an estimate.
PointedKitchen.com has calculated Weight Watchers Smart Points based on the individual ingredients used to make this recipe and not from the following nutritional information.
PointedKitchen.com is not responsible for any loss or damage relating to your reliance on this nutritional information.
Nutrition
Nutrition Facts
Marshmallow Fluff
Amount per Serving
% Daily Value*
* Percent Daily Values are based on a 2000 calorie diet.