This tasty & filling Pasta Bolognese recipe is just 8 SmartPoints on Weight Watchers Freestyle / Flex plan. By using extra lean minced beef (ground beef) the points value of this Bolognese sauce is reduced significantly in comparison to a 'full fat' version.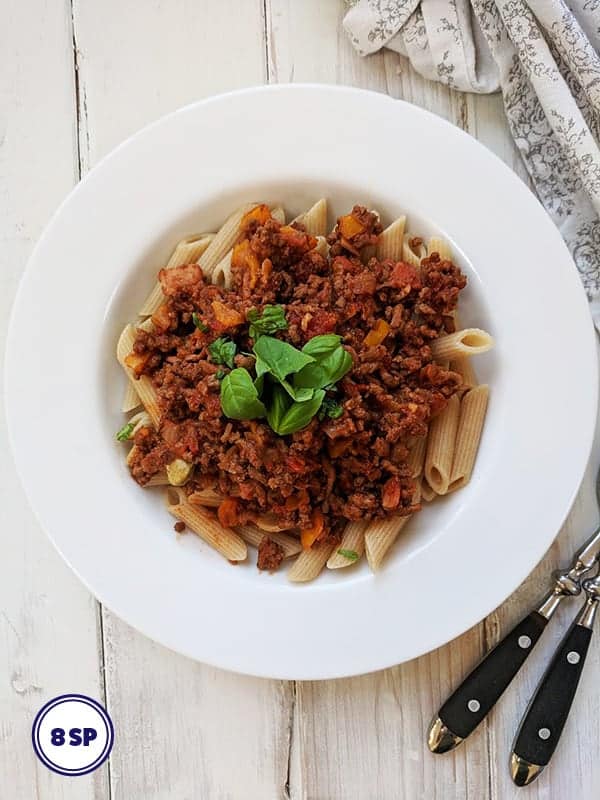 Sometimes I just want a big bowl of pasta topped with a rich pasta sauce.
Now I can with this Weight Watcher friendly recipe for Pasta Bolognese.
Extra lean minced beef works out at 2 SmartPoints per 100g whereas 'full fat' minced beef works out at 7 SmartPoints, so make sure to use extra lean minced beef.
I don't find a huge taste difference between the two and I've even started to prefer the extra lean - I find it less greasy!
Traditionally with Bolognese recipes, the minced beef, onions and garlic are cooked in a couple of tablespoons of olive oil before the rest of the ingredients are added.
This post may contain affiliate links. As an Amazon Associate I earn from qualifying purchases. Visit this page to see what that means.
By swapping olive oil for a calorie controlled spray oil such a Frylight or Pam you can 'save' on quite a few points!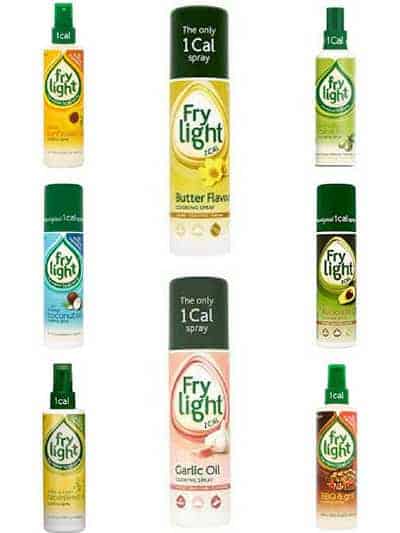 Both Frylight and Pam make Olive oil flavour oil sprays.  Both brands are very good and you can use 10 sprays for zero SmartPoints!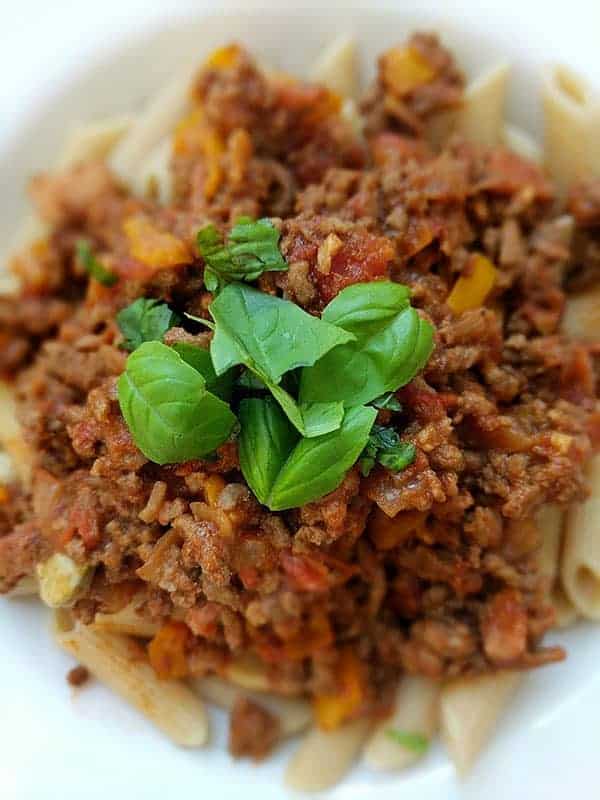 It is up to you whether you use white pasta or wholewheat pasta in this recipe - they have the same points values. I used white Penne pasta for this recipe.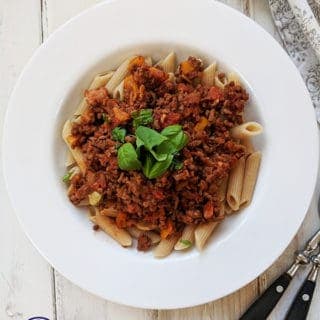 Pasta Bolognese
This easy filling Pasta Bolognese is 8 SmartPoints per portion on Weight Watchers Freestyle / Flex plan.
Ingredients
4

cups

Lean beef mince/ ground beef (5% fat)

(400g)

4

Bacon medallions

finely chopped

Fry Light

2

Garlic cloves

crushed

1

Red pepper

deseeded & finely chopped

1

Yellow pepper

deseeded & finely chopped

1

Onion

finely chopped

2

Tinned chopped tomatoes

2 x 400g tins

1

tbsp

Tomato puree

1

pinch

Salt

1

pinch

Black pepper

4

cups

Pasta

(240g)

Basil

to garnish
Instructions
Heat a large saucepan over a high heat. Add 5 or 6 sprays of Frylight (spray oil) and add the minced (ground) beef and chopped bacon medallions. Using a fork break up the beef and cook till it has turned brown. Add the crushed garlic and the chopped onion and cook for a further 2 - 3 minutes before adding the chopped peppers, tomato purée & tinned chopped tomatoes.

Stir well and bring the mixture to a boil. Reduce the heat & cook on a low simmer for 25 - 30 minutes or until the sauce has thickened. Stir occasionally to prevent the mixture from sticking to the bottom of the pan.

Prepare the pasta in lightly salted water according to the packet instructions. Once cooked, drain the pasta well before dividing into 4 bowls.

Taste the Bolognese sauce & season with salt & pepper if required before spooning over the pasta. Top with torn up basil leaves.
Notes
Please be aware that the nutritional information below has been automatically generated and does not account for variations in product brands and types, weights of individual ingredients etc.  It should therefore be considered as an estimate.
PointedKitchen.com has calculated Weight Watchers Smart Points based on the individual ingredients used to make this recipe and not from the following nutritional information.
PointedKitchen.com is not responsible for any loss or damage relating to your reliance on this nutritional information.
Nutrition
Nutrition Facts
Pasta Bolognese
Amount per Serving
% Daily Value*
* Percent Daily Values are based on a 2000 calorie diet.