This 1 Smart Point Strawberry Fluff dessert is sweet, fluffy and light. Unlike other WW Fluffs this particular recipe does not use yogurt!
So if you are following the WW Blue, Purple or Green plan and you are looking for a low SmartPoint dessert then look no further than this easy recipe.
It is made by combining whipped half fat evaporated milk with sugar free strawberry jelly.
The dessert is then chilled in the fridge for a couple of hours before topping with fresh strawberries.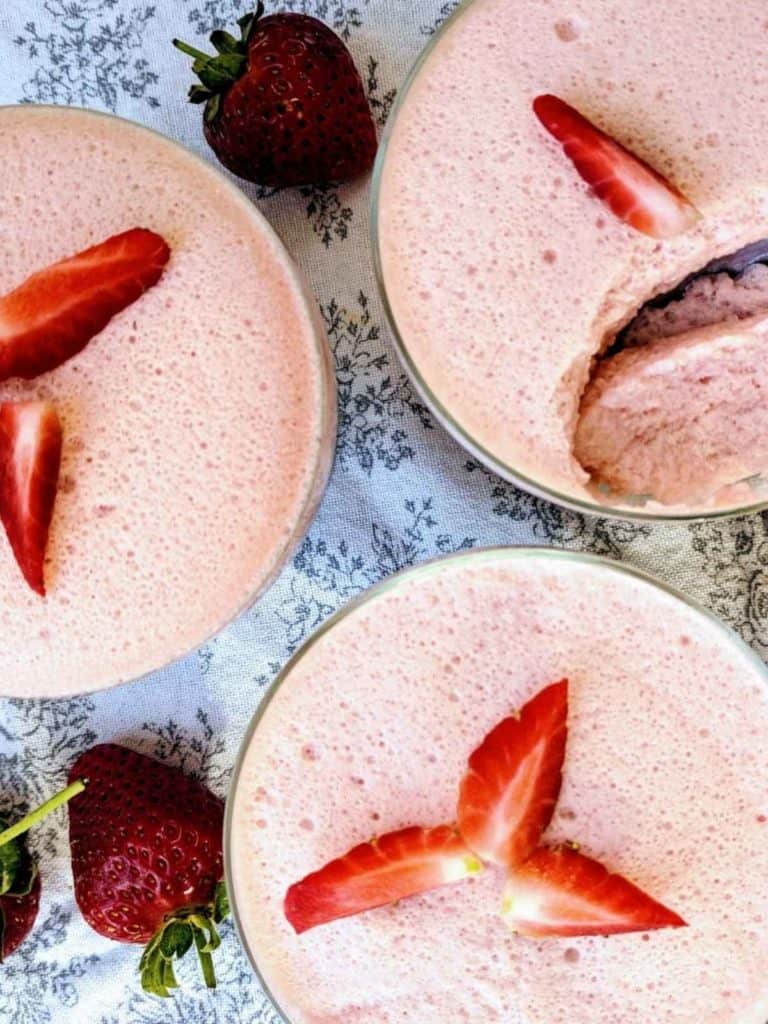 If you are looking for an easy dessert that reminds you of childhood then this is it!!
This dessert reminds me of my Gran who used to run a Guest House back in the 1970's.
She made this dessert and it was the height of sophistication back then!
Of course she used full fat evaporated milk and sugar laden jelly in her recipe.
She also used to serve it in a large cut crystal bowl!!
To make this dessert Weight Watchers friendly, I used half fat evaporated milk and sugar free jelly to reduce the SmartPoint value.
In memory of my Gran, I served these desserts in some of her glass serving dishes.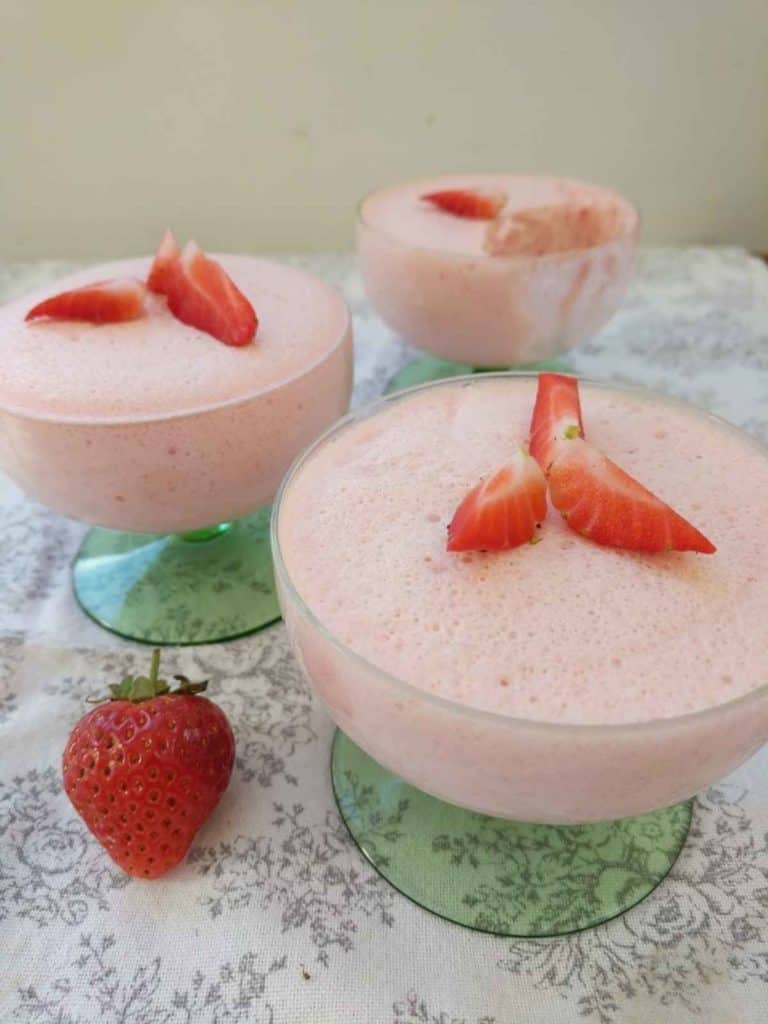 This post may contain affiliate links. As an Amazon Associate I earn from qualifying purchases. Visit this page to see what that means.
Light or low fat evaporated milk can be a little difficult to find.
If you are in the US you can find fat free Carnation milk from larger food stores such as Walmart and Target or alternatively you can purchase it from Amazon here!
If you are in the UK, Tesco do their own brand of low fat evaporated milk and Carnation do a light evaporated milk but it seems like it is only the bigger shops that stock these or you can purchase off Amazon here.
I used Hartley's Sugar Free Jelly Crystals to make the Jelly but do make sure that you only use half the amount of water suggested on the packet to make the Jelly.
I have also used Jell-o to make this dessert.
Obviously, you can use any flavour of Jelly that you want to make these fluffy desserts, but my personal favourite is strawberry!
More Weight Watchers Dessert Recipes
If you are looking for a zero point Fluff recipe, then take a look at this hugely popular Lime Fluff recipe.
This 1 point Pistachio Crunch is particularly popular with people following the WW Blue and Purple plans. It is 3 SmartPoints on the WW Green plan.
Or how about these Baked Egg Custards at just 3 SmartPoints per portion on Blue, Purple and Freestyle and 4 SmartPoints on Green.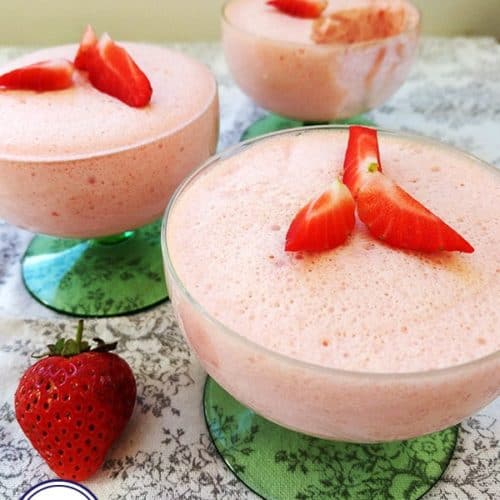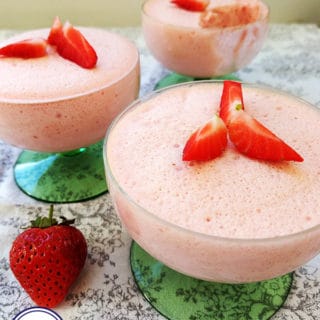 Strawberry Fluff
2 Smart Points on Weight Watchers Flex / Freestyle
Ingredients
1

can

light evaporated milk

(5.5floz / 170g)

1

sachet

strawberry sugar free jello / jelly crystals

water

6

strawberries (for decoration)

optional
Instructions
Melt the jelly crystals in half the amount of water suggested on the packet and then leave to cool for 20 - 30 minutes.

Whisk the evaporated milk in a large bowl until it has tripled in volume.

Still whisking, very gradually add the jelly to the milk mixture and continue to whisk for a couple more minutes.

Spoon into 6 individual dishes or into 1 large bowl and place in the fridge for at least 2 hours to set.

Serve with sliced strawberries.
Notes
Please be aware that the nutritional information for this recipe has been automatically generated and does not account for variations in product brands and types. It should therefore be considered as an estimate. 
PointedKitchen.com has worked out the Weight Watchers Smart Points based on the individual ingredients used to make this recipe and not from the following  nutritional information. 
PointedKitchen.com is not responsible for any loss or damage relating to your reliance on the nutritional information. 
Nutrition
Nutrition Facts
Strawberry Fluff
Amount per Serving
% Daily Value*
* Percent Daily Values are based on a 2000 calorie diet.