This Lyonnaise Salad is 9 SmartPoints on Weight Watchers Freestyle & Flex plan. A tasty & filling salad containing croutons, cheese, bacon & poached eggs!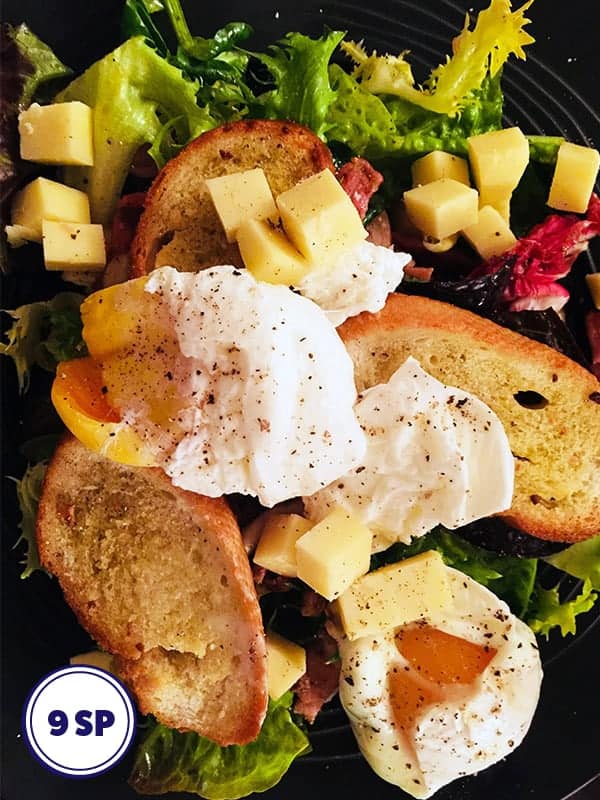 Lyonnaise Salad or Salade Lyonnaise is a wonderfully rich salad of crisp lettuce tossed in warm vinaigrette, bacon bits and croutons with a poached egg on top. This recipe has the addition of cheese which, although not typical of Lyonnaise salad, makes it into a filling tasty main meal.
A Lyonnaise salad in a Paris cafe would probably set you back a days worth of Smart Points, but this Weight Watchers friendly recipe comes in at 9 Smart Points per large portion.
Although this is not the most simple salad to put together, it is really tasty and makes a very impressive salad to serve to friends. They would never guess it is Weight Watchers friendly.
When testing this recipe for Pointed Kitchen, I first experimented using bacon medallions rather than bacon rashers. However, I found that as the bacon medallions do not release any fat, I needed to use olive oil to make the vinaigrette which pushed up the points. By using bacon rashers, you can use the bacon fat to make the vinaigrette which believe it or not brings down the points!
For the croutons I used a small baguette which I cut into slices about 1 inch thick. I then used a little olive oil to brush on top, I seasoned them lightly and cooked them until golden brown.
Now, the poached eggs can be a bit tricky as ideally you need to poach four eggs at a time if you are making this salad for two people. Of course, you could just have one egg per salad but with eggs now being zero heroes why not have two! If you don't have an egg poacher I found that the easiest way to poach the 4 eggs is to use the cling film method.
For each poached egg that you are making, spray a piece of cling film lightly with calorie free cooking spray. Place the cling film in a cup with the ends draped over the top. Crack your egg into the cup and seal the cling film at the top by twisting tightly. Repeat for the rest of the eggs. Place the egg parcels in simmering water for 4 ½ to 5 minutes. When they are done, use a slotted spoon to remove from the water and gently open on to a piece of kitchen roll to remove any excess water.
As I said earlier, cheese is not a typical ingredient in a Lyonnaise salad, but in my mind it is a welcome addition. I used have fat cheddar cheese, but you can omit this, if you'd like for a reduction in smart points.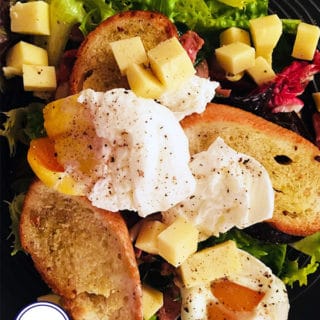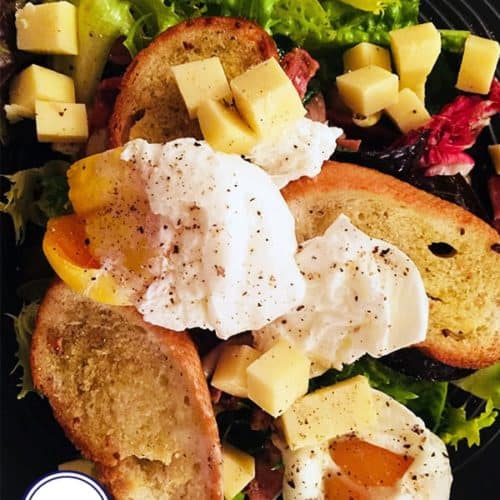 Lyonnaise Salad
9 Smart Points on Weight Watchers Flex / Freestyle
Ingredients
3.75

cups

salad leaves

I used mix of frisee & red salad

2

bacon rashers

4

eggs

medium

1

medium shallot

finely chopped

1

tbsp

white vinegar

1

tbsp

red wine vinegar

½

tsp

dijon mustard

⅓

cup

half fat cheddar cheese

(50g) cubed

½

small

baguette

I used Waitrose small baguette

4

tsp

olive oil

ground black pepper

sea salt
Instructions
Preheat the oven to 375oF /190oC. Lay the slices of baguette on a baking tray and brush each side with olive oil. Season lightly with salt and pepper. Cook each side for approx 7 - 8 minutes or until they are golden brown and crisp. Remove from the oven and set aside to cool.

Rip up the salad into bite size pieces and place in a large mixing bowl

Chop up the cheddar into bite size pieces and set aside.

Chop the bacon up into small pieces and place in a small frying pan and cook, stirring occasionally until golden brown. Take the pan from the heat and carefully remove the pieces of bacon from the frying pan and place on a piece of kitchen roll to cool. Keep the rendered bacon fat in the pan for use later.

Poach the eggs using an egg poacher or the cling film method as discussed above.

Heat the rendered bacon fat over a medium heat and add the chopped shallots and cook for 30 seconds. Add the red wine vinegar and dijon mustard and mix. Add the bacon pieces, mix gently then remove from heat and pour over the salad leaves and toss gently so that the leaves are coated with the warm dressing.

Divide the salad leaves between 2 bowls and add the cheese and croutons. Top with the poached eggs.
Notes
Please be aware that the nutritional information for this recipe has been automatically generated and does not account for variations in product brands and types. It should therefore be considered as an estimate. 
PointedKitchen.com has worked out the Weight Watchers Smart Points based on the individual ingredients used to make this recipe and not from the following  nutritional information. 
PointedKitchen.com is not responsible for any loss or damage relating to your reliance on the nutritional information. 
Nutrition
Nutrition Facts
Lyonnaise Salad
Amount per Serving
% Daily Value*
* Percent Daily Values are based on a 2000 calorie diet.