This Chicken Tikka Masala works out as 2 Smart Points per portion on the WW Blue & WW Purple plans.
If you are following the WW Green plan then it works out at 4 SmartPoints per portion.
Eat it with a Weight Watchers friendly garlic naan for a low point filling and very tasty meal.
The recipes is adapted from the Tom Kerridge book 'Lose Weight for Good'. It takes quite a lot of preparation and cooking but it is totally worth it!
This post may contain affiliate links. As an Amazon Associate I earn from qualifying purchases. Visit this page to see what that means.
Tom Kerridge is a Michelin starred chef and the recipes in his 'Lose Weight for Good' recipe book are fantastic.
I would recommend anyone who is interested in cooking lower calorie food, to take a look at it.
Having said that, the recipes are not always quick and easy - Tom goes for proper cooking and proper tasty food rather than quick and easy meals.
Instead of using chicken crown in the recipe, I used skinless, boneless chicken and I've adapted the spices slightly to fit in with my taste (I prefer slightly milder curries).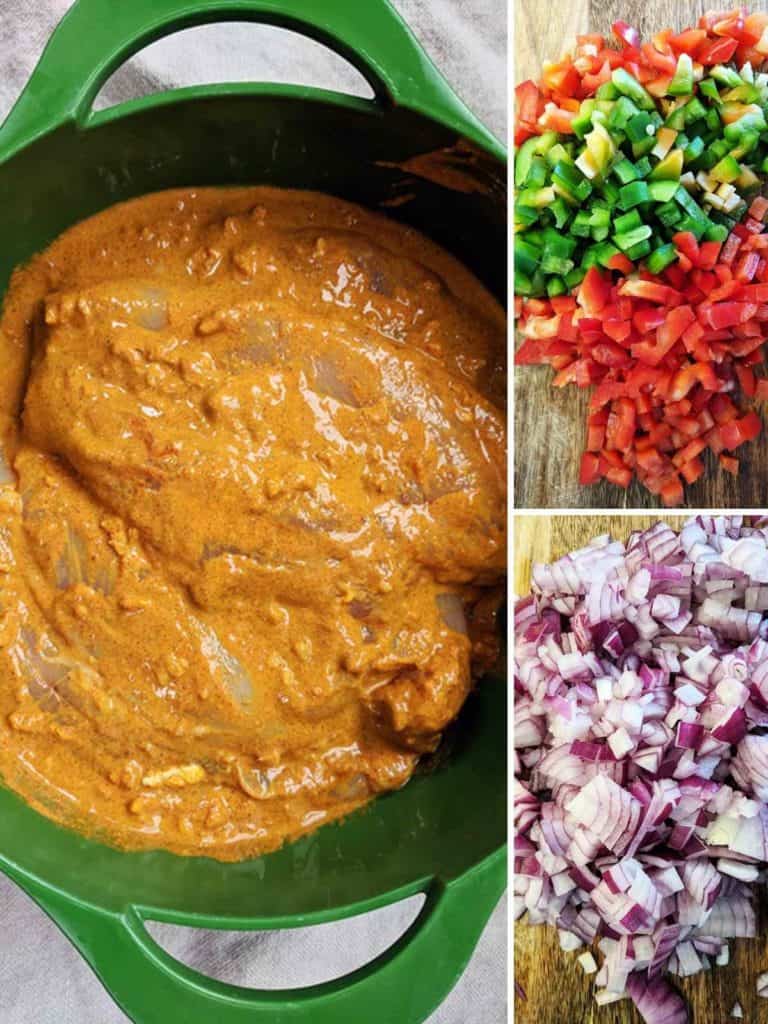 Chicken Tikka Masala - WW Blue Plan
If you follow the Blue plan for an extra 5 Smart Points you can serve this Chicken Tikka Masala with a portion 50g portion of basmati rice (dry weight).
If, like me, you are happy to eat a bowl of curry with a garlic naan to mop up the juices, then this will add an additional 4 Smart Points.
Chicken Tikka Masala - WW Purple Plan
If you follow the Purple plan you can add a portion of brown rice for no extra SmartPoints.
And if you want to add a garlic naan bread then you can do so for an additional 4 SmartPoints.
Chicken Tikka Masala - WW Green Plan
For people following the Green plan, this dish is 4 SmartPoints per portion.
If you add a side of rice (50g) this will be an additional 5 SmartPoints and a garlic naan bread would be an additional 5 SmartPoints.
Of course, if you really want to go all out, you could have a large portion of Chicken Tikka Masala, with rice and naan all for a fraction of the SmartPoints it would be from your local curry house.
With Weight Watchers estimating one portion of Indian Restaurant chicken Tikka Masala to come in at a whopping 81 Smart Points and one Indian Restaurant Naan bread being 20 Smart Points, this is quite a saving, I am sure you will agree!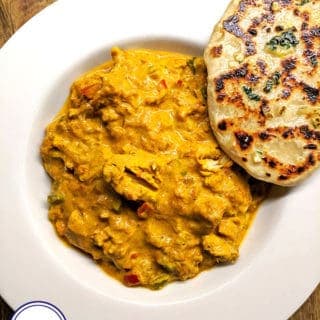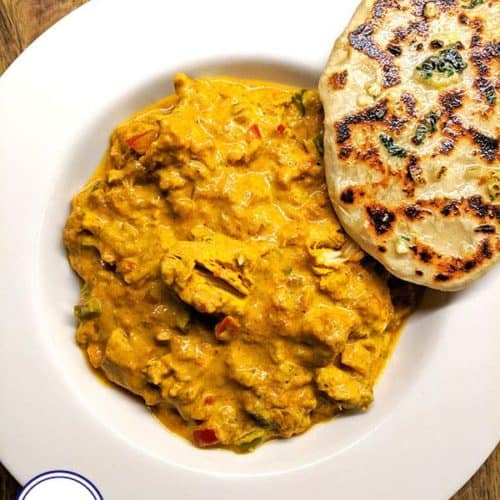 Chicken Tikka Masala
2 Smart Point per portion on Weight Watchers Flex /Freestyle
Ingredients
4

chicken breasts

skinless & deboned
For the marinade
2

tsp

grated ginger

heaped

4

garlic cloves

minced

2

tbsp

curry powder (madras)

1

tsp

smoked paprika

½

cup

fat free greek yogurt
For the curry sauce
1

tbsp

vegetable oil

2

red onions

2

garlic gloves

grated

1

tsp

ginger

grated

2

tsp

ground coriander

1

tsp

ground tumeric

2

tsp

paprika

1

tbsp

tomato puree

1

can

chopped tomatoes

400g can

1

cup

water

1

large

green pepper

finely chopped

1

large

red pepper

finely chopped

⅔

cup

fat free yogurt

fresh coriander

chopped
Instructions
In a small bowl, mix all of the marinade ingredients together.

Place the chicken breasts on a board, cover with cling film and bash with a rolling pin to thin out slightly. Place the chicken breasts in a bowl and pour over the marinade, turning them so they are completely covered. Cover the bowl with cling film and place in the fridge for at least 4 hours.

Once the chicken has marinated, preheat the oven to 120 oC / 250 oF. Place the marinated chicken breasts on to a roasting tin & spoon over any remaining marinade. Cook on the middle shelf of the oven for 2 hours. Note, that at this temperature the chicken will not be thoroughly cooked at this stage (so no picking!).

Heat the oil in a large pan and add the chopped onions. Cook for 10 minutes, stirring occasionally to make sure that they do not stick to the pan. If they look like they might, add a splash of water.

Add the grated ginger and garlic and a splash of water,stir, then add the paprika, turmeric and ground coriander. Stir, then cook for 1 minute.

Add the tomato puree and stir for 1 minute before adding the tinned tomatoes and the water. Bring this mixture to the boil, then reduce the heat and simmer for 5 - 10 minutes.

Add the chopped peppers and cook for 5 minutes. Remove the pan from the heat and set aside.

Once the chicken is ready to be removed from the oven, take it out and if you have one, use a cooks blow torch to blacken bits of the marinaded chicken. If you do not have a blow torch, don't worry, you can skip this part. Set aside for 10 minutes before cutting up into bite sized chunks.

Place the curry sauce back on a medium heat and heat through. Add the chicken pieces and simmer for 5 - 10 minutes until the chicken is cooked through.

Stir in the yogurt, season to taste and sprinkle with chopped coriander.
Notes
Please be aware that the nutritional information below has been automatically generated and does not account for variations in product brands and types, weights of individual ingredients etc.  It should therefore be considered as an estimate. PointedKitchen.com has calculated Weight Watchers Smart Points based on the individual ingredients used to make this recipe and not from the following nutritional information. PointedKitchen.com is not responsible for any loss or damage relating to your reliance on this nutritional information.
Nutrition
Nutrition Facts
Chicken Tikka Masala
Amount per Serving
% Daily Value*
* Percent Daily Values are based on a 2000 calorie diet.