This Garlic Naan Bread is 4 SmartPoints on the Weight Watchers Blue and Purple plans and 5 SmartPoints per bread on the Green plan.
To find out how many Personal Points this recipe will be for you & to track it in the WW App, click on the blue button in recipe card below!
They are easy and cheap to make, they don't need proving and what is more they freeze really well.
An easy Weight Watchers Naan Bread recipe!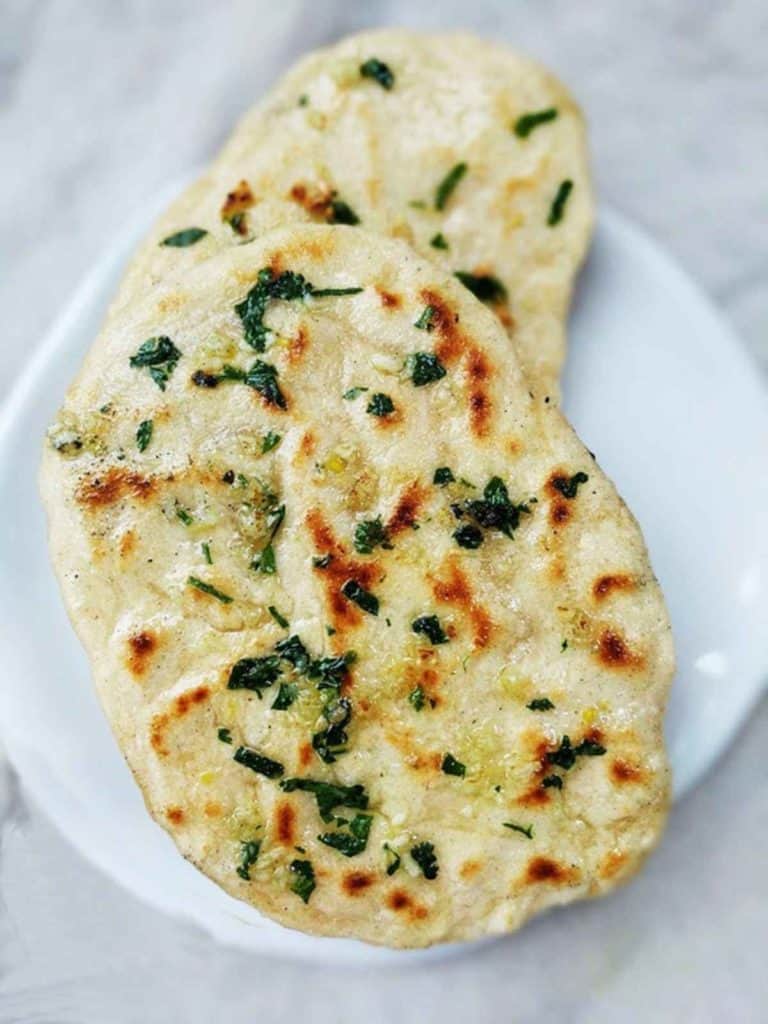 This garlic naan bread is less Smart Points than store brought ones. They are surprisingly satisfying to make, cheap and can be made with ingredients that you probably already have in your store cupboard.
They are easy to freeze if you want to make a big batch of them and can be frozen with or without the garlic oil. It is just a matter of warming the garlic naan bread through when you need one.
Now, I don't own a griddle pan (yet) but if I did I am sure that these naans may be even easier to make.
This post may contain affiliate links. As an Amazon Associate I earn from qualifying purchases. Visit this page to see what that means.
However, I make these using a good quality non stick pan, like this Le Crueset one, and they turn out really well.
Tips for making these Naan Breads!
If you use a frying pan to make these naan breads you do need to keep an eye on them to make sure the breads don't char too much on the bottom.
The naans should puff up a bit when cooking and these are the bits that you want to char a little for an authentic looking and tasting naan bread.
One word of warning! When you flip the naan bread onto the garlic oil side, only do this for a matter of seconds .... just enough to stick the garlic to the bread.
Any longer and the garlic will burn and burnt garlic really isn't very nice.
On the same note, if you are making a big batch of garlic naans, clean the pan of any stuck on garlic between each naan.
Bits of garlic can stick to the pan and you really don't want that burnt garlic taste to ruin your naan bread.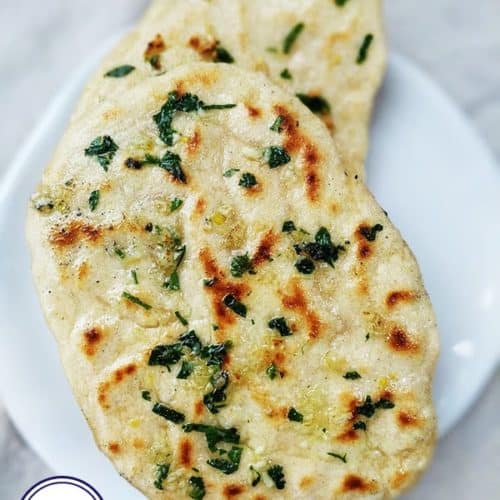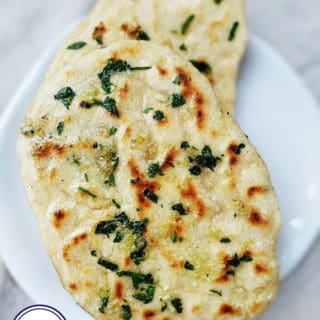 Garlic Naan
4 Smart Points per Naan Bread on Weight Watchers Blue and Purple plans and 5 SmartPoints on the Green plan.
Ingredients
1⅔

cups

self raising flour

¾

cup

fat free greek yogurt

drain any excess liquid

pinch of salt

Frylight / Pam

1

tbsp

olive oil

extra virgin

1

garlic clove

minced

2

tsp

coriander

chopped finely
Instructions
Mix the self raising flour, salt and greek yogurt in a stand mixer using the dough attachment until the ingredients are combined.

The dough should come away from the sides of the bowl cleanly. If the dough is too wet, add a little more flour. If the dough is too dry you can add a little water. 

If you do not have a stand mixer you can combine the ingredients using a wooden spoon. You then need to turn the dough onto a floured work surface and knead it for a couple of minutes.

Place the dough on a lightly floured surface and form into a disc before dividing it into 6 equal pieces.

Using your hands (or a rolling pin if you prefer) press out the dough to form an oval approx 5 inch by 3.5 inch.

Crush the clove of garlic into a small bowl, add a little chopped up coriander and the olive oil and mix. Set aside.

Cook the naan one by one in a frying pan (or griddle pan if you have one) over a medium hot heat. Each naan will need to be cooked for approximately 1 ½ minutes each side. When the first side is cooked, flip it so that the second side is cooking and lightly brush the cooked side with the oil mixture. Once the second side has cooked, flip the naan onto the garlic side just for a couple of seconds (no more, as burnt garlic is not nice) to seal.

The garlic naan can be made in advance and warmed in an oven before eating. They can also be frozen (with or without the garlic) and warmed through when needed.
Notes
Please be aware that the nutritional information for this recipe has been automatically generated and does not account for variations in product brands and types. It should therefore be considered as an estimate. 
PointedKitchen.com has worked out the Weight Watchers Smart Points based on the individual ingredients used to make this recipe and not from the following  nutritional information. 
PointedKitchen.com is not responsible for any loss or damage relating to your reliance on the nutritional information. 
Nutrition
Nutrition Facts
Garlic Naan
Amount per Serving
% Daily Value*
* Percent Daily Values are based on a 2000 calorie diet.