This Milk Jelly with Berry Coulis is a low SmartPoint take on a panna cotta. With a store brought vanilla panna cotta clocking in at between 12 to 16 SmartPoints per portion, this Weight Watcher friendly desert recipe is pretty good at 3 SmartPoints.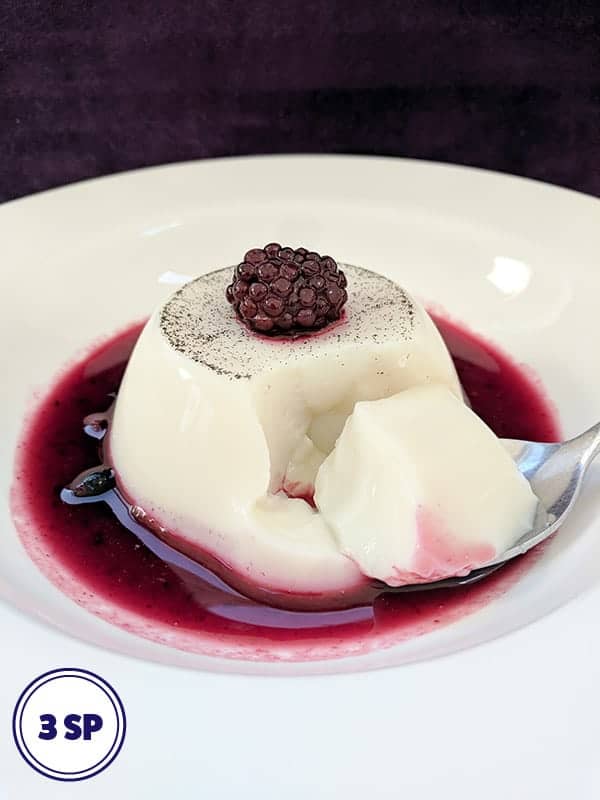 If you are a panna cotta buff (or were before you started your Weight Watcher journey) you will notice that this Milk Jelly with Berry Coulis doesn't have the creamy luxury of a traditional panna cotta but it's still pretty good for a low Smart Point dessert.
I've tested this dessert a number of times, using skimmed milk, semi skimmed milk and full fat milk. Skimmed milk, in my opinion, didn't work - the jelly didn't taste of anything. However, full fat milk increased the total to 5 Smart Points per portion, therefore I opted for semi skimmed milk for this recipe.
If you are cooking these jellies for a special event, you may, however, want to opt for the full fat milk option, for extra decadence!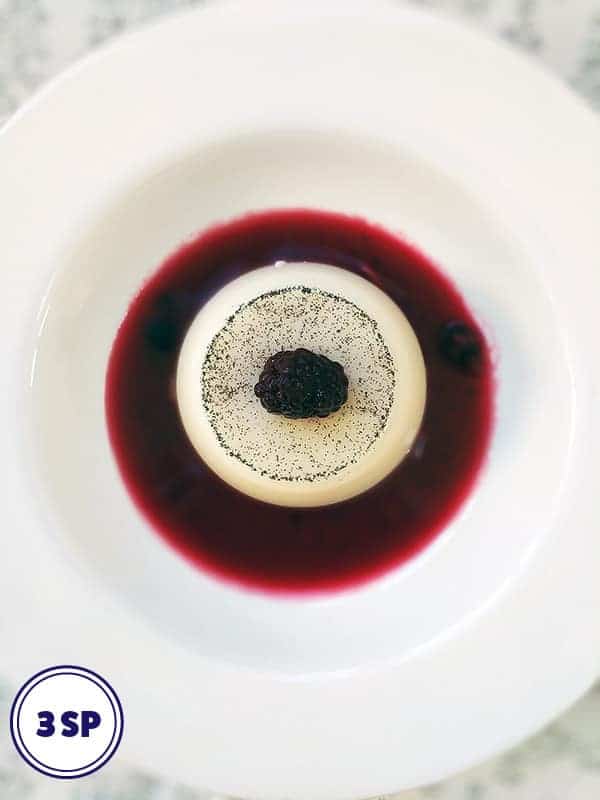 This post contains affiliate links. As an Amazon Associate I earn from qualifying purchases. Visit this page to see what that means.
I would suggest that you also use a good quality vanilla extract or paste. You will notice from these photos that I used this vanilla paste (which included the vanilla bean seeds) to make these.
The seeds collected at the bottom of the mould which I quite liked. If you don't like that look then use vanilla extract.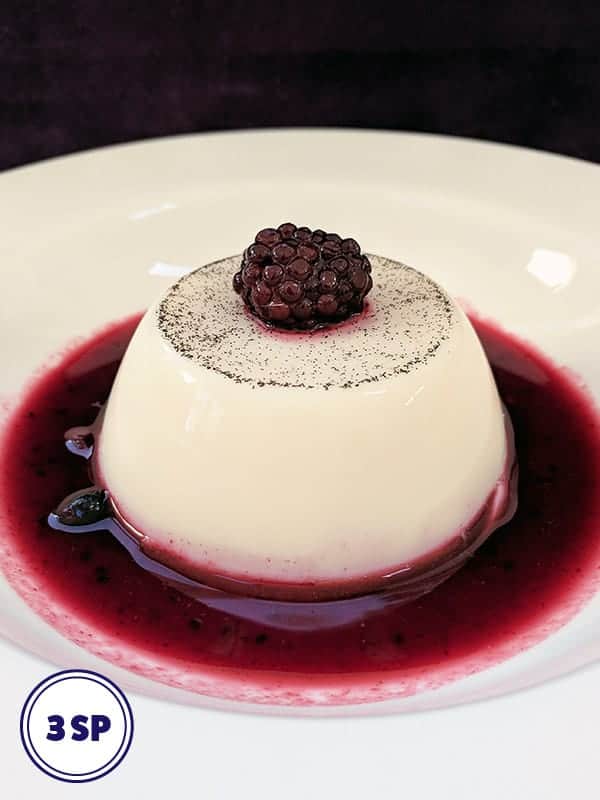 For ease I used frozen berries to make the coulis. I always have bags of frozen berries in my freezer as I find them such a useful ingredient for all sorts of recipes. Obviously, use fresh berries if you prefer, just add a splash of water to the berries and truvia and make in the same way as below.
MILK JELLY & BERRY COULIS ALTERNATIVES
Use full fat milk for a creamier jelly for 5 Smart Points per jelly
Use fresh berries instead of frozen berries
Did you try this recipe?
If so please give it a star rating below!
Oh ... and don't forget to share it via the share buttons!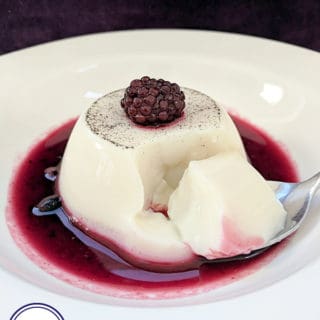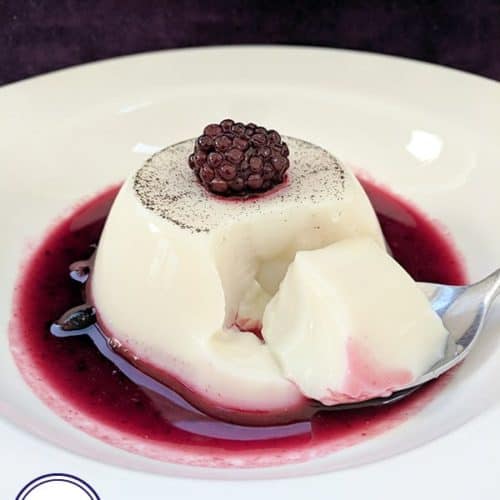 Milk Jelly with Berry Coulis
3 Smart Points per Jelly on Weight Watchers Flex / Freestyle
Ingredients
4

sheets

gelatine

2.5

cups

semi skimmed milk

(600ml)

2

tbs

sweetener

(30g)

2

tsp

vanilla paste

or vanilla extract

1½

cups

frozen berries

(250g) mixed red
Instructions
Soak the leaf gelatine for 10 minutes in cold water.

Meanwhile, bring the milk slowly to the boil. Remove from the heat and add 20g of truvia and the vanilla paste and stir. Remove the gelatine from the water and squeeze out the water. Stir the gelatine into the milk until it has dissolved.

Pour the milk mixture into 4 moulds or ramekins and chill in the fridge for approx 3 hours.

Place the berries into a saucepan and heat. Add the truvia and continue cooking over a gentle heat whilst crushing the berries with the back of a fork. At this point you can sieve the berries to get rid of any seeds and skins but you don't need to. Set aside to cool. You may like to taste the coulis at this point and add further truvia if the berries you used were particularly sharp.

To serve, run a sharp knife round the top of the jelly moulds and turn the jellies out onto shallow dishes. Spoon the coulis round the jellies.
Notes
Please be aware that the nutritional information below has been automatically generated and does not account for variations in product brands and types, weights of individual ingredients etc.  It should therefore be considered as an estimate. PointedKitchen.com has calculated Weight Watchers Smart Points based on the individual ingredients used to make this recipe and not from the following nutritional information. PointedKitchen.com is not responsible for any loss or damage relating to your reliance on this nutritional information.
Nutrition
Nutrition Facts
Milk Jelly with Berry Coulis
Amount per Serving
% Daily Value*
* Percent Daily Values are based on a 2000 calorie diet.