This Tomato Soup is just 1 SmartPoint per bowl on Weight Watchers Freestyle, Blue, Purple and Green plans.
To find out how many Personal Points this recipe will be for you & to track it in the WW App, click on the blue button in recipe card below!
Carry on reading for more information on how to make the perfect Tomato Soup or simply skip straight to the recipe.
Soup makes a great, filling and tasty lunch at any time of the year. This beautiful tasting Tomato Soup is perfect just as it is or drizzled with a touch of sweet balsamic vinegar.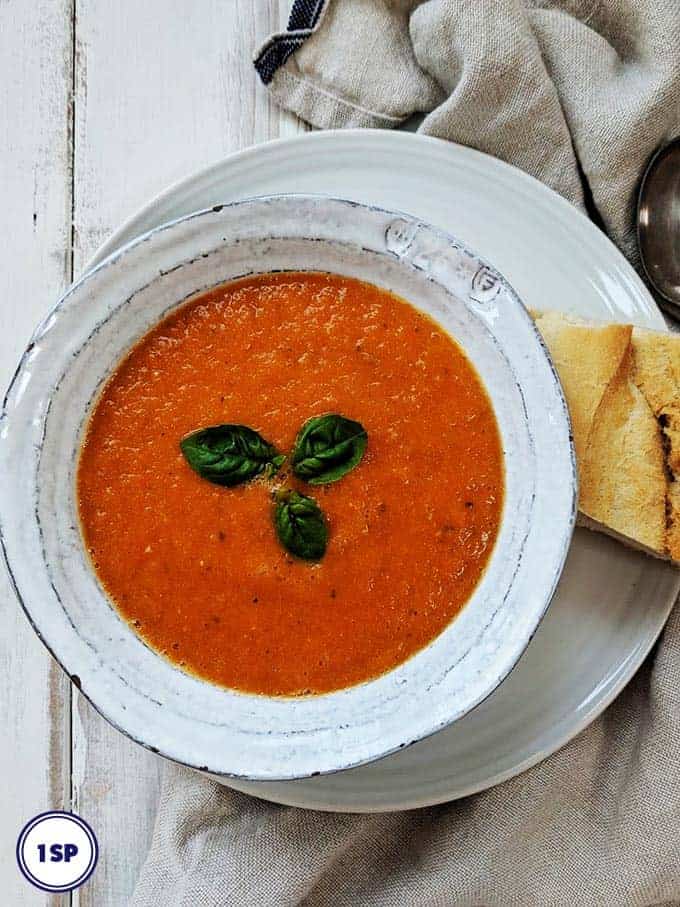 One of the best things about soup is that it tends to be quite low in points!
That means that you can have a big bowl of warming, tasty soup with a slice or two of bread (if you have the points to spare).
This Tomato Soup is pretty straight forward to make and whats more, it freezes well.
Keep it in the freezer for up to 3 months and then reheat slowly on the stove top for an easy low point lunch whenever you want
Did you know that you can use the recipe card below to increase or decrease the number of servings.
This means if you want to make soup for 2 or 25 you can, without having to dig out your calculator to work it all out!
Just click in the 'servings' box and change the serving number to what you want and the ingredient quantities will recalculate automatically!
Use this fab tool to make a big batch of this Tomato soup and then portion it up and freeze it for easy lunches whenever you want.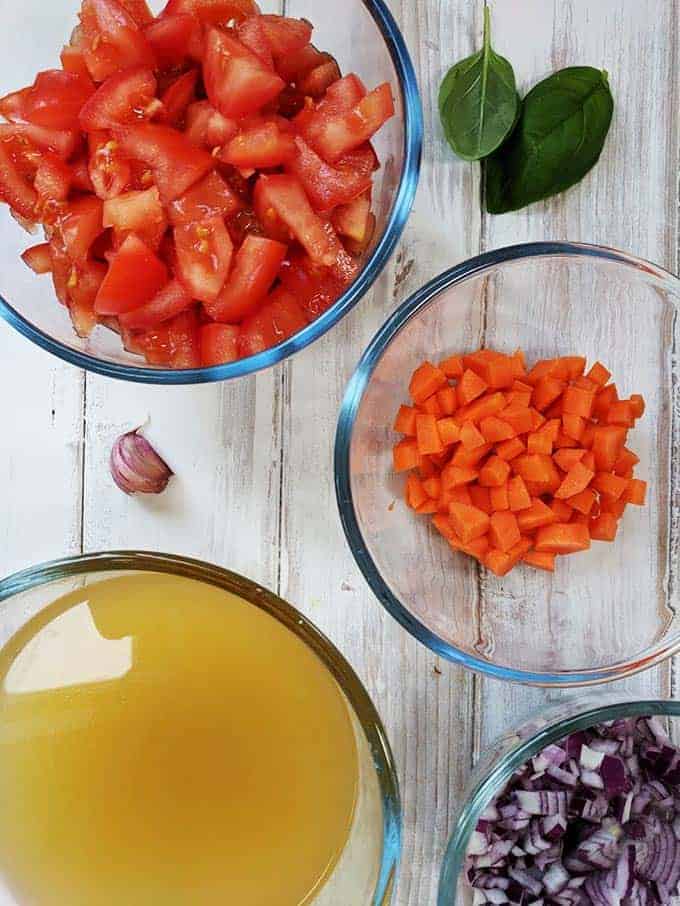 Tips for making this Tomato Soup:
For an extra tasty Tomato soup, use vine ripened tomatoes.
I talk about de-glazing the pan in this recipe. When cooking Weight Watcher friendly meals you use less oil than you normally would when frying / sauteing food. This means that when sauteing onions etc, you run the risk of bits of the onion sticking to the bottom of the pan. By adding a splash of water to the pan after you have sauteed and using a wooden spoon to scrape those browned bits off, you are preventing the onion from sticking further and burning when the other ingredients are added. You are also adding to the overall flavour of the dish by doing this (as long as it is done before the bits have started to burn!).
Serving suggestions:
I love this soup served with a drizzle of sweet balsamic vinegar and a chunk of french bread 😀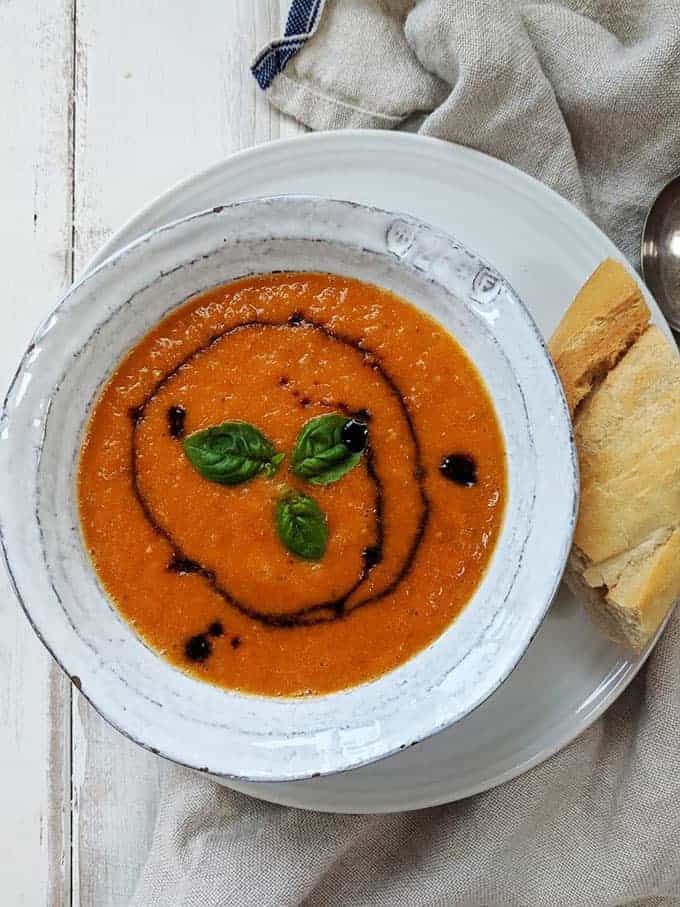 If you are looking for ideas on Low Point Breads to serve with your soup, take a look at this post (if you are from the US) or this post if you are from the UK.
This post may contain affiliate links. As an Amazon Associate I earn from qualifying purchases. Visit this page to see what that means.
What I used to make this soup.
I used a immersion blender, like this one, to blend the soup.
I use a good quality Balsamic Vinegar, like this one available from Amazon, to drizzle over my soup for extra taste!
Looking for more soup ideas?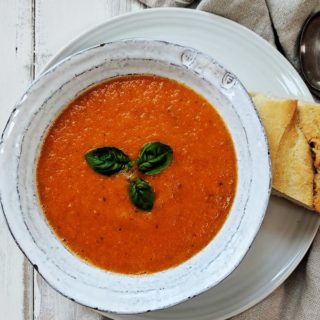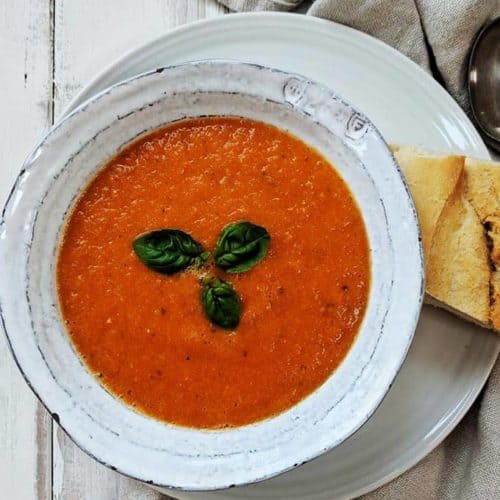 Tomato Soup | Weight Watchers
This tasty tomato soup is 1 SmartPoint per portion on Weight Watchers Freestyle / Flex plan
Ingredients
½

tbsp

olive oil

2

carrots

diced

1

red onion

finely sliced

3

cloves

garlic

finely sliced

6

large tomatoes

tomatoes

1

stock cube

made up with 2¼ cups (500ml)hot water

6

basil leaves

1

tbsp

tomato puree / paste

1

tsp

sea salt

1

tsp

sugar

½

tsp

freshly ground pepper

balsamic vinegar

optional
Instructions
Heat the oil in a large saucepan and when hot add the onion and carrots. Cook for 5 - 7 minutes, stirring to prevent it from sticking to the bottom of the pot.

Once the onions have become tender and translucent, add a tablespoon of water to the pot and use a wooden spoon to scrape any of the browned onion into the mixture. This will do two things, it will prevent any bits of onion from burning to the bottom of the pan and will also add to the flavour of the soup. Add the garlic and saute for one minute

Add the chopped tomatoes, stock, basil leaves, tomato puree, salt, sugar and pepper and stir. Bring to the boil and then reduce the heat till the mixture is gently simmering.

Cover the pot and leave to simmer for 30 minutes, stirring occasionally.

Remove from the heat and use an immersion blender to blend until smooth. You could also use a processor/ blender by adding the mix in batches & blitzing till smooth.

Taste & season further if required.

Serve immediately with an optional drizzle of balsamic vinegar.
Notes
Please be aware that the nutritional information below has been automatically generated and does not account for variations in product brands and types, weights of individual ingredients etc.  It should therefore be considered as an estimate.
PointedKitchen.com has calculated Weight Watchers Smart Points based on the individual ingredients used to make this recipe and not from the following nutritional information.
PointedKitchen.com is not responsible for any loss or damage relating to your reliance on this nutritional information.
Nutrition
Nutrition Facts
Tomato Soup | Weight Watchers
Amount per Serving
% Daily Value*
* Percent Daily Values are based on a 2000 calorie diet.