This tasty Bobotie, a South African dish of curried meat and fruit with an egg based topping, is just 7 SmartPoints per serving on Weight Watchers Freestyle, Blue & Purple plans and 8 SmartPoints if you follow the Green plan.
To find out how many Personal Points this recipe will be for you & to track it in the WW App, click on the blue button in recipe card below!
Read on for lots of tips and tricks on how to best make this delicious dish.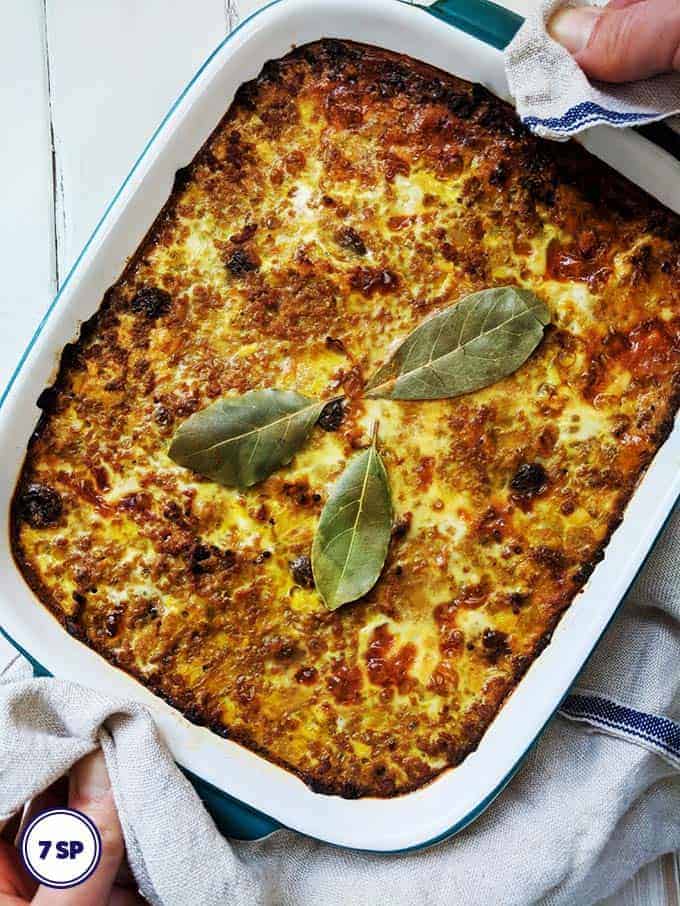 If you are looking for new and interesting ways to cook with ground beef (mince beef) then this recipe will interest you. It makes a hearty and filling Weight Watchers dinner.
Bobotie is a popular dish in South Africa. It consists of curried ground beef and dried fruit (& sometimes nuts) topped with a thick & creamy egg based topping.
There are so many versions of this recipe that each time I have been served Bobotie, it has never been quite the same.
Always delicious though!
This recipe is a Weight Watchers friendly version of this tasty dish. I omitted the nuts and used fewer sultanas than are required in many recipes for Bobotie.
Sultanas (& other dried fruit) are high in SmartPoints, but Bobotie wouldn't be Bobotie if you were to omit them altogether.
So I add a heaped tablespoon of them and they really make it!
The same goes for the mango chutney! Although, there are quite a few SmartPoints in a tablespoon of mango chutney, it's addition really does help lift the dish and give it a lovely, subtle sweetness.
In South Africa, this dish would typically be served with a sweet & sour chutney and yellow rice.
However, for a Weight Watchers friendly meal, I think a slice of this pie is perfect served with a green salad or with a side of green vegetables.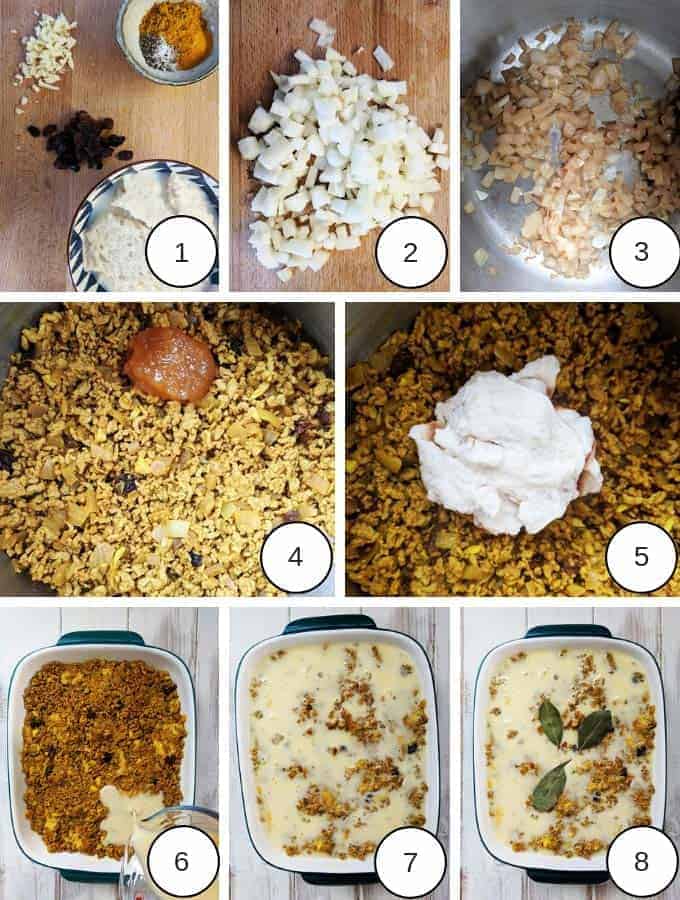 Tips for making Bobotie:
Start soaking the bread in the milk before cooking the meat (pic 1). Give it time to soak up the milk and soften.
Chop the onions finely and saute until they are soft and translucent. If the onions start to stick to the bottom of the pan, de glaze the pan by adding a touch of water and scraping the browned bits from the bottom of the pan. This will prevent them from sticking further and will add to the overall flavour of the dish (pic 2 & 3)
Add a tablespoon of mango chutney (pic 4) ! Don't be tempted to omit this ingredient as it really does add to the overall tastiness of the dish. If you don't have mango chutney, you could use apricot preserve / jam.
Squeeze out as much of the milk from the bread as you can before adding it to the mince mixture (pic 5).
After spooning the meat into the casserole dish, firm down well before pouring on the egg / milk mixture (pics 6 & 7)
Garnish with a few bay leaves (pic 8).
I used a casserole dish measuring 9 inches by 8 inches. This is the biggest size casserole dish I would suggest using.
What I used to make this recipe:
This post may contain affiliate links. As an Amazon Associate I earn from qualifying purchases. Visit this page to see what that means.
I used this mango chutney, available from Amazon.
I used a slice of 2 SmartPoint white slice bread in this recipe! If you want ideas for low point breads visit here if you are in the US or here if you are in the UK.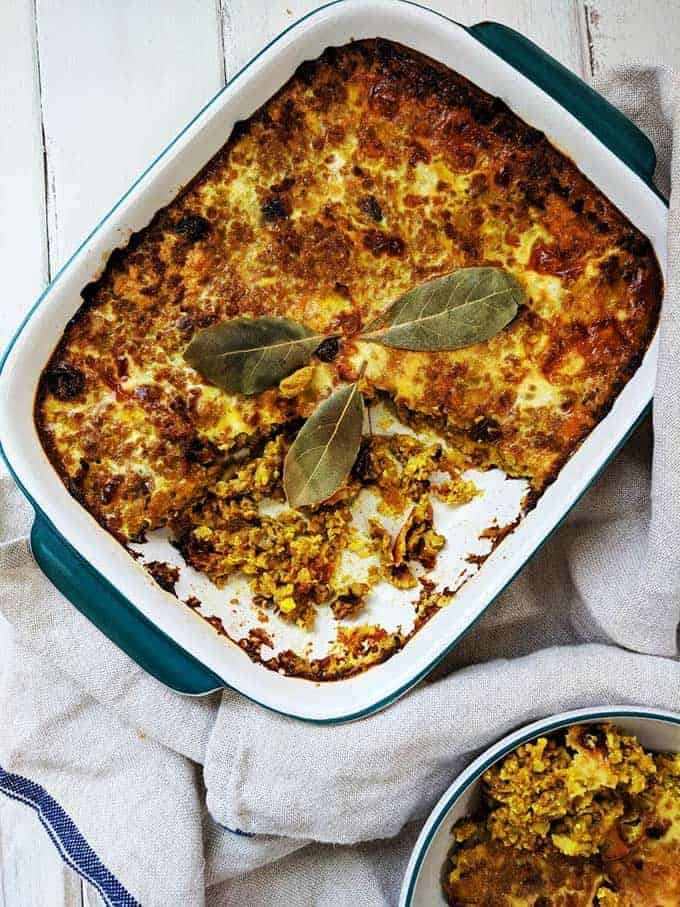 Alternatives:
If you prefer you could use lean ground pork instead of lean ground beef. You will need to alter the SmartPoints accordingly.
You could swap the mango chutney for apricot preserve for the same SmartPoints.
Use Smucker's Sugar Free Apricot Preserve and reduce the SmartPoints by 1 SmartPoint per portion.
Other Ground Meat recipes:
If you liked this recipe which uses lean ground beef, you may also like these recipes!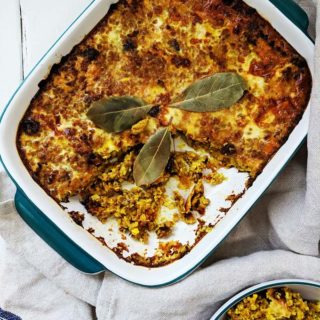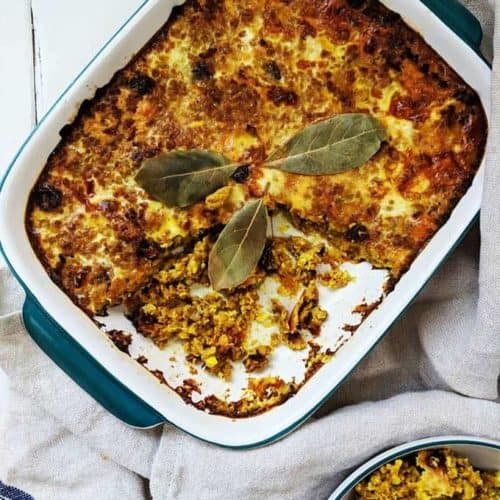 Bobotie | Weight Watchers
This spiced minced meat Babotie is 7 SmartPoint per serving on Weight Watchers Freestyle & Flex plan
Ingredients
1

slice

white bread

½

cup

skimmed milk

(125ml)

½

tbsp

olive oil

1

onion

finely chopped

2

garlic cloves

finely sliced

2¼

cups

lean ground beef / lean mince beef

(500g) 5% lean ground beef

½

tsp

black pepper

½

tsp

salt

1

tbsp

sultanas

or raisins

1

tsp

ground turmeric

1

tbsp

curry powder

1

tbsp

mango chutney

2

eggs

3

bay leaves
Instructions
Preheat the oven to 180oC / 160oC Fan /350oF / Gas Mark 4

Break the bread into 3 or 4 pieces and place in a bowl. Pour over the milk and set aside.

Heat the oil in a large saucepan. Add the onions and saute for 6 - 8 minutes, stirring often, until they have softened and become translucent. If any of the onion sticks to the bottom of the pan, add a touch of water and use a wooden spoon to scrape the browned bits from the bottom of the pan & mix it into the onions.

Add the chopped garlic and saute for 30 seconds or so before adding the ground beef. Use a spoon to break up the meat and stir until the colour changes and no pinkness can been seen. Add the pepper, salt, sultanas, ground turmeric, and curry powder and mix thoroughly.

Cover and simmer gently for 8 - 10 minutes. Remove from the heat and stir in the mango chutney.

Next, use your hands to lift the bread from the milk and squeeze out any excess liquid (making sure that you reserve the milk for use later). Add the bread to the curried meat and stir in. Spoon into a casserole dish (no bigger than 9 inches by 9 inches) and press down firmly.

Add the eggs to the reserved milk and whisk until combined. Pour over the meat mixture and garnish with a couple of bay leaves.

Bake in the oven for 35 - 40 minute until the top has set and has turned golden brown.

Serve with green vegetables or a salad.
Notes
Please be aware that the nutritional information below has been automatically generated and does not account for variations in product brands and types, weights of individual ingredients etc.  It should therefore be considered as an estimate.
PointedKitchen.com has calculated Weight Watchers Smart Points based on the individual ingredients used to make this recipe and not from the following nutritional information.
PointedKitchen.com is not responsible for any loss or damage relating to your reliance on this nutritional information.
Nutrition
Nutrition Facts
Bobotie | Weight Watchers
Amount per Serving
% Daily Value*
* Percent Daily Values are based on a 2000 calorie diet.