This Chili Con Carne is a Weight Watcher friendly version of the spicy classic. At 4 SmartPoints per portion it is the perfect meal for anyone following Weight Watchers Freestyle / Flex plan.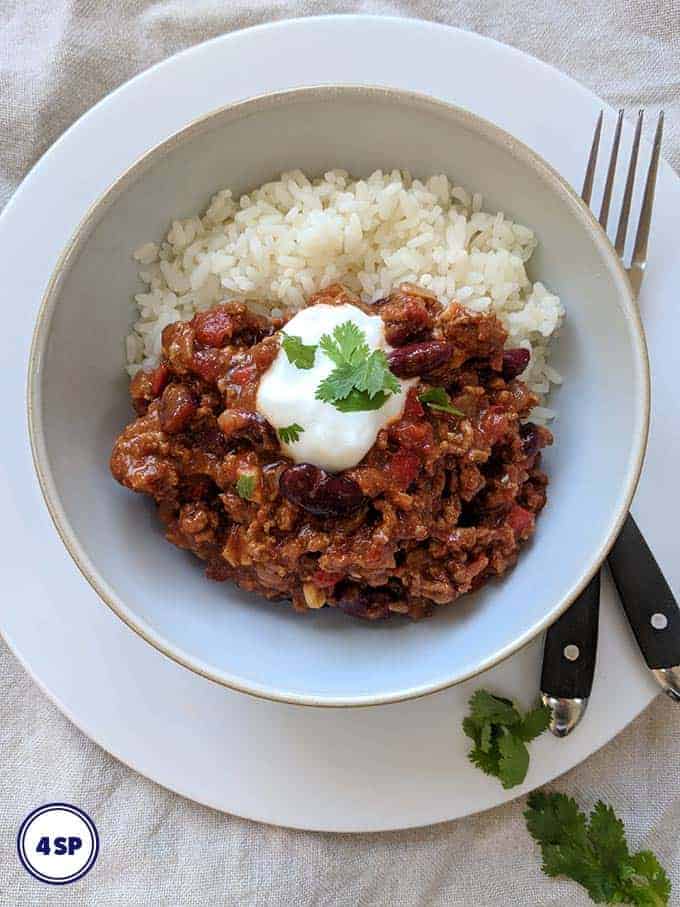 By making just a couple of changes to my old 'go to' Chili Con Carne recipe, I've created a WW friendly recipe that's low in SmartPoints but high in flavour.
Swapping 'full fat' ground (mince) beef for extra lean beef reduces the SmartPoints by 6 Points per portion.
That's quite a few SmartPoints to use on something else 😉
The red kidney beans and chopped bell pepper add bulk to the chili for no extra points. It means you get a big portion of chili for your buck!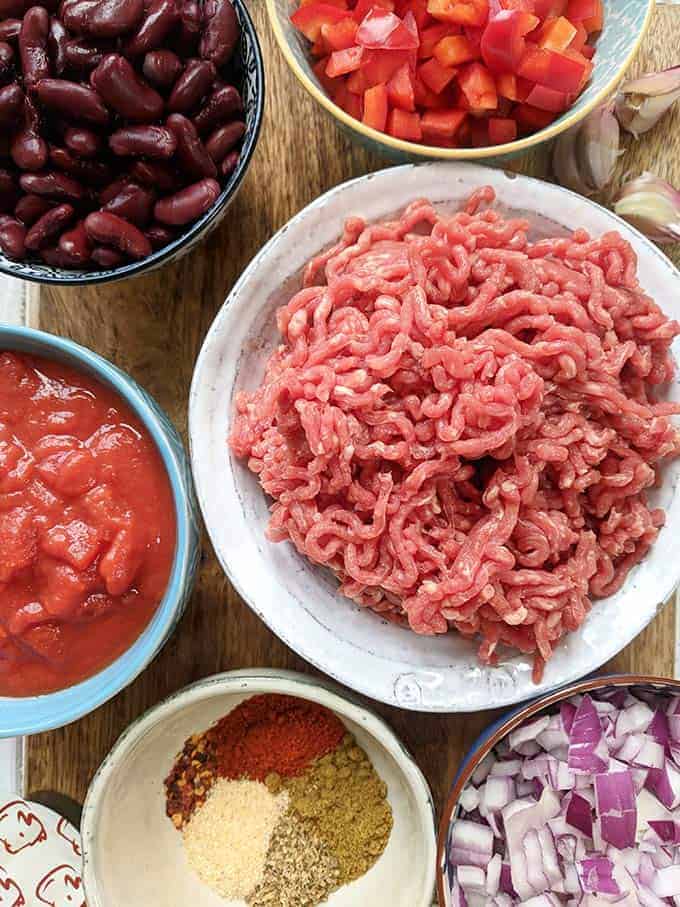 Tips for making Chili Con Carne:
Chop all of the vegetables prior to starting the recipe. Believe me, this makes things so much easier!
I use 1 tablespoon of mild chili powder in this recipe (with a little bit of added dried chili flakes). If you like your chili with real punch, use 1 – 1 1/2 teaspoons of hot chili powder instead.
My old (non WW friendly) recipe for Chili Con Carne used 1 tablespoon of olive oil. I was able to reduce the amount of oil used in this recipe, but you do need to keep an eye on the onions when they are frying as they are more likely to stick to the pan. Make sure you stir them continuously to prevent them from sticking.
After frying off the onion and adding and cooking the garlic, peppers and spices, use a couple of spoonfuls of water to de-glaze the pan. This just means that you scrape off any bits of spice, onion etc that may have stuck to the bottom of the pan. Stirring these in to the mixture adds to the overall flavour of the chili whilst also preventing it from sticking further and burning when the meat is added.
Turn up the heat before you add the meat. You want the meat to fry and brown, rather than stew in the juices that are released from the beef.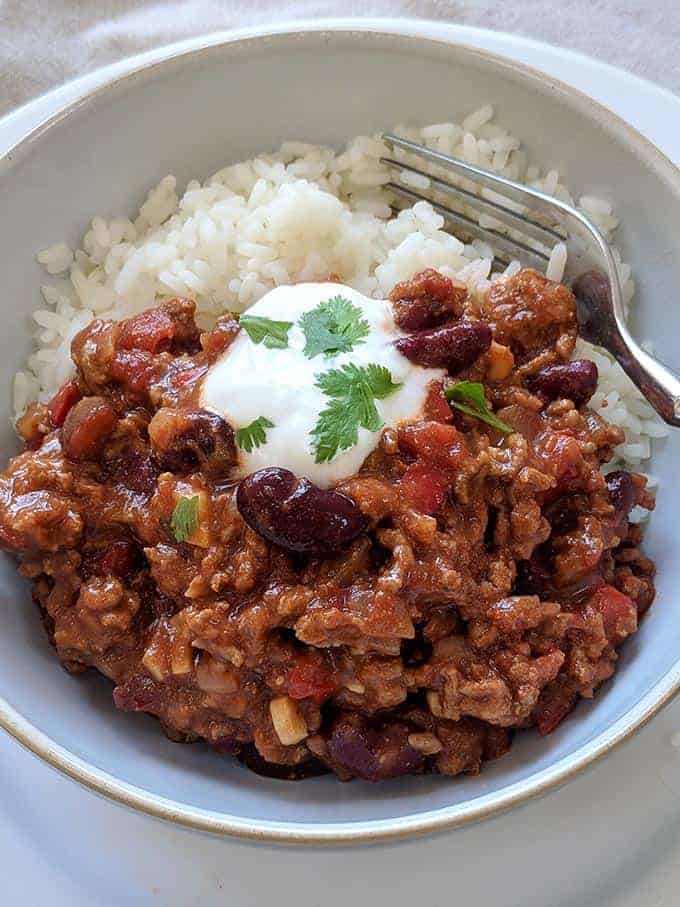 Serving Suggestions:
Serve with a medium portion of white rice for an extra 6 SmartPoints.
Serve with a portion of cauliflower rice for no extra SmartPoints.
Spoon into a medium jacket/baked potato for an extra 7 SmartPoints.
Serve on top of some butternut squash mash for no extra SmartPoints.
What I used:
I used a garlic press, like this one, to crush the garlic for this recipe.
If you like this recipe, you may like these:
Swedish Meatballs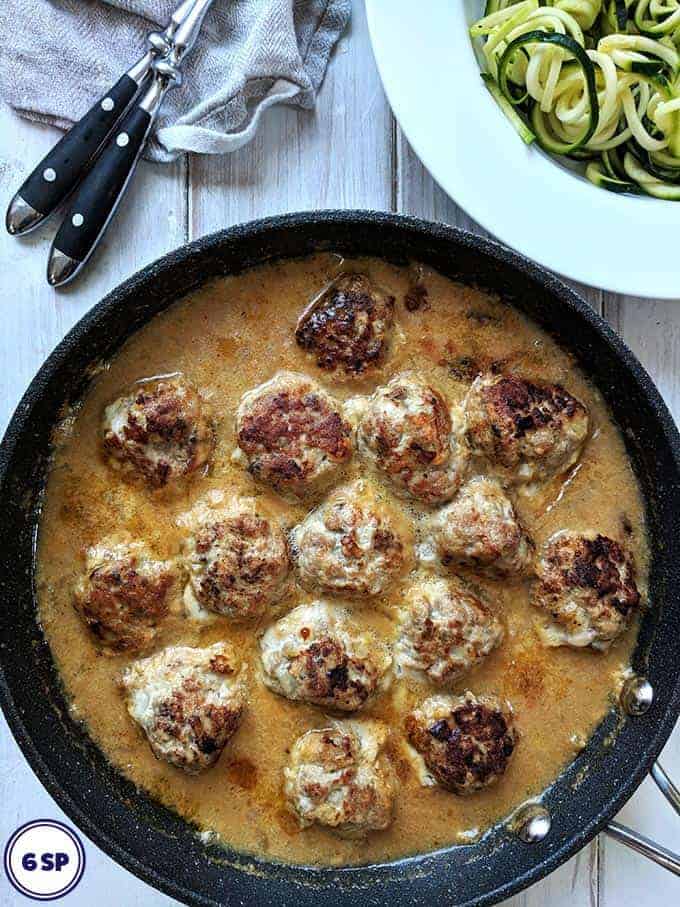 Chipotle Chicken Casserole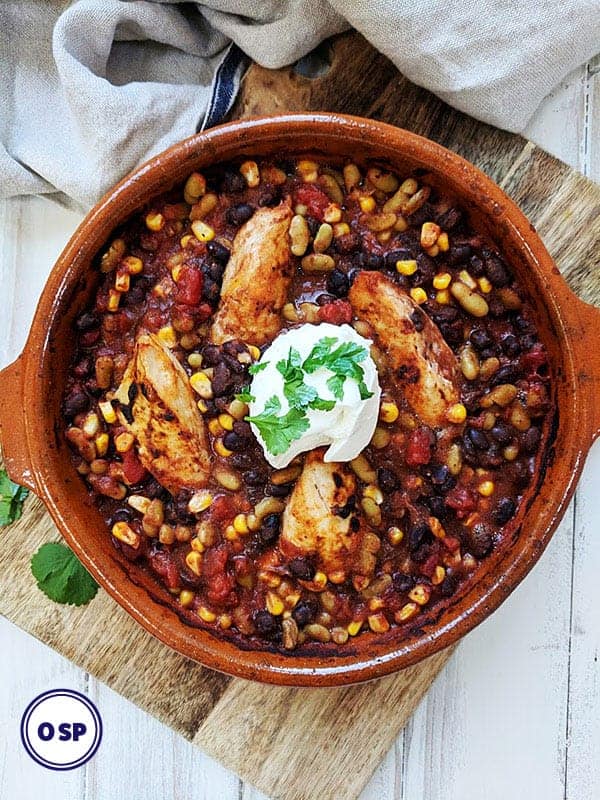 This post contains affiliate links. Visit this page to see what that means.
Did you try this recipe?
If you did and you loved it please give it a star rating below!
Oh … and don't forget to share it via the share buttons!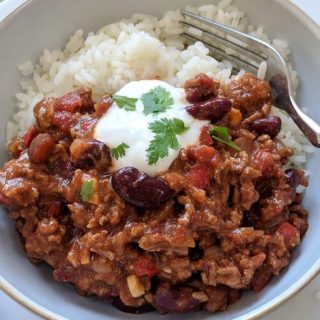 Chili Con Carne | Weight Watchers
This Chili Con Carne is a Weight Watchers version of the spicy classic. At 4 SmartPoints per portion it is a tasty and filling evening meal.
Print
Pin
Rate
Total Time:
1
hour
10
minutes
Ingredients
1/2

tbsp

olive oil

1

red onion

finely chopped

1

red pepper / bell pepper

finely chopped

2

garlic cloves

crushed

1

tbsp

mild chili powder

1 tsp if using hot chili powder

1

tsp

paprika

1

tsp

cumin

1/2

tsp

chili flakes

optional

1/2

tsp

garlic granules

1/2

tsp

dried oregano

500

g

extra lean mince beef / ground beef

5% fat

1

beef stock cube / bouillon

made up to 300 ml stock

1

tin

chopped tomatoes

400g

1

tin

kidney beans

410g

2

tbsp

tomato puree

salt & pepper

to taste

4

tbsp

fat free natural yogurt

optional

fresh coriander / cilantro

optional
Instructions
Place a large pan over a medium heat and add the oil. Once the oil is hot add the chopped onion and cook for 4 - 5 minutes, stirring frequently, until it has become soft and translucent.

Add the crushed garlic and chopped peppers to the mix and stir. Add the chili powder, paprika, cumin, chili flakes and garlic granules and stir again. Cook for 3 - 4 minutes, stirring occasionally. Add a couple of tablespoons of water to the pan and using a wooden spoon scrape any stuck on bits off the bottom of the pan, incorporating them into the mixture, before moving on to the next step. This will stop them from continuing to cook to the bottom of the pan and it will add to the flavour!

Turn up the heat to medium/high and add the mince beef / ground beef. Use a wooden spoon to break up the meat and stir and cook until all the meat has browned and there are no pink bits left.

Make the stock by adding 1 stock cube to 300ml boiling water and add it to the mince. Add the chopped tomatoes and stir. Add the dried oregano and tomato puree and stir.

Bring the mix to the boil, stir then turn down the heat until it is gently bubbling. Put a lid on the pan and leave for 20 minutes, stirring occasionally, until the mixture has thickened.

Add the drained kidney beans, stir and bring to the boil again. Reduce the heat till the mixture is simmering and cook for a further 10 minutes, stirring occasionally.

Turn off the heat, add some salt and pepper to taste and leave to sit for 5 - 10 minutes before serving.

Serve with rice (or cauliflower rice for a really low point meal) and garnish with a spoonful of fat free natural yogurt and some fresh coriander / cilantro.
Notes
Please be aware that the nutritional information below has been automatically generated and does not account for variations in product brands and types, weights of individual ingredients etc.  It should therefore be considered as an estimate. PointedKitchen.com has calculated Weight Watchers Smart Points based on the individual ingredients used to make this recipe and not from the following nutritional information. PointedKitchen.com is not responsible for any loss or damage relating to your reliance on this nutritional information.
Nutrition
Calories:
384
kcal
|
Carbohydrates:
36
g
|
Protein:
39
g
|
Fat:
9
g
|
Saturated Fat:
3
g
|
Cholesterol:
77
mg
|
Sodium:
1011
mg
|
Potassium:
1284
mg
|
Fiber:
10
g
|
Sugar:
7
g
|
Vitamin A:
42.5
%
|
Vitamin C:
63.3
%
|
Calcium:
13.1
%
|
Iron:
45.3
%