Looking for an alternative to mashed potato? Then this Easy Butternut Squash Mash will interest you. It's zero points on Weight Watchers Blue, Green and Purple plans.
It is also zero SmartPoints on the Freestyle plan if you are still following that program.
To find out how many Personal Points this recipe will be for you & to track it in the WW App, click on the blue button in recipe card below! Just a heads up - it'll probably still be ZERO points!!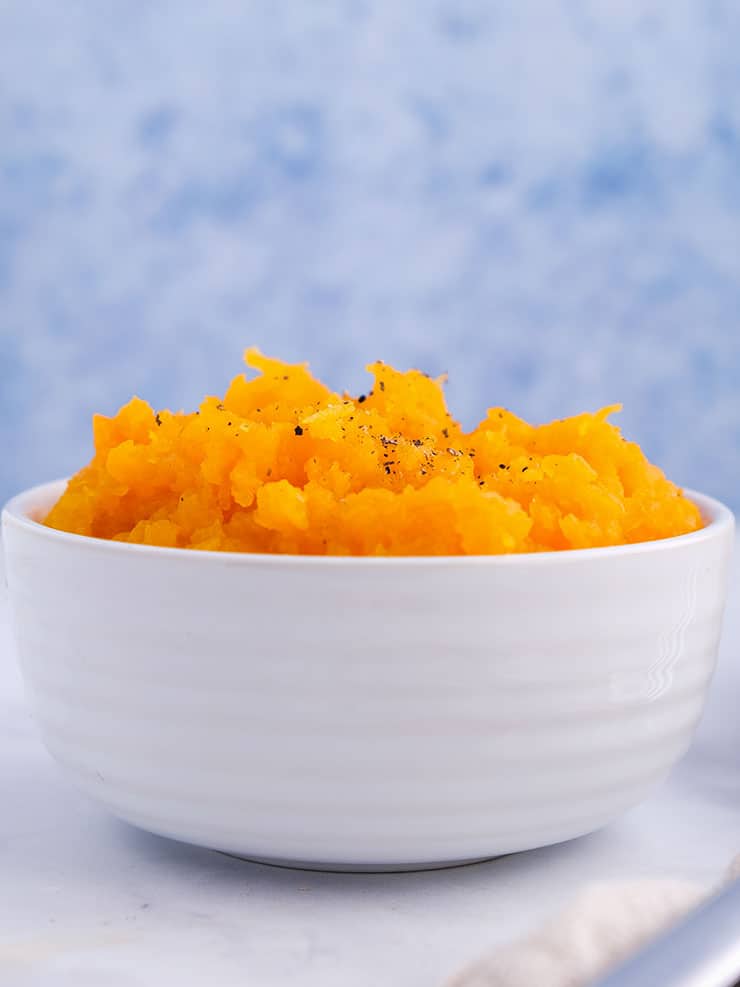 It is super easy to make and keeps well in the fridge for a couple of days. A perfect accompaniment for any Weight Watchers dinner recipe.
If you have looked through some of the Weight Watcher friendly recipes on Pointed Kitchen you will know that I am a partial to a bit of butternut squash.
I cook with it a lot! Some of my favourite butternut squash recipes are these Butternut Squash Falafels, this Butternut Squash Mac & Cheese and this Curried Butternut Squash Soup.
This recipe for Easy Butternut Squash Mash is similar to this Roasted Butternut Squash Mash but it takes a little less time to cook.
The advantage of this recipe for BNS mash is that it takes a little less time to cook. However, you do lose a little bit of flavour over the roasted mash.
Don't get me wrong, it's still really tasty and is still very versatile, it's just that if pushed to make a choice between the two, I would probably chose the Roasted Butternut Squash Mash.
But I haven't always got the time so I will often do this recipe instead!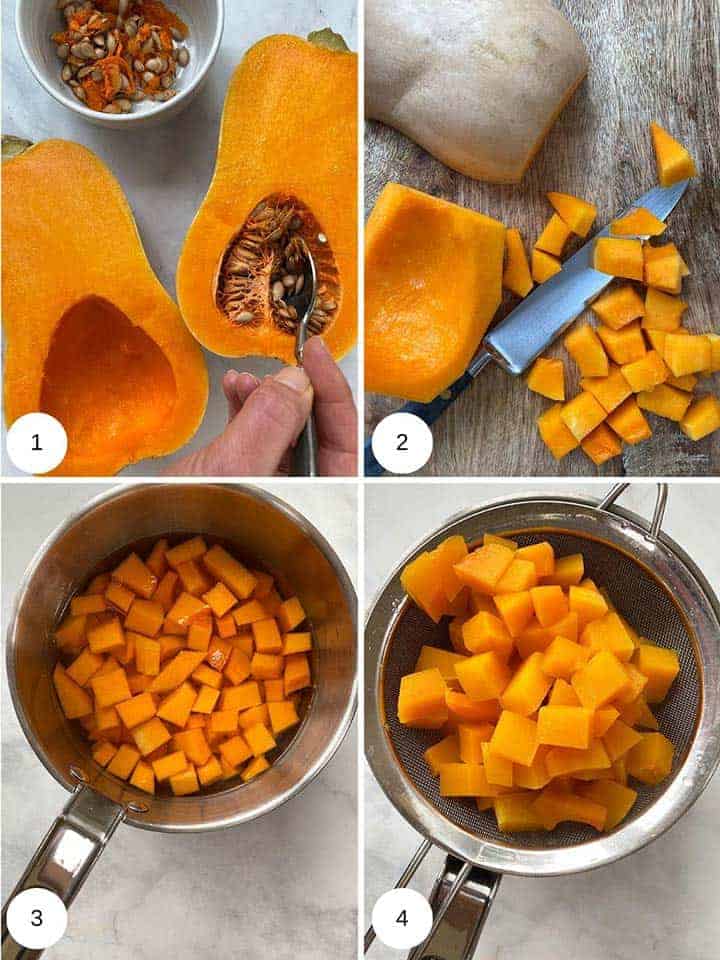 Tips for making Butternut Squash Mash
Use a sharp knife to carefully cut the squash in half lengthways.
Use a spoon to scoop out the seeds and any stringy flesh from the seed cavity (picture 1). You can discard these.
Peel the squash with a potato peeler or a sharp knife.
Chop into cubes about 2 cm squared (picture 2).
Place in a saucepan and cover with salted water, just enough to cover the cubes of squash (picture 3).
Cook until you can pierce the squash with a knife and it is nice and tender.
Remove from the heat and pour off the water.
Allow the squash to drain for another few minutes in a sieve or colander (picture 4)
Return the squash to the pan and cook for a couple of minutes over a low heat to steam off any more water.
Spray with a little calorie controlled spray oil and season with salt and pepper.
Mash with a fork or a potato masher until it has reached the desired consistency.
Sometimes the process of mashing the squash produces more liquid. If that happens I just keep it in the pan over a lowish heat and steam it off.
Alternatively you can just stir this extra water into the mash - the mash will just be a little wetter.
Serve topped with a sprinkling of nutmeg (optional).
Storing leftovers
The butternut squash mash can be kept in a suitable sealed container in the refrigerator for a couple of days.
You can freeze the butternut squash mash for approximately 6 months.
Spoon it into some freezer safe bags as soon as it is cool and freeze.
To reheat, defrost overnight and heat in the microwave for 3 or 4 minutes or until it is piping hot.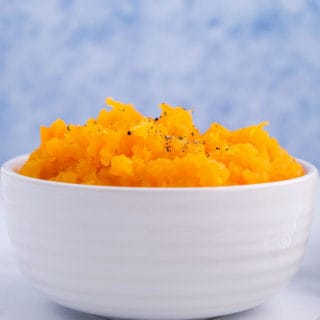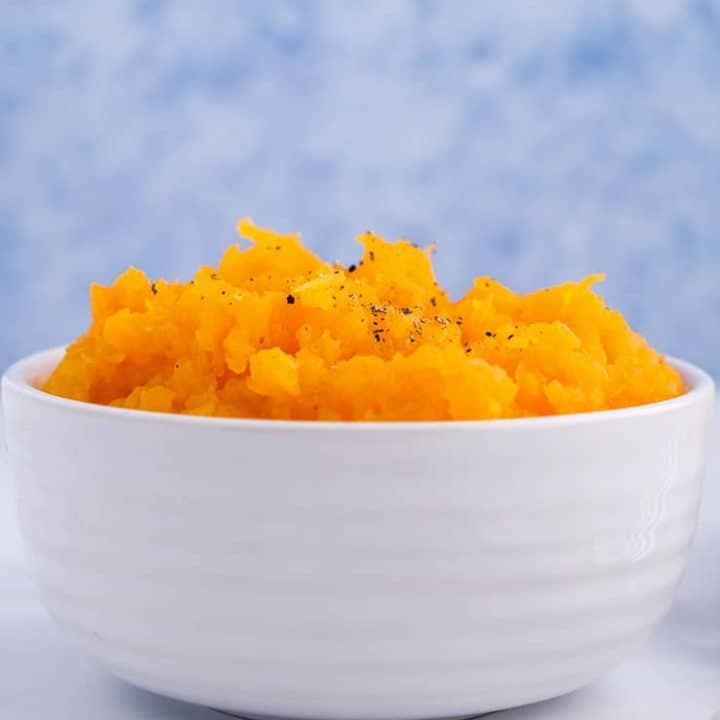 Easy Butternut Squash Mash | Weight Watchers
This easy Butternut Squash Mash is a simple to make and is zero SmartPoints per serving on Weight Watchers plans. A versatile dish that makes a great accompaniment to any WW dinner recipe.
Ingredients
1

medium

Butternut squash

peeled, seeded and cut into 1 inch chunks

Calories controlled cooking oil

Salt and pepper

Nutmeg

optional
Instructions
Peel and seed the butternut squash

Chop the flesh into small chunks about 2cm cubes

Place in a saucepan of cold, salted water and bring to the boil.

Once the water is boiling, reduce the heat to a simmer and cover.

Simmer for 20 - 30 minutes or until the cubes are tender and a knife pierces through the flesh easily.

Remove from the heat and drain.

Leave in the colander / sieve for 2 - 3 minutes or so to let as much water as possible to drain.

Return to the saucepan over a very low heat to steam off any further water.

Season with salt and pepper and 5 - 10 sprays of the calorie controlled cooking oil.

Mash with a potato masher or fork.

The mashing of the butternut squash may create a little more water at the bottom of the pan. If this happens keep the pan on the heat till it steams off or alternatively mix it into the mash.

Remove from the heat.

Serve hot with a sprinkling of nutmeg if required.
Nutrition
Nutrition Facts
Easy Butternut Squash Mash | Weight Watchers
Amount per Serving
% Daily Value*
* Percent Daily Values are based on a 2000 calorie diet.