This easy and filling Butternut Squash Mac and Cheese recipe includes pureed butternut squash and a strong grated cheese to make a creamy, tasty and very satisfying Weight Watchers friendly family favourite.
It is 6 Smart Points per portion on the Green, Purple and Blue plans and it has fast become one of my favourite Weight Watchers comfort dinner recipes.
To find out how many Personal Points this recipe will be for you & to track it in the WW App, click on the blue button in recipe card below!
When I first started Weight Watchers, I had no idea that it would be possible to eat Mac and Cheese when on the program!
Who knew?
But, this Weight Watchers macaroni cheese recipe is incredible! It is low points, just 6 Smart Points per portion.
It is filling, creamy and delicious and what is more, you would not believe that it is a Weight Watchers recipe.
If you are looking for an easy dinner that all the family can eat or you are looking for a simple meal that you can cook one night and then have heated up the following day, then this is a recipe for you!
It is such a great comfort food!
It is so simple to make and have I mentioned yet just how tasty it is 😀
Now, I love butternut squash and usually have a couple of fresh squash in my kitchen to cut up to use in the various recipes that I make.
But for this recipe, I used frozen butternut squash chunks.
I'd suggest that you do the same as it's just so easy to use. Just take a few chunks out of the freezer, thaw and then puree.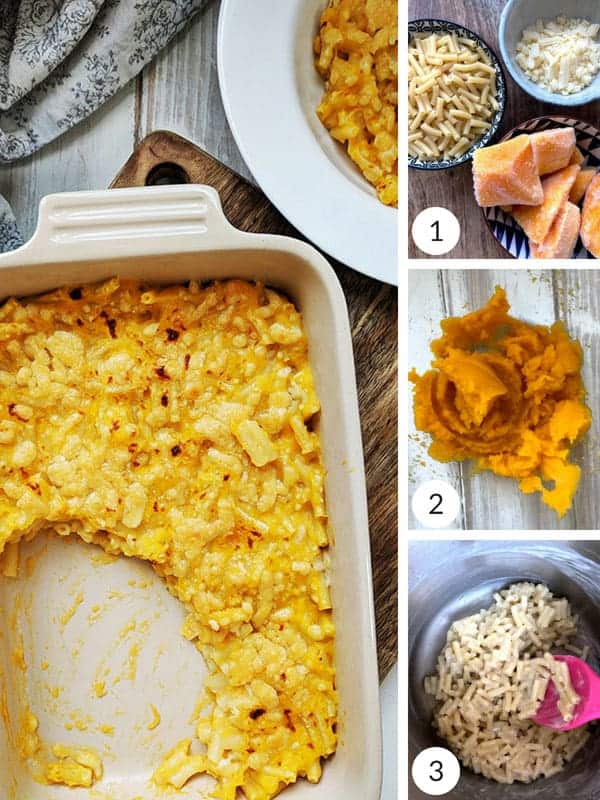 Tips for making Mac and Cheese
For any recipe like this, where you have to be stirring the pot to make sure that things don't stick, I tend to measure out all of the ingredients first so that they are close at hand (picture 1).
I used an immersion hand blender to puree the butternut squash. If you don't have a hand blender you can always use a fork to mash it up, or you can pass it through a sieve using the back of a spoon. You want the puree to be free of lumps and this kind of consistency (picture 2)
Once you have cooked the macaroni in the milk (and before you add the butternut squash puree and cheese) you want to check that the macaroni has soaked up most of the liquid. It should be thick, like sauce and look like this (picture 3)
At this point you add the butternut puree.  Now you have decisions to make! If you want  a one pot Mac & Cheese, just add all the cheese, stir till melted, serve & eat!
However, if you prefer a layer of bubbly, browned, grilled cheese on top of our Mac and Cheese, like I do then stir half of the cheese into the macaroni.  Spoon the macaroni into a casserole dish / baker and then sprinkle the rest of the cheese on top. Place it under the grill until it creates bubbly, browned deliciousness (main picture)
Please be aware that this post was written prior to Weight Watchers changing to the WW Personal Points Plan! You can discover exactly how many Personal Points this recipe will be for you by clicking on the blue 'WW Personal Points' button in the recipe card below.
Alternatives to this recipe
Use protein cheese (or Kraft fat free cheese) - reduce points to 5 SmartPoints per portion.
Use 'normal' (not reduced fat) cheese - increase points to 8 SmartPoints per portion.
If you are following the Purple plan, you could use wholewheat pasta in this recipe and reduce the SmartPoints to 2 SmartPoints per portion
SmartPoints in this Mac & Cheese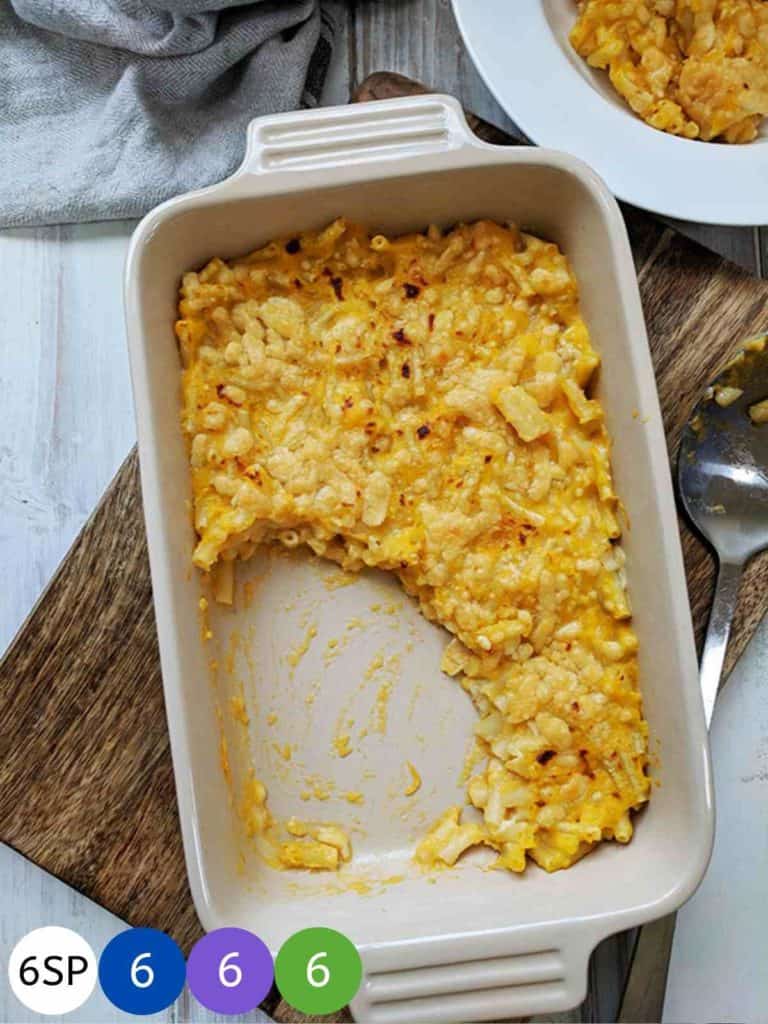 Using the official WW recipe builder I have worked out the SmartPoints for this Butternut Squash Mac & Cheese for each of the plans.
myWW Green plan - 6 SmartPoints per portion
myWW Blue plan - 6 SmartPoints per portion
myWW Purple plan - 6 SmartPoints / 2 SmartPoints per portion
Freestyle plan - 6 SmartPoints per portion
This post may contain affiliate links. As an Amazon Associate I earn from qualifying purchases. Visit this page to see what that means.
What I used to make this Mac and Cheese Recipe
To easily puree the butternut squash, you will need an Immersion Blender like this one, available from Amazon.
You will need a good ovenproof dish. I used my old trusty favourite Le Creuset dish, like this, available from Amazon.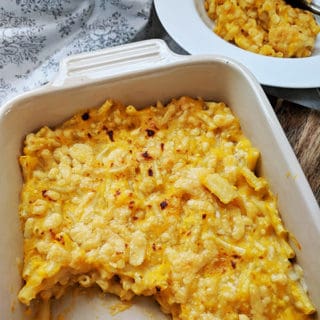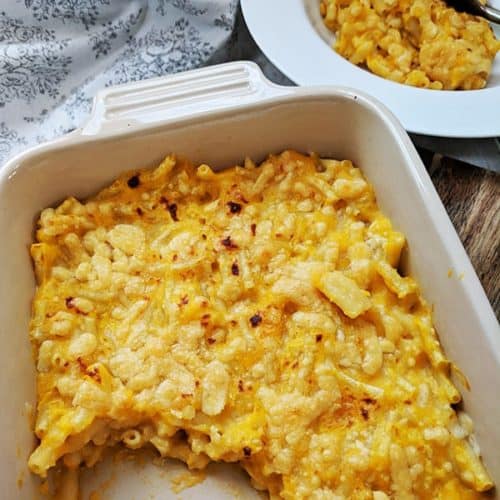 Mac & Cheese with Butternut Squash
This easy Mac & Cheese is just 6 Smart Points per portion on Weight Watchers Blue, Green, Purple & Freestyle plans. It is 2 SmartPoints per portion on the Purple plan if you use wholewheat pasta.
Ingredients
2

cups

skim milk

(470ml) skimmed or 1%

1

cup

water

(235ml)

2⅔

cups

dry macaroni

(275g)

1

tsp

salt

1

tsp

mustard

¼

tsp

nutmeg

½

tsp

garlic granules

2¼

cups

frozen butternut squash

(400g) thawed & pureed

1

cup

reduced fat mature cheddar

(115g) grated
Instructions
Defrost the butternut squash chunks and puree using a hand blender. If you don't have a hand blender you can mash the butternut squash with a fork. Set aside.

Place the milk, water, macaroni, salt, mustard, nutmeg & garlic granules in a large saucepan. Cook over a medium heat for about 3 - 4 minutes until the first bubbles just start to appear. Turn down the heat and cook for a further 10 - 12 minutes, stirring continuously. It is important not to let the mixture boil.

Once the mixture is thick and sauce like, add the pureed butternut squash and stir. Add half of the grated cheese and stir.

Tip into a casserole dish and top with the remaining cheese. Place under the grill until all the cheese has melted, is bubbling and has started to brown.
Notes
Please be aware that the nutritional information below has been automatically generated and does not account for variations in product brands and types, weights of individual ingredients etc.  It should therefore be considered as an estimate.
PointedKitchen.com has calculated Weight Watchers Smart Points based on the individual ingredients used to make this recipe and not from the following nutritional information.
PointedKitchen.com is not responsible for any loss or damage relating to your reliance on this nutritional information.
Nutrition
Nutrition Facts
Mac & Cheese with Butternut Squash
Amount per Serving
% Daily Value*
* Percent Daily Values are based on a 2000 calorie diet.