I LOVE butternut squash! It is such a versatile vegetable and what is more it is zero SmartPoints on Weight Watchers Blue plan, Green plan and Purple plan. This Roasted Butternut Squash Mash is simple to make and very tasty.
The Roasted & Mashed Butternut Squash is 0 SmartPoints on all of the new WW plans and makes a fantastic, tasty accompaniment to any Weight Watcher dinner recipe.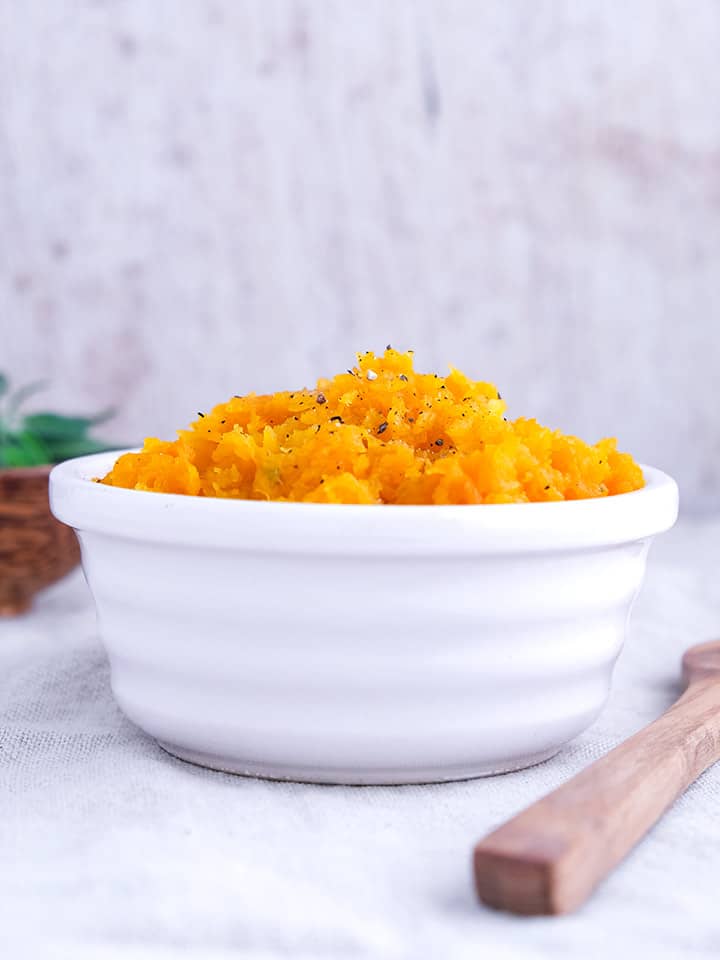 So, since starting my Weight Watchers journey I have embraced the Butternut Squash!
It's tasty, it's versatile and I find it very filling.
I cook with it quite a bit, some of my favourite recipes being these Butternut Squash Falafels and this Curried Butternut Squash Soup.
And as for this Butternut Squash Mac & Cheese , it is sooooo good and has proved to be very popular with many people following the WW program.
My love for butternut squash even found me growing my own last year 😀
Whether it was my less than green fingers or the rubbish weather we had, I didn't do too well come harvest time! They were just too small!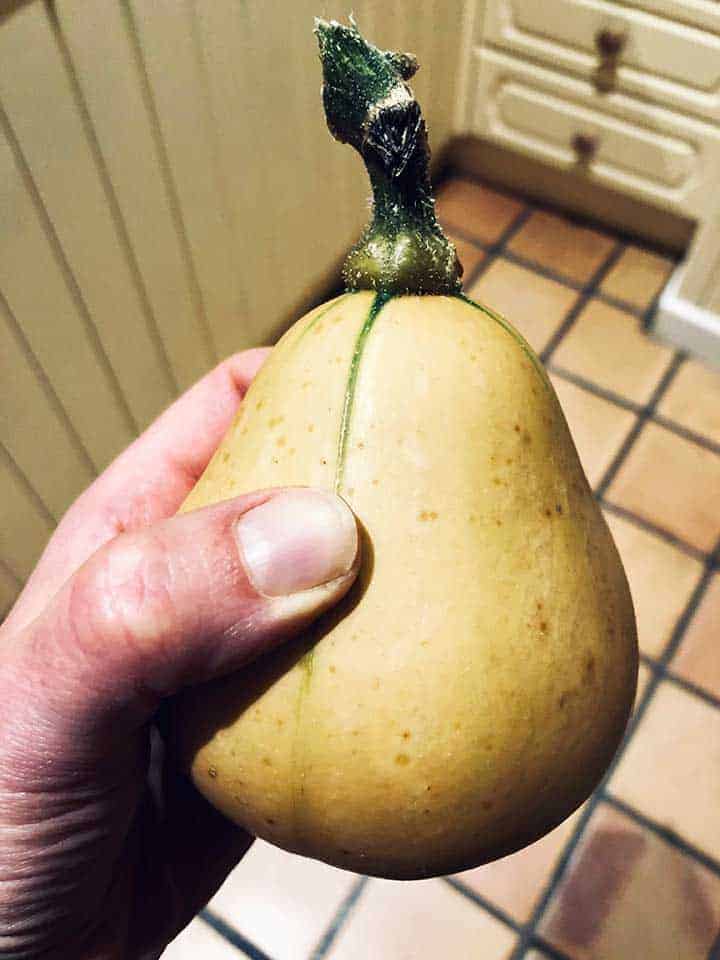 But butternut squash is really cheap to buy and can be brought throughout the year! So yay!
What does Butternut Squash Taste like?
Butternut squash is the sweetest tasting of all the winter squashes.
It has a slight nutty taste and some people liken the flavour to a mixture of sweet potato & carrot.
It has a bright orange flesh and a small amount of seeds but has a very high water content.
The high water content of the butternut squash gives it a unique texture.
It has a firm non fibrous flesh which when chopped and air fried makes a great substitute for potato fries and when roasted and mashed makes a smooth creamy dish.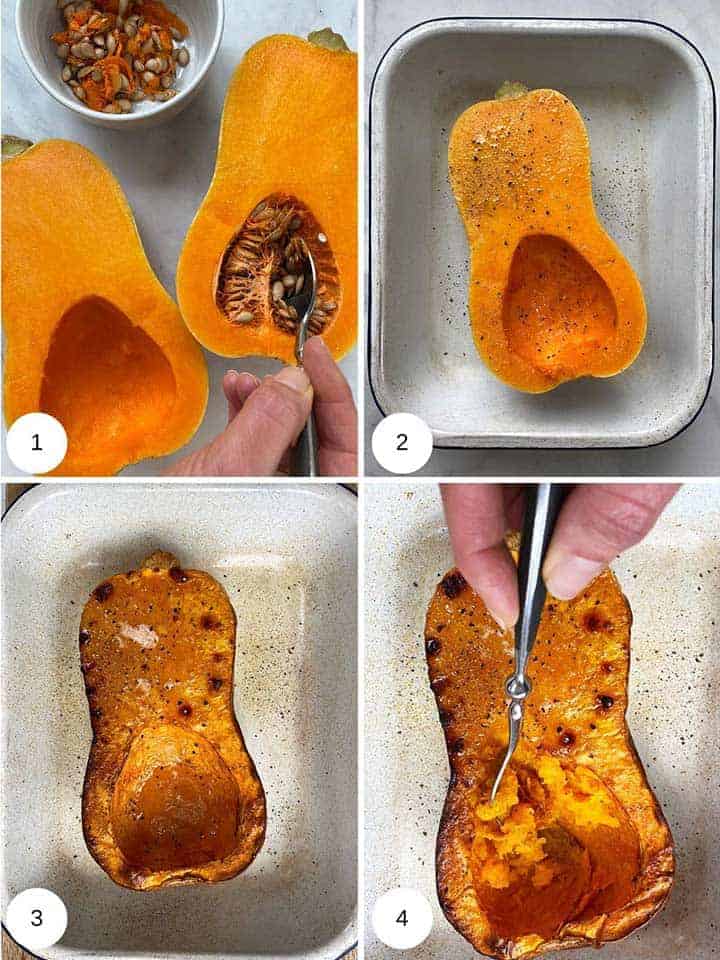 Tips for making Roasted Butternut Squash Mash
You need a very sharp knife to chop the butternut squash in half.
Very carefully cut it in half lengthways.
Use a spoon to remove the seeds and any fibrous flesh from the seed cavity (picture 1)
Discard the seeds (unless you want to grow your own 😉 )
Place the halves of butternut squash on a baking tray, flesh side up and spray with a little calorie controlled cooking spray (picture 2)
Sprinkle with ground sea salt and freshly ground black pepper (picture 2)
Place in the middle of a preheated oven and bake for 45 minutes to an hour, until a fork can easily pierce the flesh and it has turned golden brown on top (picture 3)
When the butternut squash comes out of the oven, there may be a bit of liquid that has collected in the seed cavity (picture 3). Use a piece of kitchen roll to 'mop up' this liquid.
Use a spoon to scrape the flesh of the squash into a bowl (picture 4), season with salt and pepper and mash with a potato masher or fork to the consistency desired.
Is Butternut Squash Healthy?
Butternut squash is a good source of fibre, potassium and magnesium.
It also contains lots of vitamin A which has several important functions such as helping your immune system work properly and keeping skin healthy.
Storing Mashed Butternut Squash
Store the roasted mashed butternut squash in a sealed container in the refrigerator.
Refrigerate the squash within a couple of hours of making.
It will keep for 3 to 4 days in the refrigerator.
If you want to freeze this Roasted Butternut Squash Mash, place it in heavy duty freezer bags or a freezer friendly airtight container.
It should keep in the freezer for 6 to 12 months!
Roasted Butternut Squash Mash | Weight Watchers
Additional Time:
5 minutes
Total Time:
1 hour
10 minutes
This Roasted Butternut Squash Mash is simple to make, healthy and is zero SmartPoints per portion on the myWW Green plan, myWW Blue plan, myWW Purple plan and the Freestyle plan. A perfect accompaniment to any Weight Watchers dinner recipe.
Ingredients
1 Butternut Squash (approx 3 lbs)
10 sprays on calorie controlled oil
Sea salt
Ground black pepper
Instructions
Preheat your oven to 400°F / 200°C / 180°C fan / Gas mark 6
Wash the butternut squash
Carefully half the squash lengthways. You will need a really sharp knife to do this, so do be careful!
Scoop out the seeds and any stringy pulp with a spoon and discard.
Place the squash halves on a baking tray, flesh side up and spray with a little calorie controlled cooking oil.
Sprinkle with sea salt and ground black pepper.
Place in the middle of the preheated oven for 45 - 60 minutes until the flesh of the squash is tender and you can pierce it easily with a fork.
Once cooked remove from the oven.
Any liquid that has formed in the seed cavity should be mopped up with a little bit of paper towel.
Use a large spoon to scoop out the flesh of the squash into a bowl.
Add a little salt and pepper and mash with a fork or a masher until smooth.
Top with a little more pepper if required.
Recommended Products
As an Amazon Associate and member of other affiliate programs, I earn from qualifying purchases.
Nutrition Information:
Yield:

4
Serving Size:

1
Amount Per Serving:
Calories:

22
Total Fat:

0g
Saturated Fat:

0g
Trans Fat:

0g
Unsaturated Fat:

0g
Cholesterol:

0mg
Sodium:

148mg
Carbohydrates:

6g
Fiber:

2g
Sugar:

1g
Protein:

1g
Please be aware that the nutritional information above has been automatically generated and does not account for variations in product brands and types, weights of individual ingredients etc.  It should therefore be considered as an estimate. PointedKitchen.com has calculated Weight Watchers Smart Points based on the individual ingredients used to make this recipe and not from the following nutritional information. PointedKitchen.com is not responsible for any loss or damage relating to your reliance on this nutritional information.