This super easy, super tasty Prosciutto wrapped Chicken with Leeks is just 1 SmartPoint per portion for any Weight Watchers following the myWW Blue or Purple plan. It is 3 SmartPoints on myWW Green plan.
To find out how many Personal Points this recipe will be for you & to track it in the WW App, click on the blue button in recipe card below!
Using just 3 main ingredients (and a couple of other kitchen cupboard staples!) this really is the simplest Weight Watchers chicken recipes.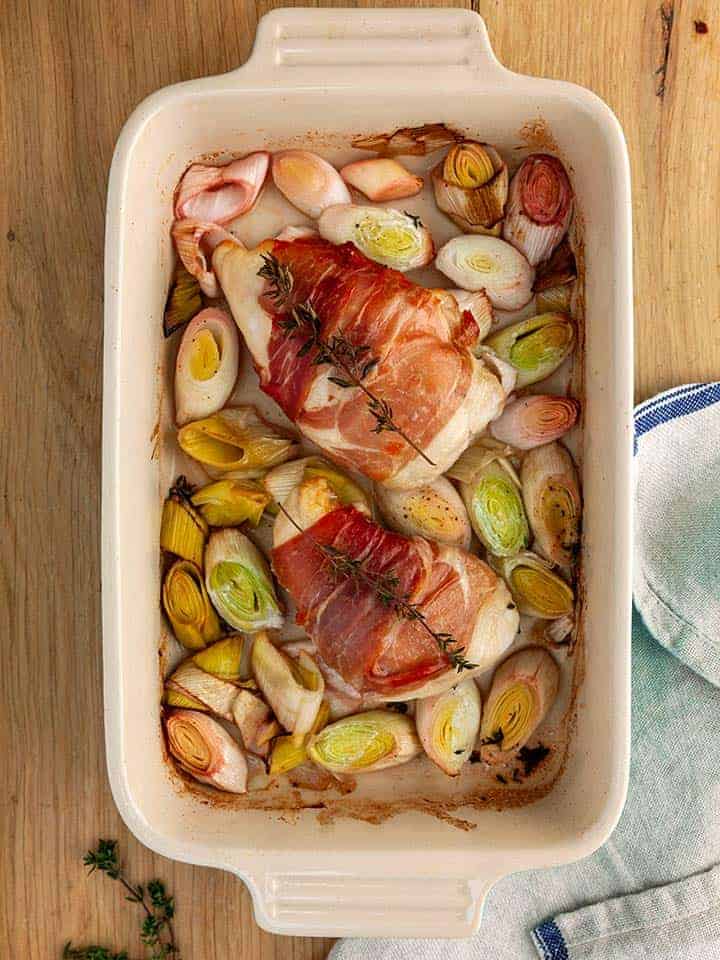 It's such a simple, tasty recipe!
It is so easy to prepare and cook and is certainly going to become one of my staple WW chicken recipes.
I adapted it from a Jamie Oliver recipe.
Jamie used pancetta in his recipe rather than prosciutto. He also added white wine and used quite a bit of olive oil!
By swapping out the 4 slices of pancetta (that was used in Jamies recipe) and using proscuitto instead I saved 3 SmartPoints per portion.
Jamie suggests using a 'good lug' of olive oil to cover the leeks and a drizzle of olive oil on the top of the dish.
I used calorie controlled spray oil instead and saved numerous SmartPoints!!
I swapped out the white wine for a little white wine vinegar and water, giving it the very subtle acidic taste that the wine would add but reducing the SmartPoints.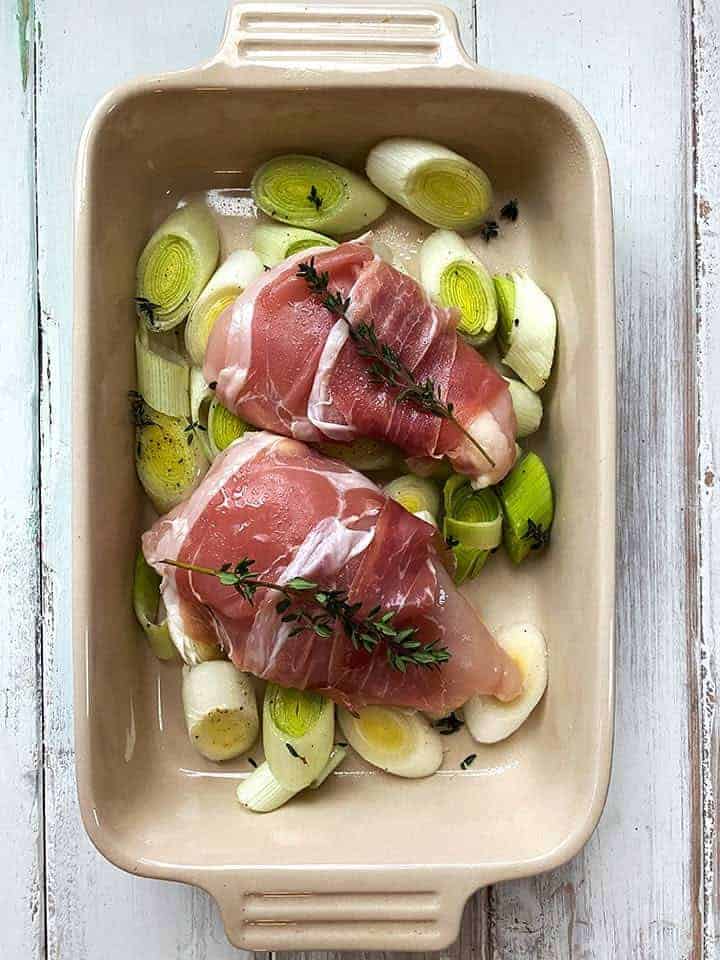 Tips for making Prosciutto Wrapped Chicken with Leeks
I used medium sized leeks that I cut on the diagonal.
If you don't have any fresh thyme, you can use a very small sprinkling of dried thyme instead. Just don't overdo it!
By wrapping the chicken in prosciutto you are adding flavour with the salty ham as well as protecting the chicken breast from drying out.
I used medium sized chicken breasts in this recipe (about the size of a fist). If you are using larger chicken breasts you will need to cook the dish longer.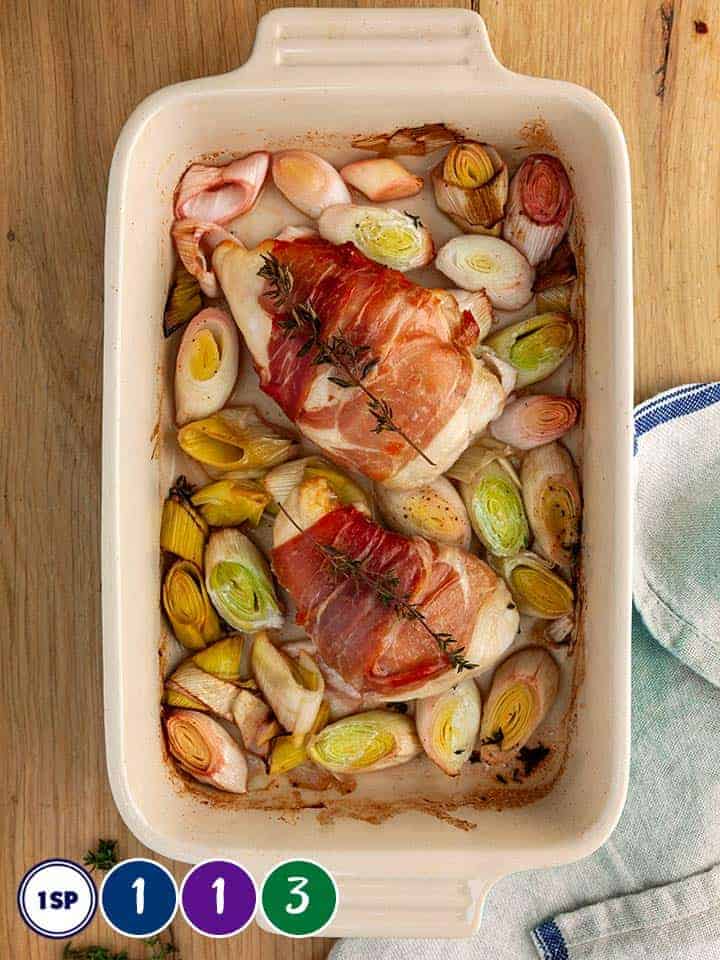 How many SmartPoints in this recipe?
As I am sure you are aware by now Weight Watchers changed their program at the end of 2019. It now includes 3 individual plans, giving anyone following the WW program lots of choice about how they use their SmartPoint allocation.
If you want to read more about the changes and the new Weight Watchers myWW plan, take a look at this post - What is the New Weight Watchers Plan.
Alternatively, go to the official WW website here.
Using the official WW recipe builder I have worked out the SmartPoints for this Proscuitto wrapped Chicken with Leeks for each of the plans.
myWW Blue plan - 1 SmartPoint per portion
myWW Purple plan - 1 SmartPoint per portion
myWW Green plan - 3 SmartPoints per portion
Freestyle plan - 1 SmartPoint per portion
More Weight Watchers Chicken Recipes
If you are looking for other tasty Weight Watchers chicken recipes then take a look at this Chicken Parmesan or this quick and easy Sweet & Sour Chicken. This Creamy Chicken Casserole is very popular and is a regular in my household.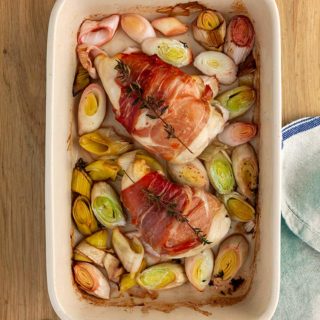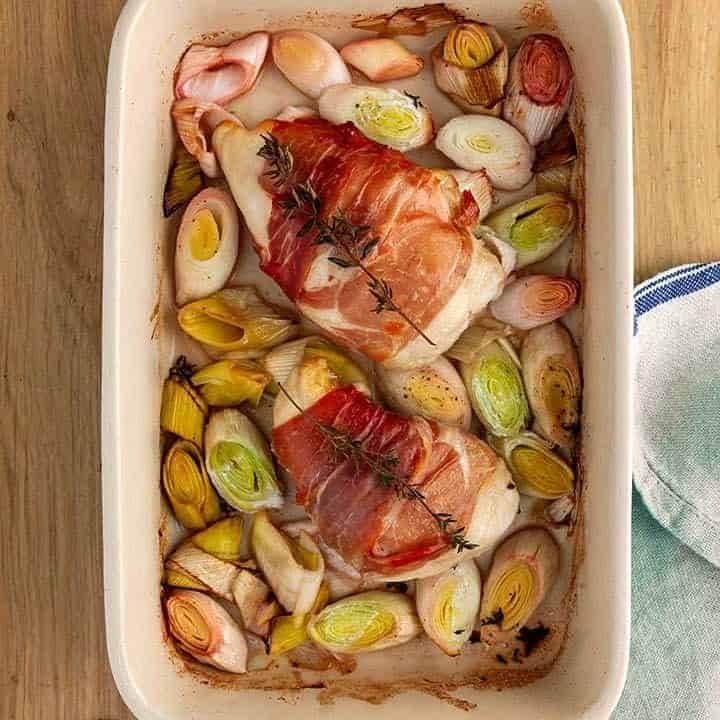 Prosciutto Wrapped Chicken with Leeks | Weight Watchers
This super tasty prosciutto wrapped chicken with leeks is a wonderful low Point dinner recipe! Full of flavour and easy to make.
Ingredients
2

slices

prosciutto

(30g)

2

medium

chicken breasts

2

medium

leeks

10

sprays of calorie controlled cooking oil

½

tbsp

white wine vinegar

1

tbsp

water

2

sprigs

fresh thyme
Instructions
Preheat the oven to 200°C / 180°C fan / 400°F / gas mark 6

Top and tail the leek and remove the outer leaves. Slice into 4cm pieces (on a diagonal is best).

Place the leeks in a small casserole dish and spray with most of the calorie controlled cooking oil. Add the white wine vinegar and the water and stir.

Next wrap each chicken breast with one slice of proscuitto.

Place the wrapped chicken on top of the leeks and top with a sprig of thyme.

Spray with the remaining calorie controlled cooking oil.

Cook in the centre of the preheated oven for 25 to 30 minutes or until the chicken is thoroughly cooked through.
Nutrition
Nutrition Facts
Prosciutto Wrapped Chicken with Leeks | Weight Watchers
Amount per Serving
% Daily Value*
* Percent Daily Values are based on a 2000 calorie diet.