This Creamy Chicken Casserole is just 6 SmartPoints on Weight Watchers Freestyle plan.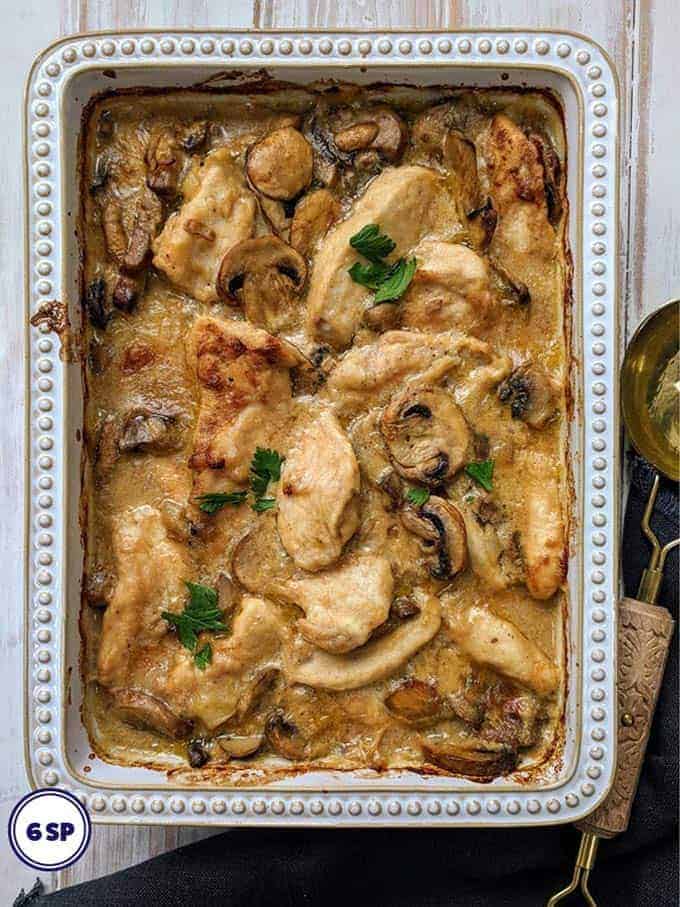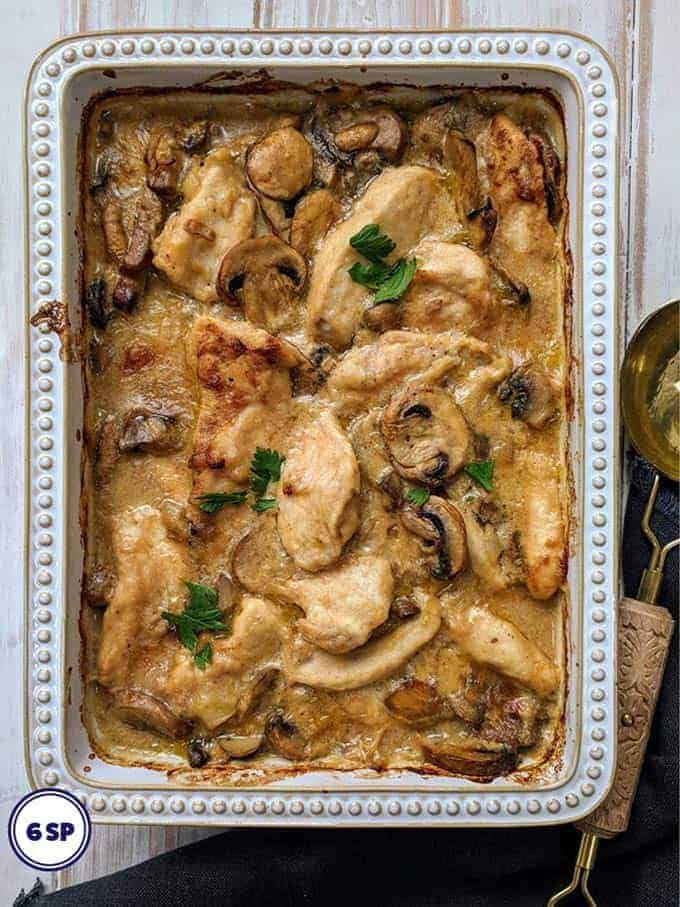 Not the most pretty looking dish, but what it lacks in style it make up for in taste. It is creamy, filling and delicious and what's more you get a massive portion for your 6 SmartPoints!
The creamy sauce in this casserole is a variation on the sauce that I use to make these Swedish Meatballs.
With Weight Watchers we tend to steer clear of creamy sauces, but this one is different.
It isn't made with lashings of cream! Although, it certainly tastes like it does.
Instead of cream I made the sauce by adding skimmed milk to chicken stock, thickening it with a roux and stirring in a couple of spoonfuls of half fat creme fraiche.
This gives it a rich creamy taste and thickens the sauce so that it nicely covers the chicken and mushrooms.
If you're unable to get hold of half fat creme fraiche or you don't particularly like it, read on for alternatives!
If you are looking for other Weight Watchers friendly chicken recipes, you may like this Chicken Marsala or perhaps this Chicken Tikka Masala. This Chicken, Leek & Mushroom Pie is also a very popular dish.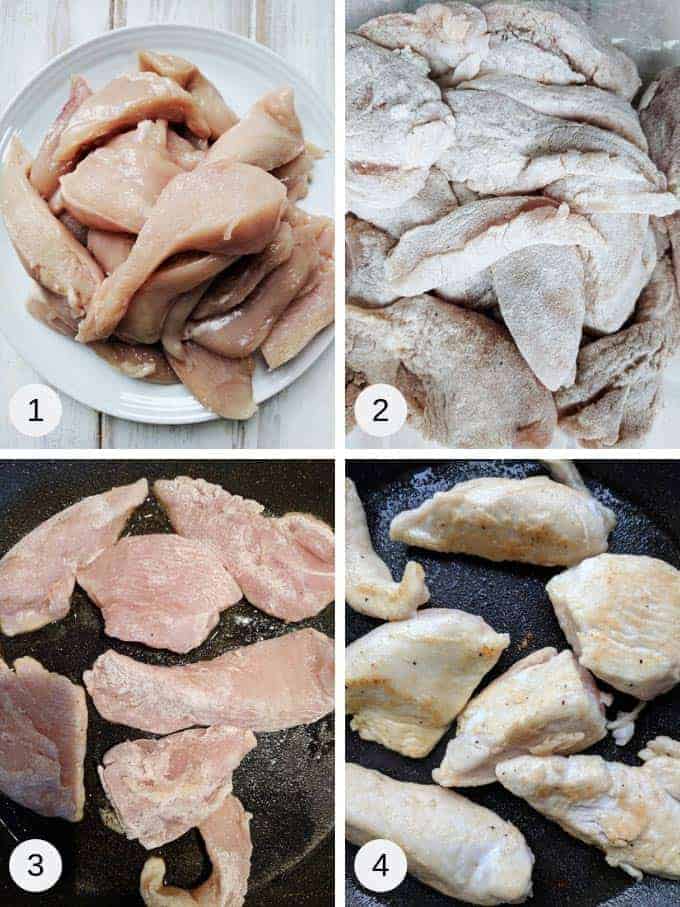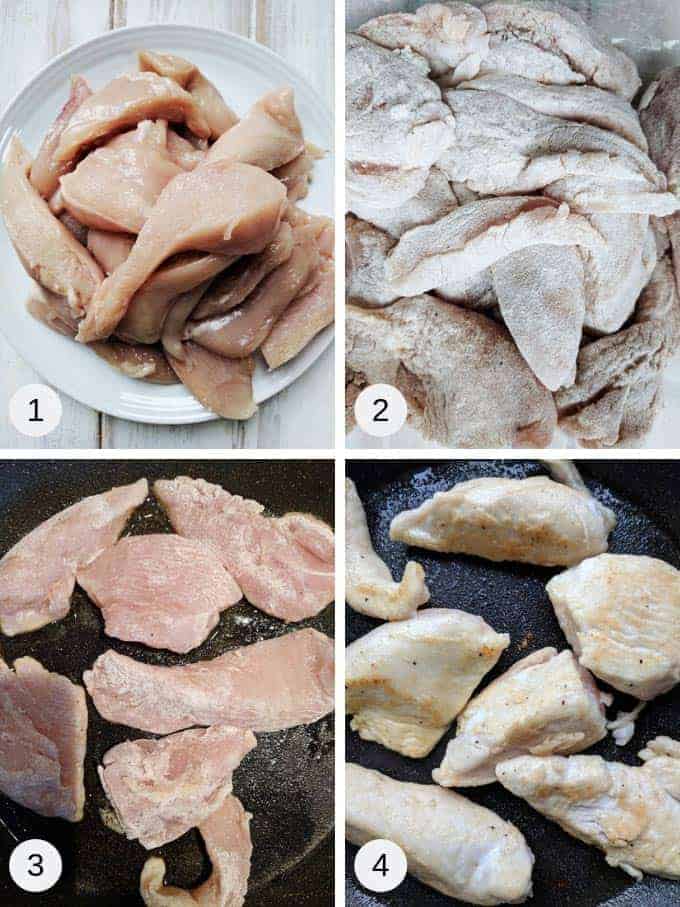 Preparing the chicken for the Creamy Chicken Casserole:
Now it may be tempting to omit this step (as the flour and oil adds a few extra points), but I strongly recommend you don't skip this part. Sealing the chicken this way stops it from becoming tough when baked. It also browns it and adds to the overall flavour.
Cut the large chicken breasts into strips (pic 1).
Place the flour into a bag or container and season. Toss the chicken in the seasoned flour so that they are fully coated (pic 2)
I saute the chicken in batches (pic 3). I tend to do 3 batches and use 1/4 of a tablespoon of olive oil per batch.
You want to seal the chicken, but you don't want it to cook through. Turn the chicken with tongs until the chicken is sealed and parts of it have turned golden brown (pic 4)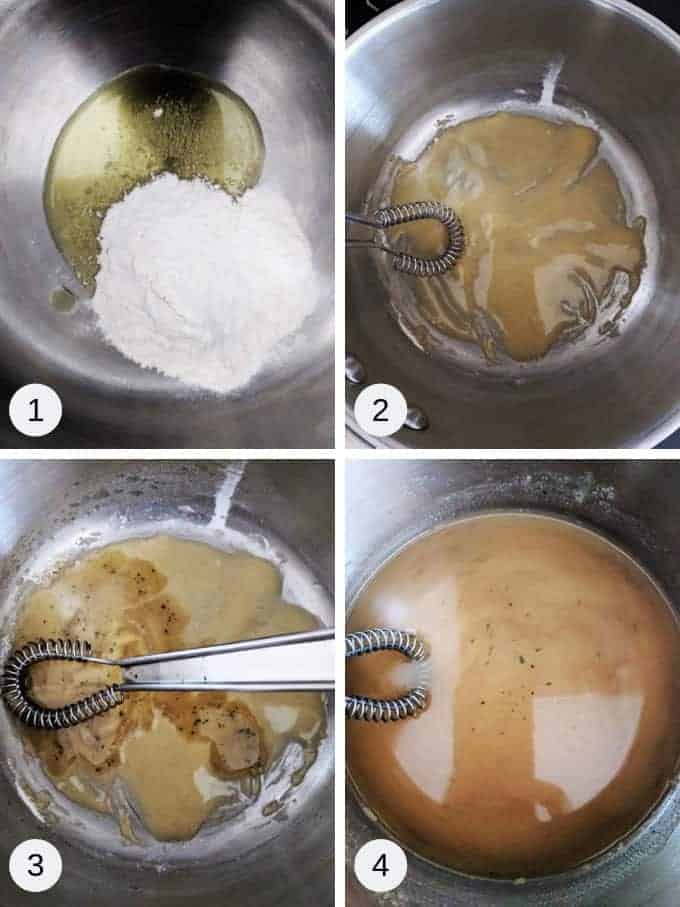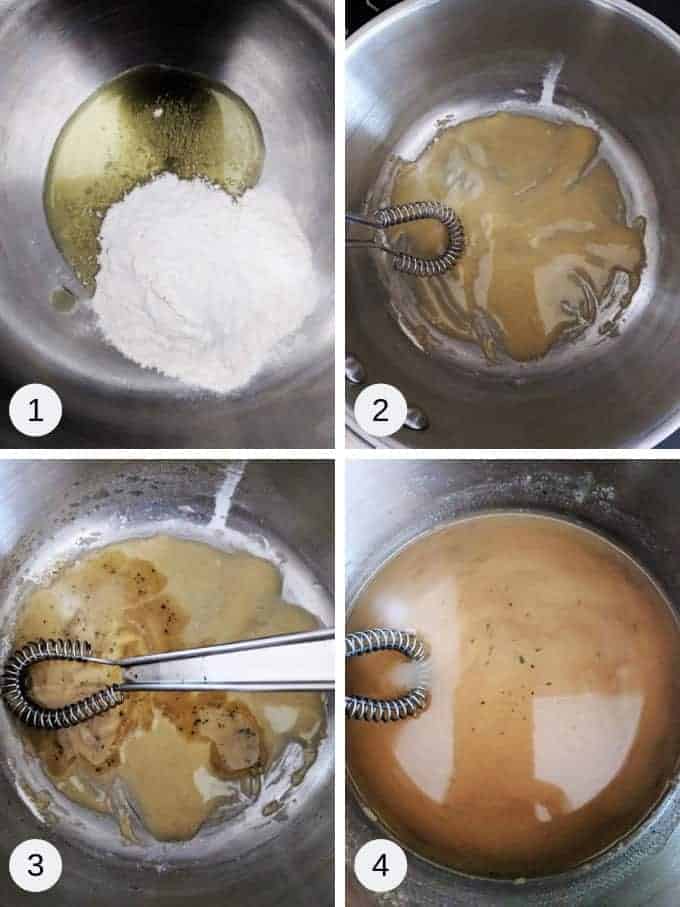 Preparing the sauce for the Creamy Chicken Casserole:
To make the sauce, you need to make a roux. This is done by adding flour to butter, or in this case olive oil. This amount of roux will not thicken the sauce much but it does help!
Warm the oil in a pan and add the flour (pic 1). Stir together over a warm heat until it makes a paste.
Continue to cook the paste for a minute or two (so that the flour cooks).
Add the stock bit by bit (pics 2 & 3) making sure that you whisk to avoid it becoming lumpy.
Once all the stock has been added, stir in the milk (pic 4)
Bring the sauce to a simmer, whisking continuously and then remove from the heat. Stir in the creme fraiche. The sauce should have thickened slightly and is now ready to use.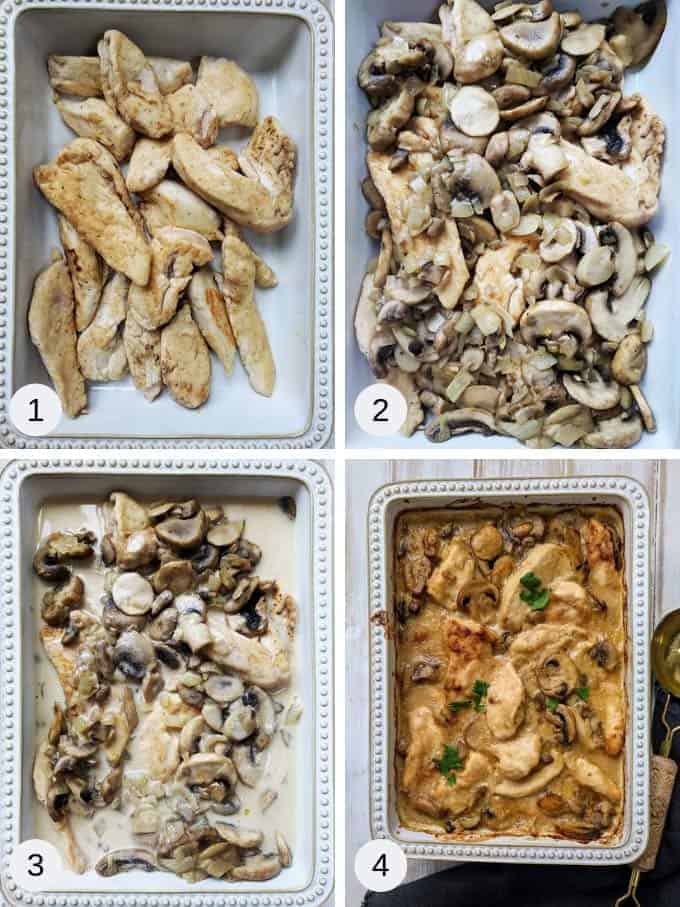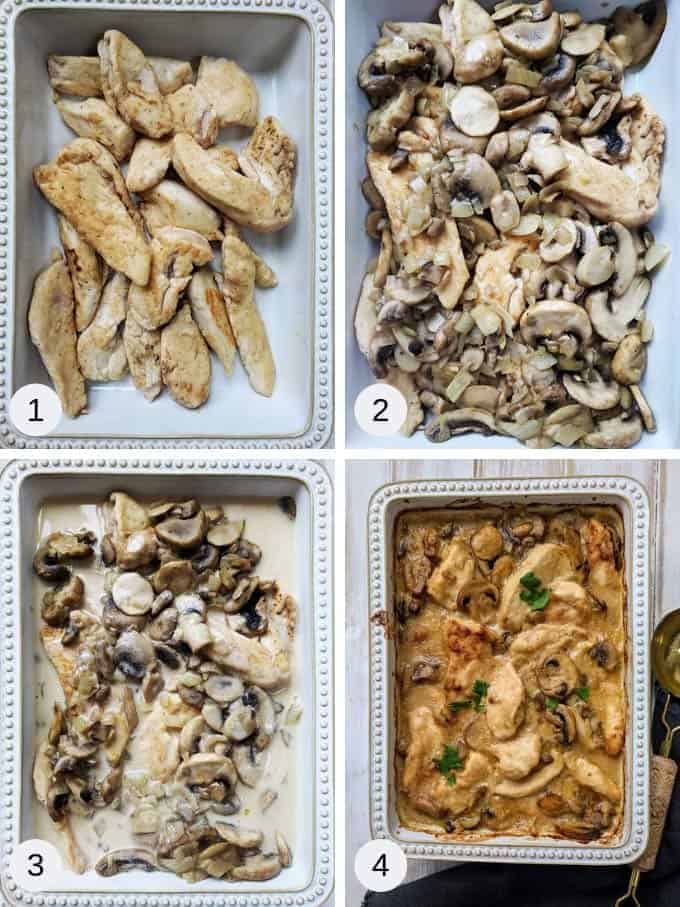 Putting it all together:
Layer the sauteed chicken into a casserole dish (pic 1)
Top with the sauteed onions, mushrooms and garlic (pic 2)
Pour over the creamy sauce (pic 3)
Bake, uncovered, for a further 40 minutes (pic 4)
What I used to make this Creamy Chicken Casserole:
This post contains affiliate links. Visit this page to see what that means.
I used a good quality non stick frying pan, like this one available from Amazon.
I use my Edge of Belgravia precision knife for slicing and dicing! Available from Amazon.
What can I serve Creamy Chicken Casserole with:
Mashed butternut squash for no extra SmartPoints
A small serving of rice for an extra 3 SmartPoints
A small serving of pasta or noodles for an extra 4 SmartPoints
A scoop of mashed potato made with margarine for an extra 4 SmartPoints
Alternatives:
If you don't like half fat Creme Fraiche, you can stir through a couple of tablespoons of Philadelphia Light soft cheese instead.
Alternatively, you can use 3 tablespoons of soured cream – this will give the casserole a slightly different sharper taste.
If you use full fat Creme Fraiche, you will have to add a further 6 SmartPoints to the whole casserole.
I used common white mushrooms in this recipe, but you could use Portobello mushrooms for an extra meaty casserole or shiitake mushrooms for a different flavour. Or a mixture of all three!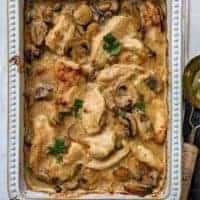 Creamy Chicken Casserole | Weight Watchers
This delicious Creamy Chicken Casserole is just 6 SmartPoints for a massive portion on Weight Watchers Freestyle plan.
Print
Pin
Rate
Total Time:
1
hour
10
minutes
Ingredients
4

large skinless chicken breasts

chopped into strips

2

tbsp

flour

1

tsp

salt

1/2

tsp

black pepper

1

tbsp

olive oil

divided

500

g

mushrooms

sliced

1

onion

diced

2

large garlic cloves

minced
For the sauce
3/4

tbsp

olive oil

1

tbsp

flour

350

ml

chicken stock

120

ml

skimmed milk

2

tbsp

half fat creme fraiche

or alternative - see post

salt & pepper

to taste
Instructions
Preheat the oven to 180oC / 350oF /170oC Fan

Place the flour, salt and pepper in a bag or tub and add the chicken strips. Toss until they are fully coated with the seasoned flour.

Heat a quarter of the olive oil in a good non stick pan and add a third of the chicken. Turn a few times until the chicken is sealed on all sides and parts of it have turned a light golden brown. Remove from the pan and place in a large casserole dish. Cook the rest of the chicken this way - in two more batches, adding 1/4 tbsp of oil to the pan before adding the chicken. The chicken does not have to be cooked through, it just needs to be sealed to prevent it from becoming dry and tough when baked later.

Add the last 1/4 tbsp of oil to the pan and scrape up any bits of flour that have stuck to the bottom of the pan. Add the chopped onion and fry for a few minutes until they have started to soften. Add the mushroom and saute for a few more minutes. Add a couple of tablespoons of water and cook until the mushrooms have softened and all the water has cooked off. Add the minced garlic and saute for a further 1 - 2 minutes.

Remove from the heat and spoon over the chicken strips.
For the sauce
In a saucepan, heat 3/4 tbsp of olive oil over a medium heat. Add 1 tbsp of flour and mix to make a paste. Stir for 1 - 2 minutes. Add a little of the chicken stock and whisk or stir in, till combined and smooth. Carry on adding the stock, bit by bit until it is all incorporated and has turned to smooth sauce. Add the skimmed milk and bring to a simmer.

Once the sauce has come to a simmer, remove from the heat and stir in the half fat creme fraiche. Season to taste.

Pour the sauce over the chicken, mushrooms and onions. Place the casserole dish in the centre of the preheated oven and bake for 40 minutes.

Serve warm. See serving suggestion above.
Notes
Please be aware that the nutritional information below has been automatically generated and does not account for variations in product brands and types, weights of individual ingredients etc.  It should therefore be considered as an estimate.
PointedKitchen.com has calculated Weight Watchers Smart Points based on the individual ingredients used to make this recipe and not from the following nutritional information.
PointedKitchen.com is not responsible for any loss or damage relating to your reliance on this nutritional information.
Nutrition
Calories:
277
kcal
|
Carbohydrates:
14
g
|
Protein:
31
g
|
Fat:
10
g
|
Saturated Fat:
2
g
|
Cholesterol:
75
mg
|
Sodium:
763
mg
|
Potassium:
990
mg
|
Fiber:
1
g
|
Sugar:
5
g
|
Vitamin A:
115
IU
|
Vitamin C:
6.5
mg
|
Calcium:
67
mg
|
Iron:
1.5
mg