This hearty Chicken Noodle Soup is just 5 SmartPoints per portion on Weight Watchers Freestyle plan, Blue plan and Purple plan.
It is 6 SmartPoints per portion if you follow the Green plan.
Please be aware that this post was written prior to Weight Watchers changing to the WW Personal Points Plan! You can discover exactly how many Personal Points this recipe will be for you by clicking on the blue 'WW Personal Points' button in the recipe card below.
Serve it on its own for lunch or with a chunk of fresh french bread for a filling and tasty main meal.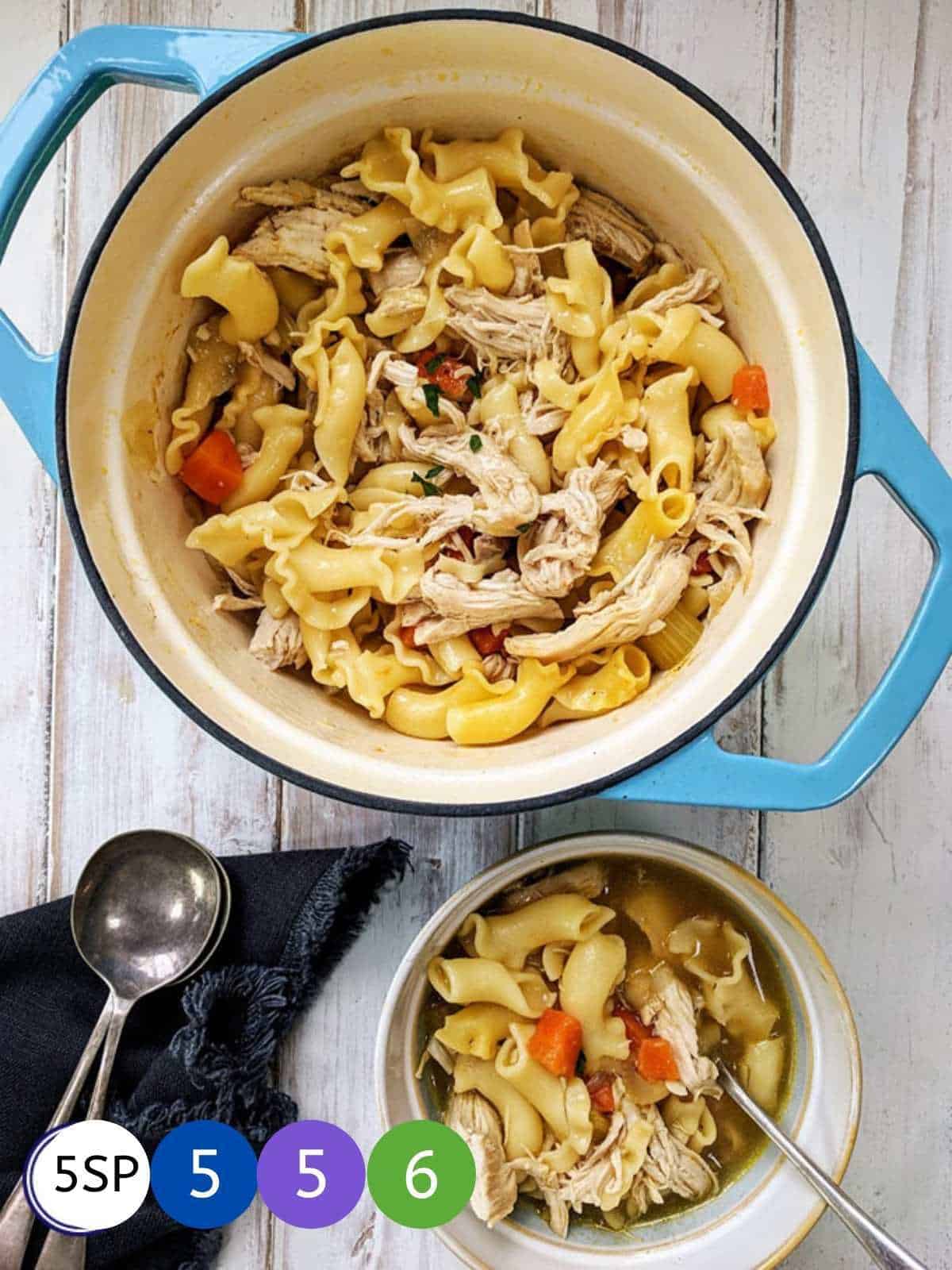 This hearty and filling chicken noodle soup is so simple to make and it's really tasty.
Packed full of flavour, it can be served up as a low SmartPoint lunch or, as I have done on more than a few occasions, it can be served with french baguette for a healthy & satisfying dinner.
Many of the soups I make are either zero SmartPoints, like this Carrot & Coriander Soup , or 1 SmartPoint like this Pea soup and this Tom Yum soup.
But this Chicken Noodle soup is 4 SmartPoints.
Perhaps that is more points than you would like a soup to be?!
But ..... this soup is like a meal in itself and doesn't need the addition of bread for dunking to fill you up!
I wanted to make a soup with a bit more 'heart' that was tasty, filling and satisfying.
A soup that I could eat on it's own for lunch that would fill me up!
And a soup that I could have for dinner (with a slice or two of bread) which would satisfy me until the following day.
This Hearty Chicken Noodle Soup does just that.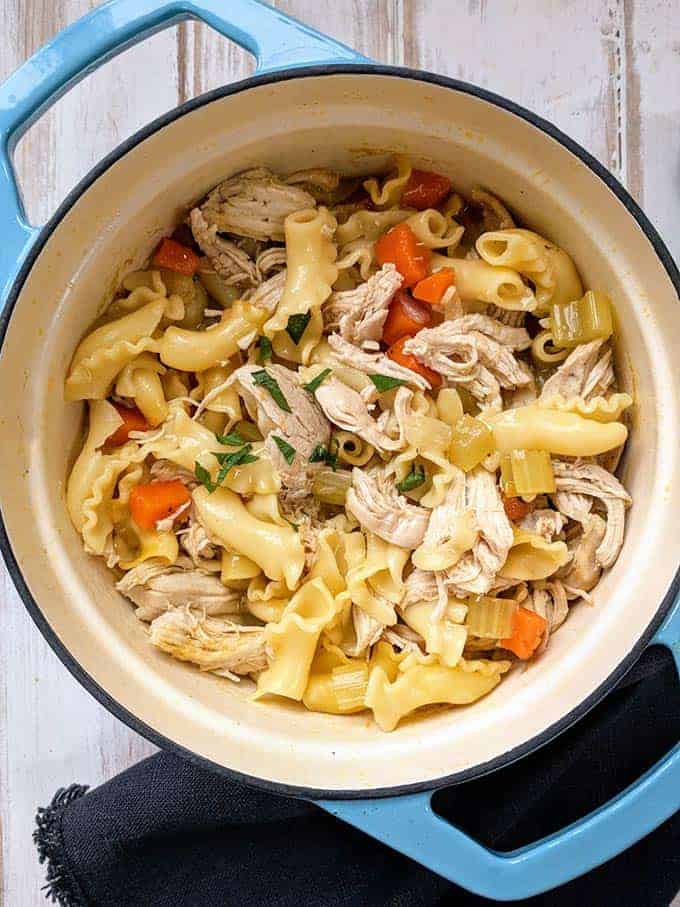 What I use to make this Hearty Chicken Noodle soup
This post contains affiliate links. As an Amazon Associate I earn from qualifying purchases. Visit this page to see what that means.
I used Fiorelli pasta in this Hearty Chicken Noodle Soup.
I cooked this soup in a casserole dish / dutch oven, similar to this one, available from Amazon.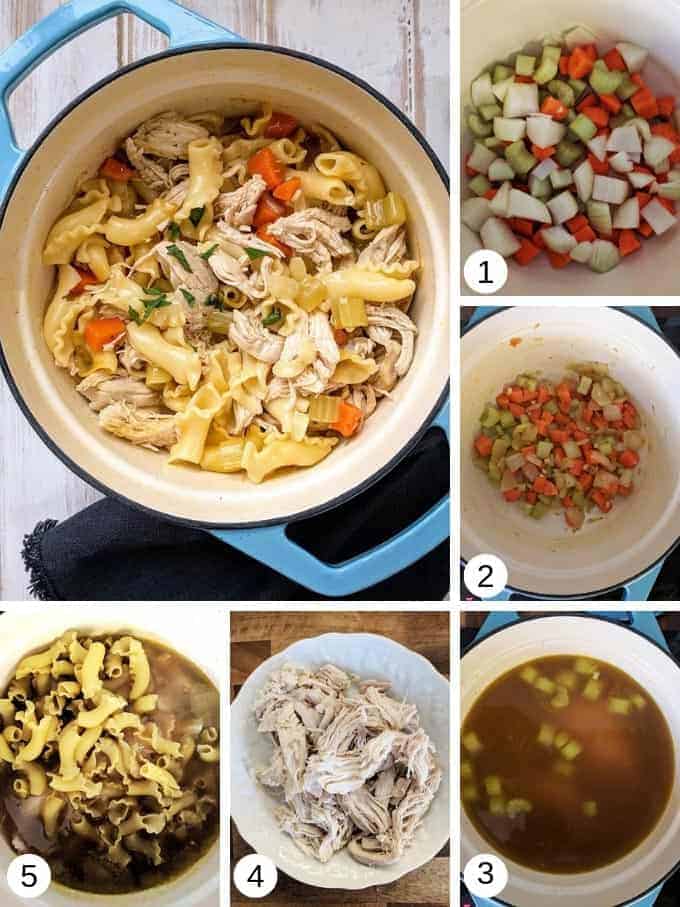 How to make this Hearty Chicken Noodle Soup
Chop the vegetables into roughly equal size pieces (pic 1)
Add the vegetables to the pot with the heated oil.
Saute the carrots, onion and celery until they have softened and browned (pic 2).
Add the garlic and cook for a few more minutes.
Add a tablespoon of white wine vinegar and stir to release any stuck bits from the bottom of the pan.
Pour in the stock and then add chicken (pic 3)
Cover and cook for 40 minutes.
Remove the cooked chicken from the pot and shred it into bit size pieces using two forks (pic 4).
Add the shredded chicken back to the pan along with the pasta (pic 5).
Cook for a further 6 - 8 minutes.
Do I need to use Fresh Chicken Stock?
You don't need to use fresh chicken stock.
You can use shop brought chicken stock but be aware to check the point value (the stock I used was 2 SmartPoints for the whole recipe).
You could also make up stock using stock cubes/bouillon cubes.
How long does it last in the fridge?
The soup should last in the fridge for a two or three days. Make sure, when re-heating, that you heat it through completely before serving.
Can I freeze this Hearty Chicken Noodle Soup?
Yes the Chicken Noodle Soup does freeze for up to three months.
What pasta/noodles can I use?
I used Fiorelli pasta in this soup.
However, it would work well with any type of pasta shape.
I have used farfalle (bowties), elbow macaroni and fusilli to make this soup previously.
If you are using smaller pasta shapes in this soup, add the pasta and simmer for a little less time than you would for the bigger pasta shapes.
Bear in mind that if you are on the Purple plan, you could swap out the pasta for wholewheat pasta and reduce the points by 3 SmartPoints per serving!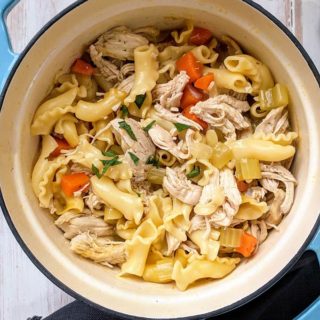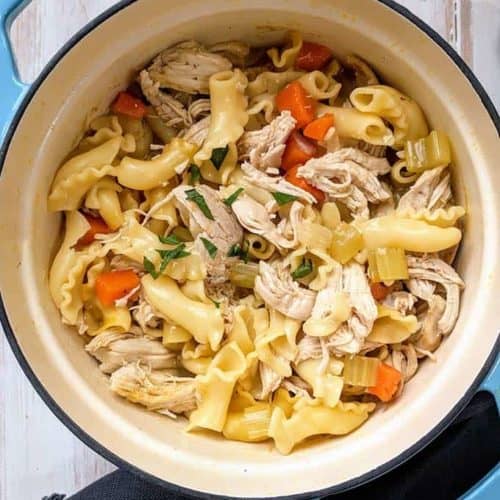 Hearty Chicken Noodle Soup
A big bowl of this hearty Chicken Noodle Soup is just 4 SmartPoints on Weight Watchers Freestyle Plan.
Ingredients
1

tbsp

olive oil

1

carrot

diced

2

sticks of celery

sliced

1

onion

chopped

3

garlic cloves

finely chopped

salt & pepper

1

tbsp

white wine vinegar

optional

1

litre

chicken stock

2

large chicken breasts

skinless and boneless

2

cups

uncooked pasta

(120g) I used fiorelli

1

tsp

parsley

chopped - optional
Instructions
Heat the oil in a large pan over a medium heat. Add the chopped carrots, celery and onion. Saute, stirring often, for 6 - 8 minutes until the veg has softened. Add the garlic and cook for a further 1 - 2 minutes. Add the white wine vinegar and use it to scrape any of the browned bits off the bottom of the pan.

Add the chicken stock and add the chicken breasts. Bring to the boil and then reduce the heat to a simmer. Cover the pan and simmer for 40 minutes.

Carefully remove the chicken from the stock and use two forks to shred it into bite size pieces. Add the chicken back to the pot, add the pasta, stir and simmer for 6 - 8 minutes.

Remove from the heat, and season with salt and pepper. Garnish with parsley before serving.
Notes
Please be aware that the nutritional information below has been automatically generated and does not account for variations in product brands and types, weights of individual ingredients etc.  It should therefore be considered as an estimate.
PointedKitchen.com has calculated Weight Watchers Smart Points based on the individual ingredients used to make this recipe and not from the following nutritional information.
PointedKitchen.com is not responsible for any loss or damage relating to your reliance on this nutritional information.
Nutrition
Nutrition Facts
Hearty Chicken Noodle Soup
Amount per Serving
% Daily Value*
* Percent Daily Values are based on a 2000 calorie diet.