This deliciously tasty and simple to make Asparagus & Brie Frittata is just 4 SmartPoints per serving on Weight Watchers Blue and Purple plans.
It is 8 SmartPoints if you follow the Green plan.
For your SmartPoints you get one quarter of the Frittata which is plenty to keep you satisfied till dinner!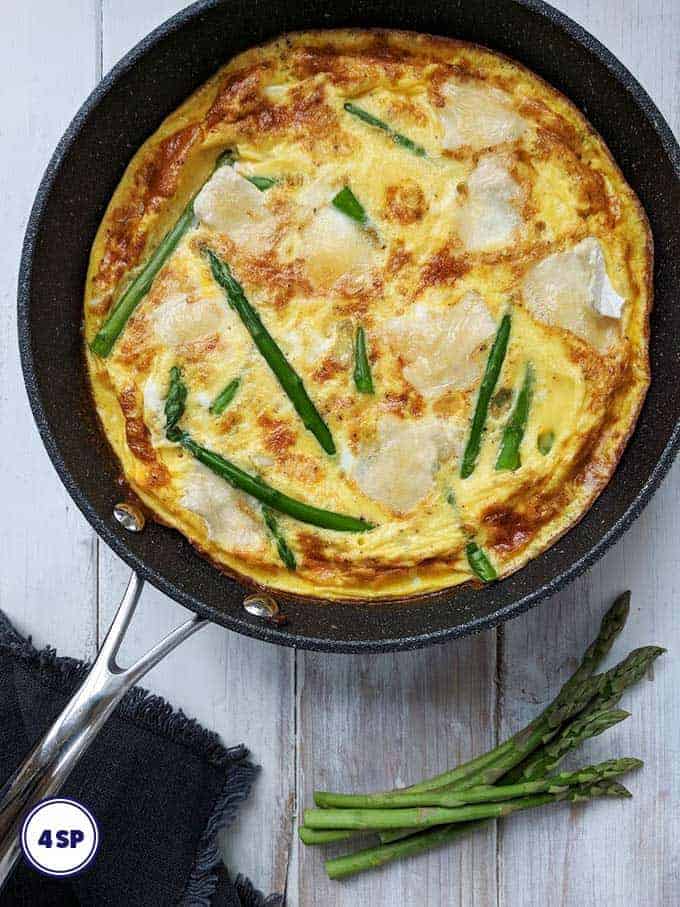 Frittata is such a great Weight Watchers lunch!
It is simple to make, it is tasty and it is extremely filling. It can be eaten warm or can be served cold with a side salad.
If you like frittata, you may also like this Salmon. Pea and Horseradish Frittata or this Sausage, Bacon and Mushroom Frittata.
I decided to make this frittata flavour combination as I had some ripening brie in the fridge that was left over from Christmas.
It may well have walked if I hadn't eaten it soon.
And what goes well with brie - asparagus!
I've eaten brie and asparagus tart (with lots of buttery pastry!) so I thought I'd combine these flavours in a frittata.
It worked!
In my mind the stronger the brie the better but I am sure the frittata would work just as well with a milder brie!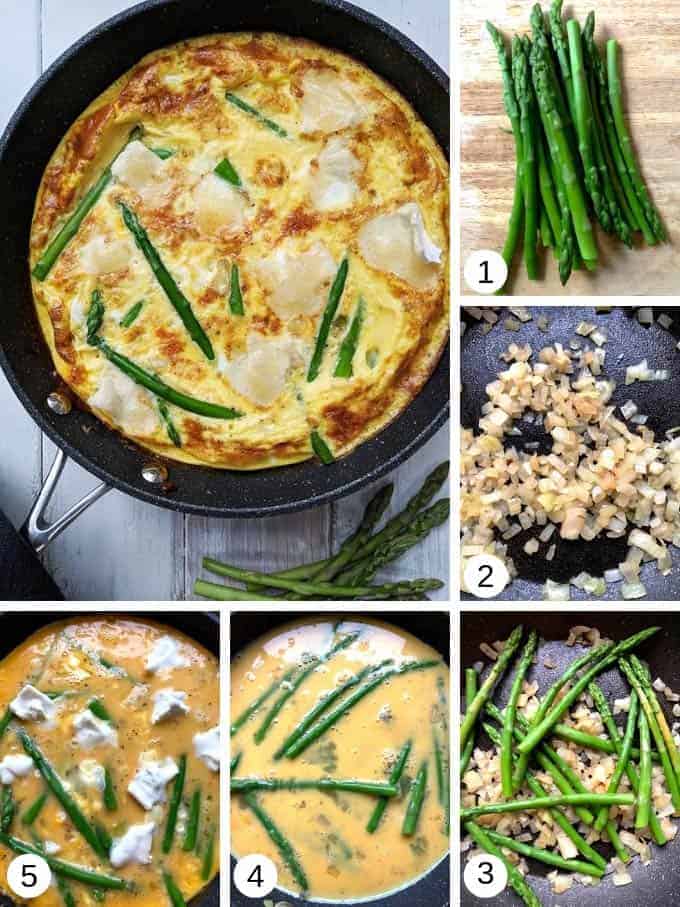 How to make this Asparagus and Brie Frittata:
Plunge the asparagus tips into a pan of simmering water for 1 minute. Remove from the hot water and place in a bowl of cold water to prevent them cooking further and turning to mush!
If the asparagus tips that you are using for this recipe are much thicker than the ones in Picture 2, you may need to cook them for a little longer (but they shouldn't need any longer than 2 - 2 ½ minutes in total)
Saute the onions until they have softened and have started to turn golden brown (Picture 3)
Remove the asparagus tips from the cold water and add them to the pan of onions (Picture 4)
Pour in the whisked & seasoned eggs & milk (Picture 4)
I did not remove the rind from the brie before chopping it up and adding it to the frittata. Obviously, this is a personal choice, so you may like to de-rind the cheese before adding.
I found that it was best to cook the frittata for 5 or 6 minutes before adding the cheese. This meant that the cheese didn't just sink to the bottom of the pan, there was a bit of cooked egg that the pieces could 'perch' on (Picture 5)
Cook on the stove top for another 3 or 4 minutes before transferring the whole pan to the grill to set the top of the frittata.
This post may contain affiliate links. As an Amazon Associate I earn from qualifying purchases. Visit this page to see what that means.
What I used to make this Asparagus and Brie Frittata:
As you grill frittata, it is essential that you use a frying pan / skillet with a metal or cast iron handle.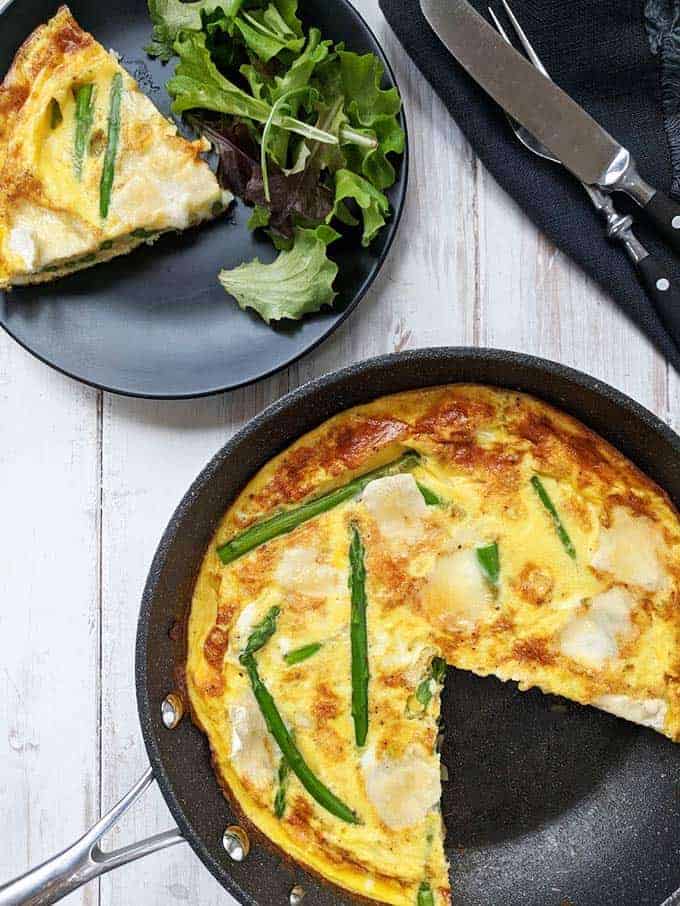 Alternatives to try:
Whether you use ripe brie or mild brie is up to you.
Either remove the rind from the cheese or leave it on, whatever is your preference!
Use red onion instead of brown onion for added colour.
Try 2 - 3 shallots rather than 1 onion for a milder taste.
Use Light Brie and reduce the SmartPoints by 1 point per serving.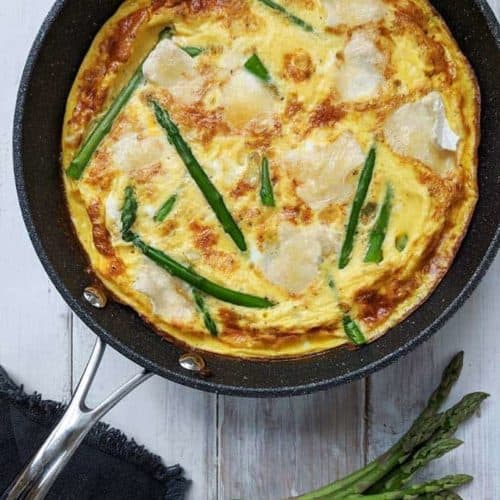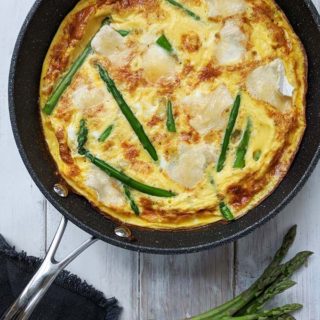 Asparagus & Brie Frittata
This simple and tasty Asparagus and Brie Frittata is just 4 SmartPoints per portion on Weight Watchers Freestyle Plan.
Ingredients
1

bunch

asparagus tips

approx 100g

1

tbsp

olive oil

1

onion

chopped

8

medium eggs

3

tbsp

skimmed milk

salt and pepper

½

cup

brie

(80g) torn into 8 pieces
Instructions
Bring a saucepan of salted water to the boil. Reduce to a fast simmer and immerse the asparagus tips. After 1 minute remove the asparagus from the pan and place them in a bowl of cold water to stop them over cooking and becoming mushy!

Whisk the eggs together with the milk and add a good few pinches of salt and pepper.

Heat the olive oil in a non stick frying pan (with a metal handle) and saute the onions for 6 - 8 minutes until they have softened and started to brown.

Add the asparagus tips to the onions and pour on the whisked eggs.

Cook on the hob over a medium heat for 5 minutes until it has started to set. Add the pieces of cheese and continue cooking for a further 3 - 4 minutes.

Preheat your grill to medium / high and transfer the pan to the grill for 3 or 4 minutes until the top of the frittata sets and becomes golden.

Serve warm with green salad.
Notes
Please be aware that the nutritional information below has been automatically generated and does not account for variations in product brands and types, weights of individual ingredients etc.  It should therefore be considered as an estimate.
PointedKitchen.com has calculated the Weight Watchers SmartPoints based on the individual ingredients used to make this recipe and not from the following nutritional information.
PointedKitchen.com is not responsible for any loss or damage relating to your reliance on this nutritional information.
Nutrition
Nutrition Facts
Asparagus & Brie Frittata
Serving Size
0.25 frittata
Amount per Serving
% Daily Value*
* Percent Daily Values are based on a 2000 calorie diet.