This delicious and simple Spicy Ragu Gnocchi is 7 SmartPoints per portion on Weight Watchers Freestyle plan, Blue plan, Green plan and Purple plan.
It's easy to make, tastes great and most importantly fills you up.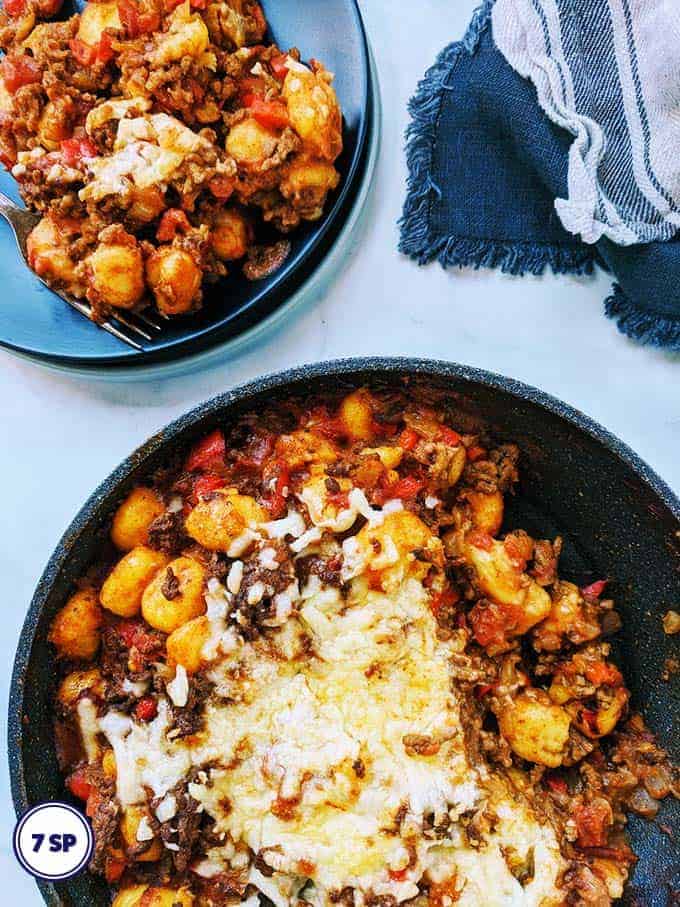 I have a new favourite recipe! Would you judge me if I told you I had a portion for my lunch and I'm planning on having another one for dinner tonight!?
It's that good!
You would never guess that this is a Weight Watchers friendly recipe!
It's meaty, cheesy and delicious. It's comforting and dare I say even a little bit 'stodgy' - in a good way of course!
But then, that is what I love about WW!
You can make a few changes to most recipes (even comfy, stodgy ones) to make them more Weight Watcher friendly.
If you like comfy food, you will love this Butternut Squash Mac & Cheese, this 6 SmartPoint Cottage Pie or this 6 SmartPoint Creamy Chicken Casserole.
For this Spicy Ragu Gnocchi, by using extra lean ground beef you save 4 SmartPoints per portion over using 'normal' ground beef.
I also added a large onion and chopped red pepper to the mince to bulk up the ragu.
Most ragu recipes that I cooked prior to my WW journey have contained between 2 and 4 tablespoons of olive oil! That's between 10 and 20 SmartPoints of olive oil!
And that's just to fry off the onion!
For this recipe, I used half a tablespoon of oil to saute the onion and half a tablespoon to colour the gnocchi.
It may be possible to use calorie controlled spray oil to make this dish, but I didn't as I know that when following the WW plan it's important to have a little oil in my diet (see alternatives below).
Topping off this tasty ragu and gnocchi mix is a layer of bubbly grilled cheese!
By using a stronger tasting cheese, such as mature cheddar, you are able to use less (& therefore less SmartPoints) for that all important cheesy taste!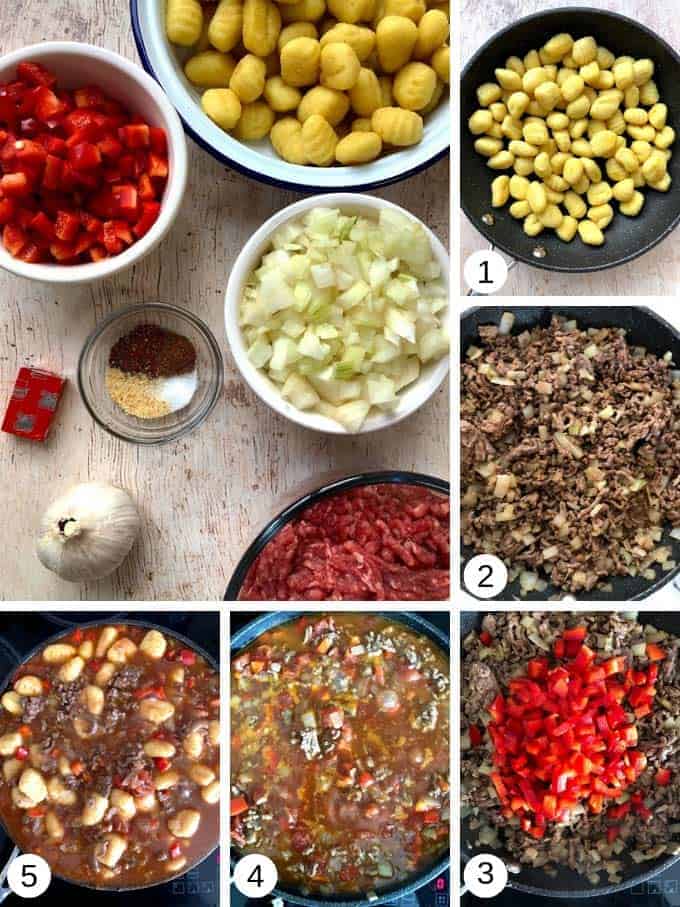 How to make Spicy Ragu Gnocchi:
Use a LARGE skillet! Don't do what I did and use one that was too small! Every time I stirred the mixture, it slopped over the side!
Chop the onions and pepper prior to beginning the recipe, rather than doing it as you go along! This just makes things soooo much easier.
Heat half the olive oil in your LARGE skillet and add the gnocchi. You want to carefully saute the gnocchi until they have started to colour (picture 1). They don't need to be golden brown, just coloured slightly. Remove them from the heat and set them aside to use later.
Using the same LARGE skillet, add the onions and saute them till they have started to soften. Add the garlic, cook for an additional minute before adding the ground beef.
Use a wooden spoon to move the ground beef and onions around. Do this until there is no pinkness left in the ground beef (picture 2). If a little amount of liquid has collected at the bottom of the pan you can either tip it away, or you can do as I did and turn up the heat a bit to cook it off.
Add the chopped red pepper (picture 3).
Add the stock and tinned tomatoes and bring to a boil (picture 4)
Reduce to a simmer and add the gnocchi. Cook for an additional 15 - 20 minutes until the sauce has thickened substantially and there is hardly any liquid left. You will need to stir occasionally to ensure that nothing is sticking to the bottom of the pan.
Top with the grated cheddar and either melt it by popping a lid on the skillet and cooking for another 1 - 2 minutes or by popping it under the grill for a few moments till it is nice and bubbly and golden.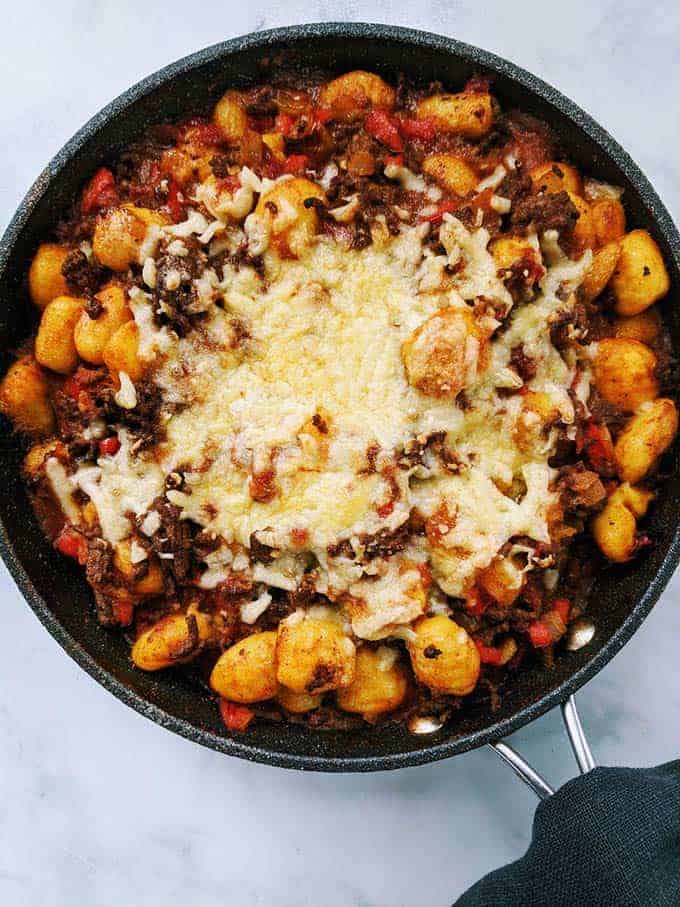 What I used to make Spicy Ragu Gnocchi:
I used a supermarket brand low fat mature cheddar cheese in this recipe. WW also do their own Mature Reduced Fat Grated Cheese which is 1 SmartPoint per serving.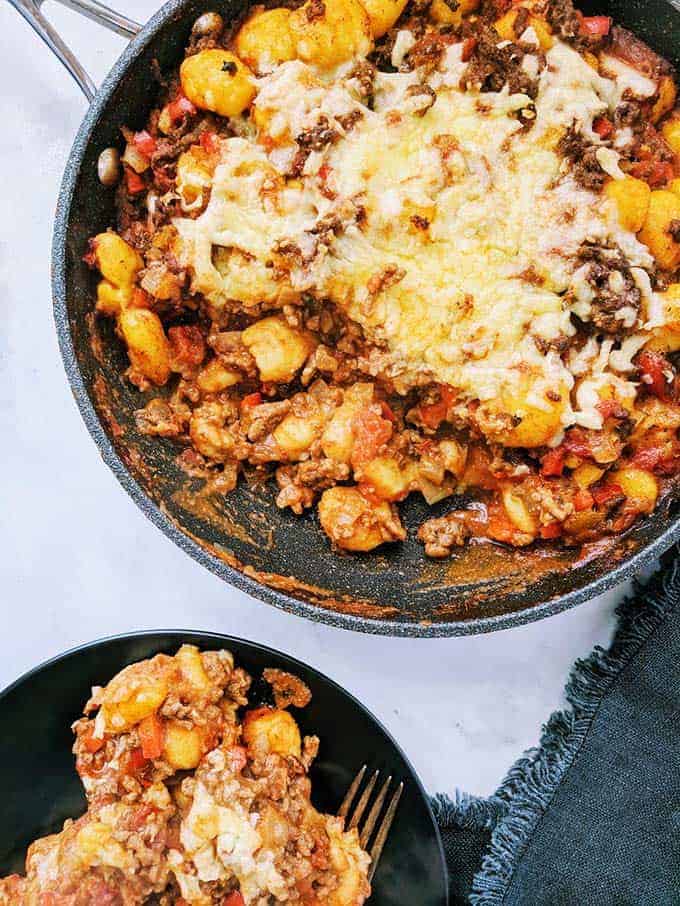 Can you freeze Spicy Ragu Gnocchi:
This Spicy Ragu Gnocchi freezes well for up to one month. Remove from the freezer, defrost and heat by microwave or in an oven.
Make sure that it is hot the whole way through before serving.
If you are batch cooking this dish, you may want to omit the cheese and add it when you reheat.
Alternatives:
Use a calorie controlled spray oil to saute gnocchi and the onion. This reduces the SmartPoint values by 1 per portion.
If you want to bulk out the ragu more you could add mushrooms, peas, yellow pepper - whatever you fancy really!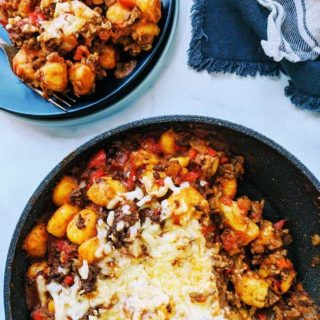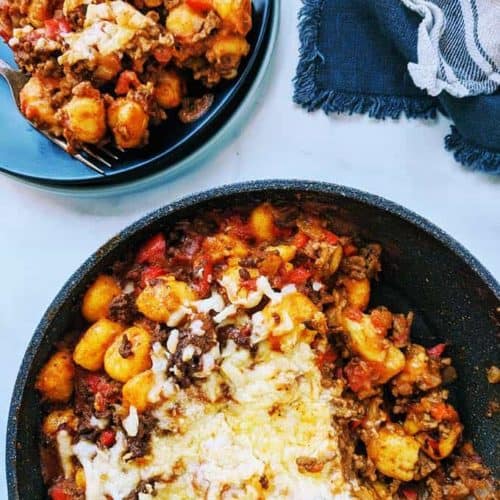 Spicy Ragu Gnocchi | Weight Watchers
This filling and easy Spicy Ragu Gnocchi is 7 SmartPoints per portion on Weight Watchers Freestyle plan.
Ingredients
1

tbsp

olive oil

divided

17

oz

gnocchi

(500g)

2¼

cups

extra lean ground beef

(500g) 5% fat

1

onion

chopped

1

red pepper

chopped

2

garlic cloves

chopped finely

½

tsp

salt

1

tsp

paprika

½

tsp

black pepper

1

pinch

sugar

¼

tsp

garlic powder

¼

tsp

cayenne pepper

1

can

chopped tomatoes

1x 400g / 14.5 oz can

1

beef stock cube / bouillion

made up with 1 cup boiling water (220ml)

⅓

cup

low fat mature cheese

(40g) shredded / grated
Instructions
Heat half of the olive oil in a large skillet/frying pan over a medium heat. Add the gnocchi, gently stirring for 4 - 5 minutes until the gnocchi starts to colour on all sides. Tip the cooked gnocchi into a bowl and set aside till later.

Heat the remaining oil in the skillet and add the chopped onions. Saute them for 3 - 4 minutes till they start to soften. Add the garlic, cook for a minute making sure that you stir it to stop it sticking to the bottom of the pan.

Add the minced/ ground beef, salt, paprika, black pepper, sugar, garlic powder and cayenne pepper. Move the beef around until it has browned and there is no pink left. Add the chopped red pepper and stir to combine.

Add the chopped tomatoes and beef stock and stir to combine. Bring the mixture to the boil then reduce the heat to a simmer. Add the gnocchi and continue to simmer for 15 - 20 minutes, stirring every now and again until the sauce has reduced and most of the liquid has cooked off.

Sprinkle over the grated cheese and either place the skillet under the grill to brown off the cheese or alternatively, place a lid on the skillet and heat for a couple more minutes to melt the cheese.
Notes
Please be aware that the nutritional information below has been automatically generated and does not account for variations in product brands and types, weights of individual ingredients etc.  It should therefore be considered as an estimate.
PointedKitchen.com has calculated Weight Watchers Smart Points based on the individual ingredients used to make this recipe and not from the following nutritional information.
PointedKitchen.com is not responsible for any loss or damage relating to your reliance on this nutritional information.
Nutrition
Nutrition Facts
Spicy Ragu Gnocchi | Weight Watchers
Amount per Serving
% Daily Value*
* Percent Daily Values are based on a 2000 calorie diet.