This simple and tasty Sweet and Sour Chicken is just 2 SmartPoints per portion on Weight Watchers Blue, Purple & Freestyle plans. It's 3 SmartPoints per portion on Weight Watchers Green plan.
Please be aware that this post was written prior to Weight Watchers changing to the WW Personal Points Plan! You can discover exactly how many Personal Points this recipe will be for you by clicking on the blue 'WW Personal Points' button in the recipe card below.
Serve it with Zero Point Egg Fried Cauliflower Rice and you have yourself a delicious and wonderfully low SmartPoint meal.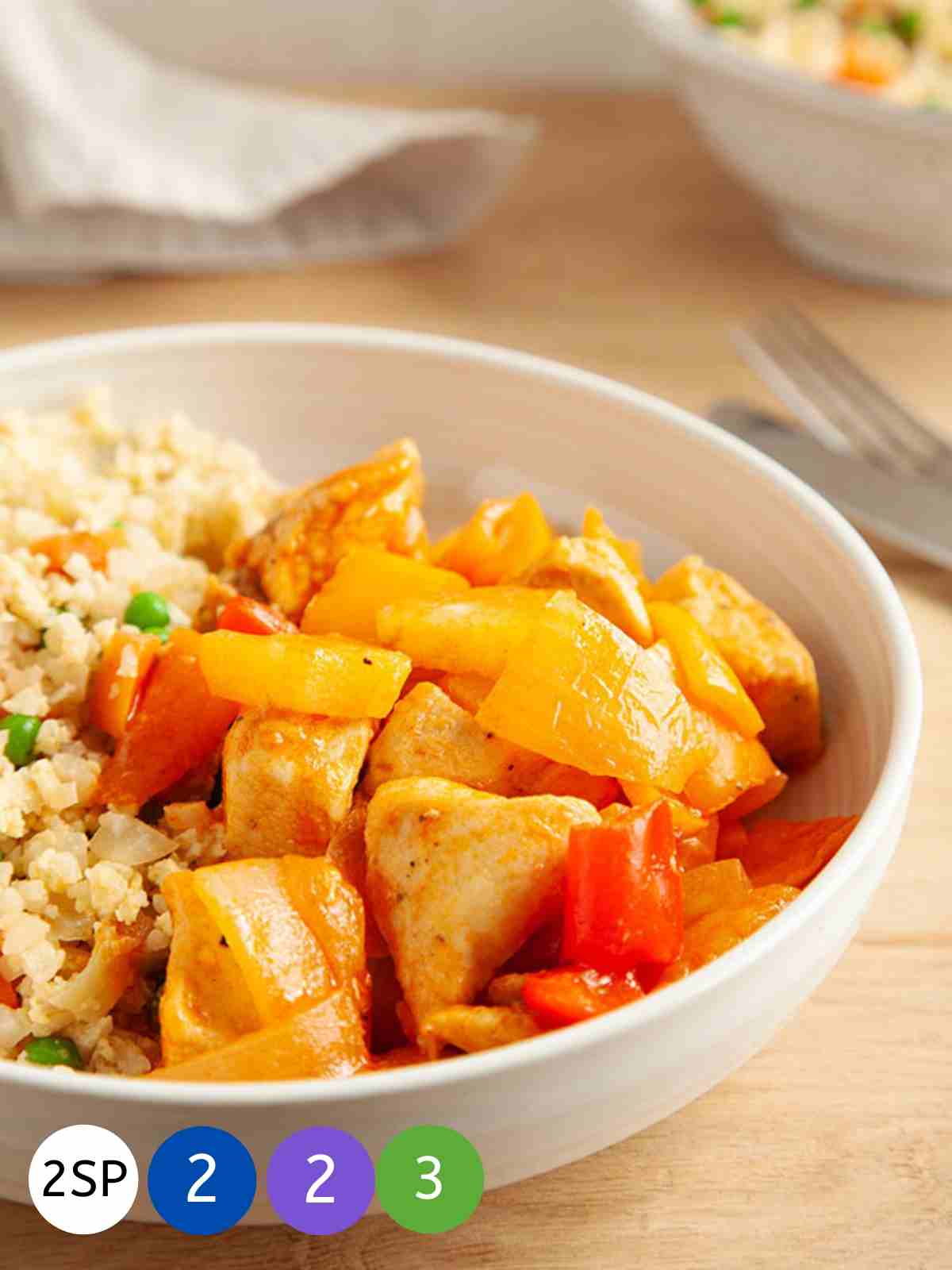 So, to be perfectly honest the first time I heard about this recipe I was pretty suspicious about one of the ingredients in it!
The Wellness Coach from my local WW meeting has been talking for sometime about making a chicken dish using a can of diet Fanta!
She raves about it!
But, I've always found the thought of it a bit, I don't know, bleurgh!
However, a few months ago I was craving a Chinese takeaway, didn't have the spare points to order one in, so I relented and tried out a diet Fanta Sweet and Sour Chicken.
And do you know what, despite my reservations, I really liked it.
And it is so much lower in SmartPoints than ordering a Chinese takeaway or opening a bottle of shop brought sweet and sour sauce.
Over the last couple of weeks I have been playing around with recipe trying to make something that is as closely authentic to Chinese takeaway Sweet and Sour Chicken as I can.
I've added tomato puree, soy sauce and vinegar which gives it a richer sweet and sour flavour.
I have also tried it with assorted ingredients including honey and ginger (both of which were nice) but this is my favourite variation.
It reminds me of the Sweet and Sour Chicken dishes that I used to eat in the early '80's when Chinese takeaways were all the rage!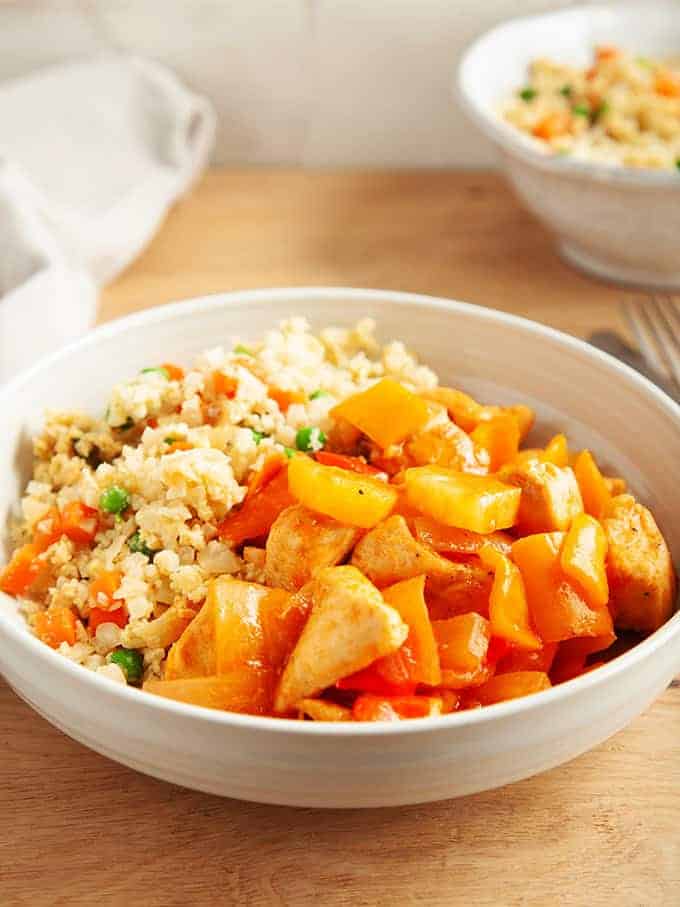 Sweet and Sour Chicken Tips
Toss the chunks of chicken in a little seasoned cornflour (corn starch) before sauteing them.
Doing this helps the chicken colour on the outside but best of all it helps prevent the chicken from drying out and becoming tough when it cooks in the sauce later.
Cut the onions and pepper into biggish chunks for that authentic Chinese food vibe.
Reduce the sauce right down until it has become thick and syrupy and coats the chicken chunks and peppers and onions.
Drain and add the pineapple chunks right at the end just so that they warm through.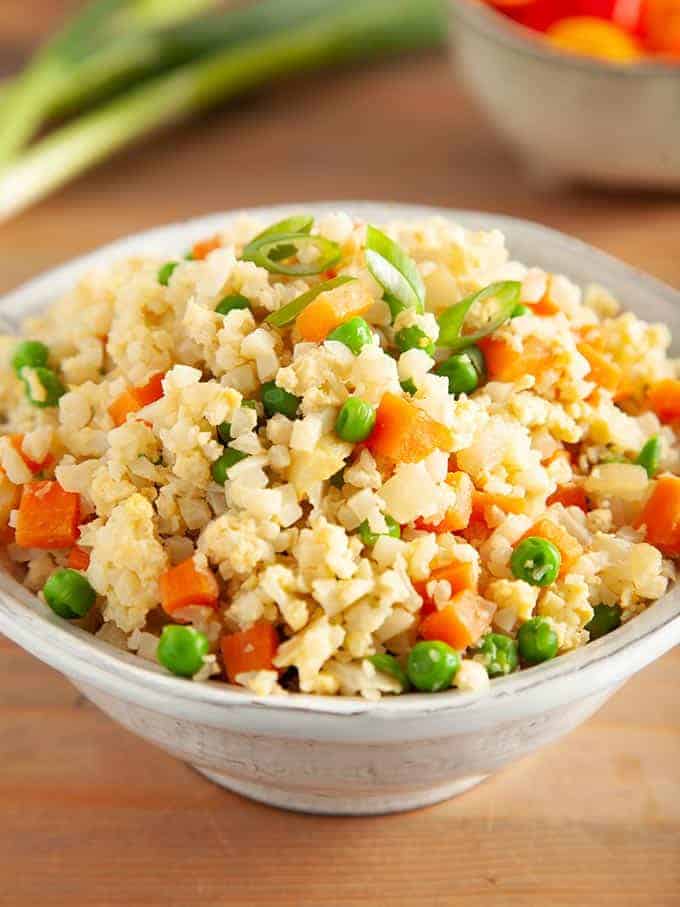 Serving Sweet and Sour Chicken
Serve it with Zero Point Egg Fried Cauliflower Rice for a fantastically satisfying dish of food.
Other Weight Watchers Fakeaway Recipes.
If, like me, you sometimes crave the sweet taste of takeaway food but don't have the Points available, then you may be interested in these recipes.
These easy Chicken Tenders are my go to fakeaway 'fried chicken' recipe. This Chicken Tikka Masala is great if you're not in a rush (it takes hours to marinate & cook) and these 2 ingredient dough Garlic Naan Breads are fantastic served alongside.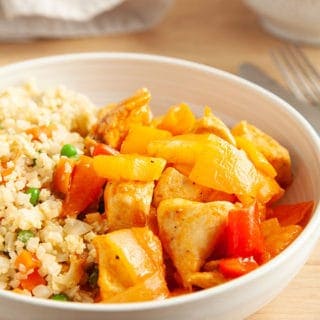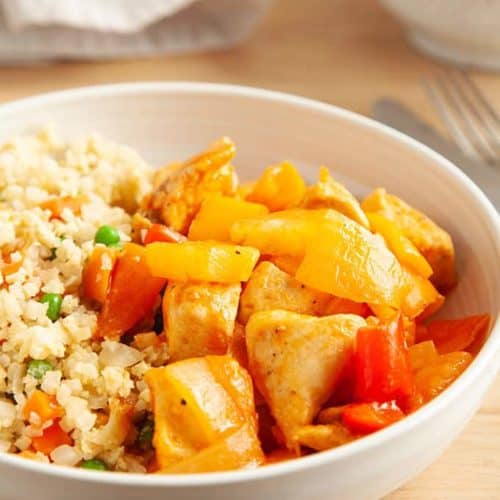 Sweet and Sour Chicken | Weight Watchers
A simple and tasty Sweet and Sour Chicken that is low in Weight Watchers Points. A filling and tasty WW friendly dinner recipe.
Ingredients
2

chicken breasts

cut into equal sized chunks

1

tbsp

cornstarch / cornflour

salt and pepper

1

yellow pepper

de-seeded & cut into chunks

1

red pepper

de-seeded & cut into chunks

1

onion

cut into wedges

1

tbsp

olive oil

divided

1

can

diet fanta

orange flavour

1

can

pineapple chunks in juice

small tin / drained

1

tbsp

light soy sauce

I used amoy

½

tbsp

white wine vinegar

1

tbsp

tomato puree
Instructions
Place the cornflour (cornstarch) into a bowl. Season well with salt and pepper.

Add the chunks of chicken and toss until the bits of chicken are covered with a thin layer of flour. Set aside. 

Heat half of the oil in a large non stick frying pan / skillet over a medium heat. Add the peppers and onion wedges and stir fry for 3 - 4 minutes. 

Add the remaining oil and add the flour coated chicken and fry for another 5 minutes until the chicken has coloured on all sides. 

Pour in the can of diet Fanta and stir in the soy sauce, white wine vinegar and tomato puree. Mix to combine and bring to a simmer.

Simmer for 15 minutes or so, stirring occasionally, until the sauce has reduced significantly and has turned thick and syrupy and the chicken is cooked through.

Stir in the pineapple chunks and cook for another 2 - 3 minutes to warm them through. 

Serve with Zero Point Egg Fried Cauliflower Rice for a low point, delicious meal!
Notes
Please be aware that the nutritional information below has been automatically generated and does not account for variations in product brands and types, weights of individual ingredients etc.  It should therefore be considered as an estimate.
PointedKitchen.com has calculated Weight Watchers Smart Points based on the individual ingredients used to make this recipe and not from the following nutritional information.
PointedKitchen.com is not responsible for any loss or damage relating to your reliance on this nutritional information.
Nutrition
Nutrition Facts
Sweet and Sour Chicken | Weight Watchers
Amount per Serving
% Daily Value*
* Percent Daily Values are based on a 2000 calorie diet.