This smooth and creamy Swede (rutabaga) & Carrot Mash is zero SmartPoints on Weight Watchers Blue, Purple and Green plans. It makes a perfect accompaniment to any Weight Watchers dinner recipe.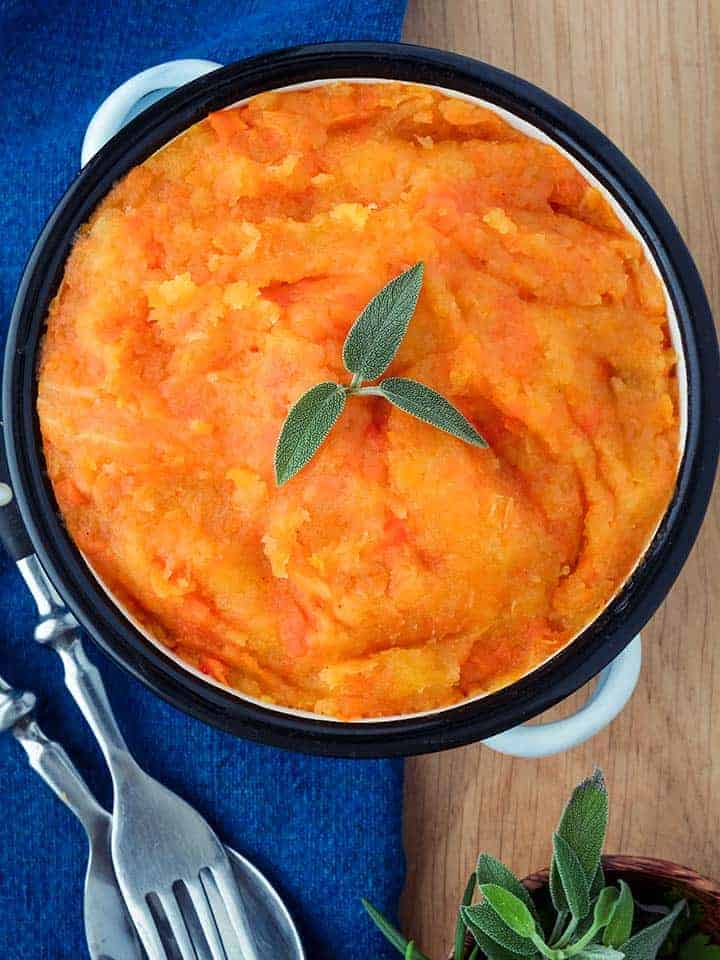 For anyone following the myWW Blue plan or the myWW Green plan and craving mashed potatoes, this is a great alternative. It has a similar consistency and density to mashed potato & can be used in the same way.
Of course if you are on the myWW Purple plan, then potatoes don't have to be pointed so away you go with your mashed potato if that's what you fancy!!
However, I love this mashed swede and carrot & would actually sometimes choose it over potato. It's a little less heavy.
It has a lovely creamy texture and has a sweet flavour with just a hint of earthy swede.
I sometimes use it as an alternative topping on pies like this Easy Fish Pie or as an accompaniment to dishes like this Creamy Chicken Casserole and this Chicken Marsala.
It also makes the most fantastic zero point addition to a good old roast dinner!
What is Swede?
A swede, also known as a Rutabaga, Swedish turnip or yellow turnip is a root vegetable that is a member of the cabbage family.
Yep, you read that right! It's a member of the cabbage family. It was originally a hybrid of a cabbage and a turnip.
It is round in shape and has a creamy coloured skin which turns to a greenish purple colour at its crown. The flesh is a pale yellow colour.
There are many ways that they can be eaten, raw if young enough, or boiled mashed, roasted, pureed etc.
What does Swede / Rutabaga taste like?
Swede has a sweet taste with a mild earthy flavour.
The smaller the swede the sweeter the flavour.
Larger swedes tend to lose their flavour a bit so stick to ones that are no bigger than your hand.
How do you prepare Swede / Rutabaga?
You can prepare swede in the same way as you would prepare a potato!
Chop off the root
Peel with a potato peeler
Cut to size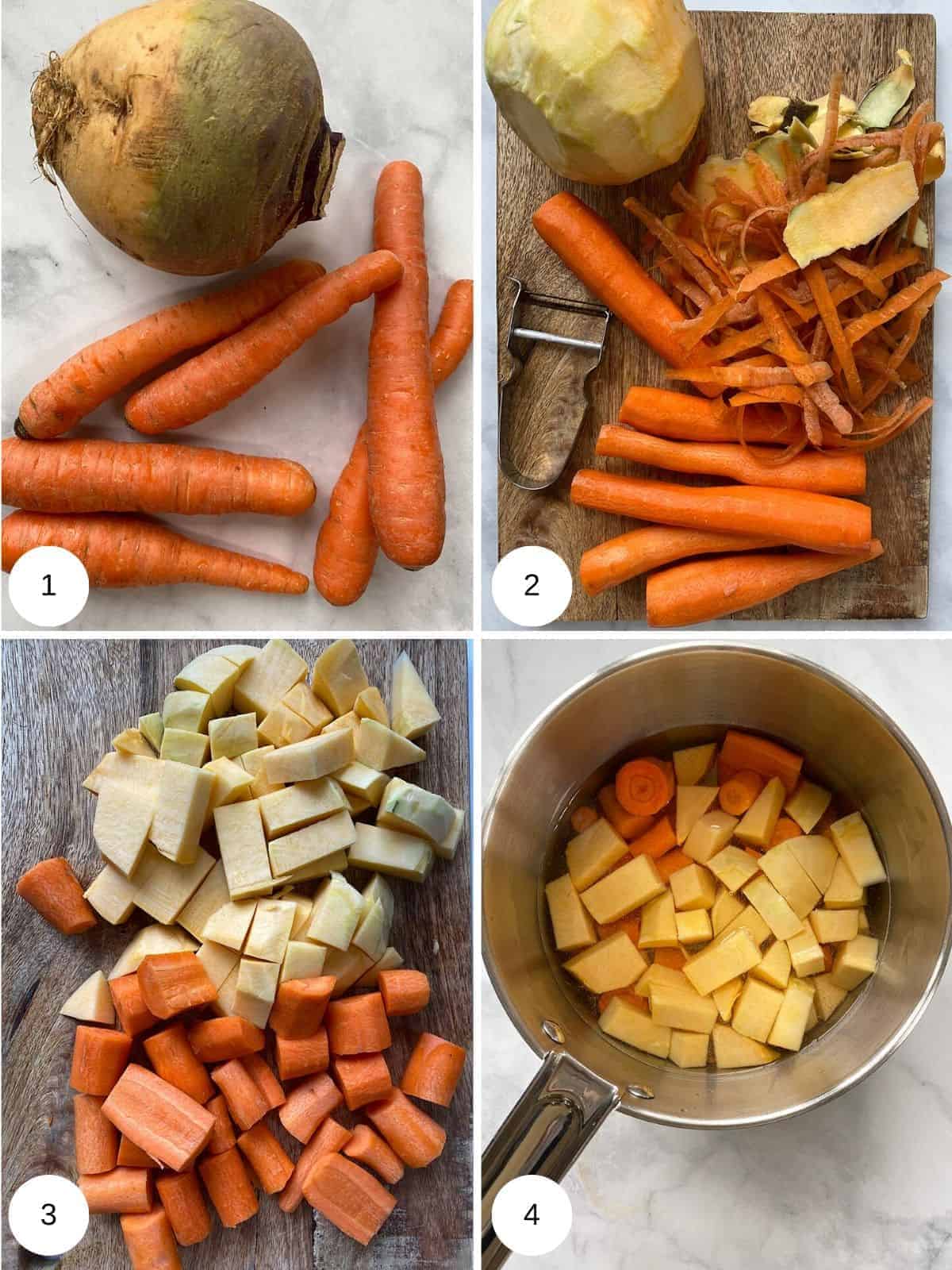 Tips for making the mash
Chose a smallish swede - something a little bigger than a cricket ball (picture 1)
Prepare the swede by chopping off the root and peeling with a potato peeler (picture 2)
Prepare the carrots by topping and tailing them and then peeling them with a potato peeler.
Chop the swede and carrots into similar size chunks.
Place in a saucepan of cold, salted water and bring to the boil.
Turn down the heat to a simmer, cover the saucepan and cook for 20 - 25 minutes or until you can insert a knife into the flesh easily.
Do not over cook the swede as it does have a tendency to break apart if cooked too much.
Remove from the heat, drain well and return to the saucepan.
Heat gently to ged rid of any left over water
Spray with the calorie controlled spray oil.
Add salt and pepper and mash with a potato masher until the desired consistency is reached.
Storing Swede & Carrot Mash
Any left over Swede & Carrot Mash can be put in a sealed container (as soon as it is cool) and can be kept in the refrigerator for a couple of days.
To reheat the mash from chilled, place it in a suitable microwave container and heat until piping hot.
Alternatively, you can bag it up into freezer friendly bags (as soon as it is cold enough) and keep it in the freezer for a couple of months.
To reheat the mash from the freezer, allow it to defrost and place it in a suitable microwave container. Cook on high till piping hot.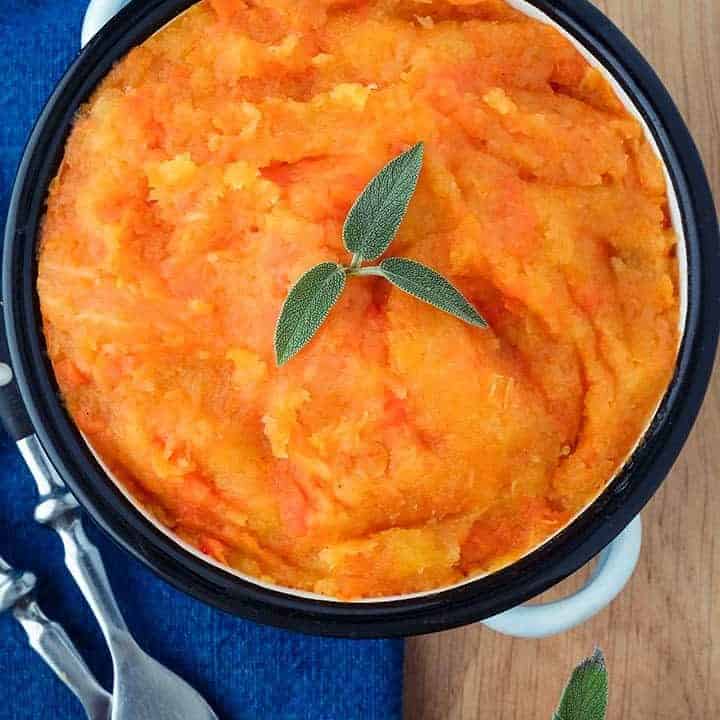 Swede (Rutabaga) & Carrot Mash | Weight Watchers
A smooth and creamy Swede and Carrot Mash that is zero SmartPoints on Weight Watchers Green, Blue, Purple and Freestyle plans. A tasty side dish for any WW dinner recipe.
Ingredients
1 Swede / rutabaga / swedish turnip (approx 400g)
6 - 7 carrots (approx 400g)
Calorie controlled cooking oil
Salt
Ground black pepper
Instructions
Peel and chop the swede / rutabaga and chop into chunks approx 2cm
Top and tail the carrots, peel and chop into chunks approx 2cm
Place the chunks into a large saucepan of cold, salted water.
Bring to the boil then once boiling reduce the heat to a simmer and cover.
Simmer for 25 - 30 minutes until a knife pierces the vegetables with ease.
Remove from the heat and drain.
Return the swede / rutabaga and carrot chunks to the saucepan and place on a low heat to rid it of any left over water (1 - 2 minutes)
Turn off the heat and spray with approx 10 sprays of calorie controlled cooking oil.
Season with some salt and lots of freshly ground black pepper.
Mash with a potato masher until it reaches a desired consistency.
Check the seasoning and serve.
Recommended Products
As an Amazon Associate and member of other affiliate programs, I earn from qualifying purchases.
Nutrition Information:
Yield:

4
Serving Size:

1
Amount Per Serving:
Calories:

73
Total Fat:

0g
Saturated Fat:

0g
Trans Fat:

0g
Unsaturated Fat:

0g
Cholesterol:

0mg
Sodium:

215mg
Carbohydrates:

17g
Fiber:

5g
Sugar:

8g
Protein:

2g
Please be aware that the nutritional information above has been automatically generated and does not account for variations in product brands and types, weights of individual ingredients etc.  It should therefore be considered as an estimate. PointedKitchen.com has calculated Weight Watchers Smart Points based on the individual ingredients used to make this recipe and not from the following nutritional information. PointedKitchen.com is not responsible for any loss or damage relating to your reliance on this nutritional information.