If you are following any of the Weight Watchers plans and are looking for a zero point snack that hits the spot when you're craving candy, then look no further than these zero point Jello Grapes!
A portion of these candied grapes are zero SmartPoints on myWW Green plan, myWW Blue plan and myWW Purple plan.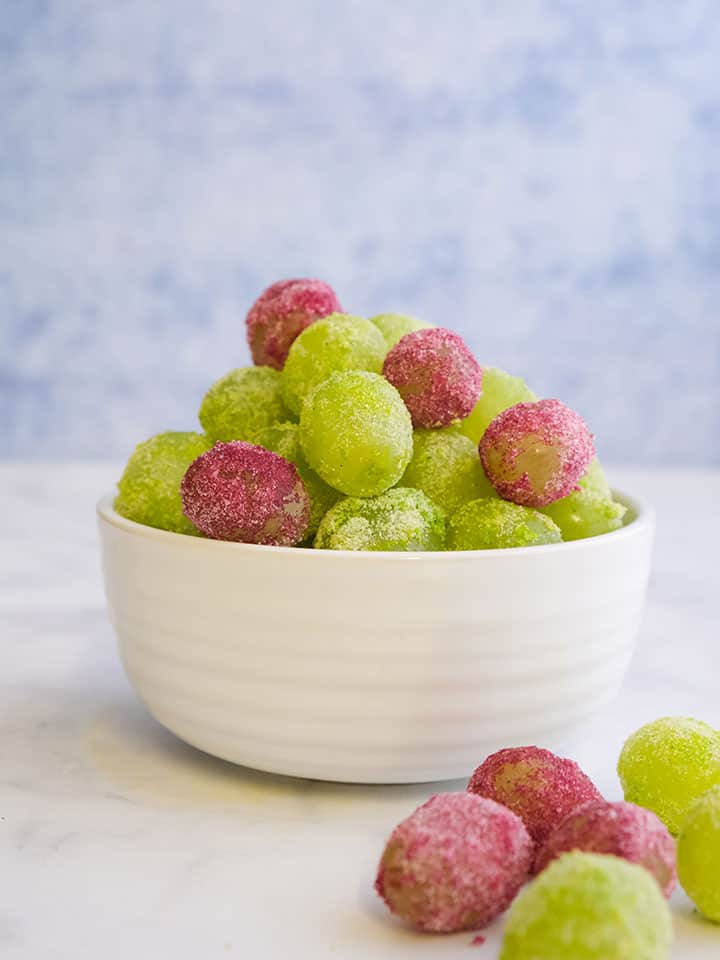 For years now, I have heard people talking about these Jell-o coated grapes.
If you go along to WW workshops or hang out on the WW forums on social media my betting is that you have heard of them too.
But it wasn't until this year that I actually started to make them myself and oh my goodness what took me so long!
They really hit the spot when you are craving something sweet!
I have tried them with different flavours of jello powder and different varieties of grapes and I am still experimenting.
My favourite has to be cotton candy grapes with lime flavoured Jell-o!
I suggest that you experiment yourself to find your own perfect combination.
How many SmartPoints per portion?
As I am sure you are aware Weight Watchers changed their program at the end of 2019.
It now includes 3 individual plans, giving anyone following the WW program lots of choice on how they use their SmartPoint allocation.
Using the official WW recipe builder I have worked out the SmartPoints for these Jell-o grapes for each one of the plans.
myWW Green plan - 0 SmartPoints per portion
myWW Blue plan - 0 SmartPoints per portion
myWW Purple plan - 0 SmartPoints per portion
Freestyle plan - 0 SmartPoints per portion
A portion of these jello grapes equates to approx half a cup (50g) of grapes.
Strictly speaking you could actually eat the whole lot (4 portions) for Zero SmartPoint but I wouldn't suggest it!
Read the bit about artificial sweeteners below to see why 😀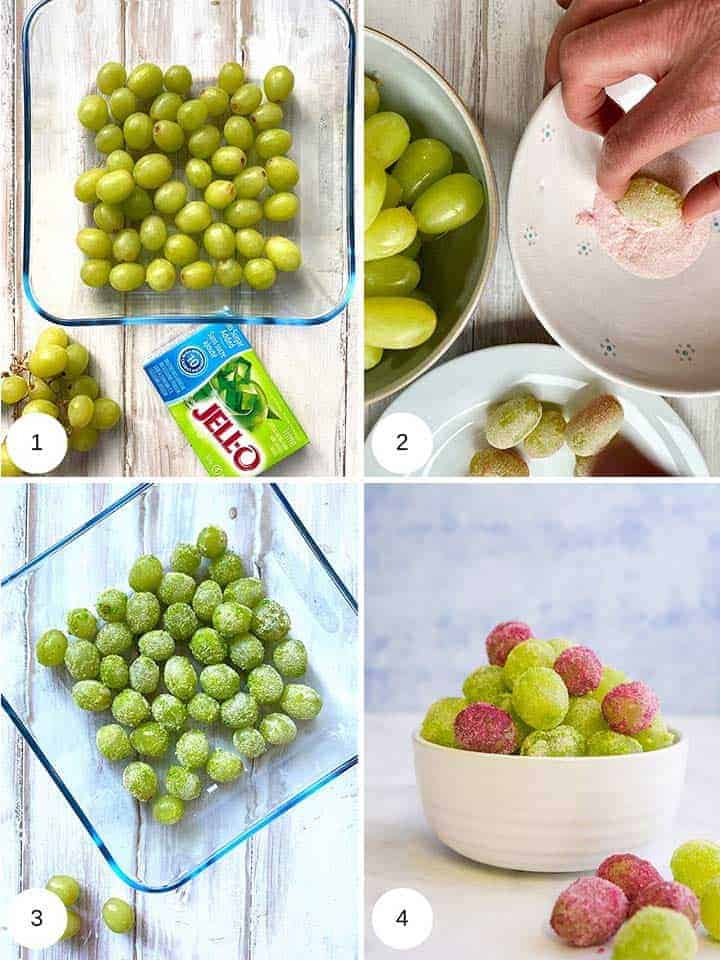 How to make them?
To see the quantities I used scroll on down to the recipe card below.
Rinse the grapes in a colander. Don't dry the grapes after rinsing - you want them to be damp so that the Jell-o powder sticks to them
Empty the sachet of Jell-o powder into a small bowl.
I find that rolling the grapes in the powder one by one (picture 2) gives the best Jell-o coverage.
I have also tried placing the grapes in a bowl ( & a ziplock bag) and tossing them with the powder. However, I was left with little clumps of Jell-o falling off the grapes, parts of the grapes are left uncovered and other parts had lots of powder attached making them too tart.
If you don't want to use your fingers then you can poke a cocktail stick into the end of the grape and use it to roll the grape round in the Jell-o powder.
Place the jell-o covered grapes in a single layer in a refrigerator safe container.
Chill for at least an hour
After chilling, remove and eat as you would candy!
What about storing them?
After placing in the refrigerator for an hour or so, the Jell-o Grapes are ready to eat.
They will stay good in the refrigerator for a couple of days.
I tend to make a batch of Jell-o Grapes and place them in a freezer friendly container.
I put them in the freezer and snack on them over a week or so.
You can eat them straight from the freezer (still frozen) or you can let them thaw for a few minutes before eating.
I LOVE eating them frozen 😀
A few words about Artificial Sweeteners!
The sugar free Jell-o powder (or Sugar Free Hartley's Jelly if you are in the UK) is made with artificial sweeteners to give it a sweet taste.
These artificial sweeteners have far fewer calories than sugar (& on the whole don't cause tooth decay) but they do have their disadvantages.
Amongst these disadvantages are their tendency to cause bloating and stomach cramps in some people.
Other 'digestive problems' are also reported but I won't talk about them here on a food blog... ;D ;D
If you would like further information about artificial sweeteners please take a look at this article by the FDA.
More Weight Watchers Dessert Recipes.
If, like me, you love dessert then you may be interested in these Weight Watcher friendly dessert recipes.
This Lime Fluff is a favourite of mine, as is this self saucing Lemon Pudding
If you are looking for a candy treat then how about these Zero Point Gummy Bears? Or take a look at this list of Low Point Chocolate.
If you prefer to stay away from artificial sweeteners then these Pumpkin Spiced French Toast Muffins are delicious and these Baked Egg Custards are really popular!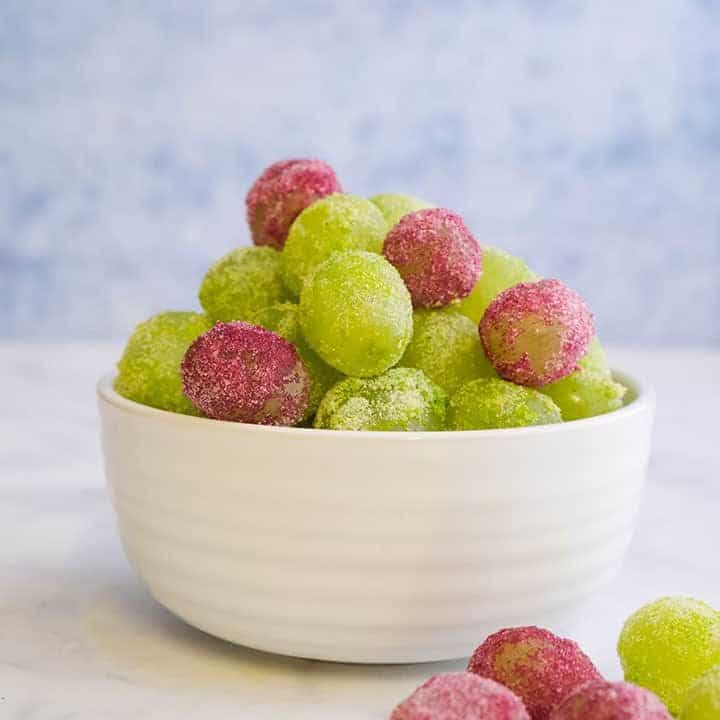 Jello Grapes | Weight Watchers
Total Time:
1 hour
10 minutes
These Jello Grapes are so simple to prepare & make a perfect zero point sweet treat for anyone following any of the Weight Watchers plans.
Ingredients
2 cups of grapes (approx 200g)
1 x 0.3oz sachet sugar free flavoured jell-o gelatin / 1 x 11.5g sachet sugar free Hartley's jelly
Water
Instructions
Rinse the grapes in a colander - do not allow to dry - the grapes still need to be wet
Tip the sugar free flavoured jell-o gelatin into a small bowl.
Dip the grapes one by one into the powder, rolling them around so that they are evenly covered with the mixture.
If the grapes start to dry out, you can rinse them again. I wouldn't suggest keeping them in water as I find that they become too wet and the powder tends to clump together.
Place the gelatin covered grapes in a single layer in a refrigerator / freezer friendly container.
Either place the grapes into the refrigerator for an hour or so (until the jell-o powder hardens to the grapes) or place in the freezer and freeze.
Remove from the refrigerator and eat chilled OR
Remove from the freezer once frozen and eat like that.
Nutrition Information:
Yield:

4
Serving Size:

1
Amount Per Serving:
Calories:

81
Total Fat:

0g
Saturated Fat:

0g
Trans Fat:

0g
Unsaturated Fat:

0g
Cholesterol:

0mg
Sodium:

29mg
Carbohydrates:

21g
Fiber:

1g
Sugar:

18g
Protein:

1g
Please be aware that the nutritional information above has been automatically generated and does not account for variations in product brands and types, weights of individual ingredients etc.  It should therefore be considered as an estimate. PointedKitchen.com has calculated Weight Watchers Smart Points based on the individual ingredients used to make this recipe and not from the following nutritional information. PointedKitchen.com is not responsible for any loss or damage relating to your reliance on this nutritional information.