This Mashed Celeriac (celery root) is zero points on Weight Watchers Blue, Green and Purple plans. It is also zero SmartPoints on the Freestyle plan.
To find out how many Personal Points this recipe will be for you & to track it in the WW App, click on the blue button in recipe card below!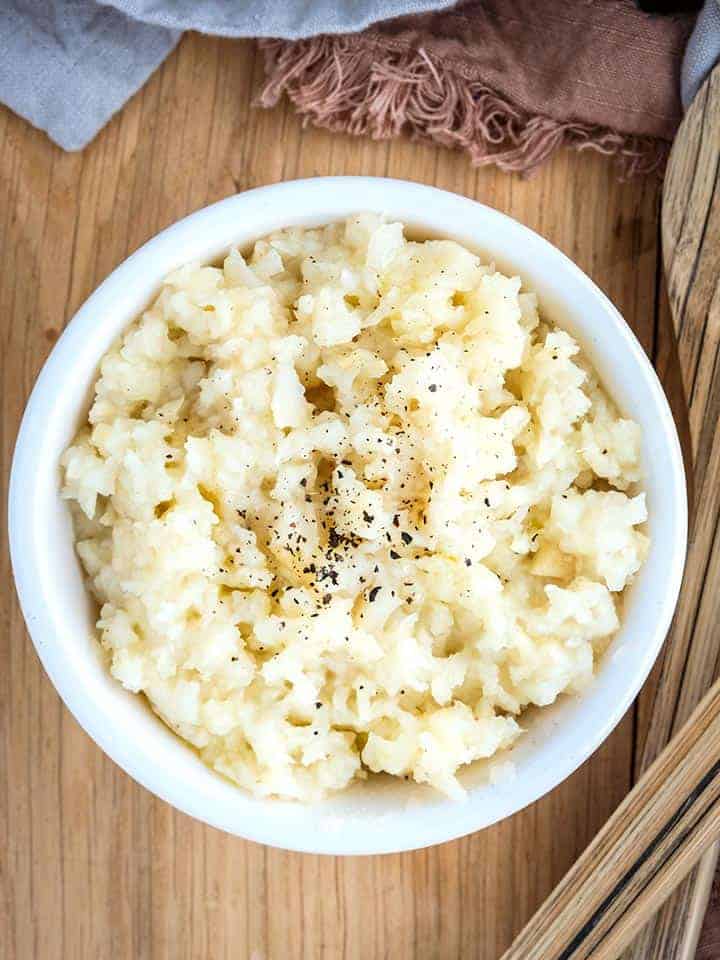 Who knew that you could make such a tasty and filling WW side dish from such an ugly vegetable!!
I really don't mean to 'ugly shame' but celeriac / celery root really must be the most unpleasant looking vegetable around.
It is knobbly, warty, hairy and wrinkled 😀
But it tastes divine!
If you have always been put off by the look of celeriac, please give it a go and try it.
It really is delicious and it will add another very versatile vegetable to your Weight Watchers zero point foods.
What is a celeriac?
Celeriac, also called celery root and knob celery is an odd shaped vegetable that is very popular in France & South America.
It is a variety of celery but is more like a root vegetable.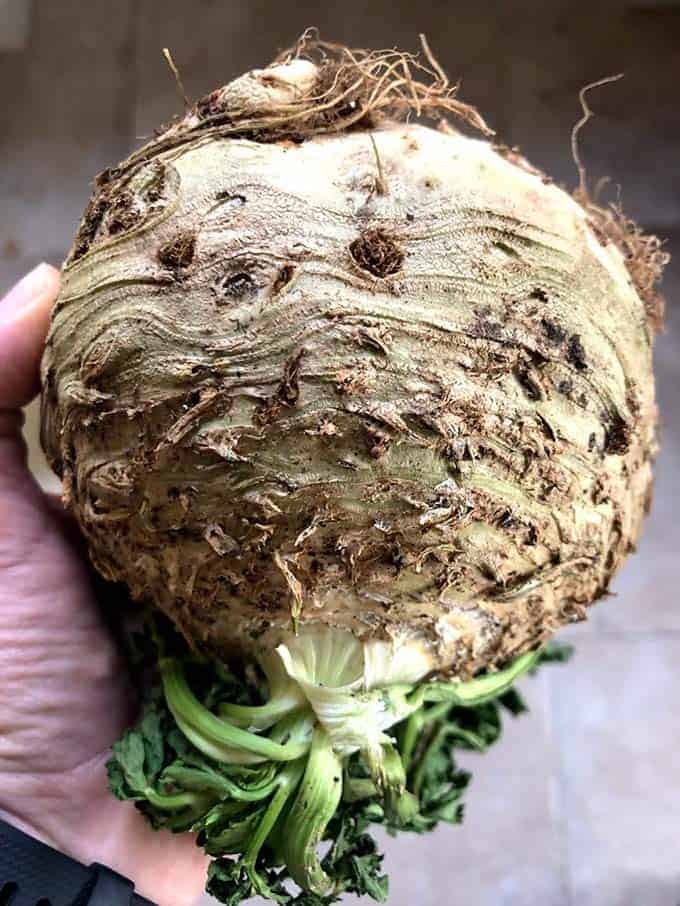 What do celeriac taste like?
Celeriac has a nutty, mild celery like flavour which has a slight sweetness to it.
It is starchy and has a similar texture to potato which makes it ideal for mashing.
It can also be eaten raw in salads or can be baked, roasted, boiled etc.
But How do I prepare it?
It may look daunting to tackle but stick with it, it will be worth it.
It needs to be peeled before eating - the skin really isn't nice to eat.
Start but giving it a wash and removing any dirt that has got trapped in its gnarly crevices. You can even use a scrubbing brush to do this.
Chop off the top and bottom of the celeriac with a sharp knife.
Use a potato peeler or knife to peel off the skin and then use the knife to trim off any knobbly bits that are still attached.
You will then end up with a bulb of creamy coloured flesh that can be chopped into pieces as small or large as you want.
If you are wanting to eat the celeriac raw, you can use a potato peeler to shave off bits to add to a salad etc.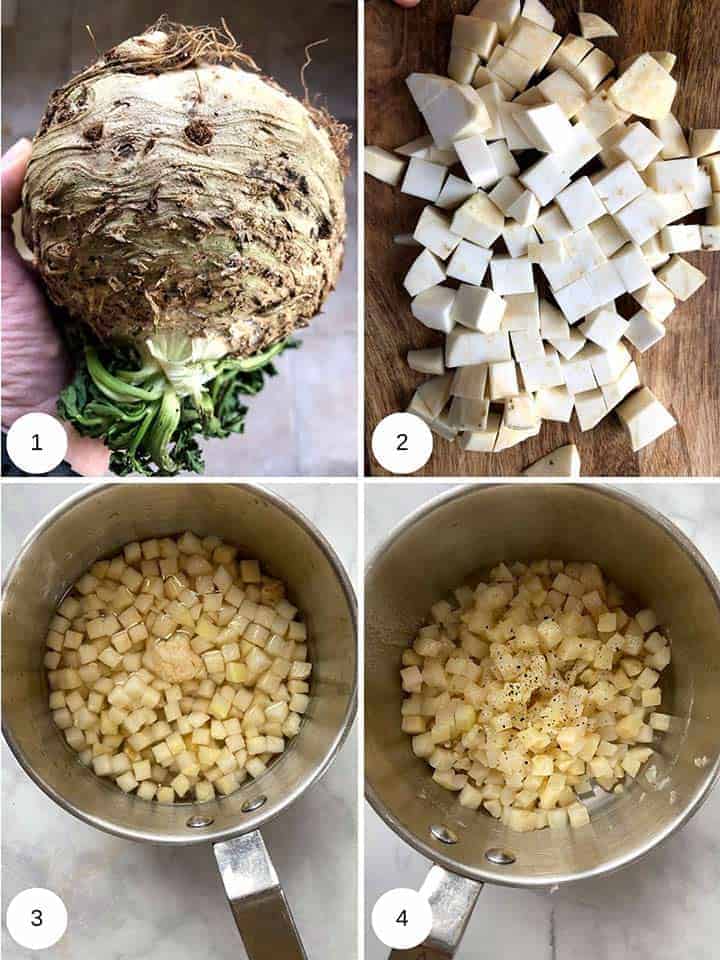 A few tips for making this Mashed Celeriac
Prepare the celeriac as detailed above.
Cut into small chunks of equal size - about 1 to 2 cm
Place the chunks of celeriac into a saucepan and pour over cold water to just cover the chunks.
Add a little salt and stir
Bring to the boil
Reduce to a simmer and cook for approx 15 minutes until the chunks are nice and soft.
When a knife pierces the flesh easily, the celeriac is done.
Remove from the heat and drain.
Add the celeriac back to the pan and over a low heat cook the celeriac for a minute or two to steam off any excess water.
Add a little salt and some freshly milled black pepper.
Mash with a fork or a potato masher until smooth.
Serve!
Other WW recipes including celeriac
If you enjoyed this Mashed Celeriac, you may also enjoy this Celeriac Soup with Crispy Bacon and Croutons.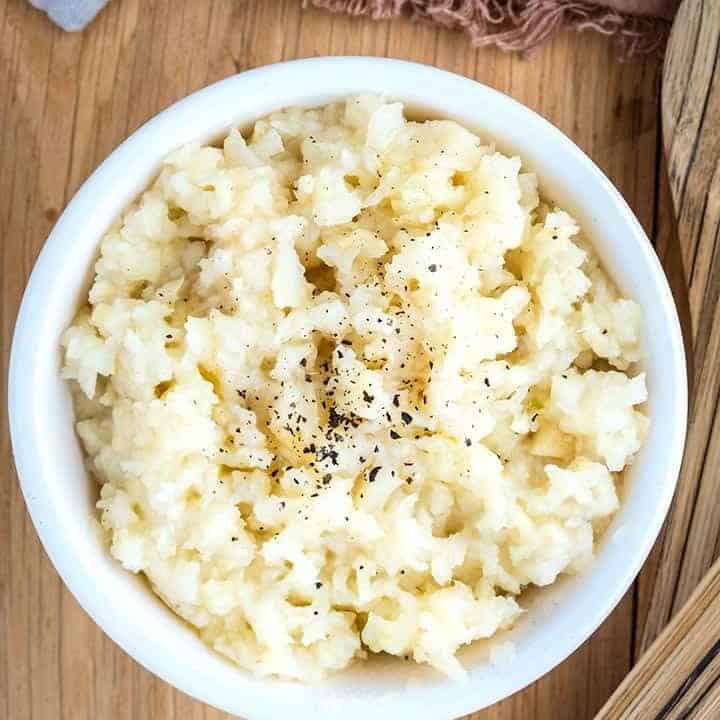 Mashed Celeriac | Weight Watchers
This light and fluffy Celeriac Mash is zero SmartPoints on Weight Watchers Blue, Purple and Green plans. It is also zero SmartPoints on Weight Watchers Freestyle plan. A perfect accompaniment to any Weight Watchers dinner recipe.
Ingredients
1

medium

Celeriac

(approx 600g)

Salt

Freshly ground black pepper
Instructions
Prepare the celeriac by peeling it and chopping it into small chunks (1 - 2cm squares)

Place the chunks of celeriac in a saucepan and cover with cold water.

Add a little salt.

Bring to the boil and then reduce to a simmer for 15 minutes or so until the chunks are fork tender.

Remove from the heat and drain the water before returning the celeriac to the pan.

Return the pan to a very low heat just until any excess water has steamed off.

Add a little more salt and some ground black pepper.

Mash with a fork or a potato masher until it is light and fluffy.

Enjoy as an accompaniment to any Weight Watcher dinner recipe.
Nutrition
Nutrition Facts
Mashed Celeriac | Weight Watchers
Amount per Serving
% Daily Value*
* Percent Daily Values are based on a 2000 calorie diet.