This Celeriac Soup is topped with pieces of crispy bacon and a few crunchy croutons.
At just 2 SmartPoints per portion on Weight Watchers Blue, Purple, Green and old Freestyle plans it makes a wonderfully tasty & satisfying WW lunch.
The soup is easy to make and keeps well in the fridge for a couple of days. Alternatively it can be frozen for up to a month in a freezer proof container.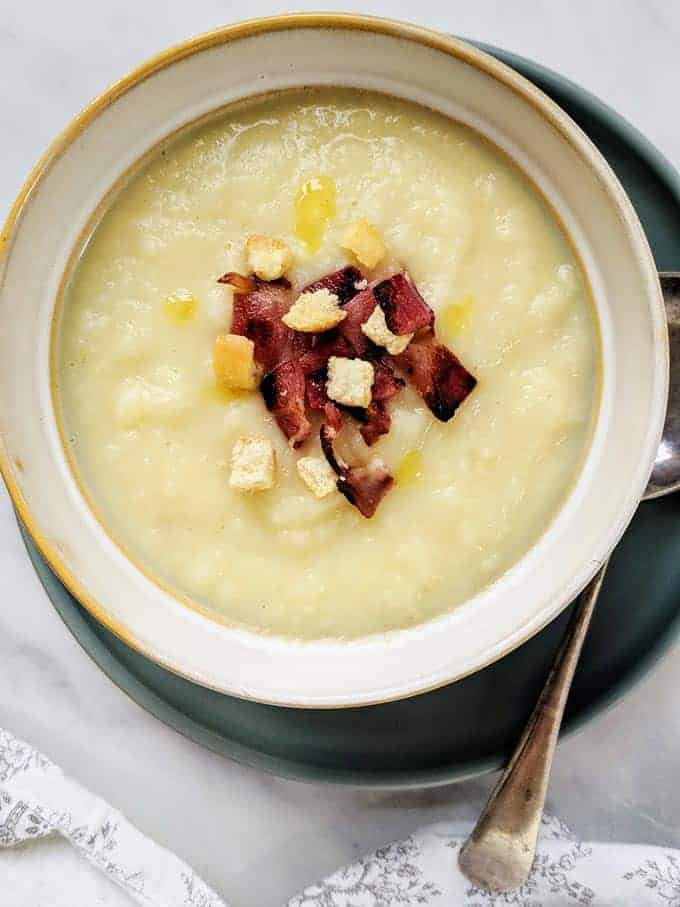 Who knew that such an ugly, gnarly vegetable such as celeriac could make such a wonderful soup?
If you've been put off by celeriac's knobbly, hairy looks, I beg you to give it a go as it's such a versatile and tasty vegetable.
Looks can be deceiving!
As well as making delicious WW friendly soup, it can be eaten raw & grated in salads. It can be boiled and mashed as a topping for fish pie or cut up and made into zero point fries.
Celeriac (also known a celery root) has a mild celery like flavour with a hint of nuttiness. It's very good for you, being a good source of dietary fibre.
It makes a wonderful creamy soup, that is full of heart and is very satisfying. Top it off with a sprinkling of crushed croutons and a some salty bacon bits for a really delicious low point lunch.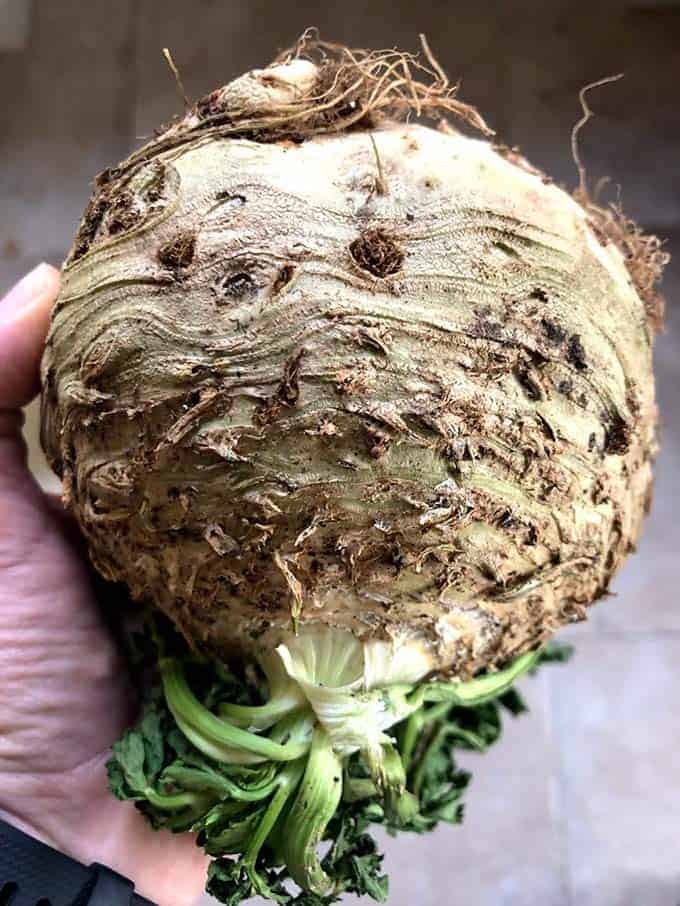 How to prepare celeriac
Be prepared to discard quite a bit of the celeriac! The skin can be thick and gnarly and all of it needs to be removed.
Use a sharp knife to top and tail the celeriac.
Use a knife or a potato peeler to remove the tough, gnarly outer skin.
You can then use a sharp knife to remove any blemishes or knots.
The white fleshy bulb can then be cubed, chopped into fries or grated into salads .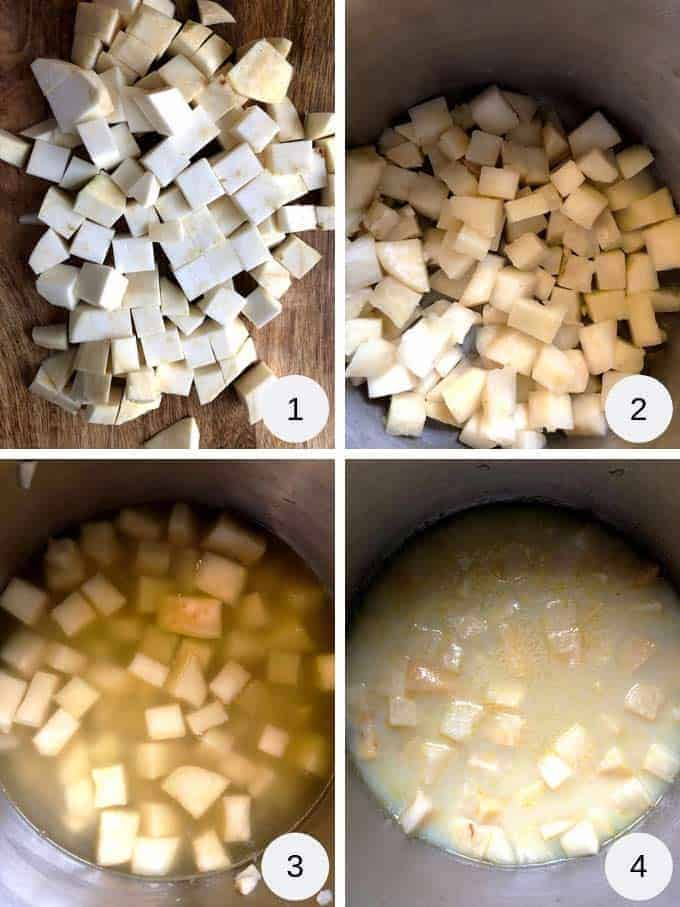 Tips for making Celeriac Soup.
Prepare the celeriac by top & tailing it and removing the tough outer skin.
Chop the celeriac into cubes measuring approximately 1 cm squared (picture 1).
Heat the oil in a large saucepan and once hot, add the cubed celeriac. Saute for around 15 minutes over a low/medium heat, making sure that you stir often to prevent it from sticking to the bottom of the pan. You can always add a splash of water towards the end of the fifteen minutes if it does start to stick.
The celeriac will have started to soften (picture 2). Add the chopped garlic and cook for a further 1 minute or so.
Add the stock to the pan (picture 3) and bring to the boil. Reduce the heat to a simmer and cook for a further 10 - 15 minutes until the celeriac is nice and tender.
Add the milk (picture 4) and continue cooking for a minute or so.
Remove from the heat, season and use an immersion blender to blend into a smooth soup. Alternatively, to make a super smooth soup, process batches of the mixture through a kitchen blender.
Add a touch of hot water and stir if you prefer a thinner soup.
Serve warm as is, or see below for more serving suggestions.
This post may contain affiliate links. As an Amazon Associate I earn from qualifying purchases. Visit this page to see what that means.
How I served this Celeriac Soup.
I served this soup with some crunchy bacon bits and some shop brought croutons. The soup works out at 2 SmartPoints per portion and this includes the bacon bits and croutons.
Spray the bottom of a non stick frying pan with calorie controlled oil and fry the bacon medallions.
Remove from the heat, chop into small pieces.
Use one quarter of the bacon bits for each bowl of soup.
Top with a couple of croutons.
I used Valledoro Crostini available from the co-op in the UK.  They work out at 1 SmartPoint for 10 grams of croutons.
If you are in the US you can use Olive Garden Seasoned Croutons, available from Amazon, which work out at 1 smartPoint for 7 grams.
Storing / Freezing Celeriac Soup
The soup can be kept in the fridge for a couple of days (without the toppings).
Alternatively, you can freeze it in a freezer proof container for up to a month. Defrost and reheat before adding the croutons and bacon bits.
If you like the recipe for this Celeriac Soup, you may also enjoy this Spicy Parsnip Soup or this Carrot & Coriander Soup. This Pea Soup is also delicious and only 1 SmartPoint per serving.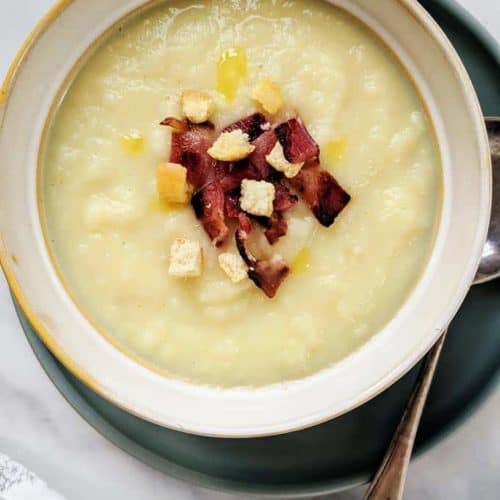 Celeriac Soup | Weight Watchers
This creamy celeriac soup, topped with bacon bits and crunchy croutons is just 2 SmartPoints per bowl on Weight Watchers Freestyle plan
Ingredients
½

tbsp

olive oil

1

large celeriac / celery root

approx 900g, skin removed & chopped

1

large garlic clove

chopped

1

vegetable stock cube

made up with 1 litre / 4¼ cups boiling water

salt and pepper

7

tbsp

skimmed milk

(100ml)

calorie controlled cooking spray

Frylight / Pam

2

bacon medallions

optional

1

tbsp

croutons

optional
Instructions
Heat the oil in large saucepan. When hot, add the chopped celeriac and cook for approx 15 minutes making sure that you stir often to prevent it from sticking to the bottom of the pan. If it does start to stick towards the end of cooking add a couple of tablespoons of water to the pan.

Add the chopped garlic and saute for a further 1 - 2 minutes before adding the stock. Bring to the boil, reduce the heat and simmer for 10 - 15 minutes until the celeriac is nice and soft. Add the milk, stir and cook for a further minute before taking off the heat.

Use a hand blender to make a smooth soup (or put batches of it through a blender if you prefer). Season to taste.

If you are wanting to serve the soup with bacon, keep the soup warm whilst you fry the bacon medallions in a frying pan with a couple of pumps of calorie controlled spray oil. Once it is nice and crispy, remove it from the pan and chop it into small pieces.

Serve the soup hot, with a sprinkling of bacon bits and a couple of croutons.
Notes
Please be aware that the nutritional information below has been automatically generated and does not account for variations in product brands and types, weights of individual ingredients etc.  It should therefore be considered as an estimate.
PointedKitchen.com has calculated Weight Watchers Smart Points based on the individual ingredients used to make this recipe and not from the following nutritional information.
PointedKitchen.com is not responsible for any loss or damage relating to your reliance on this nutritional information.
Nutrition
Nutrition Facts
Celeriac Soup | Weight Watchers
Amount per Serving
% Daily Value*
* Percent Daily Values are based on a 2000 calorie diet.