Missing candy? Then you will love these Zero Point Gummy Bears! Made with sugar free jell-o these tasty little chewy candies are a perfect snack for anyone following any of the Weight Watchers plans.
Please be aware that this post was written prior to Weight Watchers changing to the WW Personal Points Plan! You can discover exactly how many Personal Points this recipe will be for you by clicking on the blue 'WW Personal Points' button in the recipe card below.
Using just three ingredients, one of those being water 😀 these Gummy Bears really are simple to make! I love them for a guilt free snack when fruit just won't cut it!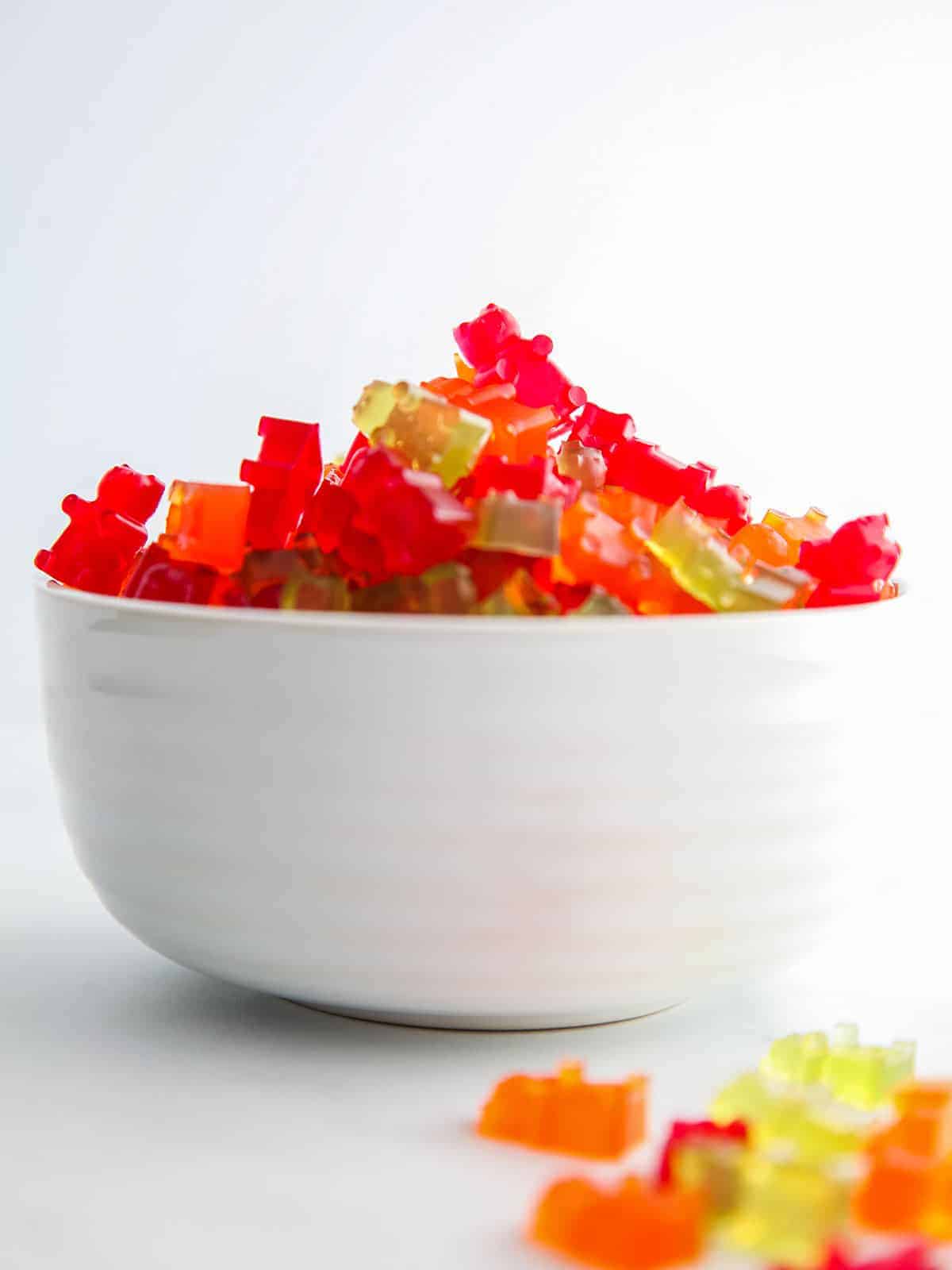 Ok, I don't know about you but sometimes I really crave candy!
I love the little gummy bears that you can now buy from the (UK) Weight Watchers online shop but they are quite pricey .... and 3 SmartPoints per bag.
I also like store brought sugar free gummy bears but my stomach doesn't like them quite so much 😀
If you know what I mean!
So these little gummies are just perfect. They give me the satisfaction of candy but without the SmartPoints and minus the stomach cramps.
Having said that, you probably shouldn't eat vast amounts in one sitting as sugar free jell-o still contains the artificial sweetener aspartame which some report to cause stomach troubles.
Just a warning!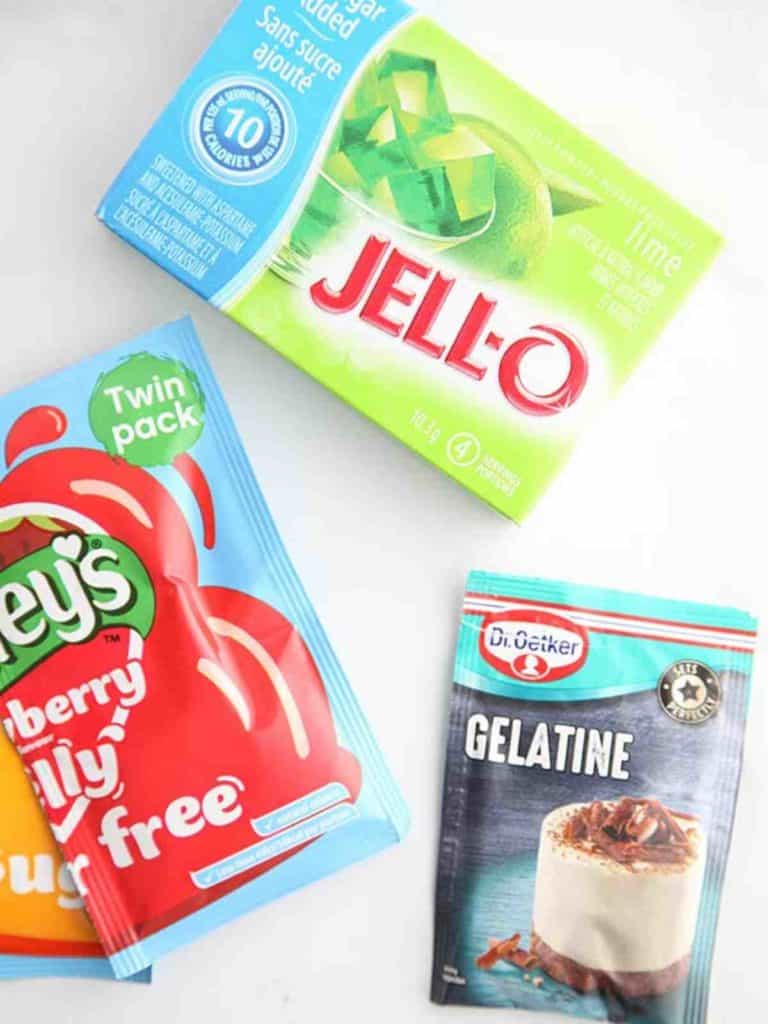 This post may contain affiliate links. As an Amazon Associate I earn from qualifying purchases. Visit this page to see what that means.
Which flavoured gelatine can I use
There are a number of brands that make sugar free flavored gelatine powders.
All brands can be purchased at most major food stores or online from Amazon.
Jell-o make a good range of flavours including Cherry, Lemon, Raspberry, Lime, & Peach.
Hartley's (UK) make a Lemon & Lime, Blackcurrant, Orange, Raspberry and Strawberry flavours.
Royal make Orange, Raspberry and Lime flavours but I haven't tried this brand so can't vouch for it.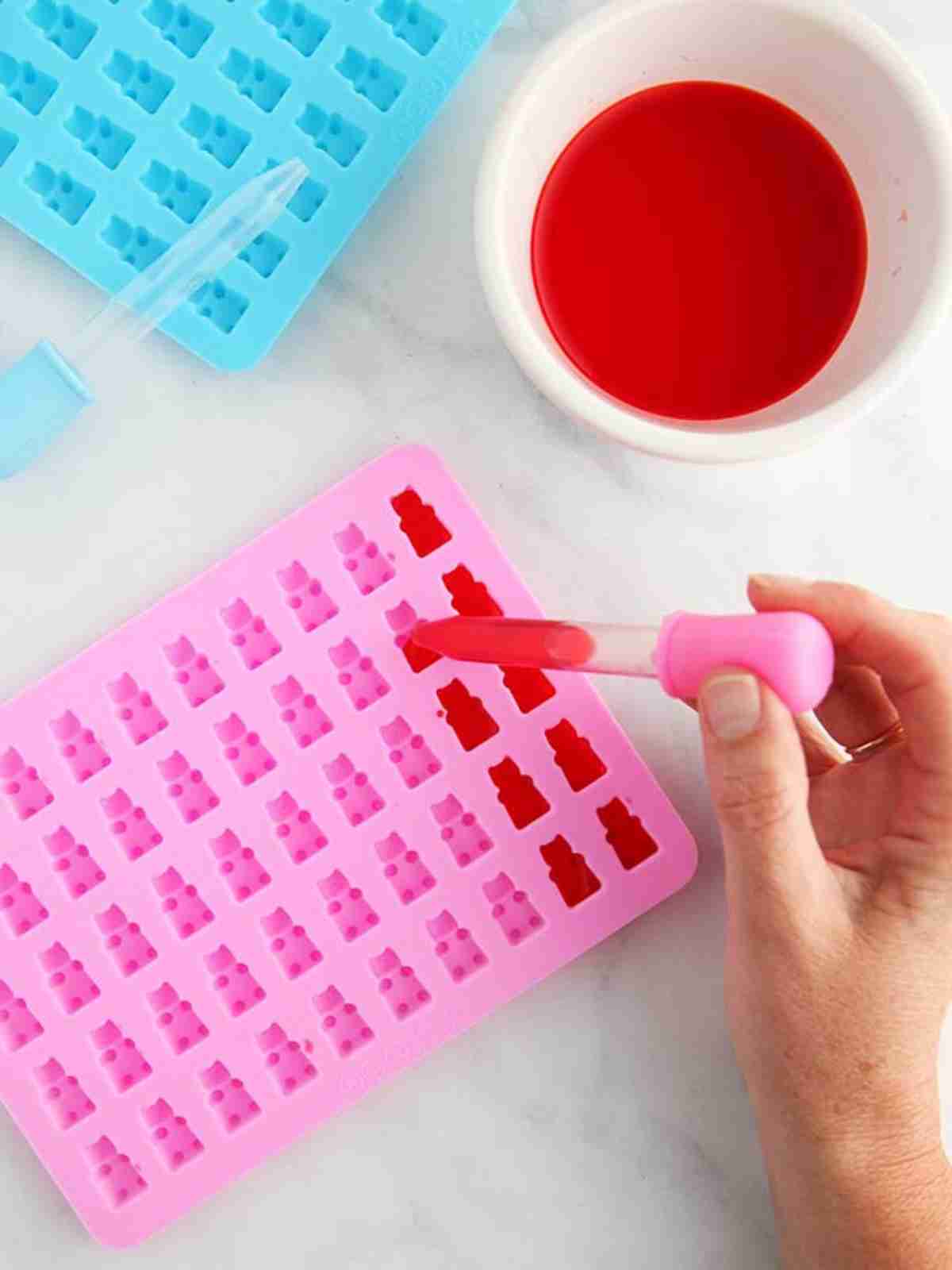 Which silicone molds can I use.
There are a variety of silicone molds available from Amazon that are suitable for making gummies!
I like to keep traditional 😀 so use ones in the shape of bears.
I used these molds that came from Amazon and the pack included pipettes for easy filling.
I LOVE these little dinosaur molds and have just ordered some of these molds to make myself some worm gummies.
Removing the gummies from the mold
I find the easiest way of removing the gummies from the mold is by pressing the the back of the mold to loosen them. It is then easy to pop them out with your fingers.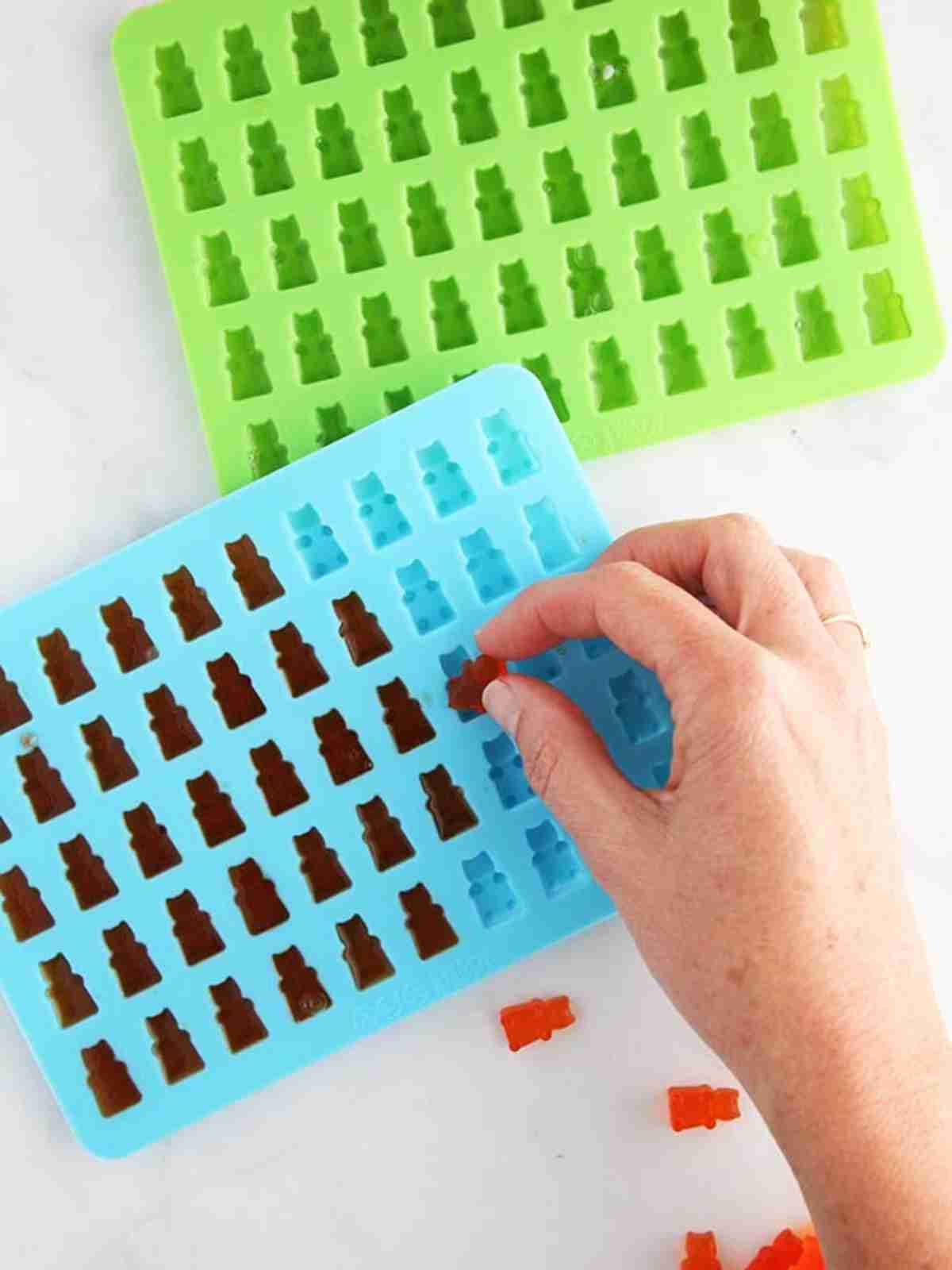 Can I make gummies without a mold
Yes you can!
Once you have made the mixture you can pour it into any (lightly oiled) container approx 5x5 inches.
A bigger container will give you 'thinner' gummies.
I wouldn't suggest using a container smaller than 5x5 inches as the gummies come out too thick and take some time to set.
Once you have poured the mixture into the container give it a few taps on the work surface to remove any air bubbles and place it in the fridge to set.
It may take a little longer to set than gummies made in the molds.
Once it has set, remove it from the fridge and run a knife around the container to loosen the gummy slab.
Turn out on to a clean work surface.
You can then use a knife to cut the slab into squares.
Do I need to oil the silicone molds before use.
I don't oil the silicone molds prior to making these gummies and I have never had problems with removing them from the molds.
Some other recipes suggest that you should use a light spraying of oil such as Pam ... but in my experience you don't need to.
Just thoroughly wash and dry the molds prior to using and you should be good to go.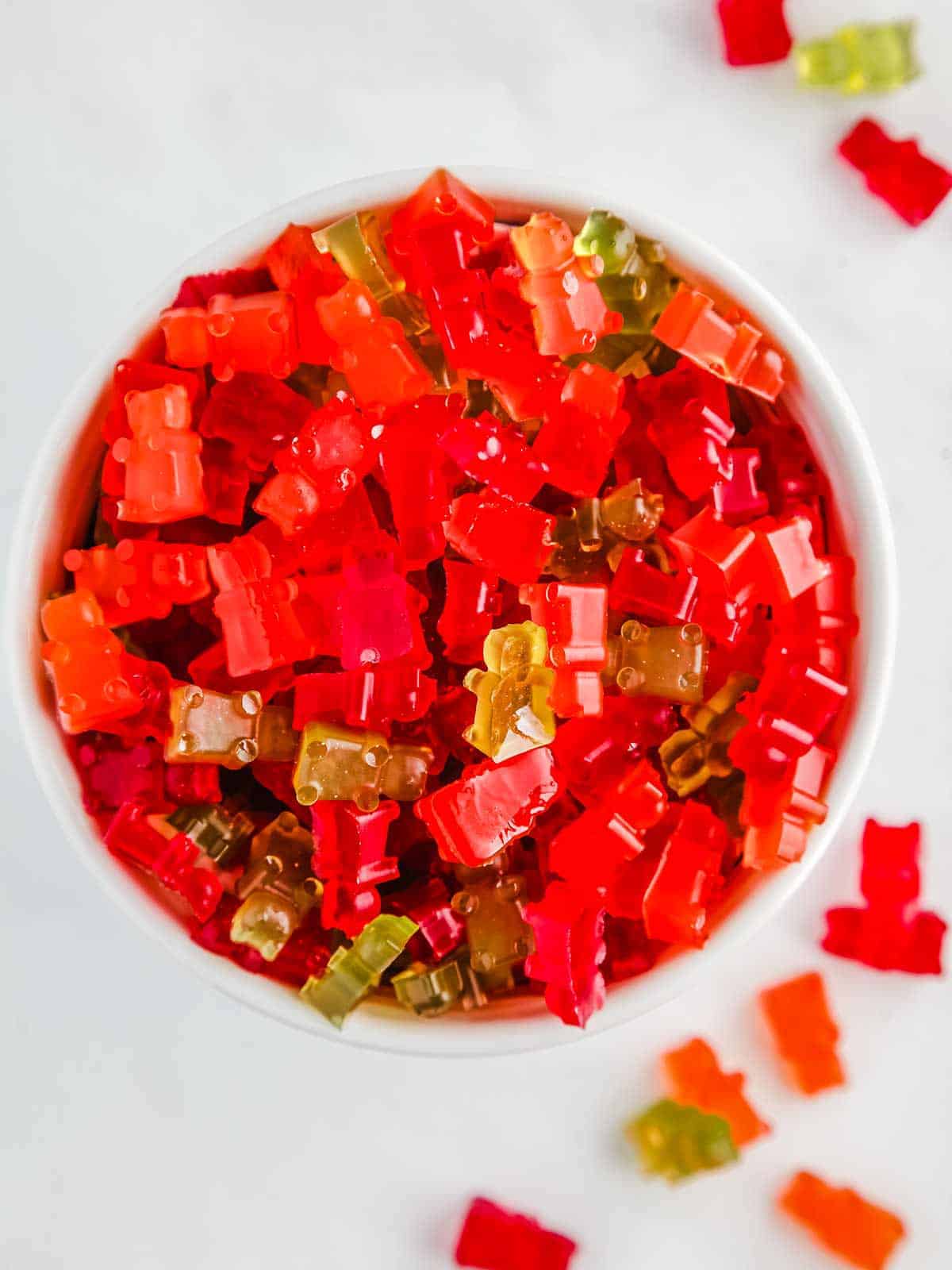 Making Sour Gummy Bears
If you like your gummies sour you can add ¼ to ½ a teaspoon of citric acid to the mixture. Add a little more if you like your gummies seriously sour!!
I tend to use ¼ of a teaspoon of citric acid in the recipe as I don't particularly like the aftertaste that aspartame leaves. The addition of a bit of citric acid seems to get rid of this.
Storing your Gummy Bears
These Zero Point Gummy Bears can be kept in an airtight container in the fridge or at room temperature for a couple of weeks.
More Weight Watchers Snack Recipes
If you are looking for more WW snack recipes, take a look at the Lime Fluff recipe or how about these Jello Grapes.
You may also find this list of (store brought) Best Low Point Snacks useful or how about this list of the Best Zero Point Snacks.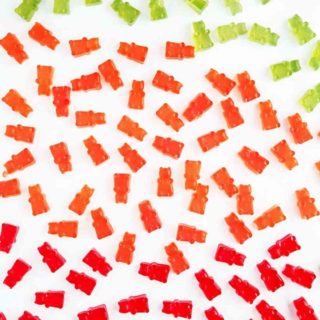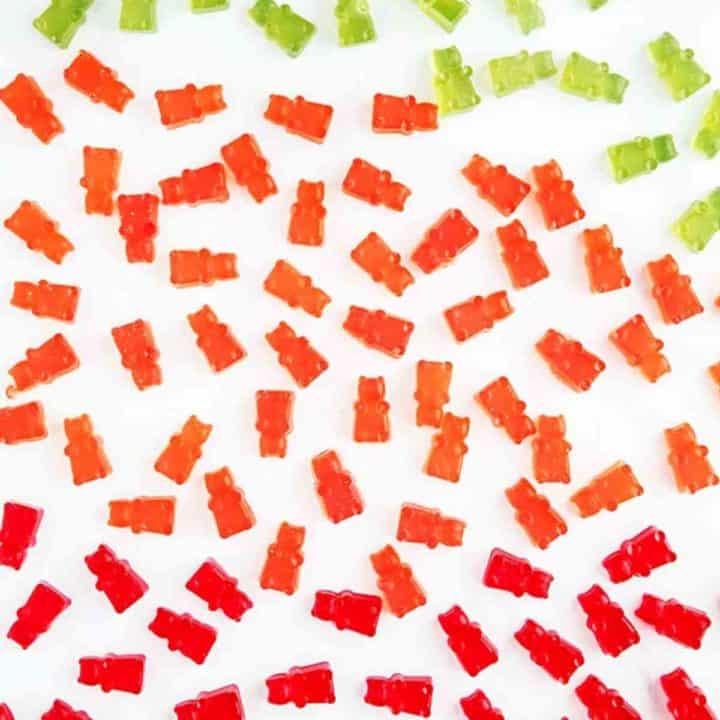 Zero Point Gummy Bears | Weight Watchers
These Zero Point Gummy Bears are perfect for anyone following the Weight Watchers plan and who is looking for a candy snack that is Zero SmartPoints. A Weight Watchers Gummy Bear recipe that is suitable for anyone following the Blue, Green or Purple plan.
Ingredients
1

tablespoon

sugar free jello

see notes

1

tablespoon

unflavoured gelatine

see notes

½

cup

hot water

(120ml)

¼ - ½

tsp

citric acid

optional - see notes
Instructions
Place 3 silicone gummy bear moulds on a tray. It's easier to transfer the molds to the fridge this way!

Set aside to use in a minute.

Place all the ingredients in a small saucepan.

Warm over a gentle heat, stirring continuously, until the gelatine has thoroughly melted.

This should take no longer than a couple of minutes

You can check to see whether the gelatine has melted by using a spoon to drizzle some of the liquid down the inside of the pan. If it is still grainy bits or there are still crystals carry on stirring!

Once your mixture is done remove it from the heat.

Using the pipette squirt the mixture into the silicone molds.

Give the molds a very gentle shake to bring any air bubble to the top.

Place the tray of molds in the fridge.

Leave for at least 2 hours to set.

Check to see that the Gummy Bears have set by removing one from the mold.

Once you are happy they they are fully set, you can remove the trays from the fridge and start popping the gummy bears out of the mold.

Enjoy
Notes
I always use ¼ tsp of citric acid in this recipe as it reduces the artificial sweetener 'after taste' that aspartame can sometimes leave.
However, using citric acid is optional and the gummies taste just fine without it!
If you like sour gummies you can even add a further ¼ teaspoon of citric acid to give them a bit of a kick.
Please note!
Most people in the US will use Jell-o flavored gelatine and Knox unflavored gelatine. I would therefore suggest the following.
Jell-o flavoured gelatin
The .3oz (8.5g) box of Jell-o suffices for this recipe. It works out at just under 1 tablespoon of powder.
Knox Unflavored Gelatine
Knox unflavoured gelatine tends to come in a box of 4 envelopes. Each envelope contains approx 7g of gelatine. I would suggest using 2 sachets (so approx 14g) for this recipe. Two sachets work out at just over one tablespoon of powder.
If you are in the UK I would suggest the following.
Hartley's jelly crystals
Hartley's jelly crystals come in a twin pack. Each sachet contains approx 11g of gelatine crystals which work out at about 1 tablespoon. I would therefore suggest using one sachet for this recipe.
Dr Oetker gelatine
Dr Oetker unflavoured gelatine comes in 12g sachets. Use one sachet for this recipe.
Nutrition
Nutrition Facts
Zero Point Gummy Bears | Weight Watchers
Amount per Serving
% Daily Value*
* Percent Daily Values are based on a 2000 calorie diet.