This Easy Fish Pie recipe is an ideal dinner choice for anyone following the Weight Watchers program. Suitable for all the myWW plans, this tasty & filling pie is 5 SmartPoints for those following the Blue plan (previously Freestyle), 3 SmartPoints for those on the Purple plan and 8 SmartPoints for those following the Green plan.
To find out how many Personal Points this recipe will be for you & to track it in the WW App, click on the blue button in recipe card below!
The pie consists of flakes of fish and plump shrimp covered in a creamy sauce which is then topped with a smooth potato & root vegetable mash! This WW friendly dish is proper British comfort food!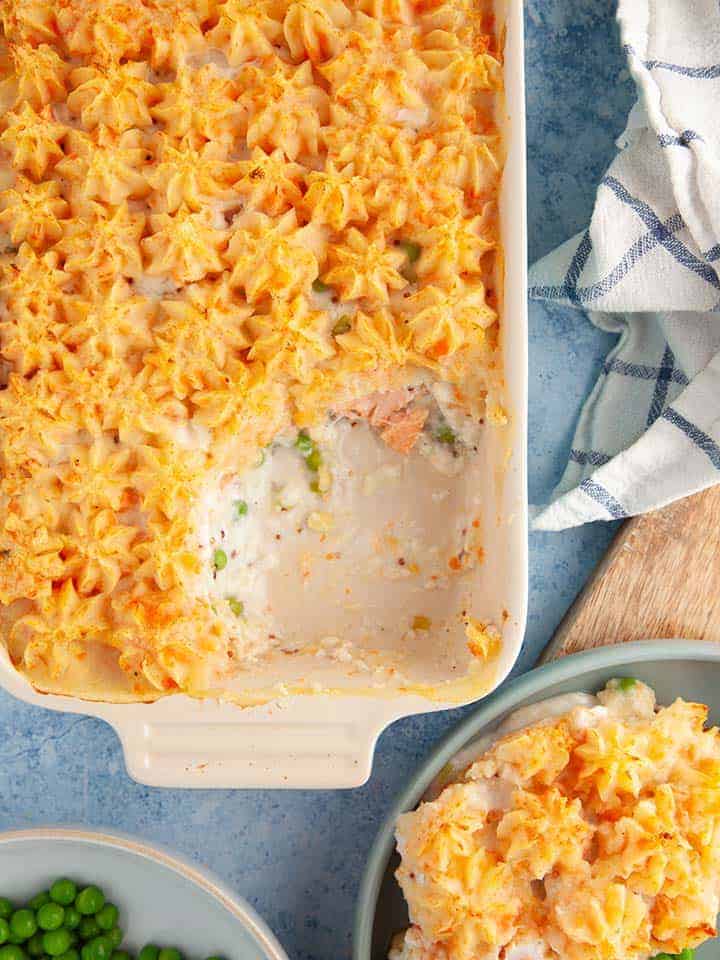 So by now I'm sure you've heard all about the new myWW plan from Weight Watchers.
It was introduced last week and gives more flexibility and choice to anyone following the Weight Watchers program.
There are now 3 ways to live the Weight Watchers program, the Green, Blue & Purple plans. Going forward each recipe on Pointed Kitchen will include the SmartPoints all of the plans along with the 'old' Freestyle points (which incidentally are exactly the same as the Blue plan!). Over time I will work on updating old recipes to reflect these changes.
You can read more about these exciting new changes by visiting WW , by logging on to your WW app, or by visiting your local WW studio.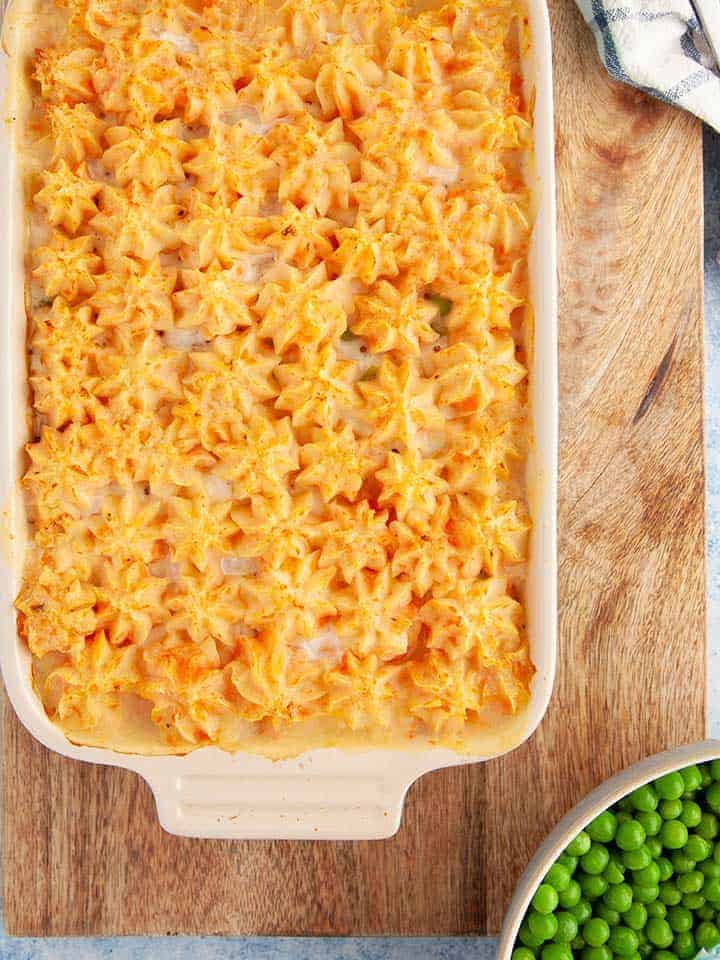 I've called this recipe 'Easy Fish Pie' as it is a lot easier to make than the 'go to' fish pie recipe I made prior to starting my WW journey.
That recipe included numerous ingredients (including lots of butter and cream) & required me to poach the fish in milk prior to cooking. It was a lot of hassle to make but it did taste good 😀 !
This recipe on the other hand is quick and easy and still tastes pretty damn good!
All you have to do is to make a very easy and simple Bechamel sauce, mix in the fish , shrimp and peas and then top with a potato, carrot and swede (rutabaga) mash.
The combination of potato and root veg in the mash keeps down the SmartPoints in this recipe. Potatoes still need to be pointed on the Blue and Green plan so bulking them out with some 0 SmartPoint veg makes sense if you are following one of those plans!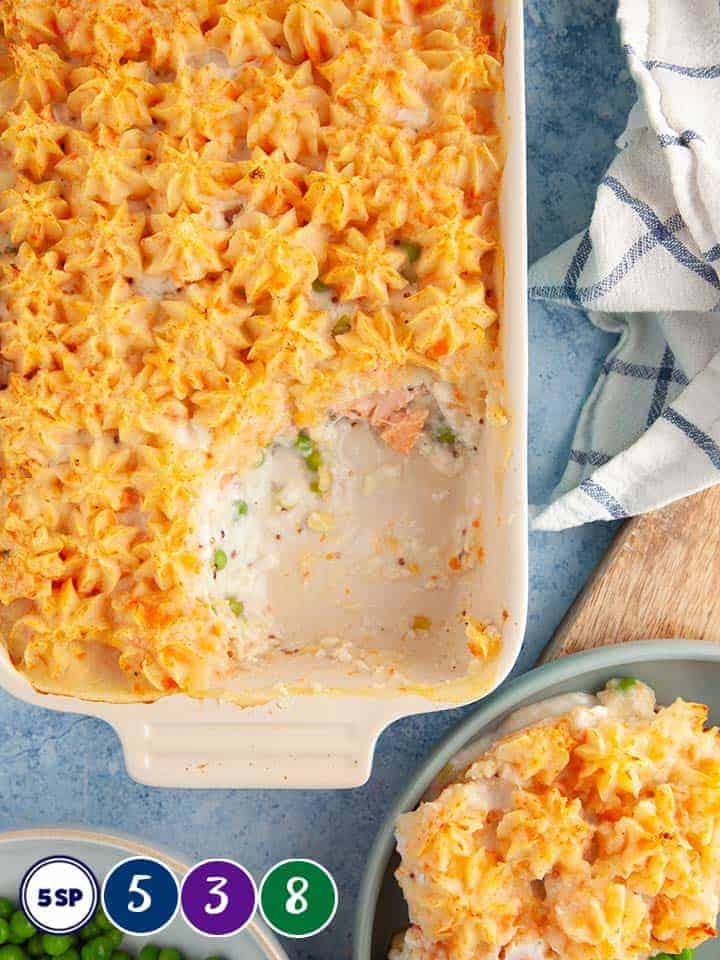 SmartPoints
Blue Plan - 5 SmartPoints per portion.
Green Plan - 8 SmartPoints per portion.
Purple Plan - 3 SmartPoints per portion
Freestyle plan (same as Blue Plan) - 5 SmartPoints per portion
This post may contain affiliate links. As an Amazon Associate I earn from qualifying purchases. Visit this page to see what that means.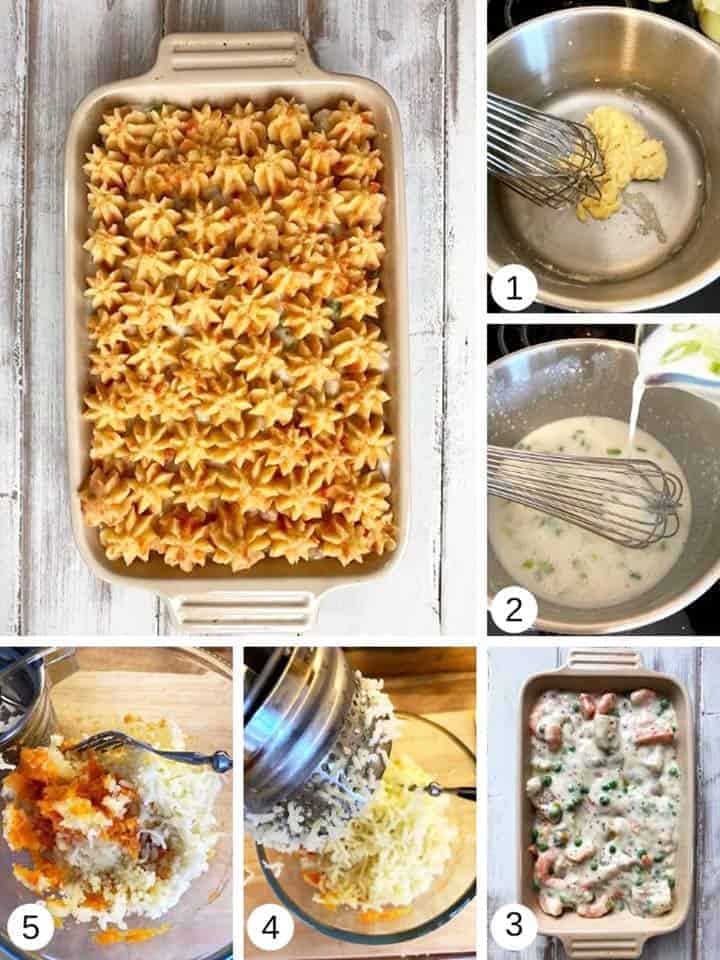 Tips for making this pie
Place the low fat spread and flour in a medium sized saucepan over a low/medium heat.
Use a whisk to stir the flour and low fat spread together until the spread melts and combines with the flour to make a thick & glossy paste (picture 1).
Carry on gently cooking the paste for a minute or so. This 'cooks' the paste and prevents the sauce tasting floury!
Slowly add the milk and chopped spring/green onion bit by bit to the paste (picture 2).
It really is important to add the milk slowly as this will prevent the sauce from becoming lumpy. You want every bit of milk that you add to the pan to combine with the paste, before you add the next bit.
Whisk continuously to make sure that nothing sticks to the bottom of the pan.
Once all the milk has been added you want to bring the sauce to the boil, then immediately reduce the heat and cook for a few more minutes, whisking continuously until the sauce has thickened slightly.
Remove from the heat and stir in the mustard and a little salt and pepper.
Gently stir in the chunks of fish, shrimp/prawns and peas, before spooning the mixture into a casserole dish (picture 3).
I use a potato ricer to 'mash' the potato, carrot and swede. I find that I get a much smoother, creamier mash that way (pictures 4 & 5)!
I then pipe the mash on top of the pie filling, using a star nozzle.
Alternatively, use a potato masher to mash the vegetables, then spoon it over the top of the fish, using a fork to gently spread the mash so it covers the whole dish.
Which Fish should I use?
You could use cod, haddock, turbot, salmon, tilapia, monkfish - in fact any fish that you fancy really!
I tend to use a mix of haddock, salmon and cod or whatever is on special offer at the supermarket!
I have also used the packs of the frozen fish pie mix that are now available to buy in most UK supermarkets.
Using preprepared fish pie mix is such an easy way to make this fish pie. Just read the back of the pack to see the best way to defrost the chunks of fish before using.
Can I freeze it?
Yes, yes, yes!
This fish pie is just perfect for home freezing!
Make up the pie as described but don't cook it. Cover and freeze! It's as easy as that!
Defrost the pie thoroughly on the day you want to serve it, and cook as described in the recipe card.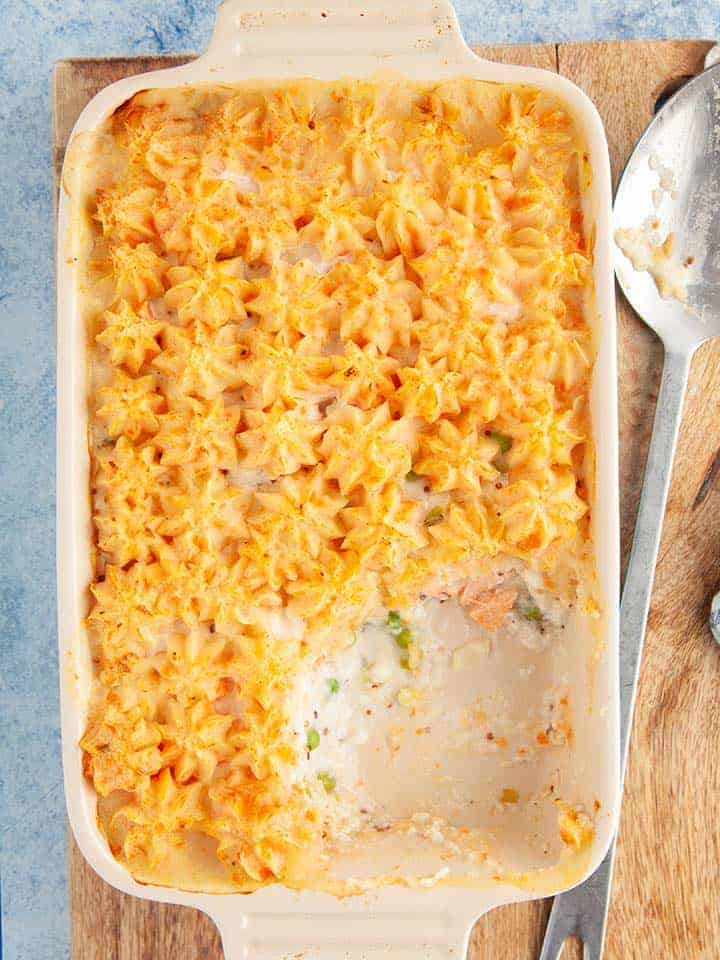 Changes to reduce SmartPoints
If you are following the Blue or Green plan you could make the mash topping from just carrot and swede (rutabaga) and reduce the point value by 3 SmartPoints per serving.
Other Weight Watchers Dinner Recipes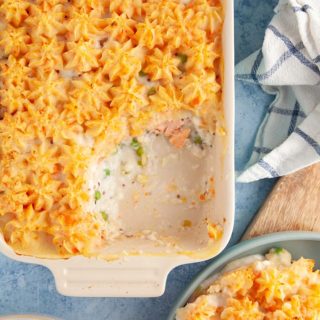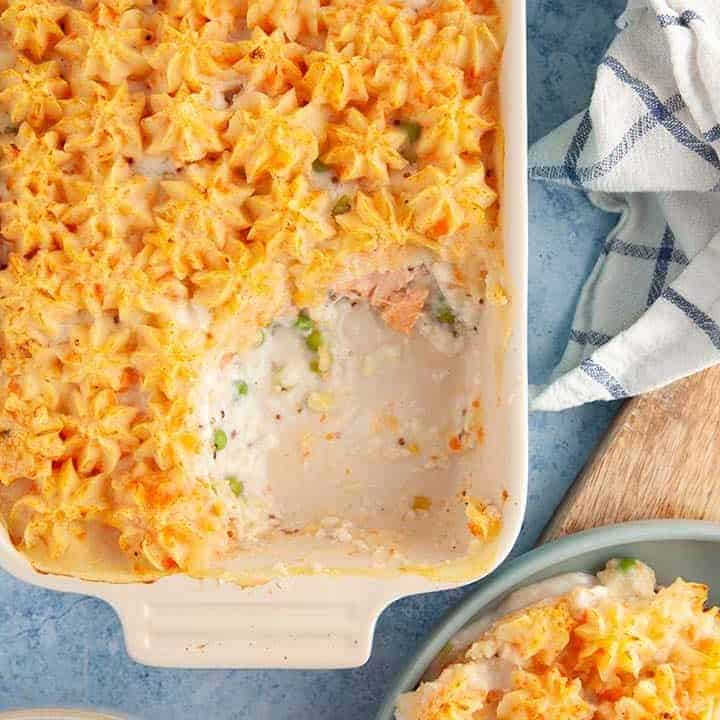 Easy Fish Pie | Weight Watchers
This Easy Fish Pie is tasty, simple to make and is finished with a healthy & delicious topping of mashed vegetables. Suitable for anyone following the Blue (previously Freestyle), Purple or Green plan on Weight Watchers MyWW!
Ingredients
2

cups

potatoes

(450g) peeled & chopped

¾

cup

carrots

(100g) peeled & chopped

¾

cup

swede/rutabaga/yellow turnip

(100g) peeled & chopped

1 ⅔

cups

skimmed milk

(400ml)

1 ½

tablespoon

low fat spread/light margarine

(25g)

1 ¼

tablespoons

all purpose flour

(25g)

4

spring onions / green onion

finely sliced

1½

cups

fish

(350g) - skin removed, deboned and cut into bite size chunks

½

cup

shrimp / prawns

(150g)

1

cup

peas

(150g)

1

teaspoon

dijon mustard

Salt & Pepper
Instructions
Preheat the oven to 180°C fan / 200°C / 400°F

Place the chunks of potato, carrot and swede into a saucepan of boiling water and bring to the boil. Cook for 15 - 20 minutes, until the veg is tender. Drain well and set aside.

Measure the milk into a jug and add the chopped spring onion. Set aside for the flavours to infuse.

Whilst the vegetables are cooking, put the flour and low fat spread/light margarine in a saucepan and heat, stirring continuously until the spread has melted and it has combined with the flour to make a thickish paste (roux).

Continue to cook for a further 1 minutes before slowly whisking in the milk & onion bit by bit. Do this slowly to prevent lumps from forming.

Bring to the boil then reduce the heat and cook for a further 3 - 4 minutes until the sauce has thickened slightly.

Turn off the heat and then stir in the mustard and a little salt & pepper.

Add the chunks of fish, the shrimp and the peas and stir till they are all coated with the sauce.

Spoon into a 4 serving casserole dish.

Use a potato masher (or a potato ricer - my preference) to mash the cooked potatoes, swede and carrots into a smooth mash. Season with a little salt and pepper.

Now, you can either pipe the vegetable mash on top of the fish (like I did) or you can distribute spoonfuls of it over the fish base and use a fork to carefully spread it out.

Bake in the preheated oven for 20 - 25 minutes until the vegetable mash has turned a little crispy and golden and the filling is bubbling hot!

Serve with garden peas or sweetcorn.
Nutrition
Nutrition Facts
Easy Fish Pie | Weight Watchers
Amount per Serving
% Daily Value*
* Percent Daily Values are based on a 2000 calorie diet.