This tasty Stuffed Zucchini is just 3 Smart Points per serving on Weight Watchers Freestyle, Purple and Blue plans. It is 4 SmartPoints on the myWW Green plan. It will be 3 or 4 Points per serving on the Personal Points plan (click on the WW Personal Points button in the recipe card to see)
Packed full of mushrooms, crispy bacon and mature cheese, this really is a delicious WW friendly lunch recipe.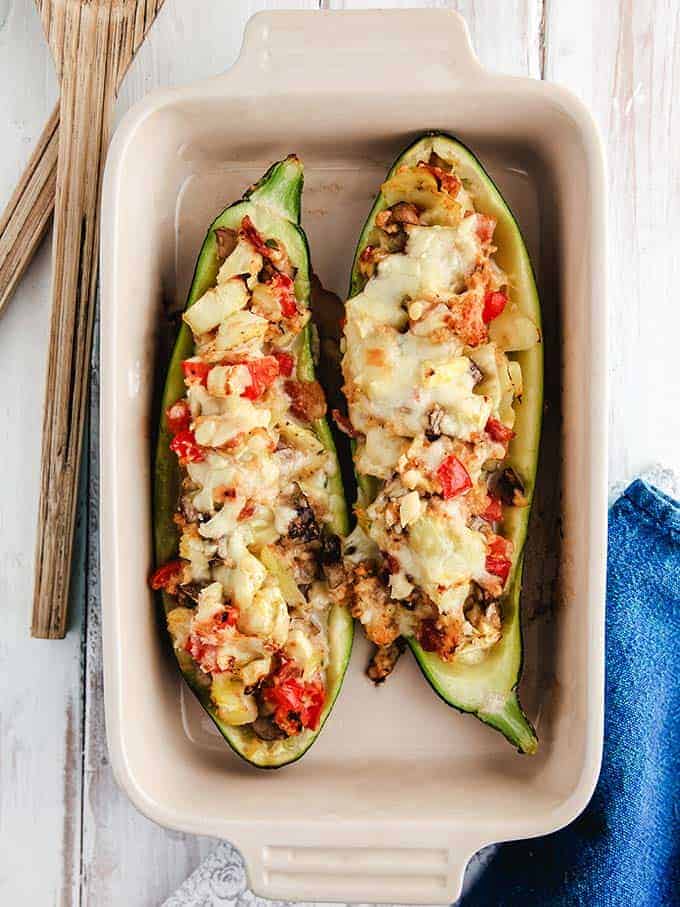 There are so many ways to eat zucchini, but this is probably my favourite! Stuffed full to bursting with a tasty filling and topped with bubbling, melted mature cheese! What's not to like!
This post may contain affiliate links. As an Amazon Associate I earn from qualifying purchases. Visit this page to see what that means.
I've been trying out quite a few stuffed zucchini recipes recently.
I'd had a bit of a glut of zucchini from the garden and had left a few of them to get a little larger so that I could stuff them full of tasty Weight Watchers friendly fillings.
The smaller ones, I made into zucchini noodles and served with things such as these Swedish Meatballs and this Chicken Alfredo.
But stuffing zucchini full of tasty fillings, topping with cheddar cheese and baking until the cheese is hot, bubbling and golden brown has got to be one of the best ways of eating them!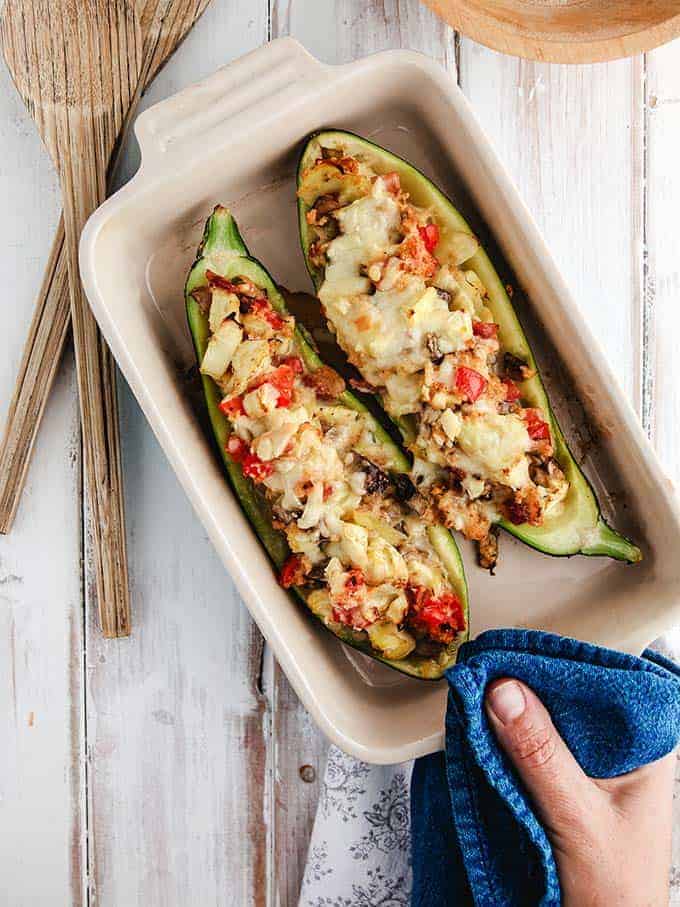 I tend to serve these stuffed zucchini as a lunch dish, but of course they could also been served as a starter or a low Point dinner.
Please be aware that this post was written prior to Weight Watchers changing to the WW Personal Points Plan! You can discover exactly how many Personal Points this recipe will be for you by clicking on the blue 'WW Personal Points' button in the recipe card below.
The filling that I used to stuff the zucchini worked out as 5 Smart Points for the whole lot. You could therefore eat the whole of this dish (if you were really hungry 😀 ) for 5 Smart Points (on the myWW Blue or myWW Purple plans)!
What breadcrumbs should I use?
Fresh breadcrumbs are a little less in Smart Points per ¼ cup than dried breadcrumbs or panko crumbs.
I made my own breadcrumbs for this recipe by grinding some stale bread in my Magic Bullet.
If you don't have any stale bread you can lightly toast 2 Smart Points worth of bread and grind it down in a food processor.
What cheese should I use?
I used reduced fat mature cheddar cheese for this recipe. 30g of this cheese worked out at 2 Smart Points and was about ¼ cup full once shredded.
You get a stronger cheese taste if you use mature cheddar than if you use mozzarella or a milder cheese.
If you are not too keen on mature cheese, take a look at this list of Low Point Cheese for ideas on alternatives to use.
What size zucchini should I use?
The zucchini that I used was approximately 10 inches long and 3 inches wide at it's widest point.
I have used bigger zucchini than this for this recipe and it has worked out just as well.
How to prepare the zucchini for stuffing.
Carefully halve the zucchini lengthways using a sharp knife. Use a spoon to scoop out the seeds and as much of the flesh of the zucchini as you can and place into a bowl.
I tend to place the skins in a casserole dish, lightly salt them & cover them in boiling water for 2 - 3 minutes. Drain them well. This softens up the skins a bit before you bake them.
It is not necessary to pre soak the zucchini, especially with smaller, younger ones. However, I would suggest that if the zucchini that you are using has a thicker, tougher skin you try this for best results.
How to peel a tomato
I find the easiest way to peel a tomato is to mark a X on the bottom with a sharp knife, place it in a bowl and pour over enough boiling water to cover it.
Once it has been in the hot water for 5 minutes, drain and fill the bowl with cold water.
The tomato should then be easy to peel with your finger or with a small paring knife.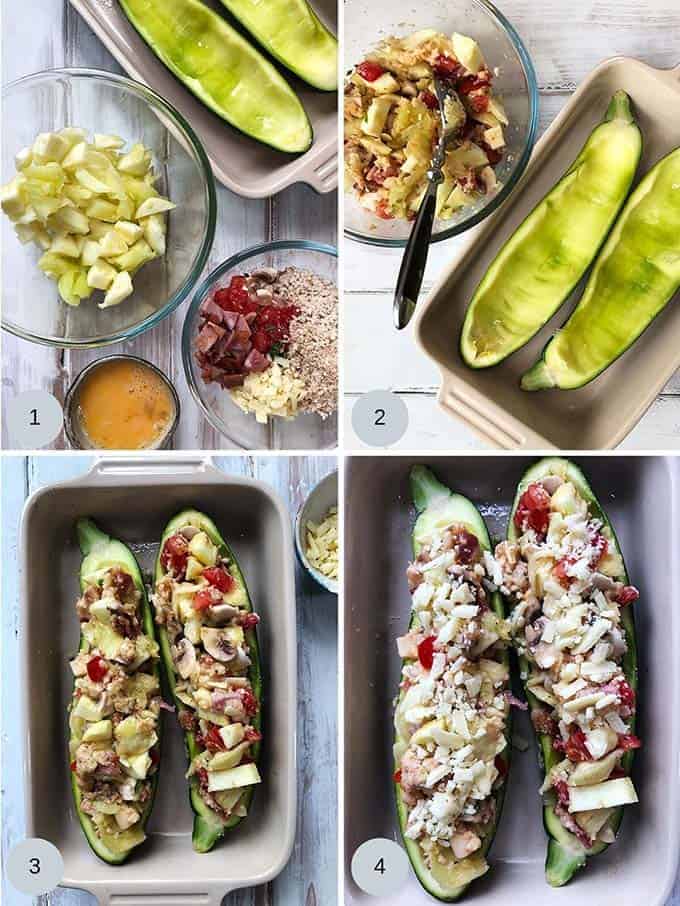 Tips for making Stuffed Zucchini
Remove as much of the seeds and flesh of the zucchini as possible without tearing the skin (picture 1)
Chop the zucchini flesh into small pieces and place in a bowl.
In a separate bowl add the breadcrumbs, half of the cheese, the bacon, the chopped tomatoes & mushrooms and some salt and pepper. Stir in the whisked egg to combine.
Add this mixture to the chopped zucchini flesh and mix to combine (picture 2)
Fill the zucchini skins with the mixture (picture 3) and top with the remaining shredded cheese (picture 4).
Cover the dish with kitchen foil and bake for 35 minutes before removing the foil and baking for a further 8 - 10 minutes until the cheese has melted and turned golden brown.
Can you freeze Stuffed Zucchini
I wouldn't suggest freezing these stuffed zucchini.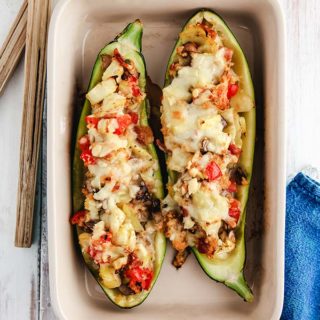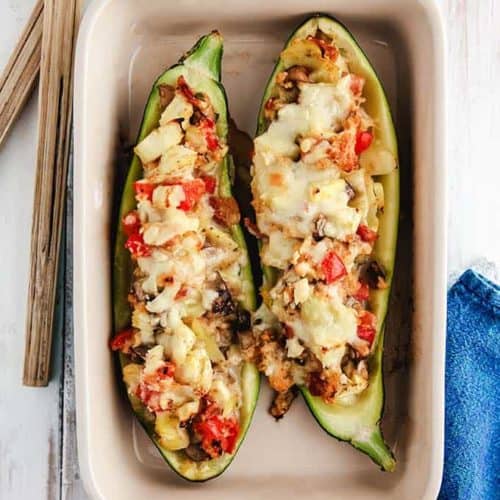 Stuffed Zucchini | Weight Watchers
This Stuffed Zucchini is just 3 Smart Points per portion on Weight Watchers Freestyle, Blue & Purple plans. It is 4 SmartPoints on the myWW Green plan. Low in Points on the WW Personal Points plan. Stuffed full of bacon, cheese, mushroom and tomato these zucchini are then topped with a little more mature cheese for extra cheesy goodness!
Ingredients
1

large zucchini / courgette

¼

cup

fresh breadcrumbs

(30g)

¼

cup

low fat cheese - shredded

(30g) I use lower fat mature cheddar

1

large tomato

skinned and chopped

4 - 5

mushrooms

chopped

1

small egg

whisked

1

pinch

Salt & pepper

2

rashers bacon

fat trimmed, cooked and chopped

Calorie controlled spray oil
Instructions
Preheat the oven to 180°C / 160°C fan /350°F

Trim the fat from the bacon rashers, discard the fat and chop the bacon into small pieces.

Spray the bottom on a non stick skillet with a little calorie controlled spray oil and fry the bacon until crispy. Set aside.

Halve the zucchini lengthwise and scoop out the seeds and flesh into a bowl and chop up.

Grind a little salt on the zucchini skins and place in a casserole dish and cover with boiling water. Leave for 2 - 3 minutes until the skins have softened slightly and then pour off the water. This step is not strictly neccessary, but I'd suggest you do this if the zucchini / courgettes that you are using are particularly tough.

To peel the tomato, use a sharp knife to cut a X at the bottom of the tomato. Place it into a jug and top with boiling water. After 5 minutes, pour off the hot water and refil the jug with cold water. Remove the tomato and it should peel easily.

Chop up the skinned tomato and the mushrooms and place in a bowl.

Add half the cheese, the chopped bacon, the breadcrumbs, a little salt and pepper and the whisked egg and mix to combine.

Stir in the chopped zucchini flesh.

Fill the zucchini skins with the mixture and divide the remaining cheese over the top.

Cover the dish with kitchen foil and cook in the preheated oven for 35 minutes until the zucchini are tender.

Remove the kitchen foil and place back in the oven for a further 8 - 10 minutes.

Serve hot.
Nutrition
Nutrition Facts
Stuffed Zucchini | Weight Watchers
Amount per Serving
% Daily Value*
* Percent Daily Values are based on a 2000 calorie diet.