This recipe for Fatteh has been adapted from Nigella's Beef & Aubergine Fatteh to make it more Weight Watcher friendly.
The Fatteh is just 8 SmartPoints per portion on Weight Watchers Blue plan, 7 SmartPoints on Purple and 11 on Green.
It is filling, simple to make and very, very tasty. It is one of my new 'go to' recipes.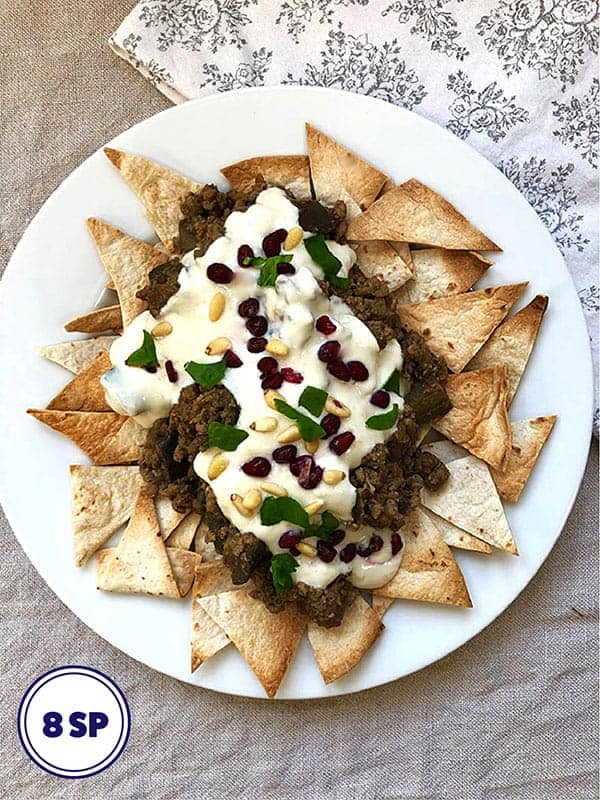 Please read on to see how you can further reduce the SmartPoints for this recipe.
Fatteh is a class of Levantine dishes which comprises of toasted flatbreads topped with other ingredients. It often comprises of flatbread topped with yogurt and chickpeas and is eaten for breakfast.
This Fatteh has the addition of ground turkey breast so makes a great evening meal.
This Weight Watchers friendly recipe has been adapted from a Nigella recipe.
Whereas Nigella makes this recipe with ground beef / mince beef, I have made it with ground turkey breast / turkey mince to make it fewer Smart Points.
It is then topped with a fat free yogurt and tahini sauce to make it more Weight Watcher friendly.
You could make it with beef mince (ground beef), as Nigella does for additional points (details further down the page!)
I used Weight Watcher Tortilla Wraps to make the base but you could also used toasted pitta breads or flat breads.
The Fatteh is topped with a sauce of fat free yogurt, tahini and garlic and is sprinkled with pine nuts, pomegranate seeds and mint.
Did you know that you can get frozen pomegranate seeds?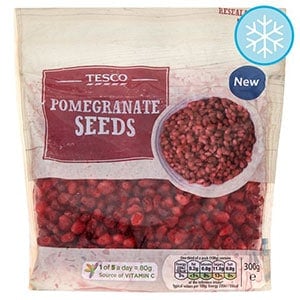 I didn't until just recently. I make a lot of Persian food (which quite often includes pomegranate seeds) & I was forever struggling to get the seeds out of the fresh fruit, or wasting those little pots of fresh seeds.
These frozen pomegranate seeds are so handy if you are using a small amount of seeds in a recipe like this one or this Mango Yogurt Parfait.
Recipe adaptions
Use toasted pitta breads for the base
Use toasted flat breads for the base
Swap the minced turkey breast for extra lean minced beef (5% fat) - add 4SP per portion
Swap the minced turkey breast for lean minced beef (10% fat) - add 7SP per portion
Beware that using minced beef (as Nigella does) adds a whopping 10SP per portion!
Swap the mince turkey breast for minced turkey - add 4SP per portion
Reduce the SmartPoints in this recipe further
Use mini tortilla wraps instead of full size 4 SmartPoint wraps - reduce by 1SP per portion
Omit tahini from the yogurt sauce and reduce by 1SP per portion
Omit the toasted pine nuts and reduce by 1SP per portion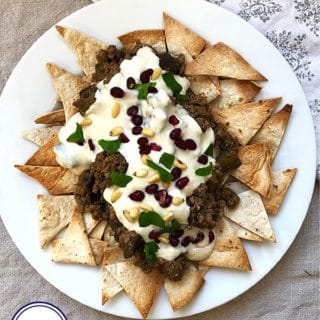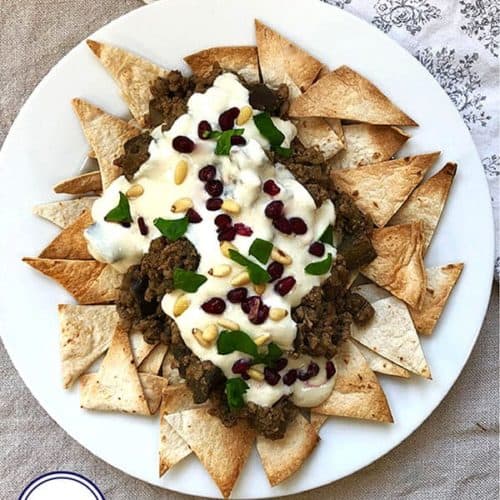 Fatteh
This Turkey Mince and Aubergine (eggplant) Fatteh recipe is just 8 SmartPoints per portion on Weight Watchers Flex / Freestyle plan.
Ingredients
For the flatbread layer
2

tortilla wraps

I used WW wraps
For the turkey mince layer
2

tsp

olive oil

1

red onion

finely chopped

1

eggplant / aubergine

cut into small chunks

1

tsp

ground cinnamon

1

tsp

ground cumin

1

tsp

ground coriander

1

tsp

paprika

1

tsp

sea salt

1⅓

cups

ground turkey breast / minced turkey breast
For the yogurt topping
1¼

cups

fat free greek yogurt

3

tsp

tahini

1

lemon

juiced

1

garlic clove

crushed

¾

tsp

sea salt

1

tbsp

pine nuts

2

tbsp

pomegranate seeds

mint leaves

to decorate
Instructions
For the flatbreads
Preheat the oven to 180oC /160oC fan /350oF. Cut the tortilla wraps into strips and then into triangles. Place on a baking sheet and place in the oven till they have turned golden brown and have crisped up. You will have to keep an eye on them so that they don't catch & burn. Remove from the oven and set aside.
For the yogurt
Place the yogurt in a small bowl and stir in the tahini, garlic, lemon juice and salt to taste. Mix and set aside till later.
For the turkey mince
Heat the oil in a large saucepan. Add the chopped onions and cook over a medium low heat for 5 minutes, stirring frequently so that they do not stick to the bottom of the pan. Add the cubed aubergine and cook for 10 - 12 minutes, stirring frequently, making sure that they don't catch. If they do start sticking to the bottom of the pan, add a couple of tablespoons of water and stir. By now the aubergine should have softened and the flesh should have changed colour.

Add the cinnamon, coriander, cumin and paprika and salt and mix well. Turn up the heat and add the turkey mince. Use a fork to break up the mince and cook until it has browned and is no longer pink. Turn the heat down to medium and cook for 10 - 15 minutes, stirring every now and then until the meat is cooked through. Take off the heat, taste and add more salt if needed.

Assemble the browned tortilla triangles on a plate. Spoon the mince and aubergine mixture on top and then drizzle over the yogurt & tahini sauce. Sprinkle with pine nuts, pomegranate seeds and torn up mint leaves.
Notes
Please be aware that the nutritional information below has been automatically generated and does not account for variations in product brands and types, weights of individual ingredients etc.  It should therefore be considered as an estimate.
PointedKitchen.com has calculated Weight Watchers Smart Points based on the individual ingredients used to make this recipe and not from the following nutritional information.
PointedKitchen.com is not responsible for any loss or damage relating to your reliance on this nutritional information.
Nutrition
Nutrition Facts
Fatteh
Amount per Serving
% Daily Value*
* Percent Daily Values are based on a 2000 calorie diet.